I met Juan José Uxamuire "Katira" Ramírez 10 years ago this coming February. I had just come down from the mountaintop of Cerro Quemado, the Birthplace of the Sun, along with about a thousand other pilgrims, gathered there in a historic all-night ceremony to pray for the salvation of the sacred desert of Wirikuta from transnational mining companies. Katira was sitting in front of the plaza there in that iconic town of Real de Catorce, smiling at me, dressed in his finest Wixárika (Huichol) regalia, a squirrel tail atop his beaded hat. He looked familiar to me, so I stopped to chat.
It turned out I had seen him once before, at the Vision Council – Call of Quetzalcoatl in Chalmita. I remembered him, and he said he remembered me, too. He invited me to come visit him and his family in San Andrés Cohamiata, there in the heart of Wixárika territory. I took his phone number and promised to do so one day. It would take me nearly a decade to keep that promise, but meantime this friendship would change my life. It's Katira's specialty; as a veteran mara'akame — a shaman or spiritual guide of the Wixárika tradition — changing lives, and sometimes saving them, is all in a day's work. But little did I know how much this kindly gentle Earth spirit would end up affecting the course of my life.
Lea la versión en español AQUÍ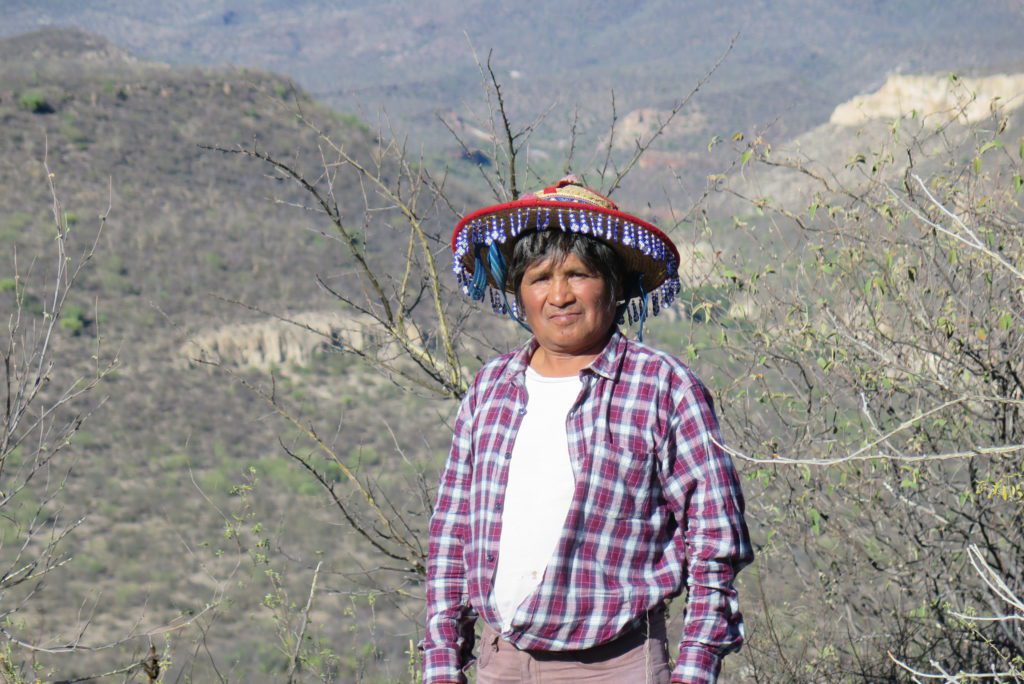 A decade later and now a collaborator in the film that depicts his peoples' struggle against the mining companies to save their most sacred site — Huicholes: The Last Peyote Guardians — I continue to collaborate with film director Hernán Vilchez on projects large and small. With the coming of the pandemic, I became the self-appointed godmother of several of his godchildren, including the one who has become my cherished adoptive son. And every now and then, when I least expect it — usually around 5 am — I get a text message from Katira announcing his pending arrival in Guadalajara …. always the signal that an adventure, or at least the energetic shift of his presence, is imminent.
I decided to take advantage of the week of his 65th birthday to celebrate that friendship, and the life of a man who has brought deep insight and transformation to many, yours truly included. I went back into the Esperanza Project archives to count how many stories featured José, as a source or subject or inspiration, and found one for each decade of his life — plus an extra, to celebrate the decade he is midway through. And so I decided to compile them all here. Enjoy — because, as Katira, the Mara'akame of Love, might say, that is after all what we are here for.
Our first piece with Katira was about the "Five Colors of Corn" film tour, the extraordinary 2014 world premiere of the Huicholes film. Instead of beginning in Mexico City, like most Mexican films, the crew decided to honor the sacred site and the Wixárika people first, and held the world premiere in Wirikuta, followed by a long journey to Katira's home territory of San Andrés Cohamiata in the remote Sierra Madre, where they did two screenings. Only then did they do a screening in Guadalajara, the capital city of Jalisco, the Wixárika people's most populous state, and finally Mexico City.
Our second story was an interview with Hernán Vilchez, the director of that film, and Paola Stefani, the producer. I caught up with Hernán and Paola, and Katira and his son Clemente, at Paola's home in Mexico City as they recovered from the eight-day marathon. Here is the interview.
The companion piece, obviously, would be an interview with the maraka'ame himself, along with son Clemente. Together they tell the story of how Katira's family became the protagonists in an internationally acclaimed environmental justice documentary that depicts the building of an extraordinary movement to save their sacred desert from multinational mining companies.
The next piece would announce the film tour that this author organized, together with Hernán Vilchez, Katira and his son Enrique, throughout the U.S. and Canada. The blockbuster tour, financed all on our credit cards, a last-minute Indiegogo campaign and a prayer, would cover 33 cities in five U.S. states and three Canadian provinces over the course of six weeks. Significantly, there was no subsequent coverage of that tour, and how I lament the fact…. the story of how Katira was denied his visa by the U.S. government and he could only join us in Canada, the story of our elegant Houston premiere at Rice University followed by the rather more rasquache one organized, drive-in style, in a warehouse parking lot by the environmental justice activist Bryan Parras, later to become a film star in his own right, with the 2020 release of The Eagle & The Condor, which he had just begun to work on when we arrived in Houston.
Six years later, in that beautiful way that life sometimes has of spiraling back, we had the chance to return the favor by organizing the online bilingual Latin American premiere of Bryan's film, together with a roundtable discussion, "Defending the Defenders," with his colleague Yudith Nieto and three other indigenous women defenders of their territories.
Nor did I ever write the story, sadly enough, of the epic and surreal visit we paid to the headquarters of First Majestic Silver in Vancouver, Katira and Enrique with their xaweris, small traditional violins, and Hernan and I with a copy of the film and a press release. Together we were led to the inner sanctum, a board room with a long table, where the company president and Mexican division chief beamed in from Mexico, where they were ironically attending a board meeting during our visit. The pair listened politely to Katira's and Enrique's music presentation, then cut through the pleasantries to try and persuade us to negotiate a deal with them, or at least to convince the Wixárika authorities to do so. We laughed all the way back to the rented tour van that had become our mobile home.
Lesson learned: Next time, cover the film tour, instead of organizing it. But even the best journalists must depart from the role at times and create something new and entirely different — and this was certainly that.
Things got very, very busy at that point and stayed that way, which is why it was 2018 before I could finally take Katira up on his offer to go visit his village. The occasion was a two-part series on Wixárika medicine traditions, beginning with "Healing the planet, healing themselves." I spent a week following the mara'akame around trying to get him to talk about healing techniques. He did show me a few, but as it turned out, the principle medicine for the Wixárika people is the one they are famous for: the entheogenic cactus really does turn out to be good for whatever ails you, it seems. And what ailed me was exhaustion; climbing up and down canyons was not what this body was made for. The medicine definitely helped me do my job.
The second part of the series, Wixarika Medicine Under Siege, delved into the threats to the sacred plant, of which there are many. "We do not want to let them contaminate the sacred places; we want to leave something beautiful for our families, and for them to learn to keep the practice," Katira told me. "It is our task that falls to all the communities of Nayarit, Durango, Jalisco. Let us raise and sow that sacred seed, and let our planet not end, so that all that is beautiful remains."
The final story with Katira came during a visit when the Covid pandemic had just begun. He was out beating the bushes, looking for support to pay the internet bill so the kids in his village could study. This story raised that money, and a whole lot more.
There are in fact many more Katira stories — I could go on for another hour, as could most who know and love him — but at the risk of wearying our beloved readers, we will draw to a close.
For more information, see the film — now with 13 international awards, including Mexico's People's Choice award for the top documentary in the country's history. Treat yourself to a film you will never forget: www.huicholesfilm.com — and spend a little time with Katira and his family yourself. See if they don't change you a little bit, as well.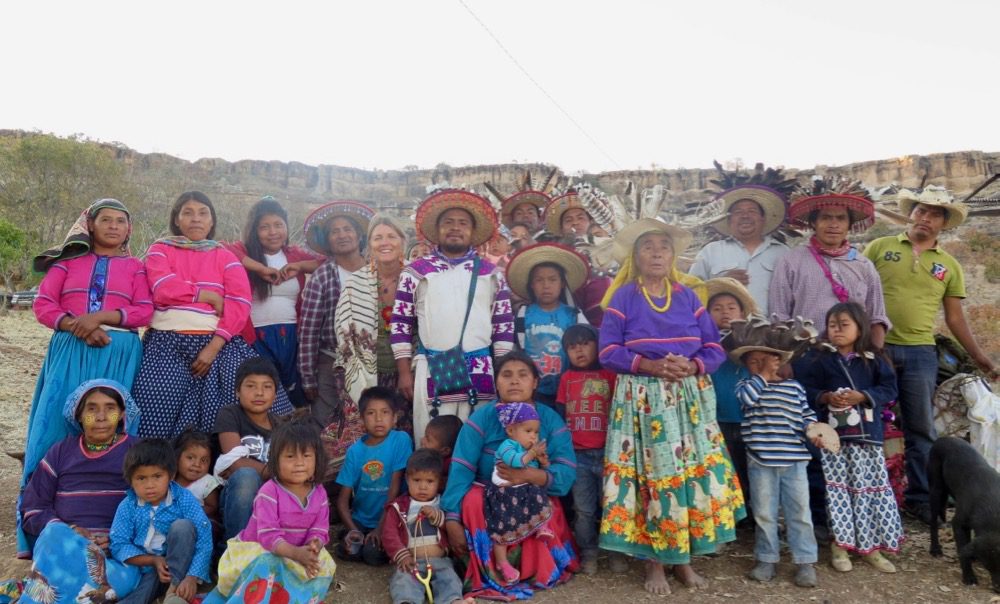 environmental justice Hernan Vilchez Huicholes: The Last Peyote Guardians José Ramírez Katira Paola Stefani Wirikuta Wixarika