Response to the Bilingual Americas Premiere of The Condor & The Eagle overwhelmed expectations, with more than 3,000 registered participants on the film's platform, and more than 40,000 tuning into the livestreamed panel discussion, "Defending the Defenders of Mother Earth," on The Esperanza Project and other Facebook pages. Now, we're asking for your help to build the movement that this film is catalyzing. Here's what you can do.
"It's mind blowing to us that 3,770 people registered for this event and more than 40,000 joined us online for the panel discussion," said film co-director Clement Guerra. "This event connected us from North to South in a powerful and historic collective moment for the climate justice struggle."
The event was a part of the strategy developed by Guerra and his wife and partner in the film's creation, Sophie Guerra. The idea from the beginning has been to use the film as an organizing tool to support frontline communities in their fight to defend their land and water, as well as the international movement to roll back an unfolding climate catastrophe. Indeed, as written in EcoWatch (June 23, 2020), the film "exemplifies how independent media initiatives can be powerful tools for social and environmental justice organizing."
Now the filmmakers, along with The Esperanza Project as the lead organizer of the event, invite you to join the building movement that is coalescing around this film. Voices of Amerikua, Xica Nation and 350.org Guadalajara, as co-organizers, are continuing to spread the word as well, and we hope you will join us.
Here's what you can do.

1.) The film is now available for rental HERE; a version subtitled in Spanish will be available very soon. If you haven't yet seen it or would like to share it with others, now's the time! Join our impact team by helping us spread the word about this movie and its availability. Read on for details….
2.) We are hosting an amazing event on Tuesday with the Sierra Club, "Ground Zero For Climate Justice". We will screen our film again (both Spanish and English versions will be available) and have a powerful panel discussion with activists from Black, Brown and Indigenous communities. We would love it if as many people as possible could attend and show their support for this event, which closes our "impact series" of 10 online events over the past two weeks. You can register for Tuesday's event HERE and it would be extremely helpful to us if you could spend some time helping us spread the word. Truly, this movement needs you, and this is something that you can do. Please send to your network, friends and family the following message, or something like it in your own words, encouraging them to watch the film:
"I have just watched the new award-winning Documentary The Condor & The Eagle, which moved me to the core. Please, watch it. It is a very important film, which reminds us of our deep interconnectedness with the natural world, while providing tangible solutions to environmental destruction. If there is only one film you watch this week, rent The Condor & The Eagle. It is an emotional adventure film that will keep you on the edge of your seat. The team behind the film is using the documentary as an organizing tool and a big part of the proceeds is supporting the frontline communities leading the charge for Environmental Justice. You can watch it HERE or register for the event organized by Sierra Club on Tuesday HERE."
HERE is a doc with images, texts and links for Facebook, Instagram, Twitter, email, WhatsApp — the social media of your choice.
2.) Stay tuned because early next week we will share with you the translated video panel discussion, Defending the Defenders of Mother Earth, with climate justice activists Bertha "Bertita" Cáceres of Honduras, Moira Millan of Patagonia, Patricia Gualinga of the Kichwa community of Sarayaku, Ecuador, and Yudith Nieto of the fenceline community of Manchester, Houston, and more recently, New Orleans. We'd love your help in sharing this powerful presentation as well.
3.) If you have not yet had the chance to donate, the link is still active HERE. Patricia, Yudith, Moira and Bertha are waiting to hear from us about how much we have collectively raised to support each of them in their extremely important work. So far, only about 10% of the participants made a donation. We know that we can do better. Any amount helps.
Many people let us know that they would like to donate but are not able to use PayPal. That is why we have set up an easy-to-use donation system on our website allowing you to donate using your credit card. Please go to our website, thecondorandtheeagle.com, click on CONTRIBUTE in the menu bar and do not forget to mention that you are donating for the event "Defending the Defenders of Mother Earth". If you don't have access to PayPal or a credit card, we do have other options — just hit reply and write to us and we'll work something out.
4.) We are continuing to organize impact events across the globe, and we'd love to have your support in this process. Would you be interested in hosting an event like this one, or do you know of a group that would? You can request to host an event HERE or contact us HERE to send us your suggestions.
5.) Finally, we are eager to hear your feedback on the film and subsequent Q&A. What did you love about this screening event? What could have been better (besides the technical glitches, which we are already working on)? And what can we do to amplify the impact of this film as an organizing and consciousness-raising tool? WRITE TO US HERE or in the comments below.
Once again, many thanks to those of you who have joined The Condor & The Eagle and The Esperanza Project communities. We are excited to see what we can achieve together.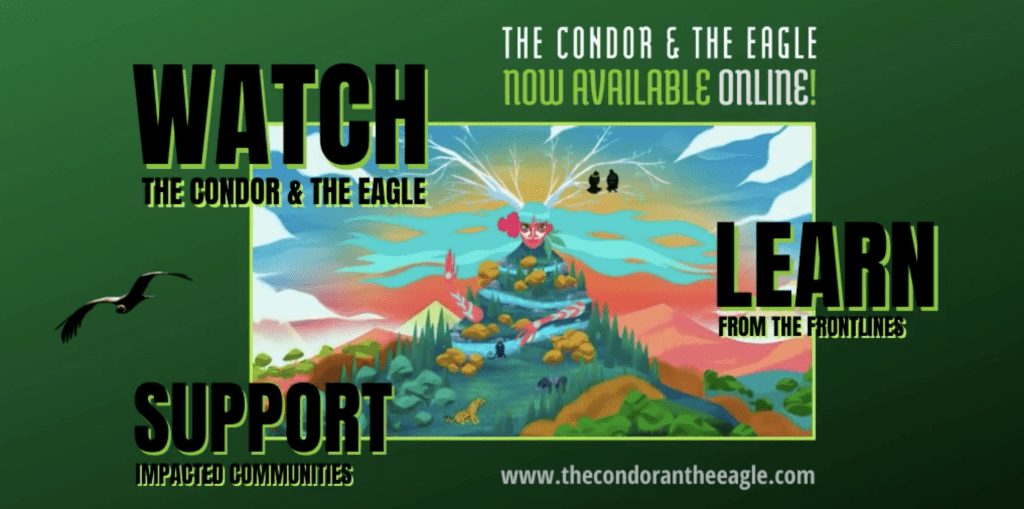 Clement Guerra climate change climate justice environmental justice Sophie Guerra The Condor & the Eagle