This weekend, Aug. 6-7, we are culminating the monthlong EcoSapien Speaker Series and Restoring Sacred Culture Across the Americas Convergence with a very special lineup of speakers on Saturday, and, on Sunday, an event unto itself: The Call of the Turtle, a Mini Vision Council that gives a small taste of this south-of-the-border phenomenon that has transformed lives and communities throughout the continent.
Register HERE to join us for Sunday's event and also for Saturday's lineup of speakers, including Gaia University cofounder Liora Adler at 11 a.m. Tune into videos of the entire EcoSapien Speaker Series HERE.
Tracy L. Barnett of the Esperanza Project is joining forces with Earth Sky Woman Tami Brunk to bring some of the Vision Council-Guardians of the Earth's special vision and magic to the North. Sunday's event is a lead-up to the long-awaited XVII Vision Council Dec 4-11 , 2022: "The Embrace of the Amate." We'll be hearing from author, ecovillage pioneer and Vision Council cofounder "Coyote" Alberto Ruz, who will present a history of the Vision Council and its nomadic voyage across the Americas in the Rainbow Peace Caravan, planting seeds of permaculture, nonviolence and inspired ecological living practices. Later in the program, we'll be hearing from his son Odin and his grandson Arun, three generations of powerful changemakers and all a part of the Vision Council tradition.
The Vision Council – Guardians of the Earth, which has held transformative events all across Latin America since its founding in the early '90s, is a fusion of art, theater, spirituality, indigenous tradition, integral healing and permaculture principals in the service of cultural regeneration. Every few years the "Seed Council," a multidisciplinary group of volunteers, come together and plan a new event in a new place, which takes the form of a weeklong encounter with nature and world changers from around the planet.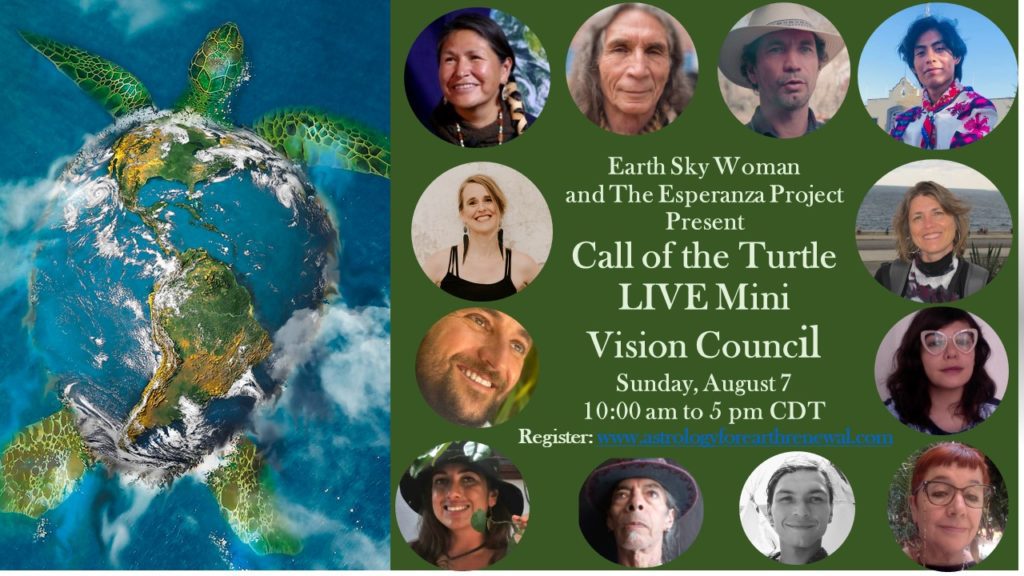 This year, after a five-year hiatus, the gathering will circle back to the place of its origin: Meztitla Scout Camp near the mountain town of Tepoztlán, Morelos, about an hour from Mexico City.
Participants of the Vision Council construct a temporary ecovillage on the premises and organize the event around various thematic "councils": Art and Culture Council, Health Council, Ecology Council, Spirituality, Education, Youth, Children, Natural Time and so on. Each council presents a lineup of activities throughout the week, and at night there are a series of concerts drawing on some of the best talent of Mexico and beyond.
This Sunday we will be giving you a virtual glimpse of the Vision Council through the eyes of some of its longtime members. Luix Saldaña, a Mexican artist, musician and activist and the creator and coordinator of the Art and Culture Council since the collective's beginnings, will team up with Esperanza Project co-editor Angelica Almazán, another Mexican singer/songwriter, to share some special moments of the Art and Culture Council over the years and talk about the ways that art can actually transform culture — and the human heart.

The Ecology Council will feature permaculture instructor, ecovillage founder and musician Odin Ruz Hansberg; Ecobarrios movement pioneer Noelle Romero, who has taken ecovillage concepts into urban areas; and Mexican Transition Towns leader Anahí "Clorofila" Martínez. The three will share inspirational stories from their respective movements and then share an "Ecology Café" dynamic.
The Spirituality Council will be represented by Earth Sky Woman Tami Brunk and Fernando "Nando" Ausín, author of the book "Messages from the Elders: Ancient Wisdom for Modern Times."
The Vision Council will close with a "harvest" of the collective wisdom of the group, using a technique council organizers refer to as "World Café" to see what the day's presentations and activities have inspired for participants, who will have their own experiences and teachings to share.
"The Call of the Turtle," whose name derives from a dream Tami had that gave rise to this entire series, pays homage to the concept of "Turtle Island," the name that many North American tribal peoples gave to North America. It is a part of the monthlong Restoring Sacred Culture in the Americas Convergence and the EcoSapien Speaker Series — all of which is available free, for a limited time only, on Tami's website, HERE.
Other Vision Council visionaries featured in the EcoSapien Speaker Series include third-generation ecovillage leader and permaculture teacher Arun Ruz; Laura Váldes Kuri, founder of the Bioregional Movement in Mexico; Albert Bates, author, "emergency planetary technician," and ecovillage expert; Diana Leafe Christian, author, former editor of Communities Magazine, and community dynamics expert.

Also tune in on Saturday at 11 a.m. for a live conversation with Liora Adler, cofounder of Gaia University, as well as a collaborator with the Vision Council; Liora is a visionary social actionist, educator, facilitator, mentor, event organizer, psychologist, holistic nutritionist and dancer. Register HERE to join us for all upcoming events, and see past interviews HERE.
Feature photo: Thank you to David Loblaw who gave permission to use his beautiful Turtle artwork.