The latest guest on the EcoSapien Speaker Series – Restoring Sacred Culture Across the Americas (Conversation with Earth Sky Woman Tami Brunk; hear her and all the other previous speakers HERE, and register for upcoming activities HERE) will be of special interest to many Esperanza Project readers: a woman who needs no introduction for many.
Diana Leafe Christian is author of Creating a Life Together: Practical Tools to Grow Ecovillages and Intentional Communities, and Finding Community: How to Join an Ecovillage or Intentional Community. She speaks at ecovillage and cohousing conferences, offers consultations, and leads workshops and online internationally.

With the ability to make things simple and clear, and drawing on a deep and broad understanding of community dynamics, Diana encourages effective and harmonious ways for groups to become healthy and thriving, and to resolve the typical interpersonal challenges that can arise in any community. She teaches online courses and workshops, "Sociocracy for Intentional Communities" (sociocracy is an especially effective self-governance and decision-making method), "Helping Your Community Thrive," and "Starting a Successful Ecovillage or Intentional Community."
She has taught workshops and spoken at conferences in North and South America, Europe, and Japan. An Ecovillage Design Education (EDE) trainer for Gaia Education, and editor of Communities magazine for 14 years, Diana has contributed chapters to three Global Ecovillage Network (GEN) and Gaia Education books: Beyond You and Me, Gaian Economics, and Ecovillage: 1001 Ways to Heal the Planet. She is a Board Member of GEN-US. In 2017 she received the Fellowship for Intentional community's Kozeny Communitarian Award, a lifetime achievement award for contributions to the US communities movement. Diana lives at Earthaven Ecovillage in North Carolina, U.S.
The monthlong EcoSapien Speaker Series and Restoring Sacred Culture Across the Americas Convergence features conversations with indigenous visionaries and activists, eco-elders in the fields of bioregionalism, ecovillage design, permaculture, earth-regeneration and humans we see as helping us connect to our animist roots while restoring elements of sacred culture.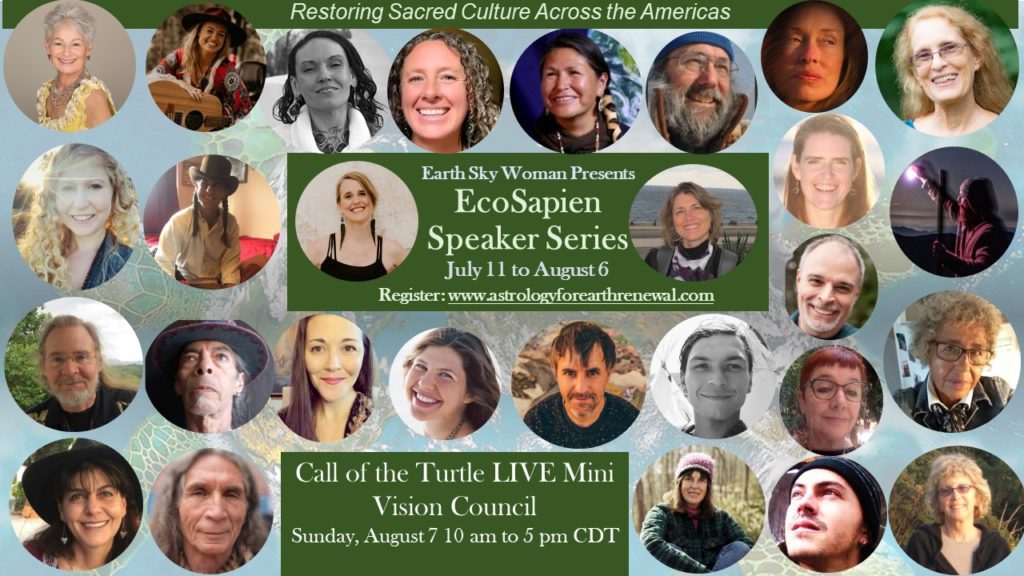 Last week we took a momentary hiatus but we resumed Sunday with Laura Kuri, the charismatic and accomplished founder and coordinator of the Bioregional Movement in Latin America, and yesterday, with the visionary Daniel Giamario, founder of the Turning of the Ages Mystery School. Hear them and all the other previous speakers HERE, register for upcoming activities HERE, and mark your calendars for next weekend, which climaxes the series with a daylong lineup of EcoSapiens on Saturday, Aug. 6, and "The Call of the Turtle," a LIVE Mini Vision Council on Sunday, Aug. 7.
Here's the entire lineup of the EcoSapien Speaker Series:
Monday 8.1 Daniel Giamario: founder, Turning of the Ages Mystery School (formerly Shamanic Astrology Mystery School) (Prerecorded)
Tuesday 8.2 LIVE 1:00 pm Diana Leafe Christian: former editor, Communities Magazine, and ecovillage expert
Wednesday, 8.3 LIVE 1:00 pm Gemini Brett: shamanic StarryTeller and educator reconnecting astrologers with the sacred astronomy of the living sky.
Thursday 8.4 LIVE 1:00 pm Rochelle Schieck: creator of Qoya, a movement system that explores the emerging essence of the feminine.
Friday 8.5 LIVE 1:00 to 2:30 pm Mary Laronde: specialist in Anishinaabe governance, self-government, land stewardship, community development, consultation, and communications.
Saturday, 8.6
* Diane Gribbin: Founder of HeartWood Healing Arts Ecowellness Centre & "LET LOVE WIN!" global movement & community. (prerecorded)
* Martha Hines: a channel and a cosmic healer. She has twenty years of experience as a clinical social worker, psychotherapist, and body worker. (prerecorded)
* Vandee Crane: founder of The Rise In Love Foundation, clinician, and author of "My Body My Soul," about her journey as a survivor of child sex trafficking (prerecorded)
* Erik Roth: shamanic astrologer and author of the book, Sacred Hearth Within: Vesta in Astrology. (prerecorded)
* LIVE 9:00 am Taelin Frasier: energy worker, singer, songwriter, earth artist, toy maker, hat lover, boot lover, basically a lover.
* LIVE 11:00 am Liora Adler: cofounder of Gaia University; visionary social actionist, educator, facilitator, mentor, event organizer, psychologist, holistic nutritionist and dancer.
* LIVE 1:00 pm Divine Harmony: astrologer, writer and teacher with Masters Degree in Depth Psychology from Pacific Graduate Institute.
SUNDAY, Aug. 7 – "The Call of the Turtle," a LIVE Mini Vision Council, 10 am-5 pm – Schedule coming soon!
Daily talks at 1 pm starting today will culminate this coming weekend with Saturday's lineup, "The New Eco-Sapiens," and you can register for coming events HERE and access all previous shows HERE.