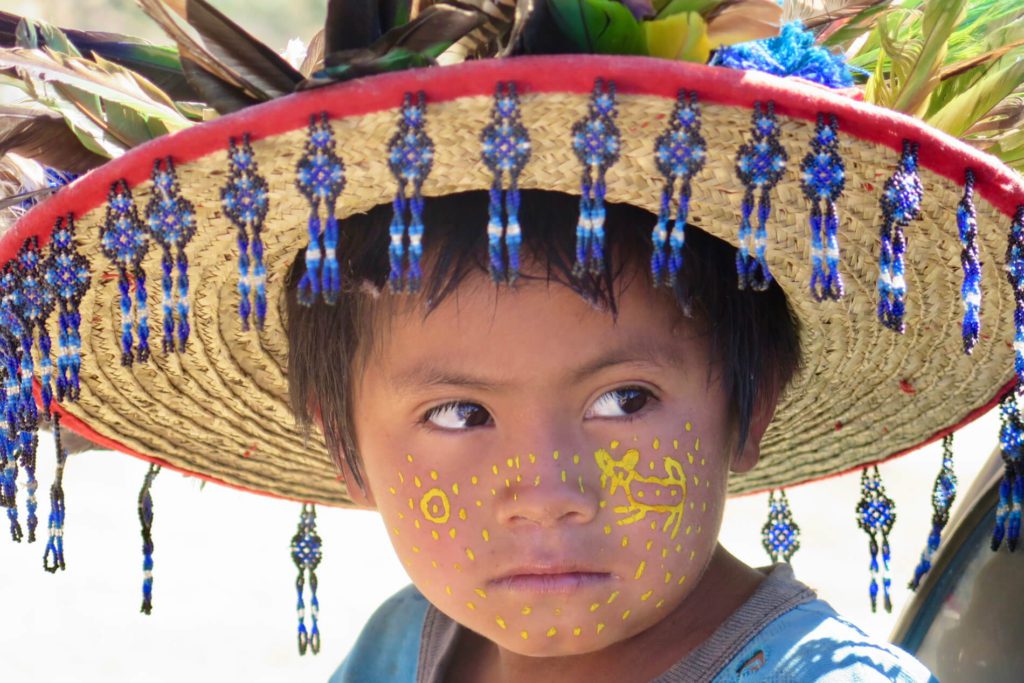 "There's nothing to celebrate." It's a common refrain every Columbus Day. The anniversary of October 12 comes and goes and it seems as if things have only gotten progressively worse for Indigenous peoples since the day Christopher Columbus first stepped foot on Native American land.
There's nothing to celebrate about the 212 documented assassinations of land defenders last year alone, 40 percent were indigenous people, despite making up only 5 percent of the population. There's nothing to celebrate about the systemic femicides and disappearances of our Native sisters. Native American women are murdered at 10 times the national average, with 84 percent of Native women experiencing violence in their lifetimes — many of them victims of the predatory men drifting across the mining camps and oil pipelines despoiling the countryside with scrap metal and polluted rivers.
There's nothing to celebrate about the craven law enforcement that favors Big Oil and white skin over the missing native women and murdered land defenders as well as the environment that nourishes us all.
But there is hope….
Indigenous people are taking increasingly visible and powerful leadership in the climate justice movement, the water protectors movement, movements that empower personal and political sovereignty. And increasingly, non-indigenous people are standing with their/our indigenous relatives. This is what we choose to highlight in our coverage at The Esperanza Project. And today, Indigenous Peoples' Day, we share 7 stories from our own archives about how Native Peoples are taking steps towards empowerment.
Tribes Nationwide Cheer Dakota Access Pipeline Shutdown
Tribes nationwide cheer DAPL shutdown: Four years after the Lakota people led the world in a globally galvanizing moment and gave birth to the term "Water Protectors," the court battle continues. On July 6 of this year, tribal leaders and constituents across Lakota Territory and elsewhere welcomed a hard-won court order to shut off the oil flow in the Dakota Access Pipeline (DAPL) within 30 days. That order was reversed, the fight continues, and this was only one of a superfecta of legal wins for water protectors.
The alliance between the scientific method and indigenous wisdom
A Natural Alliance: Science + Indigenous Wisdom: A powerful alliance is forming between integrated science and traditional food systems, writes Colombia collaborator and Unbounded World founder Daniel Henryk Rasolt. Looking to Indigenous socio-ecological systems, traditional knowledge, and integrated interpretations of what "nature" is and how to live in balance with the natural world, holds great promise and utility for achieving goals of "sustainable development", ecological conservation and restoration, and the prevention of novel disease emergence.
From Terra Preta (Amazonian dark earth) to ecological calendars, Rasolt shares examples from Colombia where scientists are increasingly delving into the time-tested wisdom of indigenous science.
Rez Connectivity: A Wireless Rollout Empowers Digital Advocacy
Rez Connectivity, Human Rights 'Necessity': Officials across Indian country to take advantage of the commission's unprecedented free offer for tribes to command much of the Educational Broadband Service in the 2.5 gigahertz (GHz) band, thanks to the labors of Oglala Lakota consultant Petra Wilson, who has been working to alert and assist tribal leaders across the USA of this opportunity. Wilson, a specialist in Indian education, had worked day and night all year to help her tribe and others qualify to become Federal Communications Commission (FCC) licensees of their own shares of the wireless spectrum.
"How do you work in a global context, if you're stuck in the '90s?" Insists the mother of nine, who has worked tirelessly to help tribes overcome the "homework inequities" affecting reservation students.
Women of Standing Rock Build Sovereign Economies
How the Women of Standing Rock are Building Sovereign Economies: For Sicangu Lakota water protector Cheryl Angel, Standing Rock helped her define what she stands against: an economy rooted in extraction of resources and exploitation of people and planet. It wasn't until she'd had some distance that the vision of what she stands for came into focus.
"Now I understand that sustainable sovereign economies are needed to replace the system we support with our purchasing power," she said. "Our ancient teachings have all of those economies passed down in traditional families."
Sovereign Sisters: A Feast for the Soul
A Circle of Sovereignty: Sovereign Sisters Gathering overcomes obstacles to shine online. Sovereignty means different things to different people, but perhaps its essence is best displayed in times of challenge. And so it was for the powerful four-day Sovereign Sisters gathering – the second such gathering – held on the third weekend in August. Despite two of the group's founders, Cheryl Angel and LaDonna Brave Bull Allard, being sidelined by illness and injury, the organizing committee forged ahead – principally Lyla June Johnston – and brought about a virtual feast for the soul. http://esperanzaproject.com/2020/women-empowerment-americas/a-circle-of-sovereignty/
Foodscapes and The Forest as Farm
Lyla June on the Forest as Farm: Science reveals that ancient foodscapes were cutting-edge regenerative agriculture: Speaking of Lyla June, her piece on indigenous agroecology from the first Sovereign Sisters gathering continues to be our most-read and commented articles of all times. If you haven't read it yet – or even if you have – it's a good time to check it out and be inspired. This story shows how scientists and scholars are revealing deeper truths about pre-colonial agriculture — and culture in general — that can point the way forward for a regenerative global civilization.
The Condor and The Eagle: Climate Justice hits the Big Screen — and many little ones
No More Sacrificed Communities: How an Environmental Justice Documentary Is Building Solidarity in the Midst of the Racial and Health Crisis. Challenging the isolation and impotence that many are feeling in the face of the current health and racial crises, the internationally acclaimed documentary The Condor & The Eagle and its impact campaign "No More Sacrificed Communities" is bringing us together in these challenging times – reminding us of our deep interconnectedness with the Earth and one another.