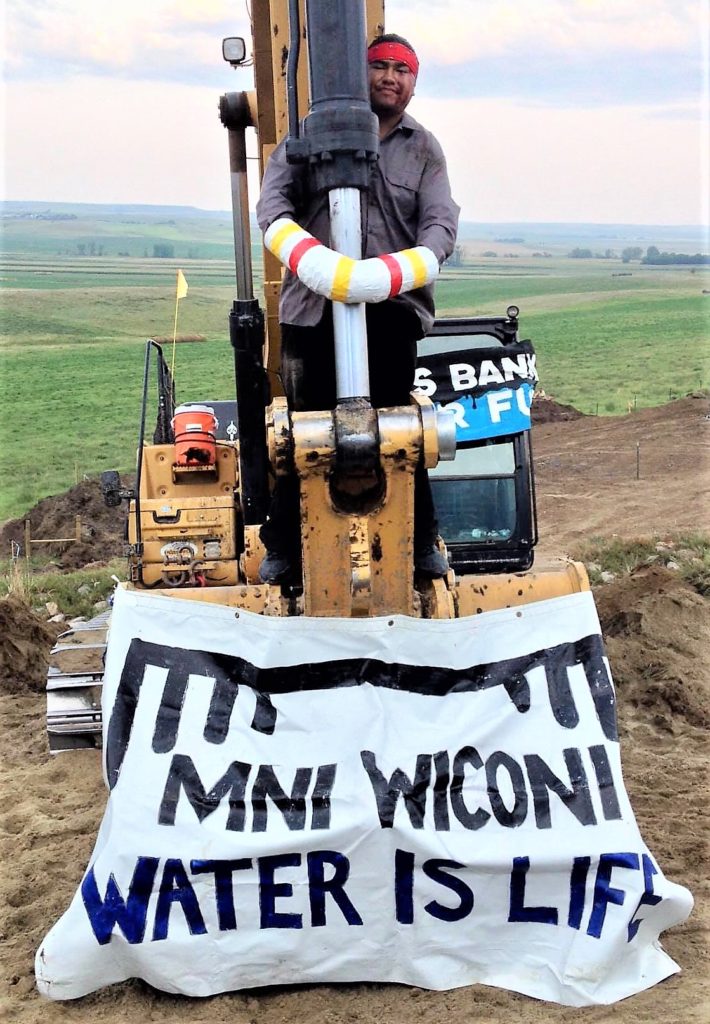 BISMARCK, ND — Law enforcement and private security agencies that employed attack dogs, pepper spray and water cannons against Standing Rock water protectors will have to stand trial next August — not for use of excessive force, but for closing a road.
Water protectors have secured an August 2021 jury trial date in their class action suit seeking damages for Constitutional rights violations suffered at the hands of state and private security during their 2016-2017 standoff over the Dakota Access Pipeline.
The case, Thunderhawk v. County of Morton, challenges the five-month "discriminatory" closure of Highway 1806 at the height of the international #NoDAPL standoff. The movement drew tens of thousands of grassroots tribal supporters to camps on treaty land along the highway just north of the Standing Rock Sioux Indian Reservation.
North Dakota U.S. District Judge Daniel M. Traynor denied dismissal motions by the government and private security firm TigerSwan LLC on Sept. 1. Federal Magistrate Judge Charles S. Miller then set a six-month timeline to submit pre-trial documents, beginning March 15 and culminating in a trial start date of Aug. 16.
"We are pleased that this case is moving forward so expeditiously," lead attorney Noah Smith-Drelich said. "We appreciate the commitment that Judge Traynor and Judge Miller have shown to ensuring that the plaintiffs in this case have their day in court without further delay."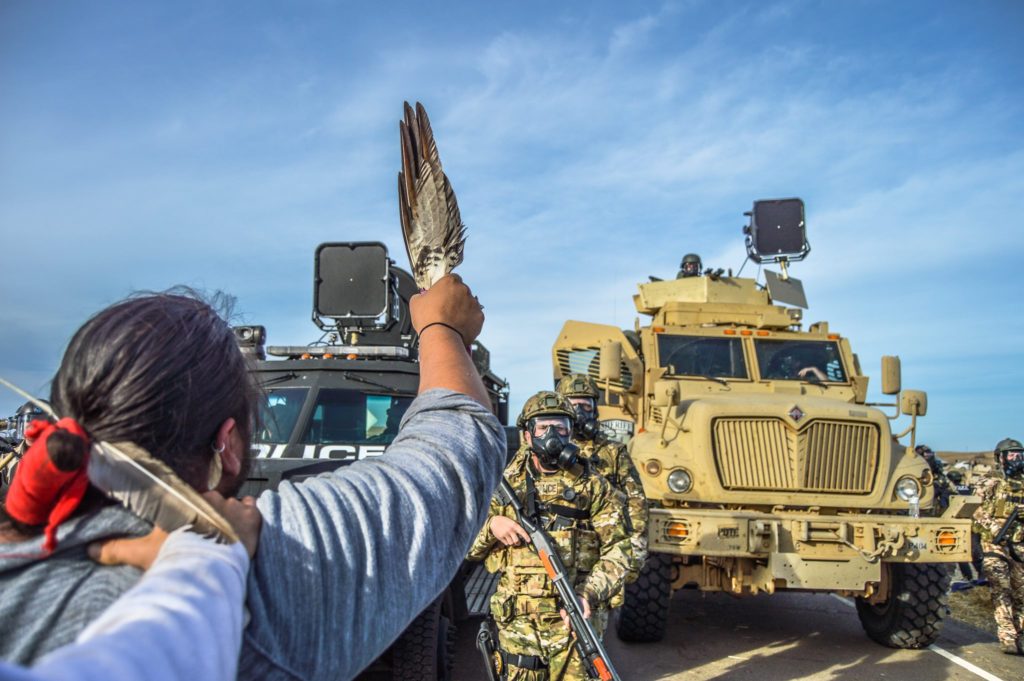 The plaintiffs are Standing Rock small business owner Cissy Thunderhawk, former Standing Rock Tribal Historic Preservation Officer Waste' Win Young, Standing Rock's Episcopalian Minister John Floberg, and Standing Rock school volunteer José Zhagñay.
Defendants are Morton County, North Dakota, and its Sheriff Kyle Kirchmeier, as well as North Dakota Gov. Doug Burgum, former Gov. Jack Dalrymple, and the private security firm TigerSwan LLC, hired by pipeline builder Energy Transfer Partners.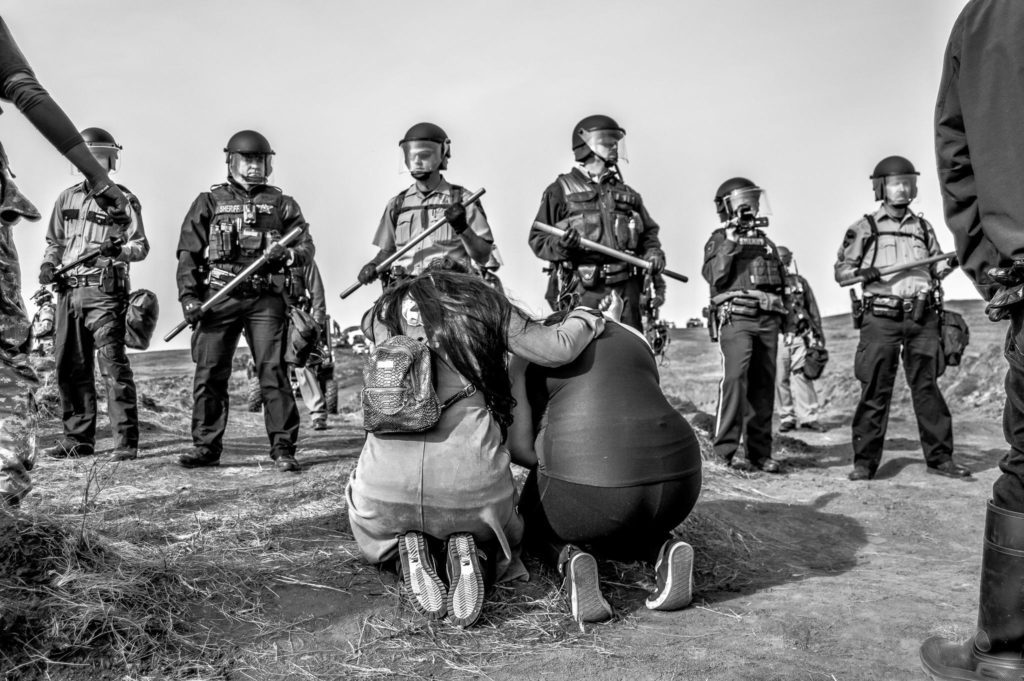 The suit addresses "law enforcement's discriminatory closure of a nine-mile stretch of the region's primary public right of way, which effectively severed the tribe and its supporters from Bismarck, the state capital and the location of the nearest airport, shopping, and major population center, as well as from the nearest major hospital," according to the Columbia Center for Contemporary Critical Thought, which is conducting the case at no cost to plaintiffs, thanks to its Practical Engagements initiative.
"Highway 1806 also served as the primary means by which water protectors traveled to assemble, speak, and pray in opposition to the construction of DAPL," it said.
It noted that on Oct. 24, 2016, defendants closed Highway 1806 from Ft. Rice to tribal headquarters at Ft. Yates. "This road closure was directed only at water protectors: Residents of Ft. Rice were allowed to drive southbound on Highway 1806 as were employees of DAPL."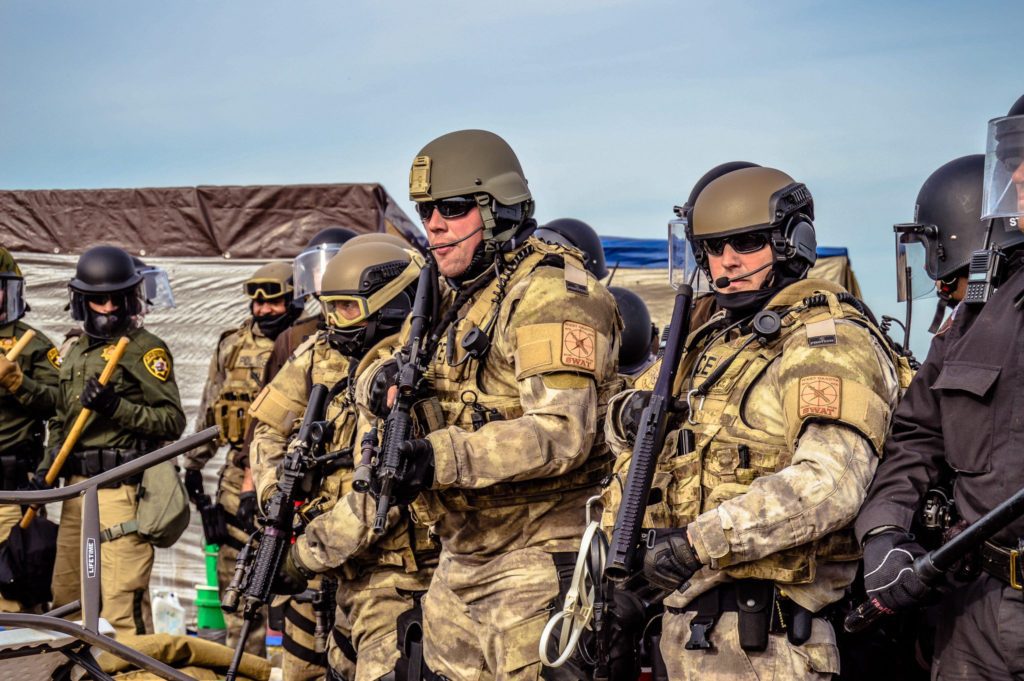 The plaintiffs also argue that "there was no need for defendants to close nine miles of a public thoroughfare to protect a construction site no more than several hundred feet in breadth."
The plaintiffs cites "the government's illegitimate purpose of extorting political concessions from the Standing Rock Sioux Tribe," specifically coercing the Standing Rock Sioux Tribal Council to formally request law enforcement assistance from the federal and state government to aid in restricting access to the camps, to publicly decree that all camps be vacated by Jan. 31, 2017, and to prohibit any new occupation.
This plan was circulated among the State Highway Patrol officers and in private meetings on a number of occasions, they maintain.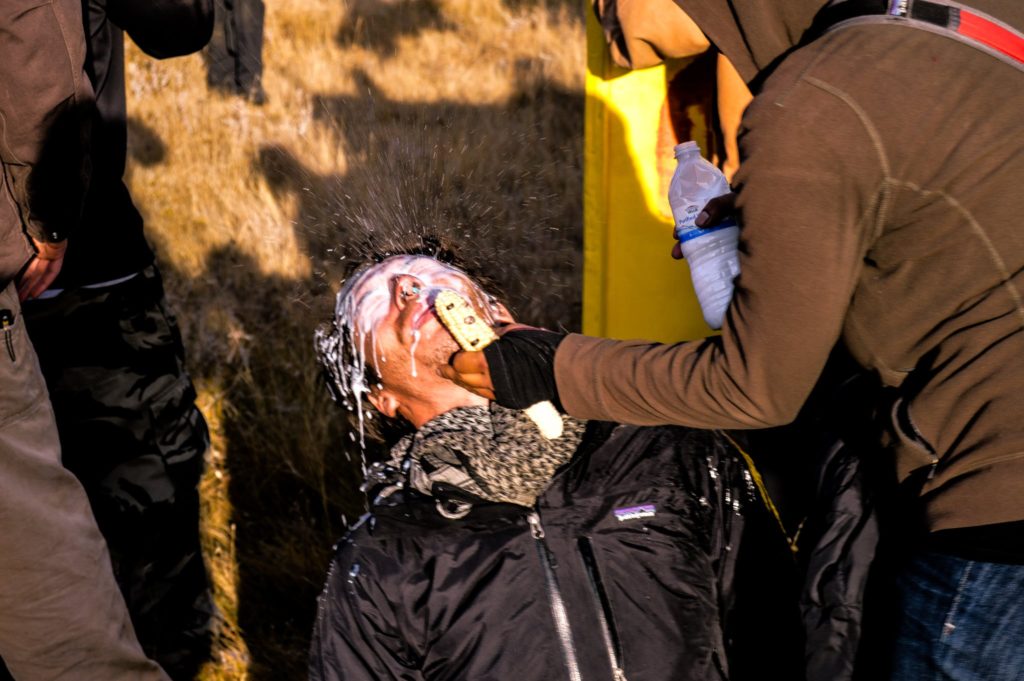 Traynor considered they supplied evidence of "sufficient facts to show the defendants' closure of the road in question constituted a per se unconstitutional prior restraint" and "to show a violation of their freedom of speech."
The trial will therefore address only the violation of the First Amendment Right to Speak and Assemble, with six other alleged violations being dismissed.
In ruling on the defendants' motions for dismissal for all of them, Traynor said, "The court accepts as true" the factual background contained in the water protectors' complaint, as follows:
"From April 2016 to February 2017, the Standing Rock Sioux Tribe was joined by tens of thousands of individuals who identified themselves as 'water protectors,' to protest the construction of the Dakota Access Pipeline (DAPL). These individuals gathered at camps set up in south-central North Dakota, specifically near the intersection of Highway 1806 and the Cannonball River."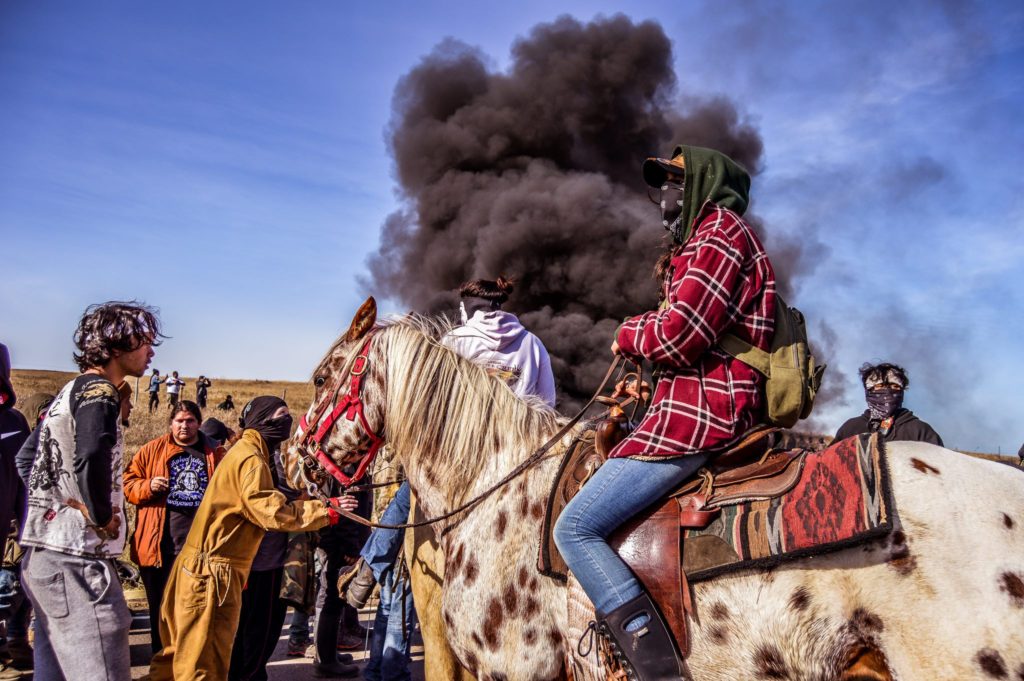 The Dakota Access Pipeline, which now transports crude oil from the Bakken shale field in western North Dakota to refineries in Patoka, Illinois, originally was going to cross the Missouri River upstream from Bismarck; it was later rerouted to cross less than one mile north of the Standing Rock Sioux Indian Reservation boundary.
"The plaintiffs assert the pipeline was rerouted from its original path north of Bismarck because of concerns of contamination to the water supply. The Missouri River is the sole water source for the Standing Rock Sioux Tribe, the Cheyenne River Sioux Tribe, and many other communities throughout the region," the court noted.
The plaintiffs state that the pipeline "runs through a number of sites that have significant cultural, historical, and spiritual value to the Lakota people" and through "land over which the tribes still claim ownership."
"Representatives of more than 300 indigenous nations, among many other supporters, gathered near the construction site starting in April of 2016, demanding the halt of construction of the pipeline." While a majority of these individuals were out-of-state visitors, the plaintiffs claim, "there remained at all times a strong contingent of North Dakota locals." Hundreds of protestors residing on federally and tribally-owned lands became legal residents of the camps.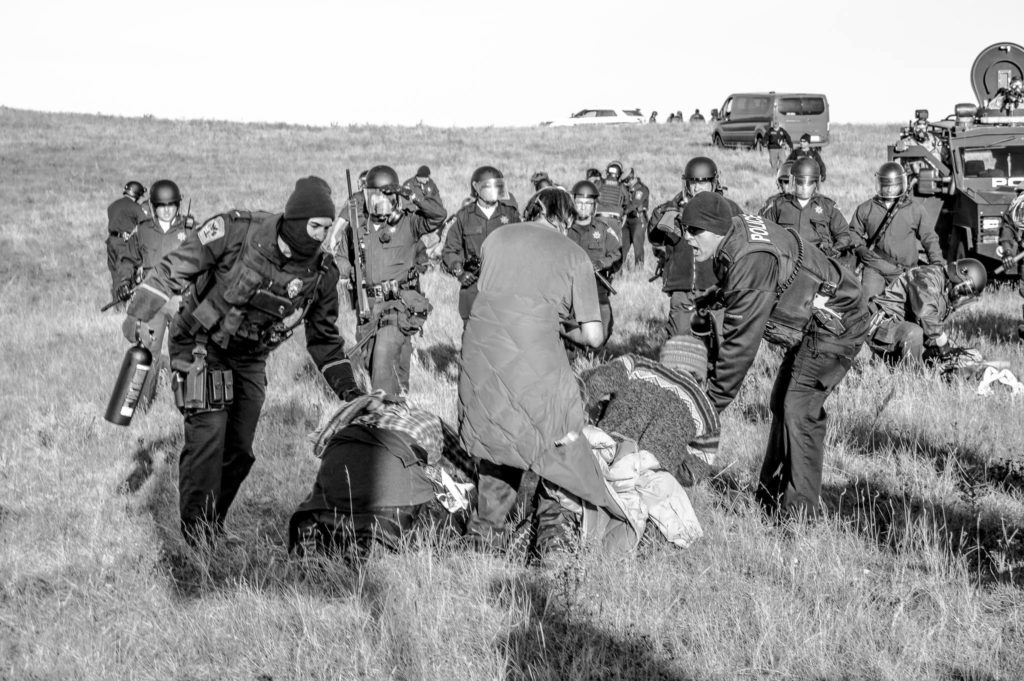 "To the plaintiffs, 'One of the primary functions served by the camps was symbolic, with the very act of staying at or visiting the camps representing the primary means by which numerous individuals expressed their support for the movement.' By September of 2016, approximately 7,000 – 10,000 individuals made up the population of these camps," the court recognized.
While the defendants attempted to introduce evidence of criminal activity of potential protestors, the plaintiffs allege that the "vast majority of the speech, assembly, prayer, and travel in this area was completed in a peaceful and lawful manner," including thousands of water protectors who "prayed, marched, sang, waved placards, and chanted on thousands of occasions over the course of a nearly year-long period without any incident."
The complaint says the closed portion of the road included a "public area immediately abutting Highway 1806" and "specific identified sacred and ceremonial sites, which were located several miles north of the Backwater Bridge" and were used as places of speech, prayer, and assembly.
Tim Mentz Sr., the Standing Rock Tribal Historic Preservation Officer, identified ancient burial and ceremonial sites and other significant cultural artifacts in the area. The pipeline company immediately attempted to destroy these sites, the suit mentions, adding that DAPL-employed security forcesunleashed trained dogs against Water Protectors in the confrontation over historical preservation.
In addition, the plaintiffs present facts showing the authorities barricaded and closed the bridge for an extended period on bogus inspection pretexts. An Oct. 28, 2016 inspection could have shown the bridge "was and had been structurally sound" and could have been reopened. It wasn't until Jan. 12, 2017 that the state Transportation Department revealed that fact..
Even then, they complain, the closure of the nine-mile stretch of Highway 1806 in question continued for 68 additional days. This was despite the fact that the DAPL highway crossing construction was completed in early November and no active construction took place for a majority of the closure, according to allegations.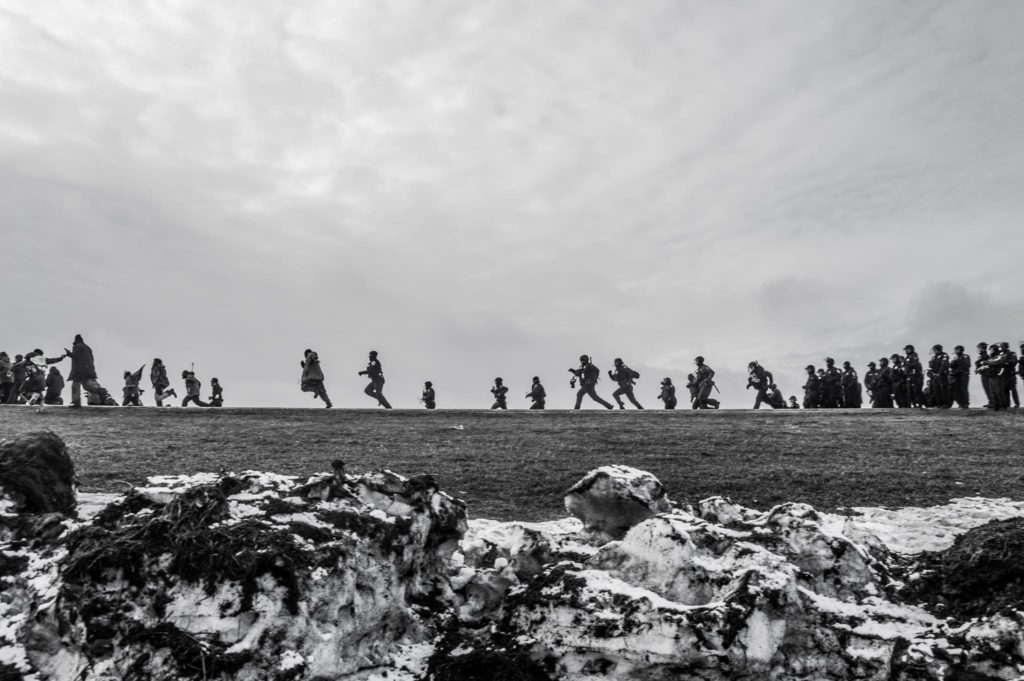 Meanwhile, alternative strategies for ensuring public safety and traffic were being contemplated by the state and local defendants throughout the period in question. The complaint states that these included: deploying a non-militarized police presence near demonstrators in public areas, arresting and detaining lawbreakers (but not those peacefully and lawfully gathered), maintaining slower speed limits on the roadways, implementing cautionary road signage and traffic safety checkpoints, installing speed bumps and other similar traffic mitigation measures, "and even non-discriminatorily closing short—several-hundred feet— stretches of the road to traffic for only the minutes or hours during which a large demonstration was occurring."
The plaintiffs assert that if these alternatives had been used, "It would have decreased the cost of policing, substantially improved public safety, left open public forums for speech and free exercise, decreased burdens on intrastate and interstate travel, and decreased the burdens on commerce," the court notes.
However, claimants allege that starting in September of 2016, "TigerSwan initiated a course of joint participation with law enforcement officials in operations," providing intelligence that was "persistently misleading and distorted the state and local officials' perception of the movement."
For example, the plaintiffs maintain, "TigerSwan labeled their prayer and speech as riotous; TigerSwan spread allegations that protestors possessed weapons, and TigerSwan mischaracterized protestors as dangerous and violent criminals.
"These mischaracterizations," the plaintiffs assert, "aided in the state and local officials' decision implement and maintain "excessive measures against the tribe and its supporters, primarily including the road closure in question."
They take issue with "the means by which TigerSwan gathered its intelligence," saying it points to a joint operation with state and local officials.
They cite TigerSwan stationing a liaison officer in law enforcement's Joint Operations Center, which allowed TigerSwan to coordinate with law enforcement in planning operations, beginning in September. TigerSwan provided state and local officials with intelligence, logistical support, personnel, and equipment, they claim.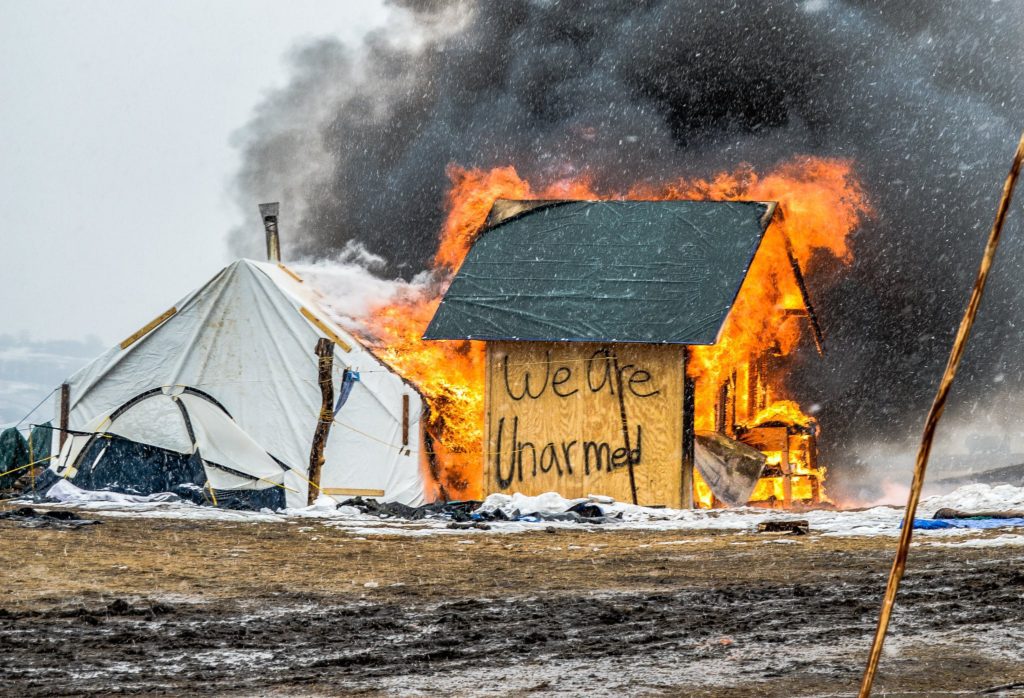 For instance, they assert that during a no-fly order in the region, TigerSwan continued to fly over the area to conduct surveillance, which would have only been legal by Federal Aviation Administration standards if TigerSwan was participating in law enforcement action.
Footage from these flights during the no-fly period, the plaintiffs allege, was then used later by prosecutors in cases brought against protestors. The private firm "performed tasks in intelligence and evidence collection traditionally reserved for law enforcement officials," which included:
a) conducting flights over water protector camps with forward-looking infrared cameras to gather intelligence; b) constructing "person of interest" folders on water protectors; c) directing the infiltration of water protector camps by individuals using false names and identities; d) in at least once instance, connecting law enforcement's intelligence unit to the live feed of a company's helicopter video surveillance; e) presenting video and photo evidence to the North Dakota Bureau of Criminal Investigation in support of prosecuting water protectors; f) using coding techniques to surface water protector profiles and groups on social media; and g) supplying intelligence and surveillance information, upon request, to federal authorities.
The judge concluded that the plaintiffs "have alleged facts, which, taken as true, could plausibly show TigerSwan and state and local officials had a "meeting of the minds" as to a joint operation in which TigerSwan was a willing participant to close the area in question in alleged violation of the plaintiffs' constitutional rights."
Talli Nauman is Lakota Country Correspondent for The Esperanza Project. She is a longtime Americas Program collaborator and columnist, a founder and co-director of Journalism to Raise Environmental Awareness, and Health and Environment Editor for Native Sun News Today. She can be reached at talli.nauman(at)gmail.com.
Many thanks to Rob Wilson Photography. Follow Rob on Facebook to see more of his powerful work.
This story was reported and produced with the generous support of the One Foundation.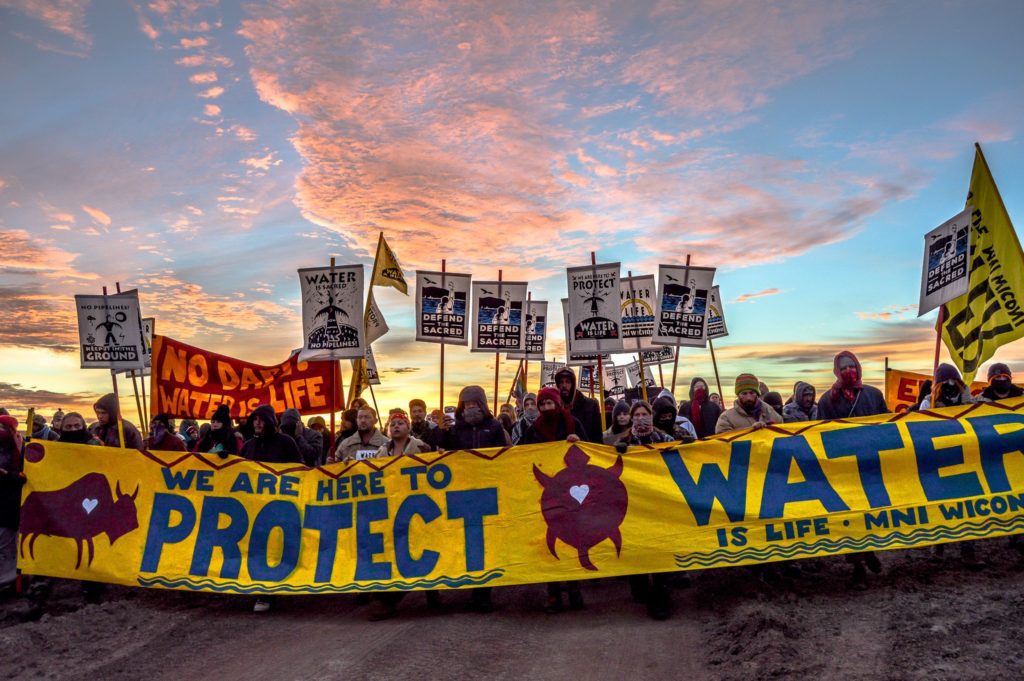 Dakota Access Pipeline DAPL Happi Americanhorse police brutality Standing Rock Water Protectors