One of the principal founders of the Vision Council – Guardians of the Earth is also an icon for the World Rainbow Community since the seventies. "Coyote" Alberto Ruz Buenfil is a visionary revolutionary who has been planting seeds of change in every step of his way.
Alberto, a native of Mexico born in 1945, is a true global citizen, with French and Cuban roots, among others, and children of Mexican, Italian, Basque and German heritage. His work is dedicated to social change, environmental sustainability, ceremonial and the performing arts. He co-founded two international theater troupes, participated in social movements from the Black Panthers to Bauhaus, and co-founded Huehuecoyotl, Mexico's first ecovillage. He led the 13-year Rainbow Peace Caravan from Mexico to the Tierra del Fuego and Brazil, a sort of nomadic eco-school and theater troupe dedicated to spreading a culture of peace and environmental sanity in the jungles, mountains, barrios, indigenous communities and favelas of Latin America.
He was an Ashoka fellow from 2002 to 2005, and in the name of the Rainbow Peace Caravan, received the "Escuela Viva" (Living School) Award from Brazilian President Lula da Silva and Minister of Culture Gilberto Gil as one of the 60 most advanced education projects in the country, where the caravan spent 4 years.
Para leer este artículo en Español, haz click AQUÍ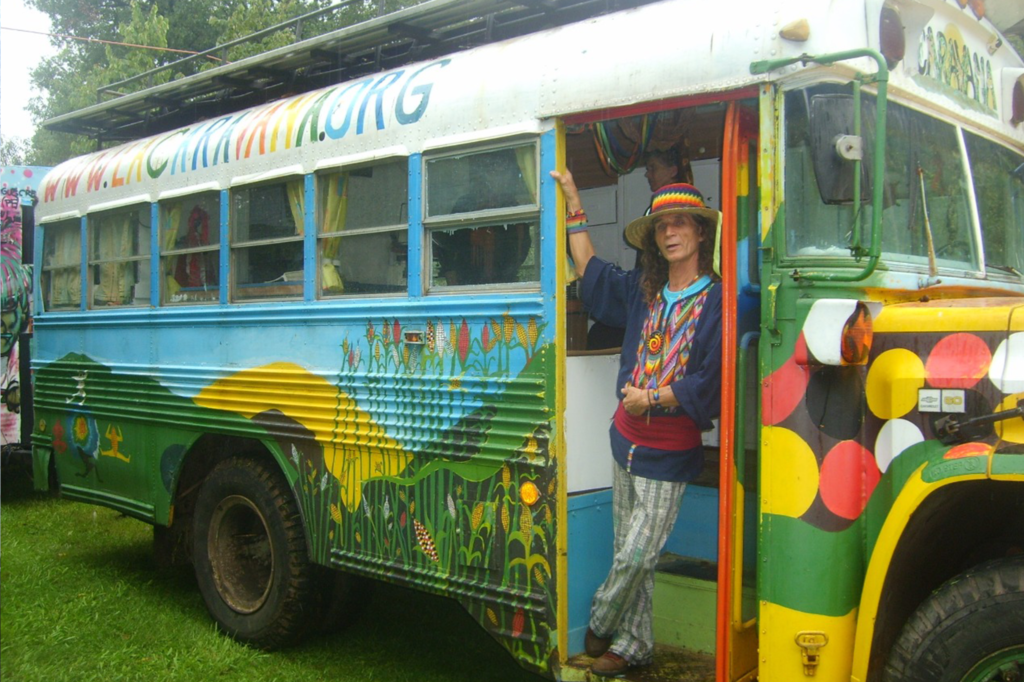 Upon his return in 2009 from South America, he was invited to be part of a team at the 'Department of Culture' of Coyoacán, México DF, where he created the Ecobarrios project (an urban version of ecovillages) and took it for three years to 10 different pueblos and barrios from that part of the city.
Alberto is the author of several books, including most recently Ecobarrios en América Latina, Memorias de un peregrinaje al Japón and Correo de los Cuatro Vientos: Ecos de Tlatelolco (The Postman Of The Four Winds: Echoes Of Tlatelolco). This year, on Oct. 2, he will be leading a silent walk in Tlatelolco in the Plaza of Three Cultures, site of the Tlatelolco massacre of hundreds of students and dissidents by the Mexican government on Oct. 2, 1968.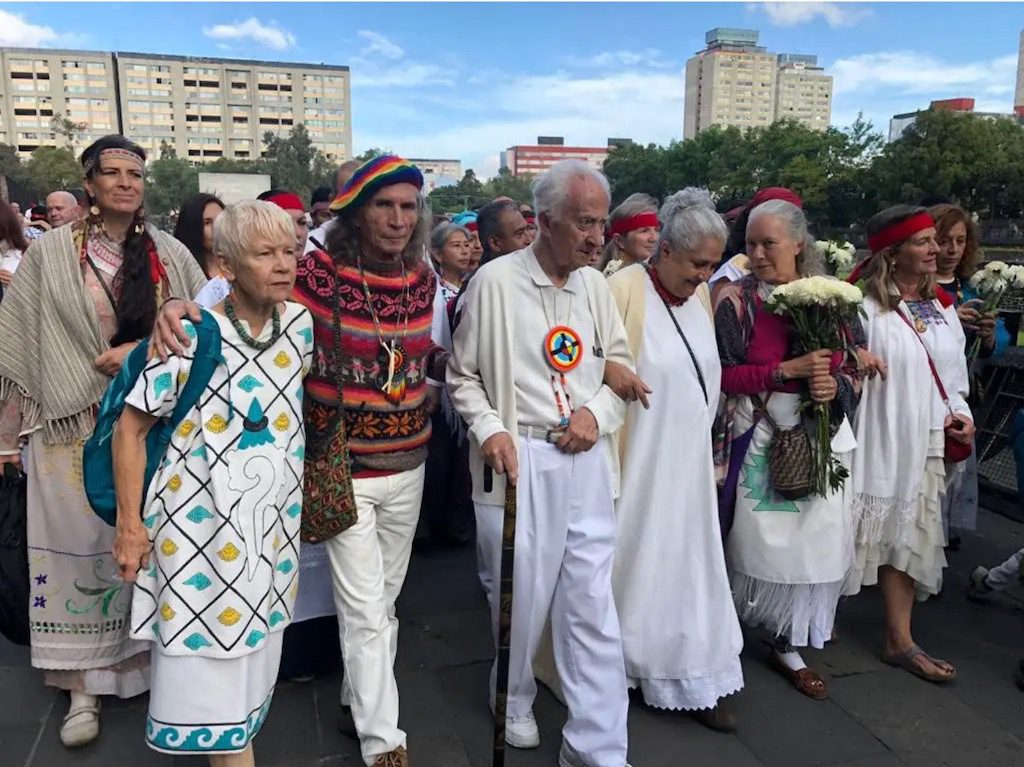 To learn more about the XVI Vision Council – Guardians of the Earth "Embrace of the Amate Tree," or to register, see the network's website and follow on Facebook and Instagram.
From January to November 2013 he served as Director of Environmental Culture in the state of Morelos. Since 2014, he has been an adviser to the Mexico City Legislative Assembly on the subject of the Rights of Mother Earth. He organized with a group of artivists the First Global Forum for the Rights of Mother Earth in Mexico City in 2016, after which the initiative recognizing the Rights of Mother Earth was adopted in an article by the city's legislature.
Nowadays his main focus, besides finishing several of his books, is contributing to international efforts to recognize the Universal Declaration of Rights of Mother Earth at the United Nations. He currently lives in Huehuecóyotl and travels around the world as a keynote speaker at many different kinds of events.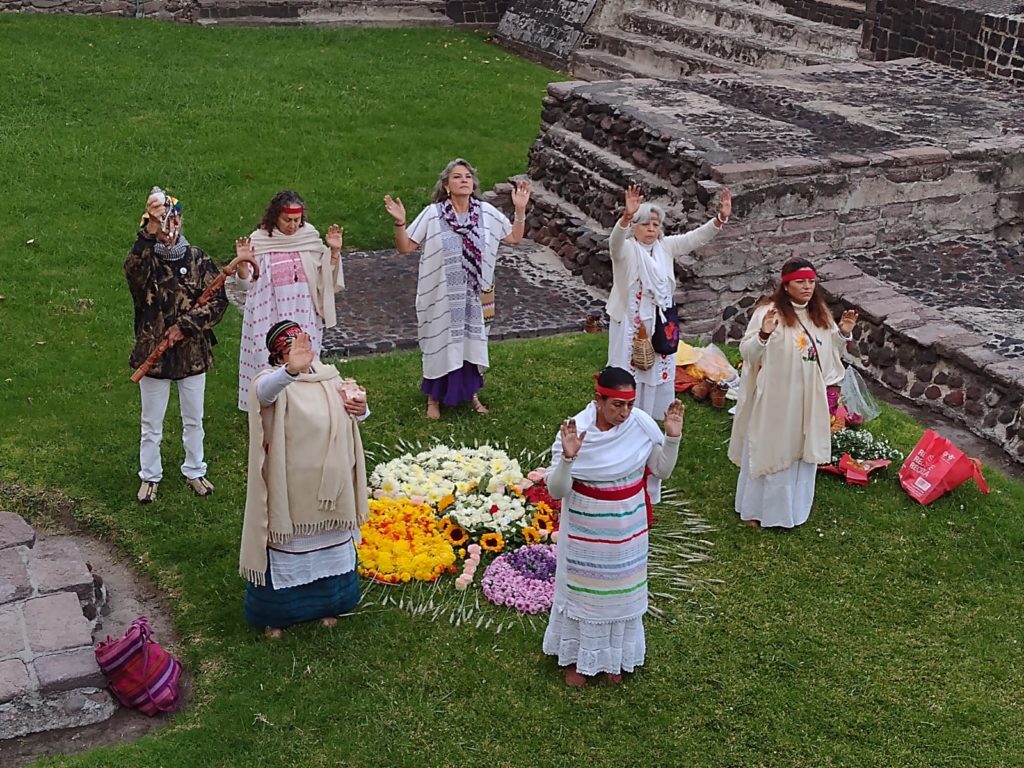 Alberto is also the father of leading permaculture designer and Vision Council leader Odin Ruz, and grandfather of Arun Ruz, recently featured in a previous EcoSapien Interview.
We are honored to present the conversation that we had with him as part of the EcoSapiens speaker series, a joint project of The Esperanza Project and Earth Sky Woman Tami Brunk. You can find the videos and bios of all the speakers in the first part of the series HERE.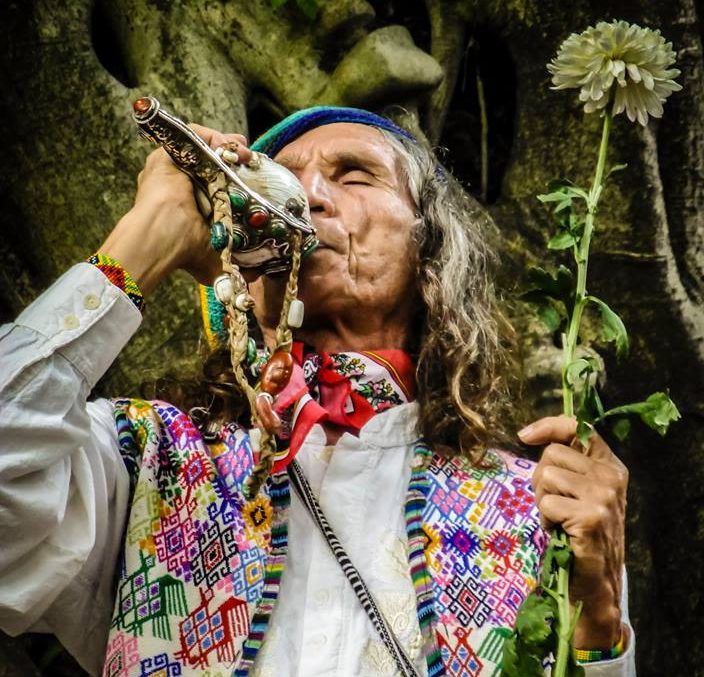 Tami: As co-founder of Mexico's first Ecovillage, Huehuecoyotl and in wisdom gained from your years of travel across the Americas facilitating Vision Council Gatherings as well as from other arenas of your life's work as a change agent–what counsel would you give to young visionaries trying to change the world today when it continues to feel so upside down? What progress have you seen being made and what advice might you give to a young person who wants to effect change but sees so much falling apart?
Alberto: When a generation like ours from the sixties breaks so many of the patterns — the way of living, rebelling and trying to create a different society, different proposals to change the world and to change ourselves — it tends to happen that the second generation, the one who comes after us, tends to be much more reflective, much more inclusive, even reacting, sometimes not so nicely, against how they grew up in families and tribes like ours and doing the things we were doing. Suddenly you see that they want to do something very, very different. And it's probably more or less what happened between us and the generation before. And at the same time what I see as an elder, an abuelo, a grandfather, is the next generation trying to recover the spirit of what pushed us or led us back in the sixties and seventies to do the things we did.
And now the third generation is saying "Hey, those grandparents were not so crazy. They probably smoked a lot of ganja, but there were things that they did know, and that's why we're talking now about villages and communities and then from there, gatherings of tribes and projects that had to do with a change of this paradigm."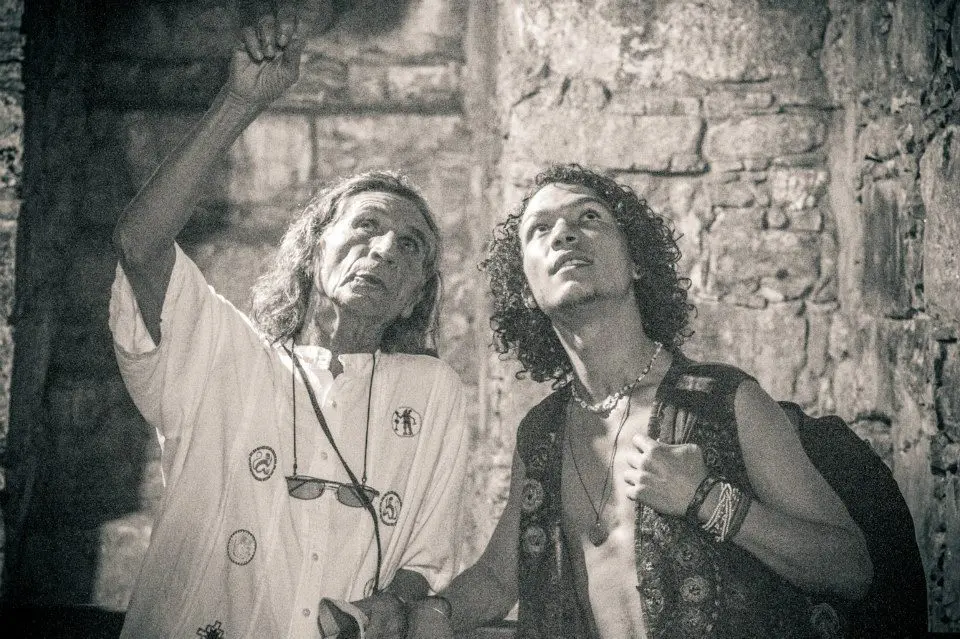 Suddenly it all does start to make sense, especially because of the state of the world. Because the situation is so bad in so many ways that the young people are saying, "Hey, if we don't do something, they are not going to do it for us anymore— because they already did what they could do. And if we don't take up the baton, then this is probably going to get worse and worse from now on."
And so I do see in the next generation a lot of very young people in their twenties, who are very wise, very smart. They know how to use the tools we never learned to use and we probably won't ever be able to use. They call themselves the millennials and they grew up with those tools, but they also grew up with those stories, with those examples, with those experiences that we started back in the sixties. So I do have a lot of hope in this coming third generation. I do see the things that we were not able to manage in our time that they are now doing.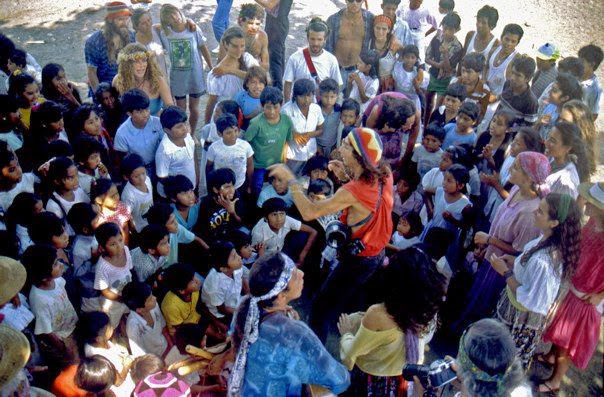 Tami: You have had such a rich life and have had so many amazing experiences where you've seen what's possible. You've lived a life making the impossible possible. If you could take a moment to move back in time and let your memory rest on some of the most incredible moments of your rich life, to see whatever comes up. A memory that feels very alive. Could you take us there and help us see through your eyes?
Alberto: Well. In July this year. The National and International Rainbow Gatherings celebrated their 50th anniversary, and they did it exactly in the same place where the whole movement started. We got to participate in our first Rainbow gathering in 1977 at a time in which we had already created our intentional community and tribe, which was first called Hathi Baba's Transit Ashram commune, living and learning in different ashrams and with tibetan and hindi teachers in Asia .
Then secondly, we became the Illuminated Elephants, which was born in Northern California. We were basically a tribe of about 15, 20 people from different nations, different ages who had decided to live together as a nomadic tribe, using the theater as a way to convey, to share what it meant to be living together.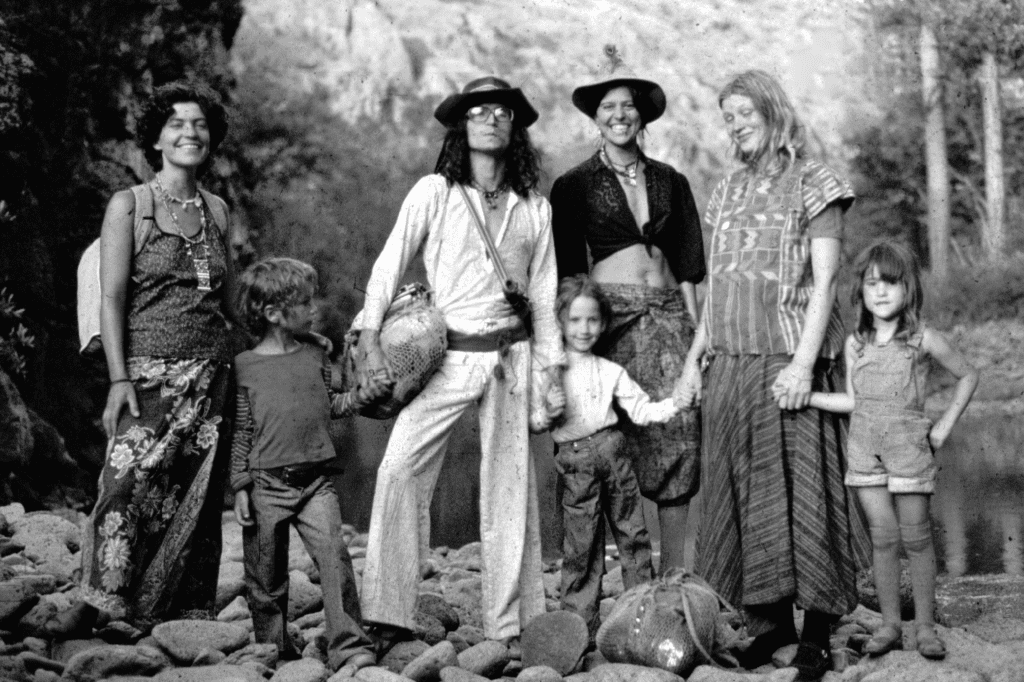 And I go back to remember when we created a new play, it was not a play. It was much more than a play. It was an experience. It was born from a living experience, a living theater experience, because we were very inspired by The Living Theater, founded in New York in the 1940s. And that presentation was called The Aleph, An Open Window to Utopia. And that story and script that we turned into a performance was a kaleidoscope of different celebrations of community living in the world by different cultures, etnic groups and religions. So we had together the Greeks back in the time of their early experiments to create communities. Passing through Buddhist communities, the ashrams in India, the Eastern Surrealist movements, all of them different experiences that implied people getting together and creating a taste of utopia.
And that was the first time and the way we presented several moments of alternative history. It was fantastic because we could see that we were already planting through a play or a show or a performance or a "happening the way we were living". It meant going into the hearts of an assortment of people, very different people. Audiences and ourselves. We did those presentations for children and adults and people from different cultures, and in parks, in the streets and the markets and wherever we went.
And that story, with a different script, was reproduced years afterwards when we created the Rainbow Peace Caravan. Now we had several buses, people from different countries, ages and origins who were using theater as a way to show how you can live together in a different way, how you can create an economy and education, a way of healing ourselves, that it was not individual, that it was collective.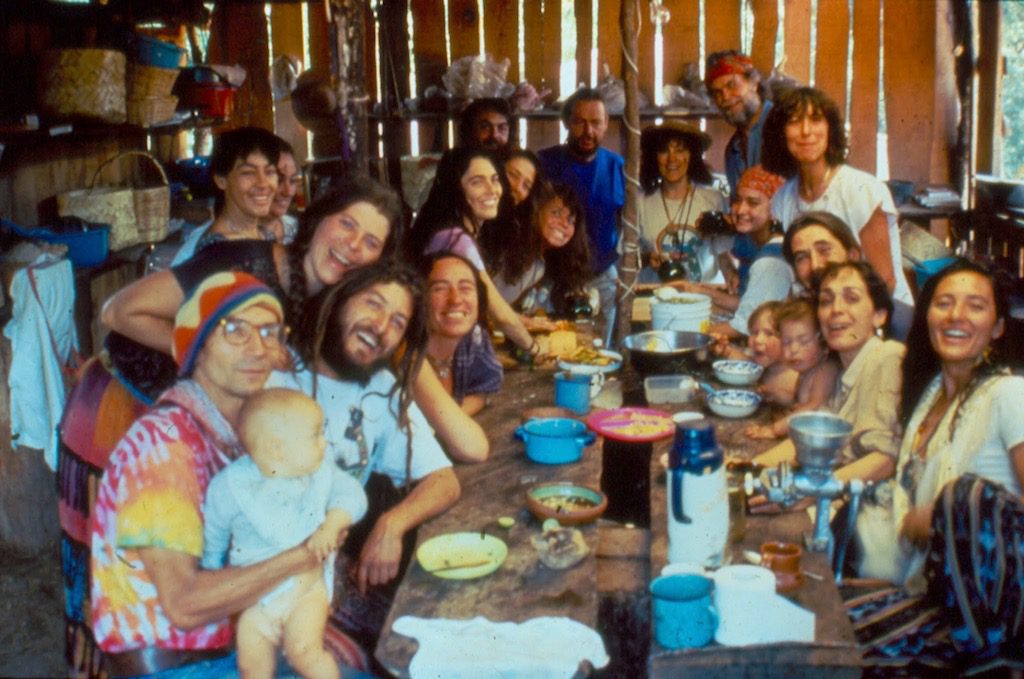 And for me, the concept of collectivity has been very fundamental all my life. Maybe because I grew up in a family where we were only two children. And I wanted to have a table with many people. So that's what I did. Since the beginning, I started to create, attract and in many ways lead groups of people with the same interests that that basically were showing, through an artistic experience, that it was possible to live together.
So when in 1977 we came to our first Rainbow Gathering with our only bus at that time, which was in California, we found out that we were not a bunch of freaks that have gone out on the road, but that we were many, many people living in buses like us, and then other people living in yurts and in teepees and people living in occupations of buildings in the city and in rural communities. So we said, "Hey, we are not alone. This is not just a continuation of a smoker's pipe dream or of an LSD dream. You know, this is real. We are many and we are part of the many." So that experience of going to many Rainbow Gatherings since then was one of the memories where every time I came to learn, we dared to learn that we were not alone, because before that we didn't have any other example that it was possible.
We have been to Rainbow Gatherings with 20,000 people, and then we saw that this possibility could be manifested without the use of money, just passing the hat. Without police, without many of the restrictions of our society. So we said, "Well, now we know we're on a good path!" And that was in California in the 70's.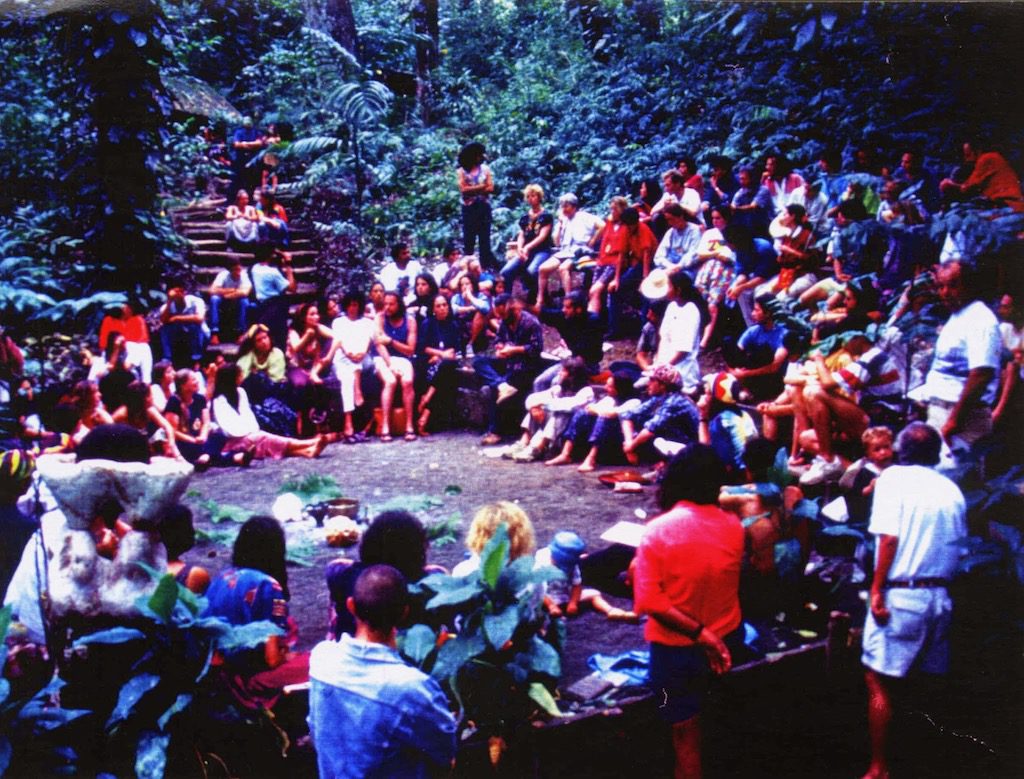 At that time, we learned about the book Ecotopia, by Ernest Callenbach, and I said to myself and our tribe "There is a possibility for a society to take over our own power and to change." That's the story of Ecotopia: Three states of the United States, Washington, Oregon and California, who decide to separate from the rest of the US. They create an ecological, utopian community life, society, state. And I said, "Wow, this is interesting." And right now I'm reading a new book, the first book I have read on a tablet – for a long time I resisted reading books on a tablet – and the name of the book is Retrotopia, A Novel of the Deindustrial Future, by the author John Michael Greer. And this book presents a vision focused not on the future but on the past, not on a future-to-be-created but on an abandoned and undead past that he calls Retrotopia, which is very much inspired by two books by Starhawk: The Fifth Sacred Thing, Walking to Mercury and more recently City of Refuge, which came out in 2016.
And It's the same idea: a science fiction depiction of something that could and would and probably will happen, or it's happening already, unless we decide to disappear as a species. And that's also a possibility. That's dystopia. That's the opposite of Utopia, Retrotopia, or whatever. Those are all just books, but they are also seeds, like those plays we presented and those Rainbow Gatherings and like those Consejos de Visiones (Vision Councils) that suddenly show us that another not future not only possible, but it's already happening. It's not just a dream. And then a sentence came to me years ago when I said, "A dream that you don't live becomes a nightmare." And that's exactly what we're trying to avoid: the nightmares.
I remember we were doing a film in Brazil in 2006 about a group of people from the streets—homeless people.The film was real because the people were real people from the streets, you know. And then it was us, the Rainbow Peace Caravan, and it was me, the Mexicano in that film, who gave those people from the streets the idea to occupy a building and to turn it into a huerto vertical, a garden of life.
And that film, called Cocoré, showed how the group of people in the film who have no hope of anything in life get together because there is somebody — in that case it was me, a Mexican anarchist, who told them, "Yes, there are other options. Let's create a farm in the middle of the city in a building." And that was fantastic. And in one of the scenes I jumped from the third floor of the building tied from a rope to a gigantic wall, and with spray paint I wrote "Live your dreams," "Vive tus sueños." And that's what I've been doing all my life. I've been living my dreams.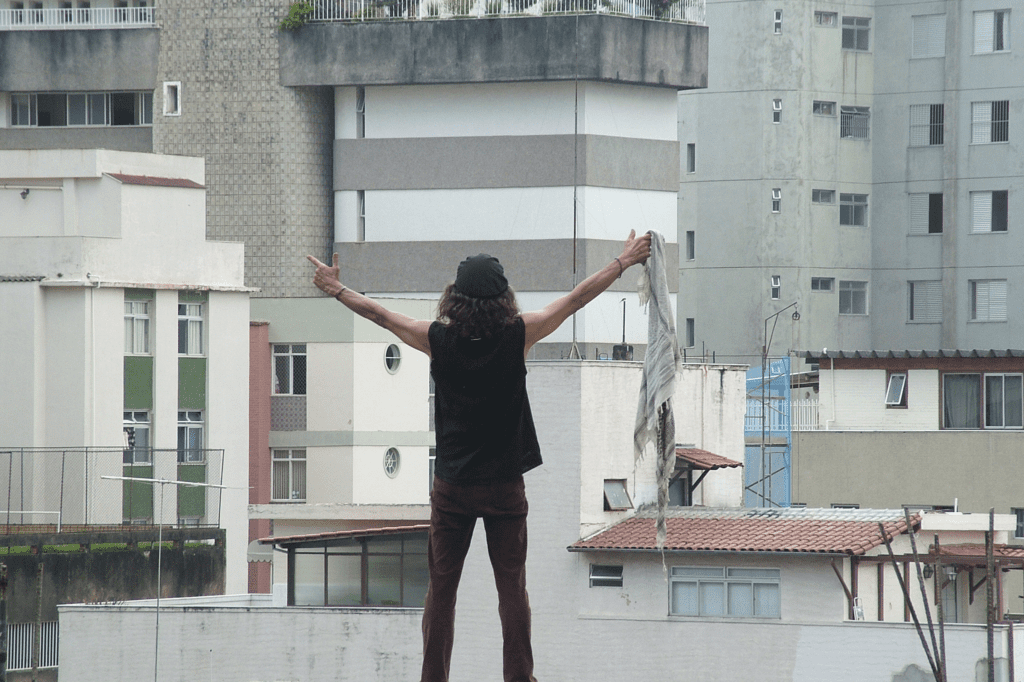 Tami: Wow. Okay. Dreams that we don't live become nightmares. Is that what you said? That's so powerful. You painted some incredible pictures in our minds. So knowing we all leave a legacy in our lives through what we accomplish and the lives we touch and change and the ideas we transmit into the world—specifically through the Vision Council, you and others have left an enormous legacy. What elements of that legacy are you most proud of? Through the Vision Council work specifically.
Alberto: Well, the first one is to be able to say that we started more than 20 years ago, in the early 90's, and now we have started to do it again — because we had a pause of almost five years in which we couldn't get this together, because in a way, we started to get tired, and many of us started to get old and sick. And then we said "How are we going to do that if we are not able to pass this responsibility, this baton to the next generation?" So we did it symbolically. I gave the bastón, you know, to Ivan Sawyer. But he was still not ready at that moment, and that generation was still not ready. So we had to wait for those five years to let them grow.
But now the time is right, and this new generation has created, are organizing and are producing the next Consejo de Visiones. So we can now see the possibility for the next generation continuing what we started, is one of the things I am really proud of. I'm proud of myself, and those of us who started it, and very proud of the young people from the second and third generations who have begun to do the Consejos, even with a different name and structure: El Abrazo del Amate, the Embrace of the Amate.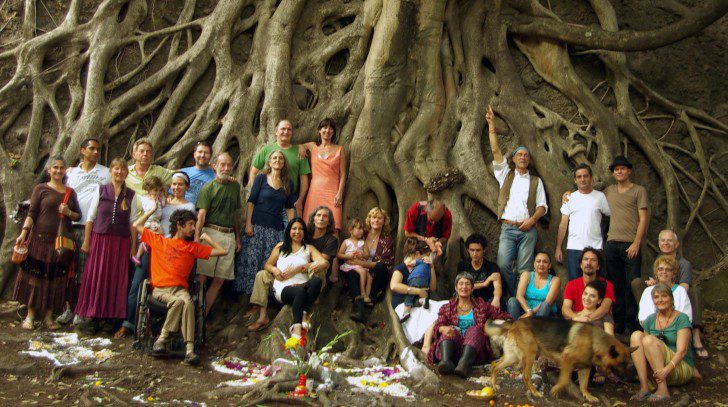 And what is Amate? The Amate is a very particular tree that grows only around here, in this area, which has many branches, many roots, and one big trunk from which all the rest grows. They are gigantic trees. And it's a sacred tree because it was used by the Aztecs and the people before us to make their codices or sacred books, which were made from the skin, the bark of the Amate.
So the name of this new edition of the Consejo is the Embrace of the Amate, which again is also the tree at the heart of the story of Huehuecoyotl. Huehuecoyotl was born because I arrived here in Tepoztlán in the early '80s in the early 1980's, after years of traveling around the world, and I was looking for a place for us to settle down and take our nomadic community to the next step which was to have our own ecological town. I had been looking for months in several states of Mexico. And then one day I found this gigantic beautiful Amate tree in the state of Morelos and I said, "Well, this is the place," This tree shows us everything. It shows how a trunk can become many branches and many branches can become a forest and so on.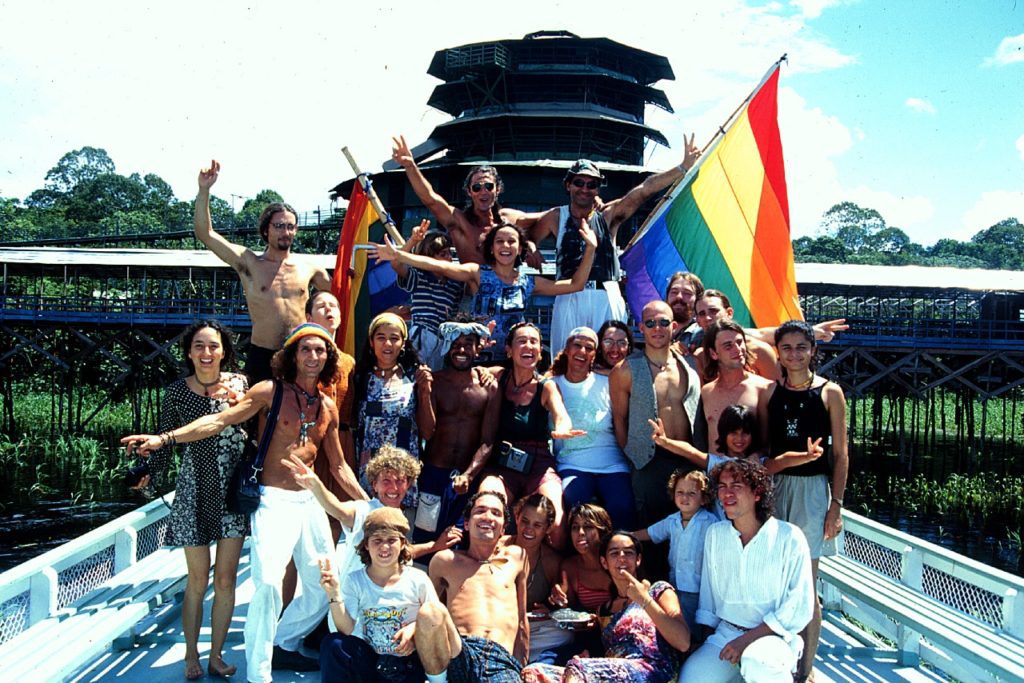 So that's how we got to Huehuecoyotl, and from here that we left to the south, to share the experiences of the Consejos to South America, as far as to Peru, where I met you Tami in 2003 at the Call of the Condor, and then to Brazil in 2005.
And how we are now, years after, bringing the Consejo to Tepoztlan, and I am also very proud that the name of this coming Consejo has been adapted and adopted. Not anymore the "Llamados," as we called the previous ones, Call of the Eagle, the Deer, the Sage, the Water, the Aconcagua or the Arcoíris, but the Abrazo, the Embrace from the Amate, which is a symbol to say "let's get together again as one."
When I started the Rainbow Peace Caravan in 1996, it was basically because I was hearing the people after the Consejos de Visiones say, "Why don't we live the same way all year long?" And I said, "Well, I'm going to live like that for the next part of my life." So that's when I decided "let's make a caravan and let's go now to South America. We have already been in Africa and Asia and Europe and the United States, but I have not been to South America yet. We had to go to South America to learn from all the different communities and those new communities that are growing everywhere. Let's plant the seeds from the North. Let's bring the rainbow flag from the North to meet the Wiphala, which is the rainbow flag of South America, which are seven rainbows. Let's plant and spread those seeds everywhere we go." And now we can see that there are Consejos de Visiones in other countries of South America! So yes, I'm very proud about that.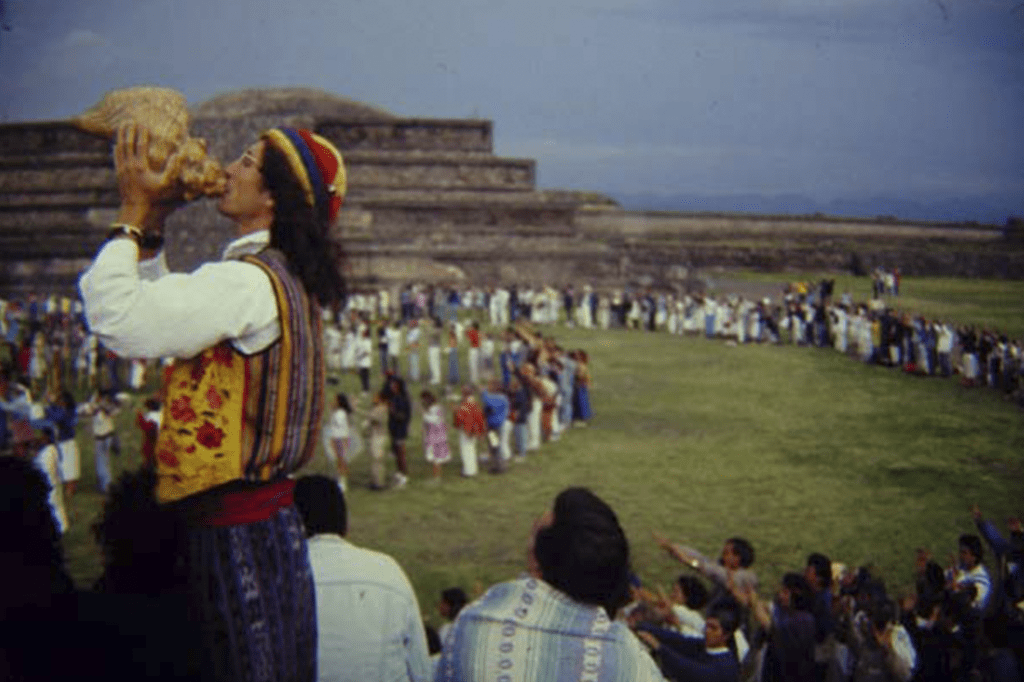 Tami: I'll bet you are. And you know, when you're speaking, it reminds me as well that Mexico, U.S, Canada, South America… We are all Turtle Island. And we also have the prophecies of the Eagle and the Condor. So I loved hearing you say that, because it's reminding me that you're also transmitting some of the wisdom that came from the rainbow communities further north and traveling down south. What a beautiful legacy.
And one other thing is this: it strikes me astrologically that there is a 50 year window. There is a planetary body, Chiron, that has a 50-year cycle. And one of the interesting things about it is that it's the planet connecting the grandmother or grandfather with the grandchild, because they will have the same Chiron signature.
So it's this repeating pattern between the generations. They're working with a similar original wound or fracture point and a similar core gift they're bringing into the world. And interestingly, Chiron is known as the Rainbow Bridge. It's between Uranus and Saturn. And so it represents the healing between the spirit or the visionary self and the human. So it's so beautiful. I love everything you're saying, I love to think about this embrace of the Amate, this beautiful Vision Council gathering that's going to be happening and how it is the next generation who is organizing it, what an incredible legacy.
Alberto: I just want to add something: In that journey to the south I saw very clearly that we had to add the Quetzal in the Center, which is a rainbow bird, a sacred bird. And you have the Eagle from the North, which is a predatory bird, which is looking for something alive to come down and eat it. And that's okay. That's their job, you know. And then we come to the Condor, from the South, which is a bird that doesn't kill its prey. It eats what's already dead. So they are the recyclers. If we didn't have condors or zopilotes or vultures we would die of epidemics or sickness because of the dead animals rotting around, and well, that's what they do. So two beautiful birds represent that in the north, and in the south.
And I said one day what about the center? The Quetzal! the heart of Abya Yala, which is the name of the nations from the Center, like Turtle Island to the northern nations. The Quetzal doesn't kill and doesn't eat animals. And they are colorful and they represent a great culture, which is the Civilization of the Mayans. The Mayans are not just those who live in Yucatan. Their territory reach all the way to Nicaragua, it includes all the countries in Central America. So, the Quetzal has to be in the prophecies from the whole continent. So, since then I started to change the name of the prophecy and I continue doing it. For me, it's "la Profecía del Águila, del Quetzal y del Cóndor" the prophecy of the Eagle, it is the Quetzal and the Condor.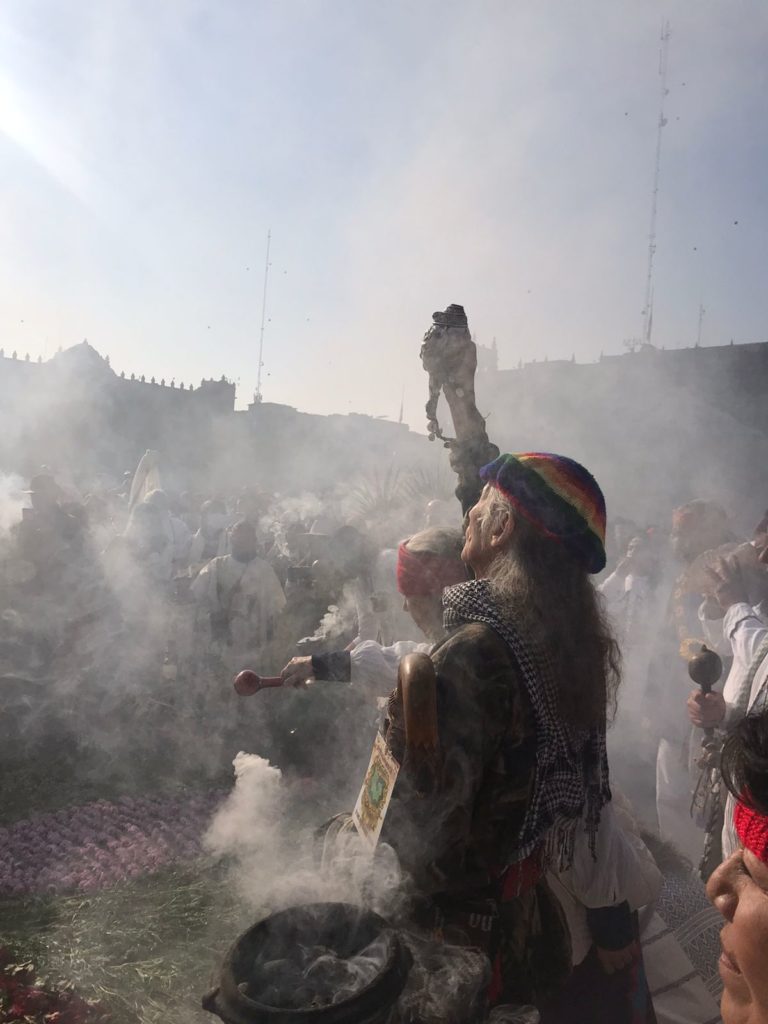 And at the same time, this is what I did with the traditional sweat lodge. I was taught that the sweat lodges represent the Four Worlds: rocks, plants, animals and humans. And after learning for years from the elders from the North, one day I said, "No, we're going to start doing the sweat lodge with five worlds because we have to be praying and sweating, purifying ourselves with the fifth world, the one of the visions, the dreams, the poetry and the children, a Fifth World that is already emerging and being created by us."
I thought that when I was traveling, doing sweat lodges not only in Mexico, not only in South America, but in the States, in Europe, even in Bali Indonesia, in many places in the world I've done sweat lodges and I always make them with five worlds, and the four worlds traditionalists, they say, "you're crazy. Again, the Crazy Rainbow Coyote."
But now many places and roadmen or road women are praying for the Fifth World. So the history and the traditions need to be changed. They have to change to correspond to the times, eras and generations.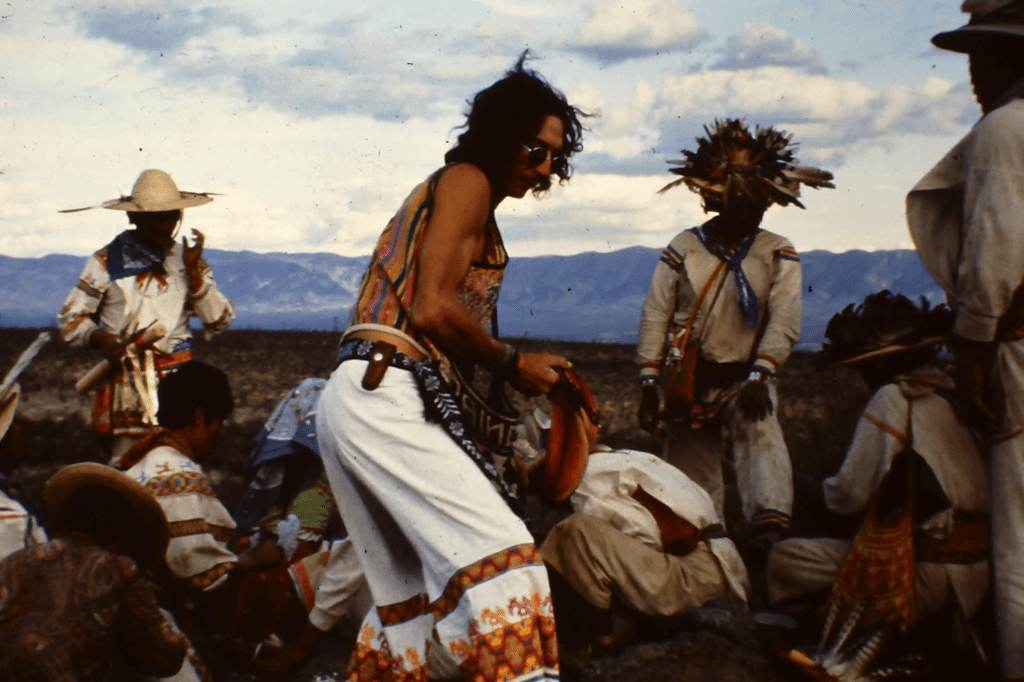 Tami: So you're dreaming it forward. You're adding your own part. That keeps it alive. Yes. Thank you.
Tracy, now it's your turn. You have some questions prepared as well. Can you take it from here?
Tracy: First I really want to acknowledge the things that you've said, Alberto, and the importance of the whole intergenerational aspect of what you have been doing. You have brought two generations into the world personally and you have drawn people from those generations from all over the world. And I think that's one of the things that makes the Vision Council and your work so powerful is that it's not just the vision of one generation. It's something that is regenerating itself as it goes.
Alberto: Talking about intergenerational, we cannot forget that in both Huehuecoyotl and now Oztopulco Ecovillage, and now the Abrazo del Amate, my son, Odin and my grandson Arun are a very fundamental part of this continuation. And in Italy I have their mother, Sandra, my daughter Ixchel, and now my granddaughter, Iris, who are doing similar activities as those we have in Mexico. So my legacy is not only reflected in all the seeds of young people who have been affected positively, from the Rainbow Caravan and from the Consejos de Visiones, but also in my own family. I now have family seeds that are continuing planting their own gardens. And that's something I want to share.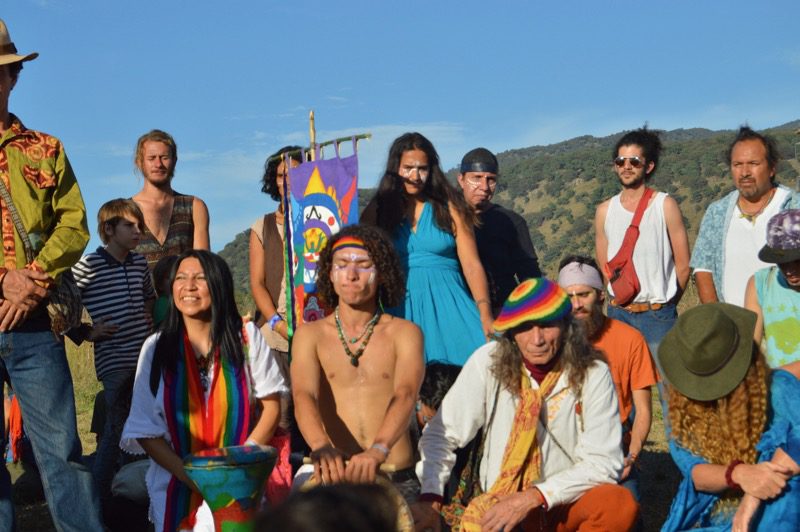 Tracy: That's got to have a certain very special kind of satisfaction and joy to it, I know. And another thing that I learned, a concept that I learned from the Vision Council was the whole idea, and I learned it first in Spanish, but I think it also exists in English. "Autogestionar": self-organizing. The Vision Council is self-organized. That's why it's different from almost any other kind of festival or event that you will go to because everybody takes a part in the organizing of it, you know, some people more than others, obviously. But I love the concept that humans are capable of doing so much without having the government or the church or some kind of organization come in and tell us what to do.
And the other thing I wanted to mention is that when I think of Alberto, I think of his role as a generator of events and convoker of different kinds of events and happenings. But another role that Alberto has had that is also very, very important is that he is an author and he's an author of many books. And I don't even know how many books have you written?
Alberto: Written maybe 20. Published, about eight or nine. And to be continued another ten or 12 more. I have just decided that I want to continue being alive so I could continue writing those books.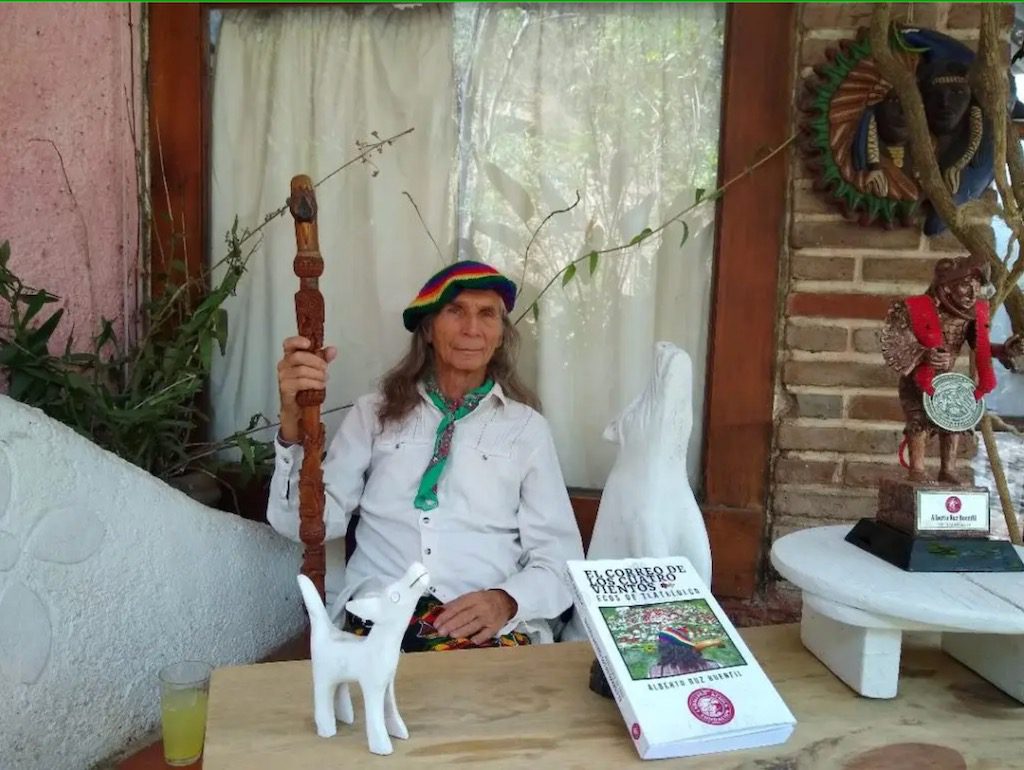 Tracy: I'm really impressed with how many books you've published just in the last year or two.You've just been extremely prolific. And I'd like to talk specifically about the one that you recently co-edited about ecobarrios. "Barrio" is the Spanish word for "neighborhood," for those who don't know. So an eco barrio is essentially an ecologically designed or retrofitted neighborhood in a city, right?
Alberto: Ecobarrios is the continuation of what we learned in ecovillages, but now taking it to the cities and turning them to a movement, joining forces with the Transition Movement, which exists already, and has taken permaculture from ecovillages to the cities.
And that's what happened when I returned to Mexico from South America, I was immediately called by the government in Coyoacan and they said, "What can you bring from what you learned, you shared and you taught in South America with the caravan? How can you bring that to Mexico City, to the marginal barrios of Coyoacan? Far from the beautiful Coyoacan cultural centers, neighborhoods, places where people struggle day to day with the basic necessities of life?
Because that's what they needed and that's what we created with Odin, with Laura Kuri, with Arnold Ricalde, Noelle Romero and a crew who gathered around us to prepare a proposal to do something for those last ones. And with the help of our General Director Laura Esquivel, this proposal was accepted by the government of Mexico City to do the work in ten different barrios of Coyoacan, where we gave instructions to 450 children, youth and elders from those ten barrios.
In those places we planted multiple seeds of change in the EcoBarrios for three years., from 2010 to 2012. And ten years later, when we presented the book of Ecobarrios in Latin America in several cultural centers of Coyoacan, we learned from those who participated in the original ecobarrios project that they are continuing to do those projects until now. And they now also have their book to have a reference on similar projects all over Latin America. It shows examples in Chile, in Colombia, in Mexico and even in Chicago, where somebody who came here to Mexico and got inspired by Huehuecoyotl and the Consejo de Visiones, took the example to some Afro American communities in the States. You know, the inspiration of one of the chapters in the Ecovillage Movement says that this is not the end of this project, but It's just the beginning of a new story.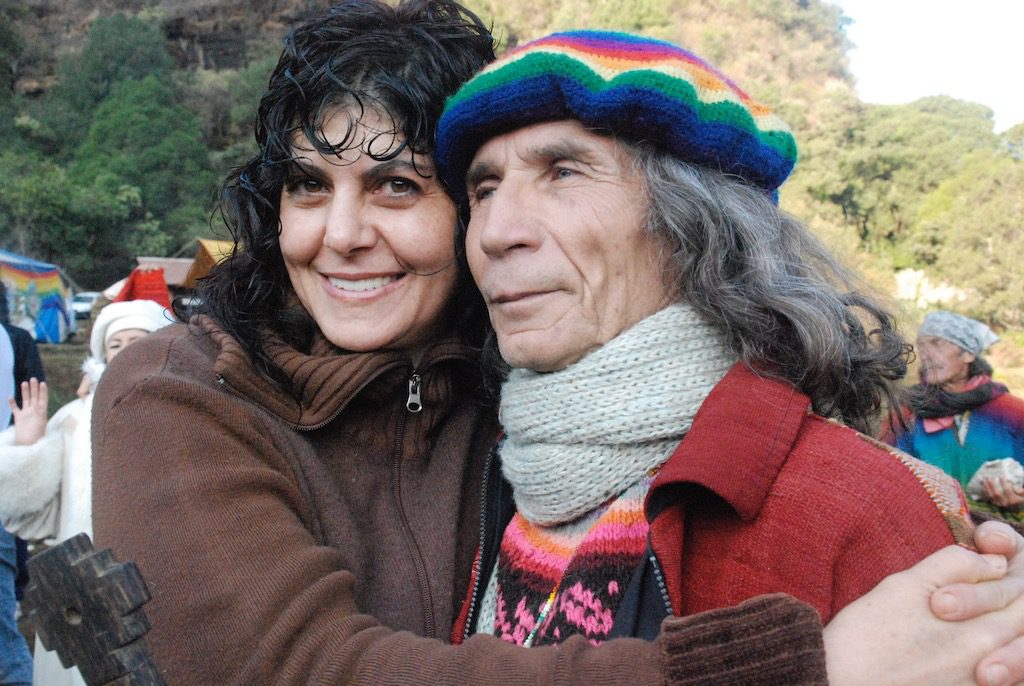 Tracy: Yes! It's a great book, and I actually wrote a couple of stories in that book! So can you talk about the current reality of the Eco Barrios movement? You've already told us a little bit about your own experience. What else have you learned networking with other folks in the Eco Barrios movement? How has this played out and how realistic is it that this could be a part of our future?
Alberto: I think that if we don't do that, there is not going to be any future. It's basically a one-time opportunity. It's like an antidote to the system, to the culture, economy, political forms of living and governing and educating and healing an economy from this system. So what we're doing is an antidote to all of that. And the antidote is not necessarily going to heal all the wounds. Because if the sickness is too bad, well, simply, you die.
But all of the things I'm doing until now are basically because I think I still have things to do, and I still have strong reasons to continue here being alive.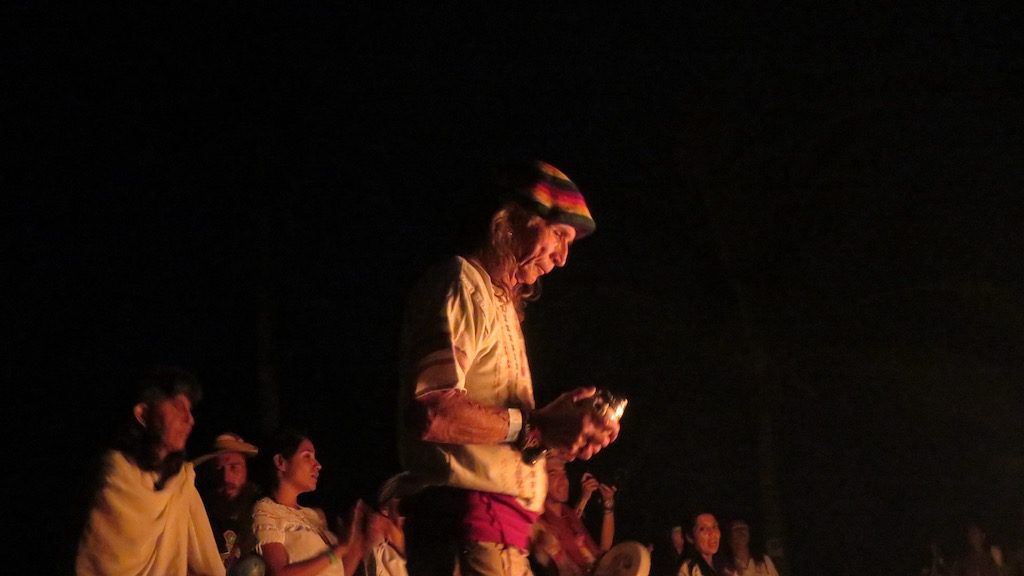 If you wish to help Alberto with the fight for his life and support the work to complete his legacy, you can donate to the crowdfunding campaign HERE.
Here you can watch the inspiring VIDEO of the campaign and learn more about Alberto's life.
Tracy: Alberto, you were diagnosed with Stage 4 prostate cancer more than two years ago. Can you speak a little bit about that experience and share how it is that you keep on going?
Alberto: The first year, in 2020 they told me, "you have six months to live and that's all." I went for a year thinking that was true, that I was going to have six months or maximum one year of life. But now I'm in my third year and I continue publishing and writing, and I have decided that every day I will work on doing precisely that. And right now, I have two more books that I want to publish this year.
One is about the Consejo de Visiones, which I'm not doing alone, obviously, because the Consejo de Visiones is always plural. And that's what this movement always stressed. It's plural. So that's why we have punks and we have angels and we have new agers and we have ecologists and we have therapists and we have children, elders and youth in each Consejo.
We call it "Consejo de Visiones" because each one of those social groups has a particular vision. So until now, in all the events, gatherings and forums and conferences where I participate, I say "if we want to create a new society, we have to create a society in which all the visions can be part of that larger vision, which is the change of the dominant extractivist paradigm, or simply to change, not only the world but specially ourselves."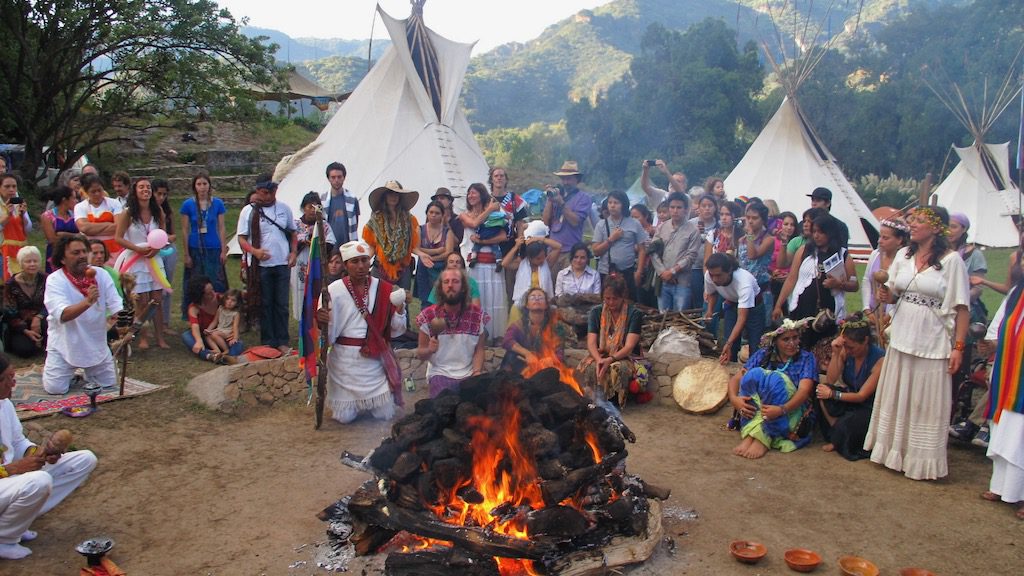 So the book that we're doing about the Consejo de Visiones, shows that we are mostly all of us who are organizing, leading or facilitating each one of the Consejos (councils or ramas from the Amate), and that each one of us has to do their part. It´s, like, you know, we have each one to add some of the ingredients to the soup. And that's what this book is going to be, a collective soup. So we are making a book to tell the people who have never come, who are second or third generation, who have never been in a Consejo de Visiones what this event is going to be. So they know from the beginning, where they are coming, who we are, and where we're leading. What is our common and personal vision of where we want to go from now onwards?
So that's one of the books. And the second book, which I'm "dying to see" ready to share, is called Raíces Negras, Corazón Arcoiris, a strong title. And it's an autobiography, and each one of its chapters is one of my connections to the black roots, or the first black roots of humanity, which are the Afro-American roots, you know.
The book starts with my great-grandfather being the first Cuban to give freedom to his afican slaves in 1869, all the way up to now, in which basically, you had Obama in the White House in Washington DC, and what's happening right now in Colombia, where the Vice President of the country Francia Maéquez is an Afro-Colombian woman. So these are the stories that I recovered and collected for this book, which has 17 chapters, and each one of them is a different story in different moments, people and places of all the Americas. Those chapters refer not only to the political or the ethnic realities I got to know, but also to the spirit of the Orishas, the invisible African forces, which are also a very important part of the legacy that the black root communities have left in America.
It's not something I have read about, but the stories in which I personally participated, from toques de Santeria in Cuba or down there in the south in Brazil. But also the oldest experience that I had, which had to do with something I learned from the black roots, from the cultures coming from Africa. So that's a book that I don't want to say "I'm dying to read." No, I'm living to read it and to be able to publish it. And I'm doing everything possible for that to happen.
A young woman from the Consejo de Visiones is doing all the design of that book. And I'm reading it, every chapter, over and over. You know, we have forgotten our fourth roots. We are the red people, the yellow people and the white people. But where are our black people´s roots? They are not present in the Rainbow Gatherings. They are not present in the ecological movement, and they are not present in many movements where we should have that root represented also, it´s something very importantly. So that's part of my legacy. I'm working on that part of my legacy right now.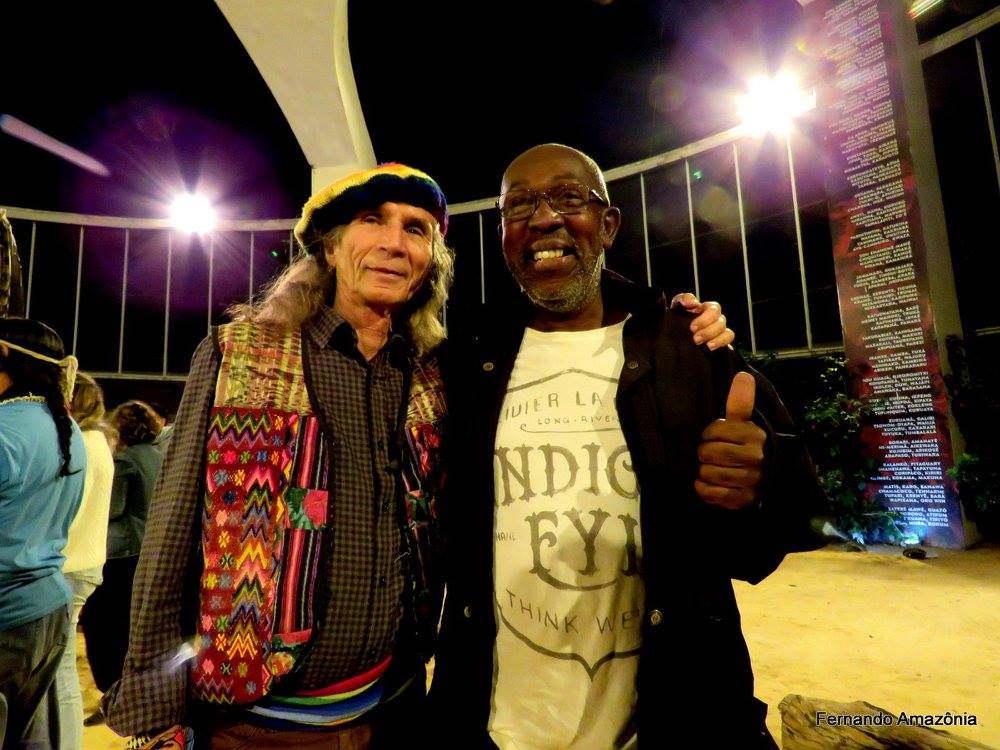 Tracy: I'm really excited to read that book too, Alberto, and I know it will be fascinating, because I actually got to read an early version of that right after I met you in Coyoacan — can it really be 12 years ago? And you gave me a digital version, your first draft of it. And I was really blown away by how far back your history of activism goes, just generationally. And all your work to make that connection with the African American community, which is, as you said, so lacking in our movements. So I'm really looking forward to reading it.
But getting back to one of the other things that we've talked about over the years, I'd like to ask about your most recent work over the past ten years: to promote the Rights of Nature, or as you put it in a story you wrote for us in the Esperanza Project, "A Jurisprudence for Mother Earth".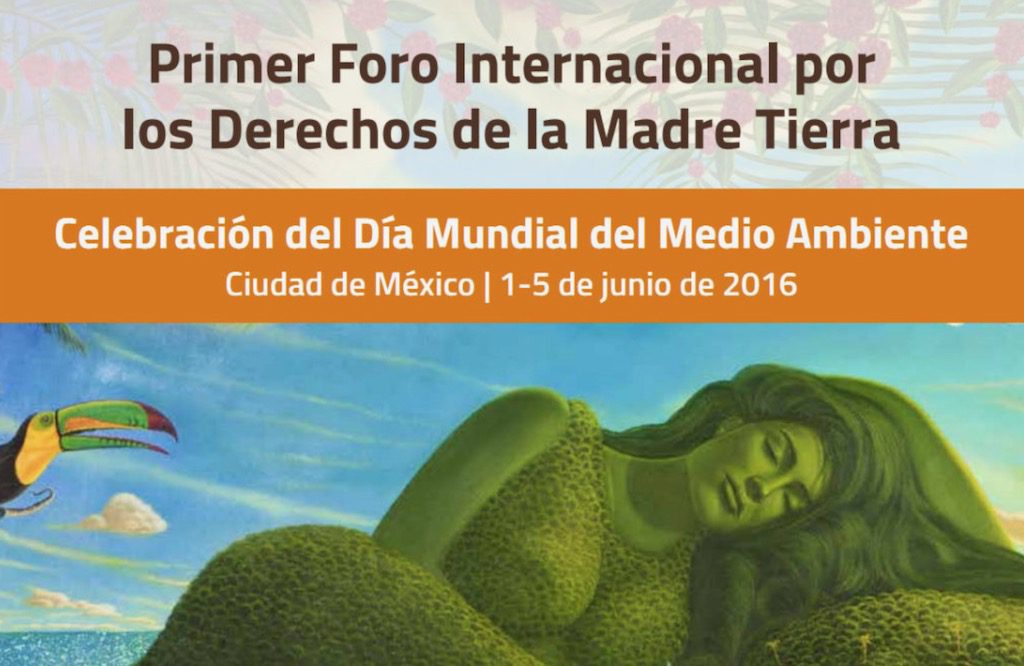 So starting with the organizing of a successful movement in Mexico City that ended up enshrining those rights in the city's constitution, and most recently with the disappointing election results about the new constitution in Chile, which you've strongly promoted. What are the high points and the low points in the movement for the Rights of Nature collectively and also for you personally?
Alberto: It is very wrong that we continue thinking that we have to keep ruling our lives and our laws and political agreements based on documents from the time of the Greek or the Roman Empires.
When I first heard Evo Morales in Copenhagen talking about the Rights of Nature and the Rights of Mother Earth, I was like, "boom," you know. Like a realization that we had forgotten about our black roots. We forgot about who has the most important roots, which are the laws of life, the natural laws. Natural law is the Law of Nature / our common Mother Earth. She is basically the one who should have the first rights. We are stealing those rights from Mother Earth, exploiting her, degrading her, raping her, destroying her.
And with it we are destroying ourselves, because we are Nature. It's not "she". No, no, it's "nosotros" (us). The Earth doesn't belong to us. We are from the Earth. And when I heard that Bolivia and Ecuador had changed their constitution to include the rights of Mother Nature. And that's the moment when I decided that my last trip, or at least my next trip was to go and join all the movements, social movements, environmental movements that I had been in touch with in 50 years. To dedicate the rest of the time I have left to promote legislations that basically are based on the fact that Nature has her rights, and we are still destroying those rights. And that´s the main thing I have been doing for the last 10 years.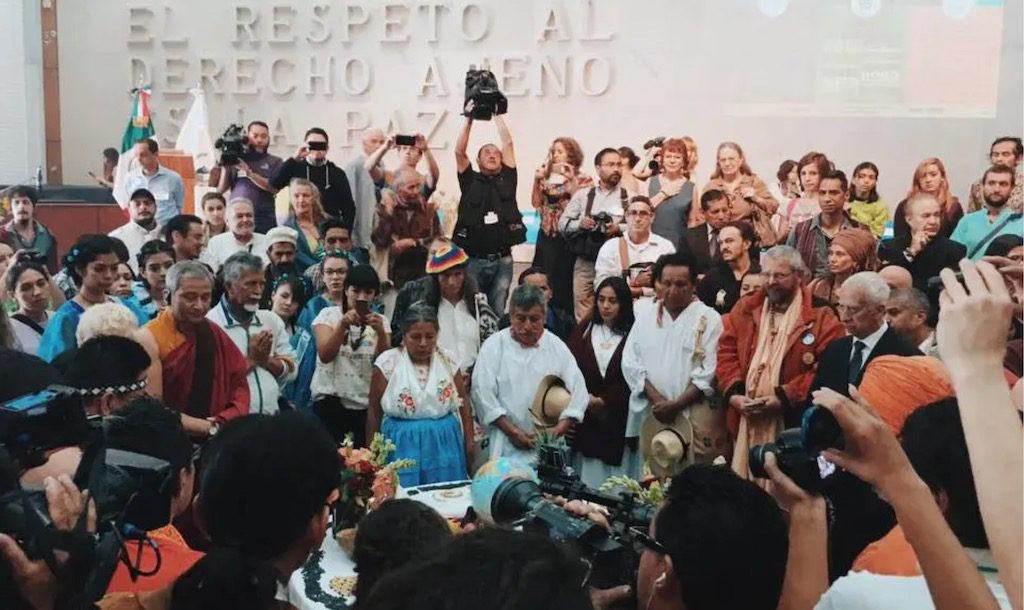 I started to write articles and I made a PowerPoint presentation and went first Mexico and then around the world, saying, "Hey fellow humans, wake up. If we don't recognize the rights of our common mother, we are just leading our species to extinction."
Because that's exactly what's happening. So then in 2016, I got in touch with Vandana Shiva in India and with Leonardo Boff in Brazil and with people from many different countries in South America, Asia, the States, Europe, everywhere, to say, let's go, participate, be part and organize the First International Forum for the Rights of Mother Earth in Mexico City. An we did it, and it was an incredible success.
We had three days of bringing together all the ideas of more than a thousand people who participated in that forum from all over the world, 37 different countries, to bring into legislation articles that recognize Her rights, as a living and sensing organism.
So we did it — three days of conferences, talks and roundtables and all of that. One day in which we occupied and changed the purpose of the "plaza de toros," which is the bullfight ring into the "Plaza de Todos" (everyone's plaza), starting with a ceremony of cleaning up the bloodied karma from a bullfight ring. And we had 18 different groups, a marathon of about 18 hours, with music from Mexico, but also Latin America and all over, in which we had black musicians, white musicians, mulatto, mestizo musicians, in one full day of celebration.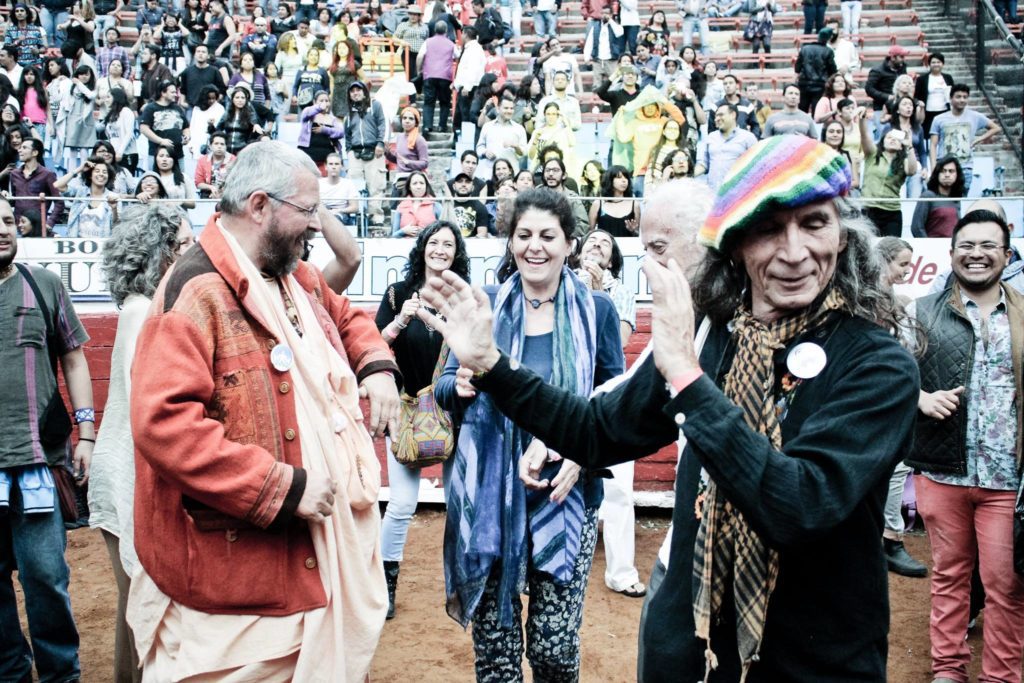 And then a fifth day, in which we asked the permit to the local government to occupy a park in Mexico City, in the Condesa, which is a very well known park in the city. And we had 200 organizations participating in creating a show of what those 200 organizations were doing to change the dominant paradigm and do something for Mother Earth, promoting social change, new economies, multiculturality, and ecumenic forms of spiritualities.
We had around 10,000 people coming that day to visit that forum, and that exhibition of all the different eco-technologies that we have already developed in recent years. And then, the next few weeks, we moved into the political scenaries, because with all that we did, it was clear that the new Constitution of Mexico City had to adopt a recognition of the importance of the Rights of Nature.
Deputies and senators from the two chambers approved a first article which recognizes the Earth, Mother Earth, as the main source of life for all of us, humans and non humans. This first article in the Constitution of Mexico City has since then inspired the state of Guerrero, the state of Colima, and the state of Oaxaca, to have laws recognizing the rights of Mother Earth.
But it didn't stop there. People who came and participated in the first gathering for the rights of Mother Earth took those same ideas to Brazil, and two years later, we participated in the Second International Forum of environmental and ecological movements for the Rights of Nature in Sao Paulo.
And that didn't end there either. Next year, two years afterwards, we had the third national Forum for the Rights of Nature in Colombia, in Bogota. So, each one of those movements and those forums continue living and bringing to the general agenda of the United Nations the need to recognize a change of anthropocentric constitutions to biocentric, living constitutions.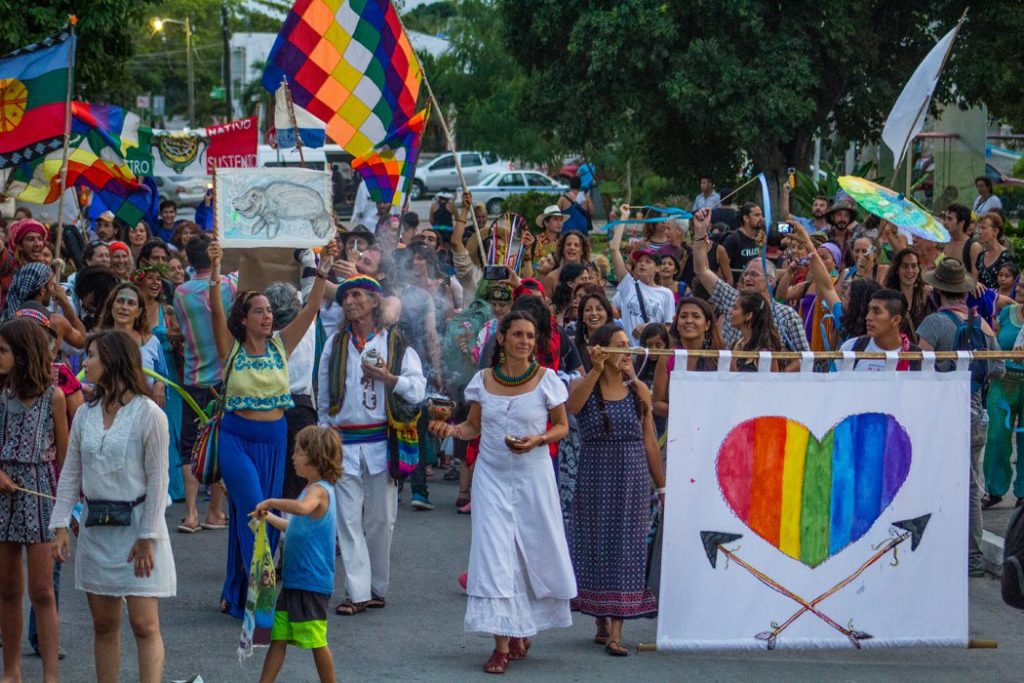 And more recently, came the turn of Chile. Chile, where we had been working for four years, organized the first Consejo de Visiones and now second. And from those two Consejos emerged the groups promoting a national campaign for the Rights of Mother Earth. Actions that inspired the Chilean socio-environmental Movement to put an end to the irrational exploitation of its natural resources, and the formulation of a new Constitution.
Well, some of those actions were inspired by the Rainbow Peace Caravan. Since we went through Chile first in 2005, groups of artivists were seeded, and then from all these new groups emerged another generation which continues until today and are taking part of the new Constitution, which is the most advanced Constitution that has ever been written in the history of humanity.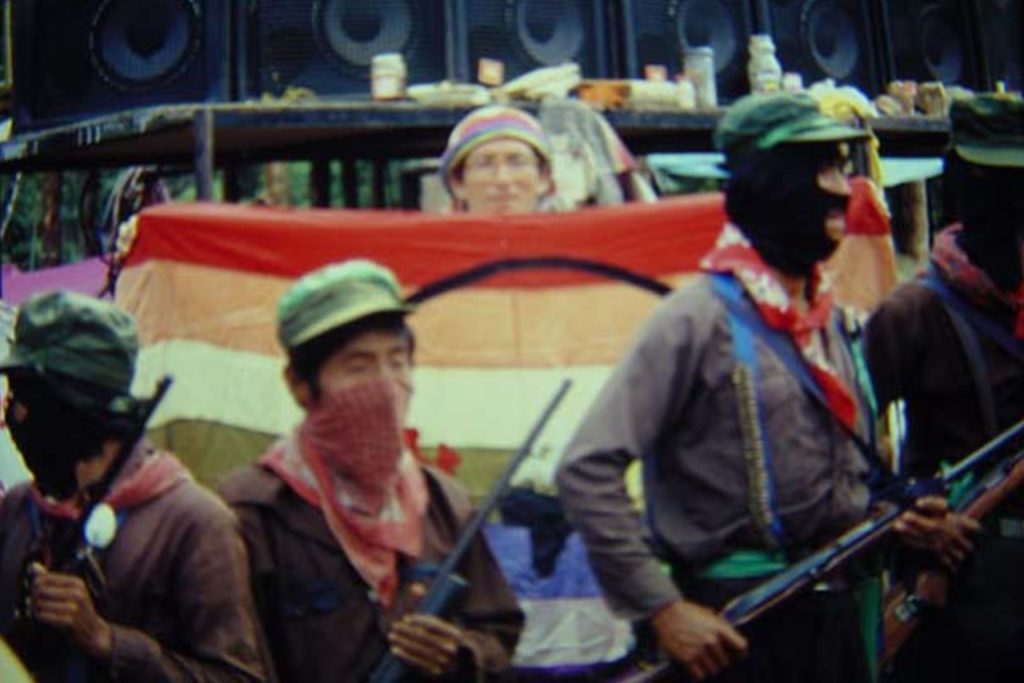 I have gone through it over and over and said there is no other Constitution that has such an advanced vision of how to create a new society, a new constitution and a new way of living.
Now, what happened on september 4 this year, in the plebiscite to approve or reject this New Constitution, even if 60% of the population still voted for the old Pinochet constitution, which has continued being the one ruling Chile right now, we can also see that almost a 40% did approved it, and as, Emilio Fiel from the Rainbow Movement in Spain, said "Hey, remember that 40% of the people voted to approve it." And it's never happened that 40% of the nation has voted to pass the world's most advanced new Constitution. We still have 40% of the population of Chile who voted to approve it, you know? So let's not cry. Let's see what we can still do.
So the next constitution is going to include all that we wanted in this first attempt to do it. And if not the second, it's going to be the third. But anyway, there is no other way. If we don't change that, not only in the Constitution and a legal point of view, if we don't change that in the schools, in the economy, in the politics and in decision-making and in governance and all of that, if we don't change that in the way we relate with each other, well, we're doomed. You know? It's just our decision as humanity, to go, to leave. Maybe a few thousands or millions of people and all the rest, Goodbye.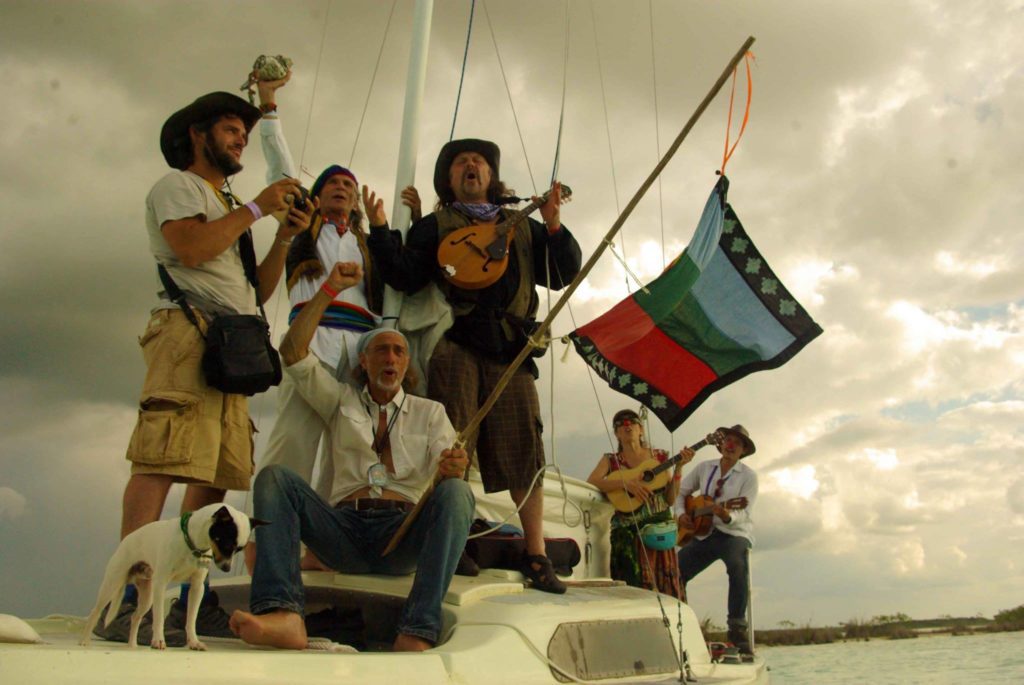 So we cannot give up. We cannot give up! And like Martin Luther King said, you know, if the last thing I would have to do in my life was to plant a tree, I'm going to be planting a tree. Whatever happens afterwards with that tree, I still planted the tree. So that's what I'm doing at this moment of my life. I'm still planting trees. And books are made of trees. There are books now that are also part of the noospheric cloud. But anyway, I still want to hold in my hand a book that I made in which I'm planting seeds for what I'm doing right now.
If I can do it, we can do it. They said I had six months or a year, maximum, of life, but I'm three years into it — this transit through the Tropic of Cancer, as I call it. I'm still doing it. Well, if I can do it, somebody who is in their twenties or in their thirties or in their forties or in their fifties, they can do it. If I started the Rainbow Peace Caravan when I was 50 and I traveled for 13 years and I returned when I was 64, well, we can still do it.
And that's my main and most important message to everybody, you know, we can still do it. Let's do it. And if we still have to plant trees, let's do it. And if we still can plant seeds for a new society, a new cultural paradigm, let's do it. If we give up, then that's the end. If I give up, saying "Well, I'm going to be dying sooner or later anyway," and I don't do anything for it — well, then, I'm dying before I die.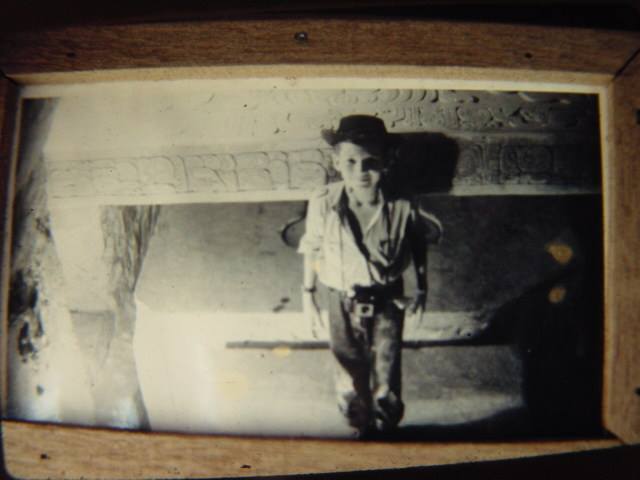 Tracy: Well, you've given us a lot to think about here. And certainly I see so much life in you, Alberto — I see people half your age who have already given up, and they aren't truly living their lives. And I think, you know, if we can just amplify this message and in this recording and share it with people, I would just love to see more people pick up that baton, as as you call it, and take it into their own lives and into their own communities and move this movement forward. That's my hope and that's my prayer.
Alberto: Help me to do that. I'm going to share a video campaign, because I'm going to launch a new campaign today in five languages: English, Portuguese, Spanish, Italian. And in that campaign, I'm not only asking to get support to continue being alive. I want to continue inspiring many people. You will see when you get it, you will say wow, pinche Coyote, he's crazy — look what he's still doing.
Part of these donations I want to use precisely to get those books published. You know, I pay people, friends, to be here helping me in this moment of transition, you know, to help me to continue doing the things I need to do every day to stay here. And then I'm paying somebody to help me in my studio and my biblioteca (library), to organize my legacy. And that money is coming from the donations of everyone.
If you wish to donate to this campaign click HERE
I am trying to finish that book before the Consejo – also the other book about the Rainbow Nation, Black Roots and Rainbow Heart.
And I would like next year to do the second and the third books about the Rainbow Peace Caravan. And I still have ideas, dreams that I'm going to try to turn into a reality so they don't become nightmares in my life.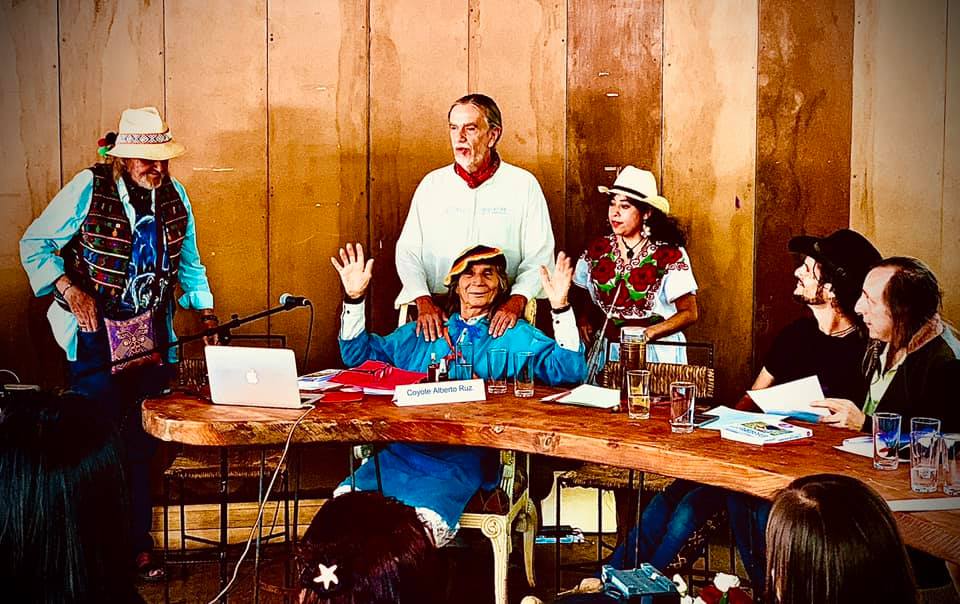 Tami: Well, I want to say that this is going to be embedded in a story that we're going to share. And we will include the links to that fundraiser, to the books that people can get, any other kinds of media that you would like for people to check out.
So are there any last words that you'd like to share, Alberto, just to sort of sum this up?
Alberto: Thank you for what you're doing now. You know, what you're doing is very important because more and more people are not reading newspapers. They don't trust the newspapers, they don't trust the television, but they trust whatever lies that the social networks put out. So it's a battle, you know, between those who are putting out the most horrible lies, trying to stop all we have been doing and we continue doing, but we still have you. Esperanza. Sharing Esperanza is hope. And I think that when we lose hope, that's the end of it.
When I go every week to the hospital in Mexico City, where most of the people are dying, or they are already dead alive. And I go there and I see all these people and I say, okay, I'm going to be still, dando lata, creating noise, being a bother. (laughter)
So this will be my last words, for now. You know, thank you for what you're doing. Thank you for being sisters and doing it together. And thank you to Liora, who still comes to visit me and helps me every time she can with Andrew and Bea — and like all the hundreds. Really. I just read today that 144 people have already made donations in this crowdfunding campaign. Two young people from Peru did it, and I have gotten the help of many people to do the translations. And I know that once I send this out into the world in five languages, this video campaign, I want it to go viral, because I want to inspire thousands and thousands of people. If they help me with donations, that's fine. But if they get inspired, it's more important. I'm not going to be here one day, but I want to leave that inspiration for many, many, many people, and also for the next at least two generations with our legacies for the next seven generations to come. That's my message, I must say, for you and for the rest of us.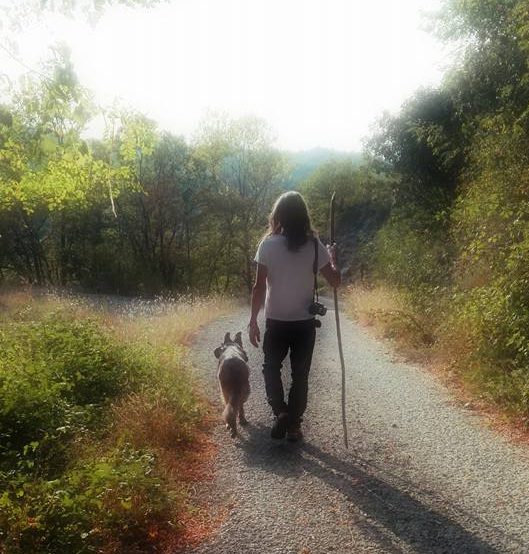 A Jurisprudence for Mother Earth Alberto Ruz Buenfil. Consejo de Visiones