When Gabriel and his family pitched their tent in the Matamoros refugee camp, they thought it would be for a few months. They were broke, exhausted, and confused. They decided they could endure the indignity of living in the mud on the banks of the Rio Bravo at least until their first asylum hearing. When the US Southern border closed to them three days before their court date, so did their hope.
It was the last cruel twist of fate in their multi-year odyssey that started when the extortion demands of criminal gangs forced the appliance-store manager, his wife Lessy, and their two sons to quit their home in Choloma, Honduras.
They went first to the border town of San Pedro Sula. There, Gabriel, a self-styled "chef," pursued his dream of running a catering service. He and Lessy cooked out of their home and delivered meals to their clients. But the gangs soon found him there too.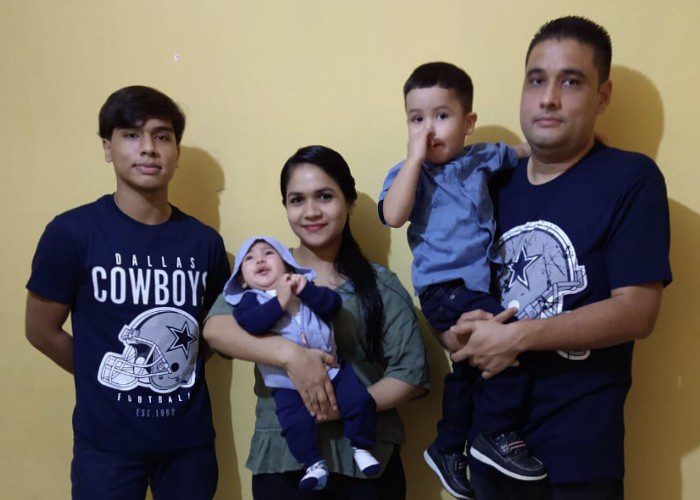 "Extortion is a way of life in Honduras," says Gabriel. "We call it a 'War Tax.'" It was manageable when it was 500 Lempiras a month. But when it jumped to 2000 a week, Gabriel simply couldn't pay.
"That was all my profits plus everything I needed to pay the bills."
First came the pressure. Then came the threats. When gang members started to follow his teenage son to and from school, Gabriel got scared. He packed up the family and moved again, this time to Guatemala.
He had never considered migrating before. He enjoyed a comfortable social status in Honduras and would have stayed, War Tax and all, if the gangs hadn't gotten too greedy. Unfortunately, Guatemala was no different.
An official extorted him for 500 quetzals for a permit that turned out to give them only the right to live, not work, in Guatemala. How were they to survive there?
He packed up the family and moved yet again, this time to Mexico. "I had no idea how dangerous Mexico was," he said. Also, with jobs scarce, survival took on a double meaning.
The family had no choice but to keep moving. They made it through Mexico "by the grace of God," says Gabriel, stumbling upon an overground railroad of trustworthy old ladies, who brought them in and fed them all along the dangerous migratory trail.
They arrived in Reynosa, Mexico, just across from Texas' Rio Grande Valley on November 20, 2019. They crossed the river under cover of night and walked until dawn. At roughly 6 am, they were apprehended by a lone Border Patrol agent.
Join us HERE as Gabriel and I track his family's continued journey from persecution to safety by the sides of the loved ones that have been waiting for them all this time. As it should be. As it should always have been.
"He was very violent and very mean," recalls Gabriel. "He accused me of being a coyote for my own family, a guide for my wife and kids."
He refused to believe they were a family.
"He told us, Don't you read the news? We're not helping you people anymore. The US is tired of you guys coming here and asking for stuff. Now, we're sending you right back home."
Another agent, a short man named Rivera, took over then, playing good cop to the other guy's bad. He asked if they needed a doctor. He offered to give them food and water. He invited them into his warm truck. Then, upon reaching the Customs & Border Protection (CBP) processing center, he separated them, sending Gabriel into a cage crammed with other men; his eldest son into a cage populated with children and youth; and Lessy into a cage for women. Fortunately, she was able to keep the baby with her.
They could not talk to each other. They were too far apart to touch each other. They sometimes lost sight of each other. It was three of the most anxious days of their collective lives.
They were also very cold. And they were not allowed to sleep. The bright overhead lights never went off. Guards made the rounds of the facility every three hours, rattling the walls of the cages and kicking all available knees.
No one ever spoke to Gabriel or to anyone else in the family. No names were taken, no credible fear interviews offered. Gabriel tried to approach the agents several times to explain their situation, to tell their story. But no one cared to listen.
Eventually, they were released, in cuffs, and moved to a tented structure in Hidalgo, Texas by "men in green uniforms." That would be US Border Patrol agents, aka "The Green Monster."
This place was slightly nicer: they could be together, and a TV tuned to cartoons occupied the kids. Again, Gabriel tried to speak with the guards.
Dude! Save your breath! They said in so many words. You've been processed already. You're going home. You're going to be returned.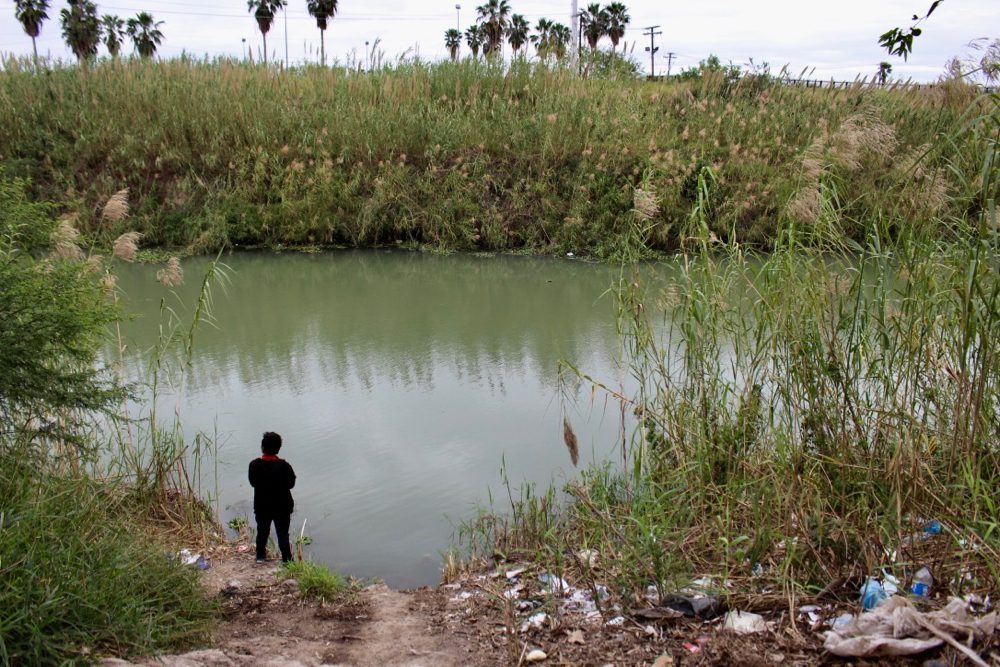 The following day, the family was roused at the crack of dawn and herded with others onto a bus. On each seat were two informational packets: one about the Migrant "Protection" Protocols; the other, a Notice to Appear. The date was sometime in February, three months hence.
That's the first time they were notified they were being taken to Mexico.
"How is this possible?" Gabriel asked. "We don't have any more money. We can't go home. How am I supposed to take care of my family for three whole months without a job."
The agents told him, Don't worry. Ne te preocupes. There are shelters in Mexico with room enough for everyone. And the Mexican government has promised to keep everyone safe and fed.
The bus stopped in the parking lot of the Texas Southmost College at the base of the Gateway International Bridge in Brownsville. There, Gabriel and his family were passed into the hands of agents from Mexico's National Migration Institute (INM), who walked them across the border and into their office in the Matamoros town plaza. They gave each of the migrants a permit to remain, temporarily, in Mexico. Then they showed everyone the door.
"Where's the shelter?" Gabriel asked.
Shelter? No hay refugio aquí amigo. There's no shelter here, laughed the officials. There was no food or water either.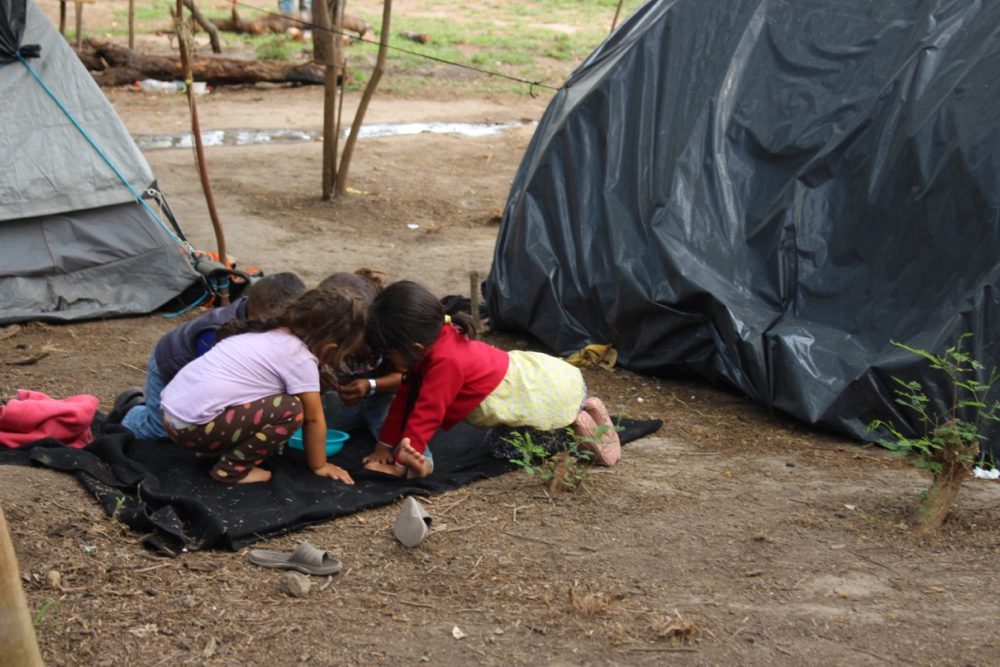 Gabriel and his family were alone, without money, and without direction. US Border patrol agents had taken all they had carried with them, including their extra clothes. The baby's diaper was beyond soiled at this point and stinking. They had nothing to clean him with, nothing to change him into, nothing.
Gabriel was paralyzed. He had no idea what to do. The family sat crestfallen and hungry outside the INM office in Matamoros for hours.
Finally, a Venezuelan guy approached them. Gabriel recoiled. He'd learned better than to trust anyone on the migratory trail. But the guy offered to let them use his phone. And while Gabriel called his sister, asking her sheepishly to wire him whatever money she could spare, the Venezuelan got them lunch and a clean diaper for the baby.
He pointed them in the direction of one of then three "free stores" (there would eventually be four) embedded within the tent city that sprawled from INM's office building, across the town plaza, and up the slope of the river levee above. He told them to go there for a tent and clean clothes for everyone.
That day, they joined the 2,500–3,000 other asylum seekers of the Matamoros refugee camp. All were waiting in squalid conditions, supported by grassroots humanitarians in the absence of any help from any government of international NGO, for their day in court.
Adding insult to the multiple injuries, when Gabriel finally got his change to appear in court that February, he was not allowed to argue his case. Instead, a TV judge beamed in from who-knows-where merely read him his charges, then set the date for his real first asylum hearing: March 22, 2020.
When the border closed three days before that date, on March 19, 2020, Gabriel wondered if he'd ever be granted his right to due process under US law.
He and his family had no choice but to continue to wait.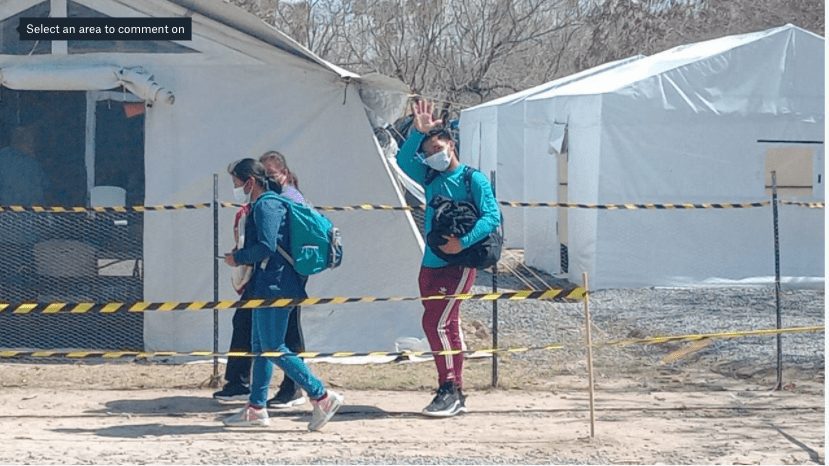 Spring brought torrential rains and the ever-growing threat of COVID-19. That's when INM encircled the camp behind a 12-foot high chain-link fence and set up sentries to control the gate.
It's to keep newcomers and the danger of the infection out, officials said as they laced the concertino wire toward the migrants, not away.
Summer brought a hurricane that nearly washed the camp away. INM tried to evacuate the residents, but they refused to budge, fearing they'd be further displaced. The floodwaters eventually receded but the venomous snakes and municipal guards did not. A killer mosquito infestation followed as well as the encroachment of brutal cartel violence.
Five bodies washed up or were dragged by the river banks below the encampment — one a young Guatemalan man named Rodrigo who lived and held a leadership role in the camp. His death was labeled an accidental drowning, but everyone knew it wasn't.
Lessy became pregnant with the family's third child, and as her tummy swelled she grew more and more uncomfortable sleeping on the ground. By autumn, it was increasingly difficult for her to pick her way through the dark — around storm drainage culverts, fallen branches, and random buckets turned upside down to serve as chairs — to reach the already too-distant port-a-potties at night.
"The dark nights brought many dangers to us refugees now captive inside the fenced-in encampment," stated Gabriel. He could neither leave his children alone in the tent nor allow his wife to wander alone at night. "None of us slept then," he said.
He posted a video on Twitter, asking for help. It came from Dr. Belinda Hernandez-Arriaga, Executive Director & Founder of Ayudando Latinos A Soñar (ALAS). And no time too soon, it turns out, for Lessy's pregnancy was fraught with complications. Being able to rest on a bed with a roof over her head would ultimately save her and the new baby's lives.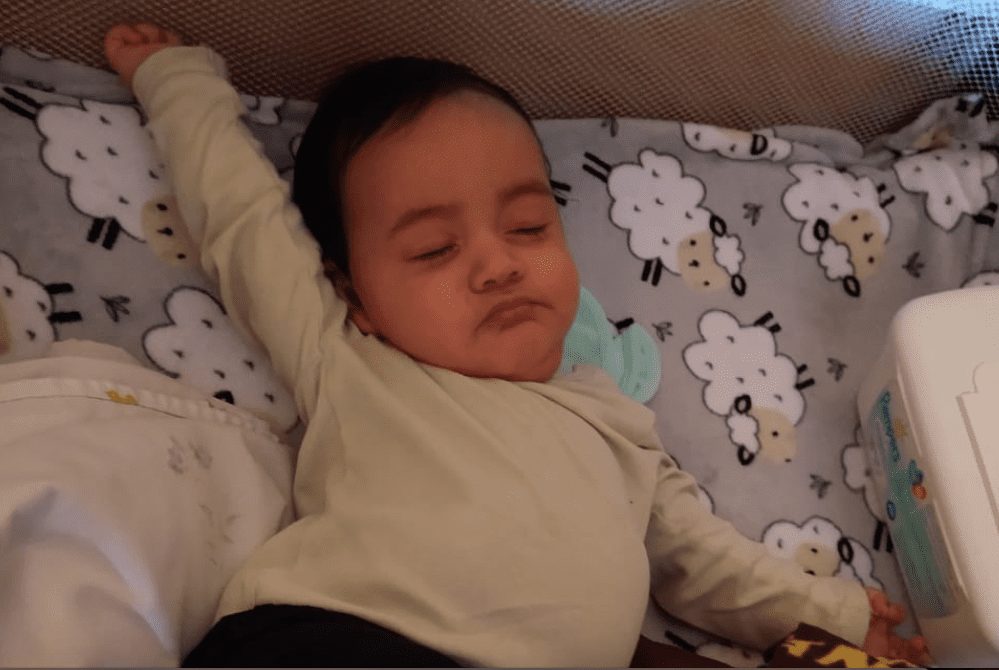 The election defeat of Don Trump and the rabid anti-immigrant stance of his administration brought Gabriel a sense of hope he scarcely remembered feeling before. We all wanted to be upbeat, if cautiously so. After all, Dr. Jill Biden had visited the Matamoros refugee camp just weeks after Gabriel and his family set up their temporary home there. Kamala Harris had come to the Rio Grande Valley to promote a more humane approach to border immigration during the presidential campaign.
But the months of uncertainty we all had to endure as Trump refused to concede the election were re-traumatizing for Gabriel and the other 70,000 migrants caught in the MPP's evil web.
What was going to happen to them in the new Biden administration? Would there even be one?
Everyone who cared about migrants' rights and immigrant justice, who worried about the flouting of legal due process and destruction of asylum in the US, went into a holding pattern, white-knuckling it through the days, breathing just deeply enough to stay alive.
Then came the announcement, upon his inauguration, that President Biden would stop enrolling new asylum seekers to the US border into the inhumane and highly illegal MPP or "Remain in Mexico" program. But until he could confirm new leadership at the Department of Homeland Security (DHS), the only message Biden had for the 70K souls waiting in danger along the 2000-mile border was to stay put, "pending further official information from U.S. government officials."
Finally, on February 11, 2021, the news came that the Biden administration, under the auspices of DHS, the UN Refugee Agency (UNHCR), and the International Organization for Migration (IOM) would begin processing those trapped within MPP in three phases, beginning on February 19.
Gabriel and his family are eligible for Phase 1: Their case is still active, having never been able to achieve even their initial court hearing. And with the new baby and troubled pregnancy, from which Lessy is still recovering, they may fall into the "vulnerable" category as well, which the UNHCR will prioritize for crossing.
In the days and weeks to follow, I will follow Gabriel — as well as other southern border asylum seekers — in real time as they navigate Biden's rollback of MPP.
Join us HERE as Gabriel and I track his family's continued journey from persecution to safety by the sides of the loved ones that have been waiting for them all this time. As it should be. As it should always have been.
Sarah Towle is an award-winning London-based US expatriate author sharing her journey from outrage to activism one story of humanity and heroism at a time. Check out her Letter to Joe and Jill: Tear Down Those Walls! and her stories on the Angry Tías and Abuelas, Redneck Revolutionary Brendon Tucker and human rights heros Jennifer Harbury and Jodi Goodwin. Read the entire travelogue of a road trip gone awry: THE FIRST SOLUTION: Tales of Humanity and Heroism from Trump's Manufactured Border Crisis, on Medium.This article was originally published at www.medium.com
[simple-author-box]
Customs and Border Protection Honduras Matamoros Migrant Protection Protocols