WASHINGTON, D.C. – Deb Haaland, the first Native American nominated to be a Cabinet secretary, remained characteristically cool under grilling from Republican petroleum industry defenders during Senate committee hearings, ultimately gaining a recommendation March 4 for confirmation to the post at the Interior Department.
U.S. President-elect Joe Biden nominated Haaland as Interior secretary to put her in charge of agencies that have primary jurisdiction over public land, mining, and treaty trust responsibilities, such as the National Park Service, Bureau of Land Management, and Bureau of Indian Affairs.
Native observers questioned the motive for the "nefarious" and "disrespectful" attitude of some Senators taking part in the interrogation of Haaland during confirmation hearings at the Senate Energy and Natural Resources Committee.
In her opening address at the Senate chambers, Haaland said, "If an Indigenous woman from humble beginnings can be confirmed as Secretary of the Interior, our country holds promise for everyone. I hope this nomination would be an inspiration for Americans – moving forward together as one nation and creating opportunities for all of us."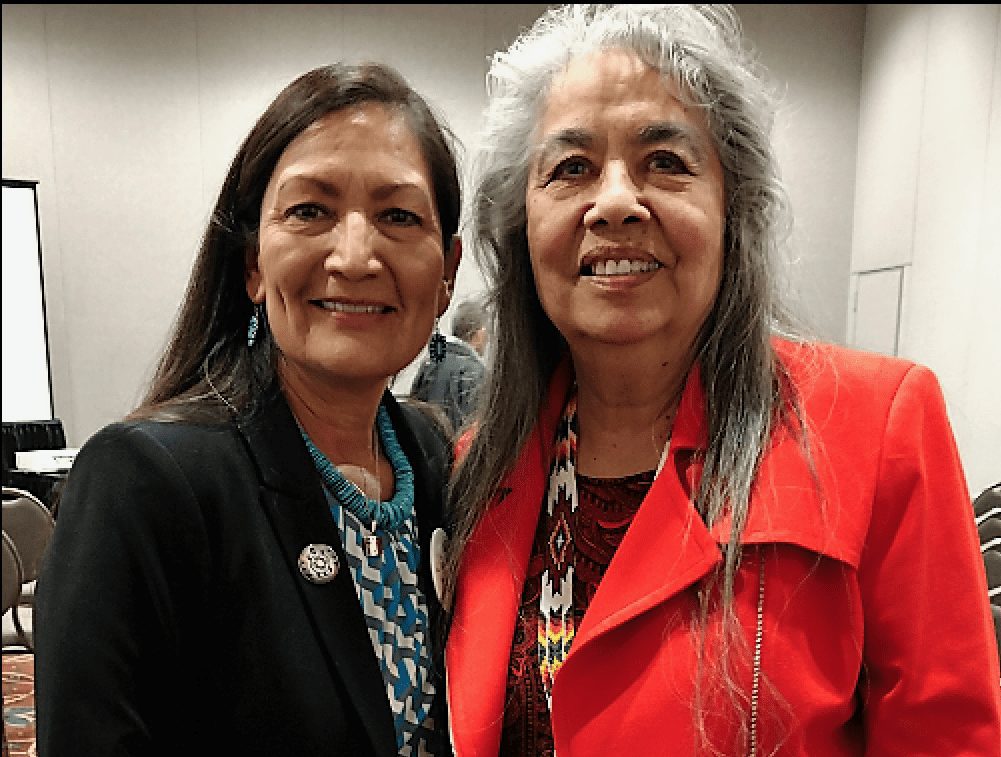 Haaland, a tribal enrollee of Laguna Pueblo in New Mexico, also was one of the only two Native congresswomen ever elected to the U.S. House of Representatives. She and Sharice Davids, a tribal citizen of the Ho-Chunk Nation in Wisconsin, won election in 2018.
She was introduced by Sen. Martin Heinrich, D-NM, and Rep. Don Young, R-AK, who praised her for her bipartisan efforts at passing legislation.
The Cabinet nominee noted the influence of her upbringing on her political role. "As the daughter of a Pueblo woman, I was taught to value hard work. My mother is a Navy veteran, was a civil servant at the Bureau of Indian Education for 25 years, and she raised four kids as a military wife," she said.
"My dad, the grandson of immigrants, was a 30-year career Marine who served in Vietnam. He received the Silver Star and is buried at Arlington National Cemetery," she added.
"As a military family, we moved every few years when I was a kid, but no matter where we lived, my dad taught me and my siblings to appreciate nature, whether on a mountain trail or walking along the beach.
"I spent summers in Mesita, our small village on Laguna Pueblo, the location of my grandparents' traditional home. It was there that I learned about our culture from my grandmother by watching her cook and by participating in traditional feast days and ceremonies.
"It was in the cornfields with my grandfather where I learned the importance of water and protecting our resources and where I gained a deep respect for the Earth.
"I'm not a stranger to the struggles many families across America face today – I've lived most of my adult life paycheck to paycheck," she said. "It's because of these struggles that I fully understand the role Interior must play in the President's plan to build back better — to responsibly manage our natural resources to protect them for future generations — so that we can continue to work, live, hunt, fish, and pray among them," she said.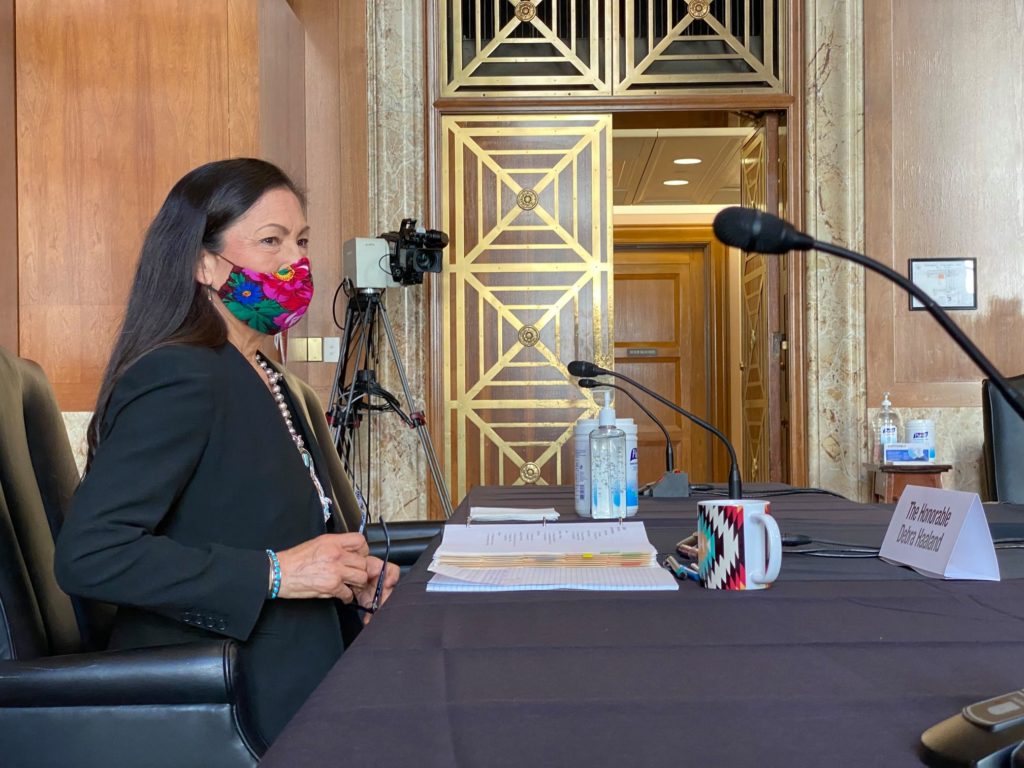 She clearly endorsed restoring and conserving lands through the 21st Century Civilian Climate Corps that she said "has the potential to spur job creation." She praised the Senate Committee on Energy and Natural Resources for its bipartisan support of the proposed Great American Outdoors Act and the Public Lands package.
The committee was the host of the initial confirmation proceedings for the Senate, which is the only legislative body involved in confirming a President's Cabinet nomination. At press time, the full Senate had not announced a date to vote on the recommendation.
Ranking committee Republican Sen. John Barasso of Wyoming led the way in questioning Haaland on her stance against foreign petroleum pipeline construction through Native treaty lands.
She agreed with Biden's cancellation of the Keystone XL Pipeline construction permit. What's more, she acknowledged, she had attended water protector camps that drew militarized police operations in 2016-2017 when grassroots demonstrators gathered by the thousands to back four Sioux tribes' lawsuits to prevent Dakota Access Pipeline construction across the Missouri River.
"Should the federal government continue to permit oil pipelines in this country?" Barrasso asked Haaland.
"Senator, with respect to the Department of Interior, wherever pipelines fall under the authority of the Department of Interior, of course," Haaland answered.
Barrasso continued, "President Biden issued several orders, as we talked about, banning new oil and natural gas leasing on lands and waters. This ban has been across your home state of New Mexico, 62,000 jobs, my home state of Wyoming, 33,000 jobs, a long-term leasing ban is also going to cost the kind of run around the table here of members on this committee….
"Now, you had said you will work your heart out for everyone including fossil fuel workers. My question is for you: Why not just let these workers keep their jobs?"
Haaland responded: "Senator, it's my understanding that President Biden has put just a pause on new leases. He didn't ban new leases. He didn't put a moratorium on new leases. It's a pause to review … the federal fossil fuel program. So, I know that there are still thousands of leases and thousands of permits that are moving forward."
Later in the hearing, she said: "I just want to clear up a few things that I heard about my home state. We have not lost thousands of jobs in New Mexico, because there is no ban. And the industry has stockpiled an enormous number of leases, under the fire sale that (former Interior Secretary David) Bernhardt had that ended last administration."
Committee Chair George Manchin, a Democrat from West Virginia, asked her: "Do you believe it's best to maintain our energy independence? And what role do you see fossil energy playing in that?
"Yes, of course, we absolutely need energy independence," she said. "I believe President Biden agrees with that statement as well. I know that we want to move forward with some clean energy. We want to get to net zero."
Despite representing a coal producing state long mired in the fossil fuel industry, Manchin pledged his support for Haaland in short order. Yet, far from Senate chambers, the hearings caused a stir in Indian country.
On Feb. 26, South Dakota Gov. Kristi Noem wrote and publicized a letter to Haaland, leaning on the nominee to pledge approval of the previous Administration's permit for a fireworks display at Mt. Rushmore like the one she arranged for the former President during his unsuccessful 2020 reelection campaign.
The event on July 3 drew a Native-led civil disobedience action in which demonstrators stressed that the symbolism of the mountain monument to four Presidents is an affront to the Great Sioux Nation, since it was carved in treaty land with no tribal consultation or permission.
Seeing how Barrasso's opposition to Haaland could sway sentiments for confirmation, the Global Indigenous Council and Rocky Mountain Tribal Leaders Council put up four billboards in his home state.
"Senator Barrasso unfortunately lived up to our expectations with his insulting and rude performance at Deb Haaland's confirmation hearing," said Tom Rodgers, president of the Global Indigenous Council.
"Here we have a senator, who has filled his campaign war chest with big money from oil companies that want access to public land for essentially pennies on the dollar, daring to lecture a protector of the land and its people like Deb Haaland on how the government should behave. It's ridiculous."
Rodgers added, "I've seen Native American women treated like this before by white males, who seek to diminish their standing. It's nefarious behavior."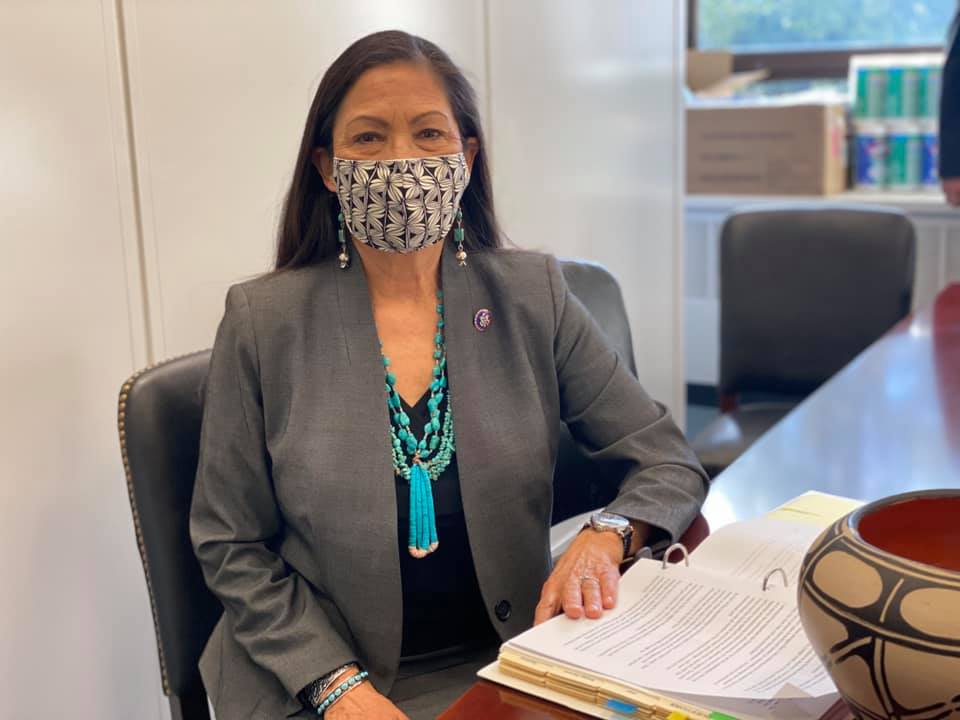 Rain Bear Stands Last, executive director of the Global Indigenous Council, suggested that there may have been "more to his performance than just serving as a spokesman in the Senate for Big Oil," his organization said. "For many Indigenous people who watched the confirmation hearings, it was like seeing your auntie being verbally abused," he added.
"I've witnessed Barrasso in Senate committee meetings and hearings before and I cannot recall one occasion where he addressed a man with such incivility," Rain said. "This went way beyond impatience into patriarchal bullying and intolerance, but the question is, what prompted it? That he had an Indigenous woman sitting before him, who threatens the dominance of his fossil fuel benefactors?"
Gay Kingman, executive director of the Great Plains Tribal Chairmen's Association, which has been supporting Haaland's confirmation, told the Native Sun News Today that she considers the tone of this hearing to be "disrespectful" and "in stark contrast to what we witnessed with Ryan Zinke and David Bernhardt, the last two Interior secretaries, about both of whom we had serious questions on ethics and conflicts of interests that were never answered."
Later Kingman thanked Haaland "for being the strong, intelligent, honorable person who very articulately schooled some ill-mannered old men today."
She knows "the damage that unbalanced energy development can levy not only on our air, land and water, but also on the profound health and cultural costs that front-line and Native American communities are forced to endure," former Western states federal lawmakers Tom and Mark Udall wrote in an opinion piece. "She leads with empathy to find common ground for all."
The Secretary of Interior is responsible for managing more than 480 million surface acres—nearly one-fifth of the land area of the United States; 700 million acres of subsurface minerals; and 2.5 billion acres of the Outer Continental Shelf.
[simple-author-box]