As the year draws to a close, I pause to wish you all a happy Solstice season and reflect on what we've been able to accomplish this year: the publication of 70 stories in English and 51 in Spanish, together with our first transmedia series, a bilingual film and three related articles and the presentation of our film to an international audience.
We began the year with a power trifecta: From Mexico, I was publishing the story of a decade of defending the Wixarika sacred site of Wirikuta, the "Birthplace of the Sun," the struggle that has continued to mark my path to this day as I continue to accompany the Wixárika people in different ways. Along with Hernan Vilchez in Argentina, I was beginning to analyze the videos filmed by our producers in Colombia for Episode 1 of the Cosmology & Pandemic series. Meanwhile Talli Nauman, in Lakota Country, was working on coverage of the water protectors' ongoing fight at Enbridge's Line 3, the Indigenous response to the Jan. 6 Capitol riot, and the film review that ended up becoming one of our most popular stories this year: "We're not feminists, we're the law."
This film that revealed the hidden influence of Iroquois women on US governance was emblematic of one of our goals at The Esperanza Project: To illustrate the ways in which, despite all the efforts to eliminate and assimilate Indigenous people, they have managed to keep their ancestral wisdom alive. It remains a vital and growing force in today's world, indeed a guiding light toward the better world we know is possible.
We work hard all year long to visibilize the voices of creative, committed and inspirational changemakers throughout the Americas. Won't you join us? You can donate through PayPal, join our monthly Patreon group and receive exclusive content and the "story behind the story." You can also help us amplify our efforts in many ways, as we explain HERE.
We endeavor to give space to Indigenous thought and culture, and support Indigenous land and water protectors in their fight to put the brakes on runaway climate change and save their territories and the last wild places from destruction. We cover some of those who are allying with them, as artivist Amy Jo Christian did when she went to stand with the Anishinaabe water protectors at Line 3, in our most recent story. They are showing us the way to embrace the spiritual dimension of this struggle – the only way we can prevail in revisioning and creating a culture that nurtures us all.
Two of our other top stories this year carry similar messages: The Blackfoot Wisdom that Inspired Maslow's Hierarchy of Needs, and Lyla June Johnston's story on indigenous agroecology, "The Forest as Farm."
That theme was front and center in the event that Hernan and I participated in on Saturday, Dec. 18, Enlightening Our Way Together, organized by Unify (a nonprofit organization promoting an emerging planetary culture through synchronized global events, led by Hereditary Chief Phil Lane, among others). Together we presented "The Body as Territory," the film featured in the first episode of our series, Cosmology & Pandemic.
In case you missed it, you can find it HERE – just fast forward to 3:04 on the video, and you will find the gracious Adriana Alvarez introducing me (That's three hours into an 8-hour video – filled with other amazing people and presentations – so if you have time to spend, it's all worthwhile!) Hernan chose to speak in Spanish as there was a translator on the Zoom call – unfortunately not included in the FB live feed – so you can forward through his part of the presentation if you don't understand Spanish. The introduction is followed by the film, which is followed by a Q&A, all in English.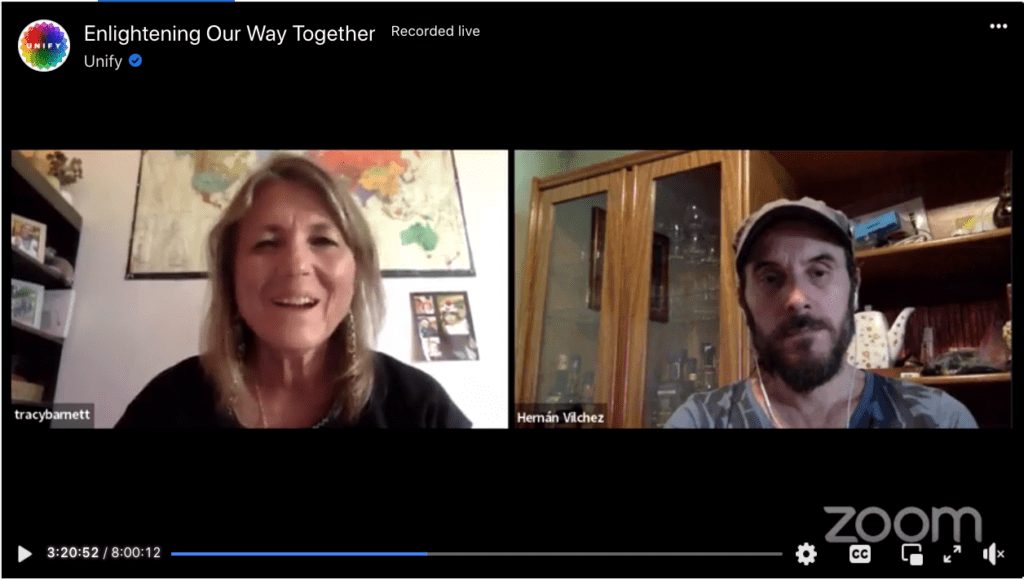 Besides that presentation, there is so much to report just from the past few weeks. Here I share a roundup of recent activities – and a tiny preview of what's to come.
* A visit from Moira Millán, the unforgettable Mapuche leader who some of you saw in the roundtable discussion we sponsored last year of The Condor & The Eagle Film; who launched the Native Flower Rebellion the year before. She came to Guadalajara recently, invited to speak at the prestigious International Book Fair, and we spent some good time together. I did a brief writeup of her talk, here. And then in an unexpected turn of events I decided to drive her to Cheran, the indigenous Purépecha town that stood up to the narcos who were cutting down their forest. That story will be written by Moira, and I will share it with you when it comes. But what we wanted to share with you now is that Moira has decided to donate her house to the new Indigenous Women's Pluriversity that her Movement of Indigenous Women for Buen Vivir is in the process of establishing. She doesn't quite know where she will live yet, but she is quite sure that the Universe will provide.
* A production team we are working with in Bolivia has filmed a segment for our next episode of Cosmology & Pandemic – Andean Cosmovision, An Ancient Path to Health – a visit with the Kallawayas, an amazing ethnic group dedicated to healing. They were known as the doctors to the Incas. Carlos and Sol, our Bolivian producers, had some great interviews and produced some beautiful video – and I share with you above a few of the photos that our team passed along us.
* The first episode of our series has been very well received, as evidenced by the more than 28,000 people who saw the trailer we posted on Facebook (25.7 thousand for the Spanish version, 2.3 thousand for the English version) and the many beautiful and enthusiastic comments we received. We are now up to 1,132 views of the full video in English and 1,390 in Spanish.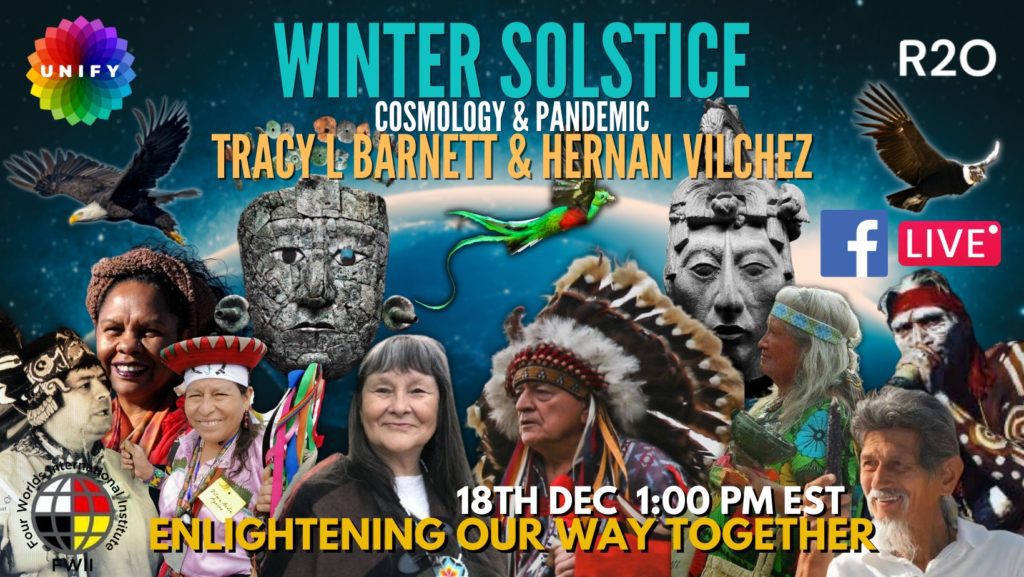 * Right now our producer Ivan Sawyer, the founder of Voices of Amerikua, is in Brazil with the Huni Kuin people, filming for our fourth and final episode. He will be following up on the contacts he has made in previous visits and also in Glasgow at COP-26 among the Ashaninkas. We will be working with him to strengthen and amplify our Amazon and Brazil chapters.
* Talli Nauman, our contributing editor and writer in Lakota Country, and I are working with several new writers on projects that are a bit labor intensive but will yield important stories in the long run. Indigenous Misak journalist Diana Jembuel Morales' story on the femicide of a Misak leader is turning into a series on the violence against women and the land and water in that beautiful indigenous community that centers harmony and balance as the most important medicine. And another Diana, Diana Leon of Aguascalientes, is working on a piece about solid waste management from the perspective of the pepenadores, people who make their living recycling from the city's trash – and looks at problems and solutions relating to this issue.
* This past week we debuted with a piece by Cindy Anders, a new contributor who wrote "Violence and Resistance at the Frontlines" about the brave water protectors standing up to the police at the Enbridge Line 3 construction site in Minnesota. An amazing artivist friend went to stand with the Anishanaabe water protectors there and was among many who were tortured by police under their new "pain compliance" strategy, leaving her with long-lasting neurological damage and partial face paralysis, as well as facing criminal charges that could land her in prison for 11 years – along with hundreds of others.
Meanwhile, Talli produced another excellent story on Line 3 – the logical followup to Standing Rock, which has not received a tenth of the media coverage even though the activism is just as compelling and the impacts of that pipeline are even greater. So we are grateful for the opportunity to offer a bit of in-depth, creative and compelling coverage to support the water protectors on that important battle front. Also Talli did an excellent piece on the boarding school issue, Youth Demand Redress for Boarding School Atrocities — an uplifting (I thought) piece on how the Jesuit former boarding school at Pine Ridge has become a progressive Indigenous school and is taking important steps to address the abuses of the past.
* Today I write to you from the beautiful retreat space near San Miguel de Allende, where Susana Valadez, the visionary anthropologist who founded the Huichol Center for Cultural Survival, has taken up quarters. She is working on an exciting new proposal which we look forward to sharing with you when the time is right. She has found her way to a compound with tremendous potential as the site for the new Huichol Center Institute for Art and Culture. Now the challenge is to bring the Huichol Center vision here, and amplify it. Meantime I share a few photos – the last four in the series above – to pass along to you some of the inspiration that Susana has shared with me.
There is so much more to say, but for now, I will leave you with this thought: Our shared work is giving voice to those people who are bringing their love and their prayers and their brilliance and their body-mind-spirits to the work of global transformation, and it is planting and nurturing seeds of change, and it is making a difference. We invite you to join us. You can make a one-time donation to our PayPal, or join our Patreon group and make a monthly contribution, and receive exclusive content, peeks behind the scenes, and personal stories from this author. You can also help in many other ways; check out this page to find out how.
In these times of corporate media with its focus on the 3 C's – crime, catastrophe and corruption – what we do is more important than ever, and I think you understand that, or you wouldn't be here. If you're a supporter of our work, we thank you greatly. If you haven't yet made that step, now is the time.