Despite months of struggle by water protectors, the tar-sands oil of Alberta, Canada is flowing through Enbridge Inc.'s controversial Line 3 pipeline in northern Minnesota. But for indigenous-led water protectors, environmental activists and concerned citizens who stood with them, the fight against the "black snake" is far from over.
Instead, actions have shifted from the forests, wetlands, rivers and fields along the 330-mile pipeline to courtrooms and government offices around the country. At stake now, say some activists, is not only the water and land, but also the right to oppose fossil fuel infrastructure projects in the future.
Water protector testimonies regarding police violence at the Line 3 action in northern Minnesota in August 2021. Jo Christian's testimony begins at 20 seconds. Video courtesy of the Giniw Collective.
"This is the fossil fuel industry's endgame. They know that the fossil fuel era is over, that people are going to protest any new infrastructure," said Jo Christian, an artist and activist who spent time at Line 3 frontlines this summer. Law enforcement there subjected her to an excruciating "pain compliance" maneuver that dislocated her jaw and temporarily paralyzed part of her face.
"These tactics are definitely being used to scare us, they're throwing everything at the wall to see what they can make stick. They're trying to get people to be afraid of standing up for water, and they're trying to make us afraid to stand up in direct action. That's why they're using pain compliance, felony theft charges,critical infrastructure, all of these egregious things. Clearly they're afraid," said Jo. She is charged with a felony and a gross misdemeanor for her actions in Minnesota, "because they see that we do hold power, and that they have to figure out a way to stop that."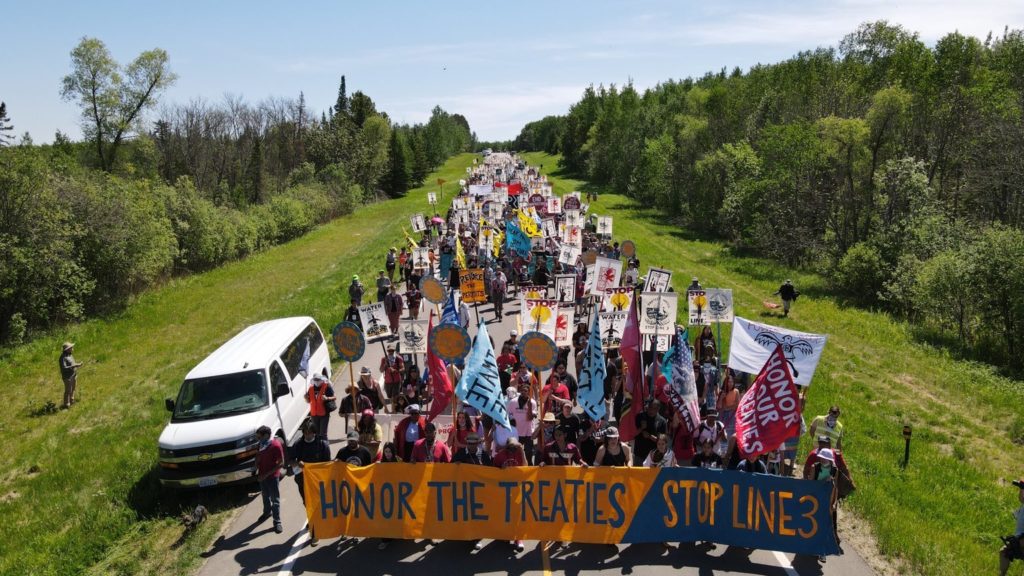 Jo has used her passion for circus arts, puppetry, and outdoor spectacles to draw attention to injustice, raise voices and build community through street theater organizations for 30 years. On the day in August that she went to the frontlines, Hubbard County law enforcement officers changed tactics with demonstrators.
Instead of extracting her from the site and arresting her, as was typical in hundreds of arrests for direct action, they first subjected her and others to "pain compliance." The technique involves forcefully pressing fingers into an area behind the jaw where nerves that control sensation in the face pass through a narrow channel.
The maneuver — repeated numerous times — caused a burning sensation so severe that Jo said she and others screamed. Later, she compared it to the pain of childbirth. Left with partial paralysis of her face and a partially dislocated jaw, Christian was arrested and jailed. She now faces up to 11 years in prison.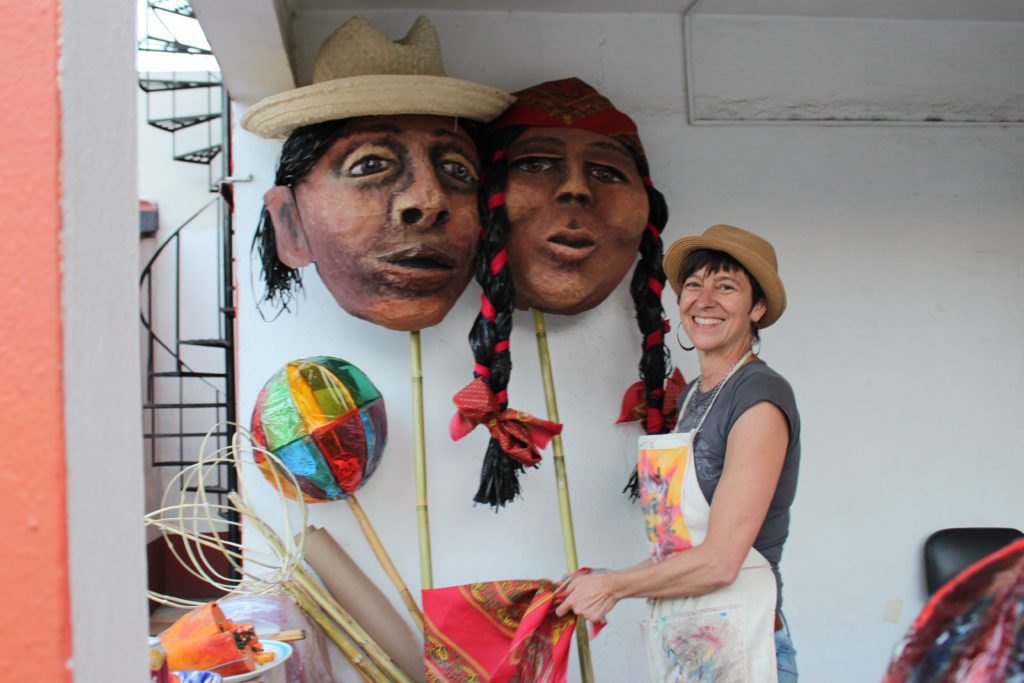 Jo is one of more than 900 water protectors still facing legal action in the water protector movement, and police violence has not succeeded in its aim of stopping resistance. 
      A little over a year ago, construction on the Line 3 pipeline started and the first 22 water protectors were arrested shortly after that at an early action near the construction site. That day, indigenous-led water protectors had rallied to stop construction, protect the land and water, the habitat of wild rice, manoomin, a culturally significant food of the Anishinaabe, as well as treaty rights. Line 3's new route crosses more than 200 bodies of water – including the Mississippi River, twice – and carries 760,000 gallons of dirty tar-sands oil a day.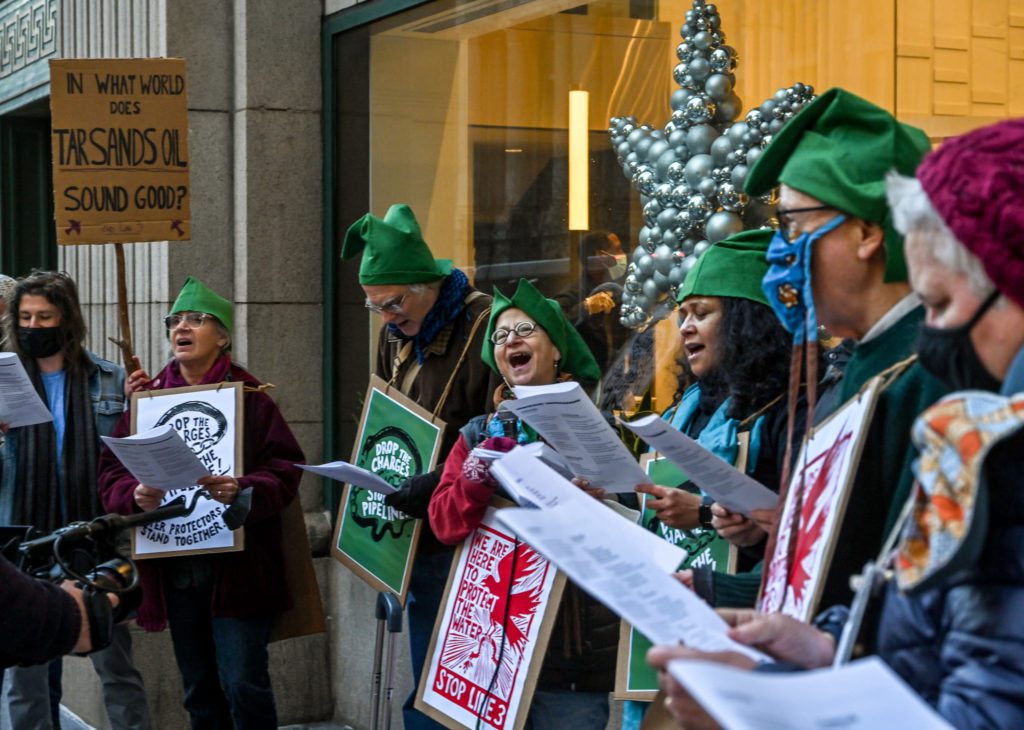 On the anniversary of the first arrests, dozens of protests sprang up to mark the occasion by staging speeches, rallies, caroling parties and meetings with elected officials. They demanded that the U.S. Army Corps of Engineers undertake  a new federal Environmental Impact Statement (EIS) process. Hosted by groups such as the Fox Valley Sunrise in Green Bay, Extinction Rebellion in San Francisco, and Philly Water Protectors in Philadelphia, the organizers shared a list of grievances: included was the fact that Enbridge has already been fined $3.32 million by the Minnesota Department of Natural Resources for violations that occurred during construction. Additionally, they state, millions of gallons of artesian water are being lost due to the puncture of an underground reservoir during drilling for the pipeline. Organizers also noted, the pipeline construction violates U.S.-Anishinaabe treaties. To complicate matters, the pipeline carries the carbon emissions equivalent of 50 new coal-fired plants in a time of "code red" climate emergency.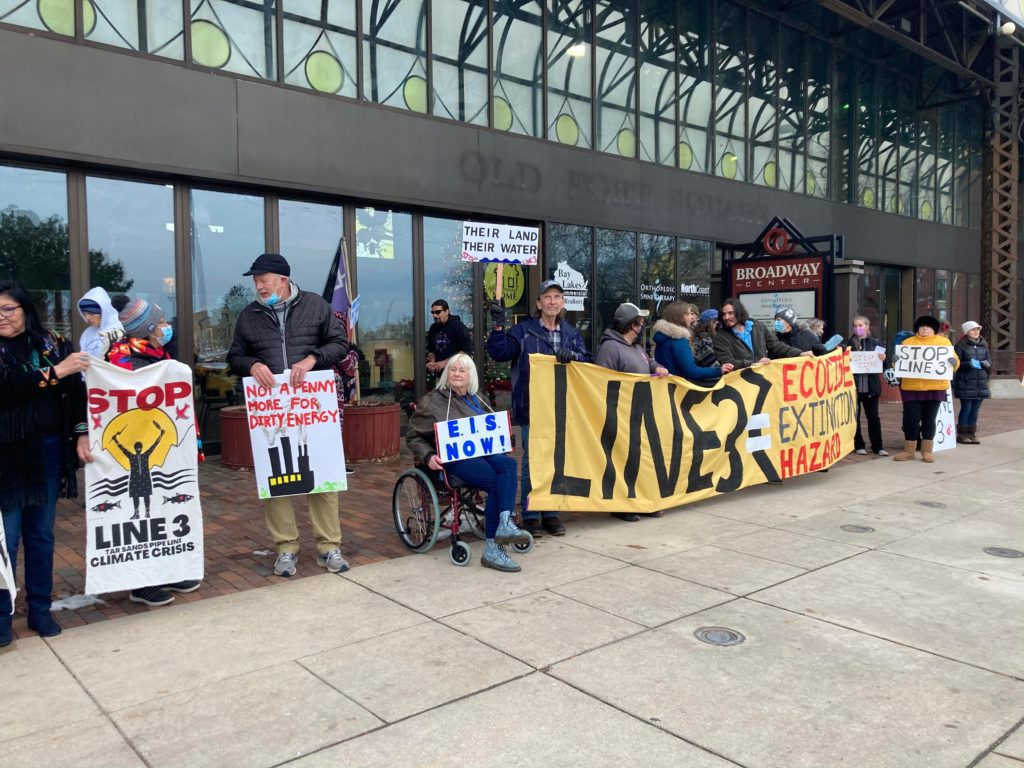 It was around 30 degrees in Green Bay, Wisconsin – a rather warm winter day – when participants in the Day of Action marking the anniversary met to picket and sing in front of the Army Corps of Engineers. Grace Quinn, an organizer with Sunrise Fox Valley and a water protector who had been on the frontlines last summer said, "I've done a good amount of public speaking, and think I'm pretty good at it, but yesterday when I was speaking I ended up breaking down and crying when I was talking about the pipeline." In an interview after the event, she recalled how the Mississippi River had been a lifeline during the protests, providing a chance to bathe, recreate and cool off during the 90-degree summer days. Noting the damage from frac-outs that has already occurred during the pipeline construction, Quinn said, "We know what happens with pipelines, pipelines spill. It's only a matter of time before this one spills too."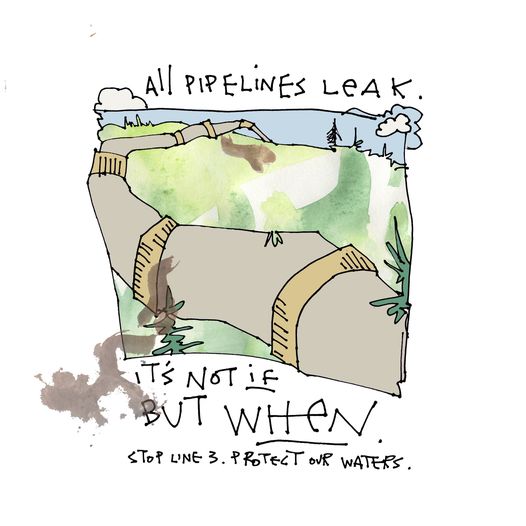 Keeping the gatherings upbeat, many of the Day of Action events featured music. The Philly Water Protectors caroled downtown, sporting homemade elf hats. Back in Green Bay, the event featured songs by Mary Hansen, who had come from her home in Peshtigo.
"We are here. We are here. We're gonna stand our ground. Our water is at risk so we're shuttin' Line 3 down," state the lyrics to one of her songs. "We are here. We are here. Their line is on OUR ground."
         About a dozen pipeline fighters in Fargo, North Dakota gathered at the Army Corps of Engineers Office there to join the National Day of Action as well. Although the pipeline is operational, they said they do not plan to stop opposing it, reported the local e-paper Inforum. "We will never stop fighting for waters and land," said Hannah Cook, a water protector who had been part of the summer resistance along Line 3, according to Inforum. "One day, it will be turned off. It's a ticking time bomb."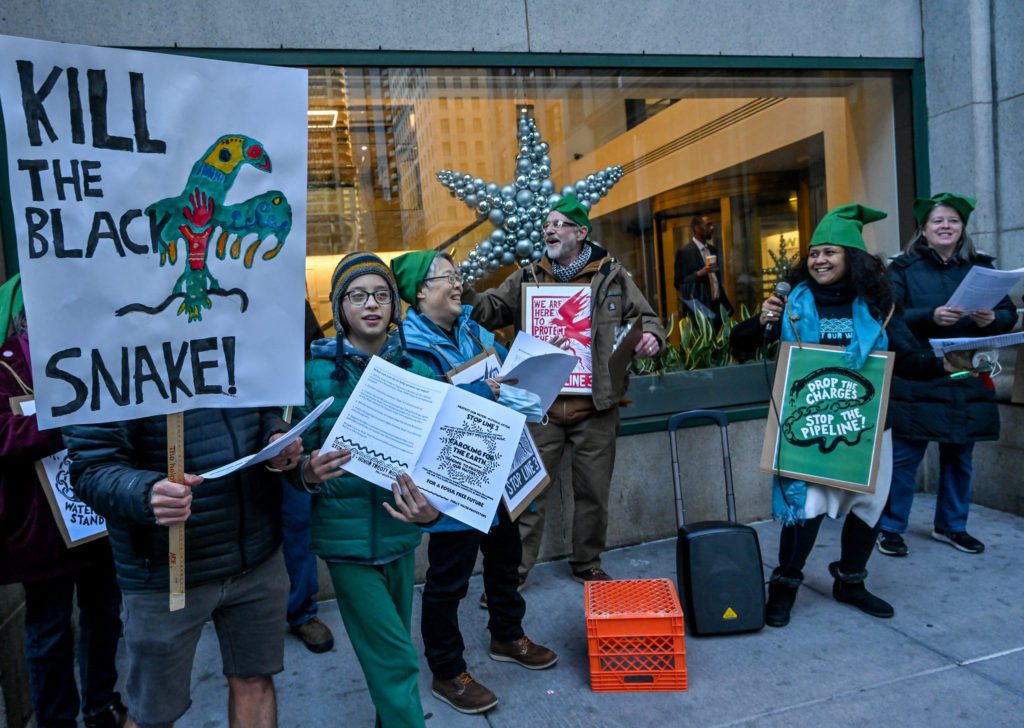 As of last summer there are 10 pipelines under construction in the United States, including Line 3, and seven more planned, according to the website Statista. Thousands of miles of pipeline are up for replacement in the coming years, according to industry analysts.
Currently, hundreds of people who had been part of frontline resistance during the pipeline construction are tied up in legal conflicts. About 90 people face felony charges, which can carry more than 10 years in prison and thousands of dollars in fines. During the nine months of pipeline construction, officers made more than 1,000 arrests. While those taken into custody last December were charged with common misdemeanors such as trespassing on a posted construction site or unlawful assembly, charges escalated as the project continued. Local prosecutors began bringing charges such as felony theft when activists locked themselves to machines that kept construction from moving forward and gross misdemeanors for "trespassing on critical infrastructure," under a law that was passed to protect important sites after 9/11. In one case, dissidents were charged with a felony for "aiding attempted suicide," when two people refused to get out of a pipe section.
       "The charges we are facing are so ridiculous," said Jo, whose court date has been continued to Feb. 9. "The fact is I was exercising my First Amendment rights, and that I was also exercising my rights to demand that we uphold treaty rights in that region. Not only was I tortured for that, the police in that county were paid by a corporation, they were essentially acting as a security force for a multinational corporation. Then, on top of that, the state is following up by filing felony charges against me for stealing Enbridge's time."
As a condition of building the pipeline, the Minnesota Public Utilities Commission had ordered Enbridge to set up an escrow account to cover the cost of law enforcement related to the pipeline. Before construction started Enbridge and local law enforcement began cooperating to discuss strategies for containing demonstrators, according to articles by The Intercept.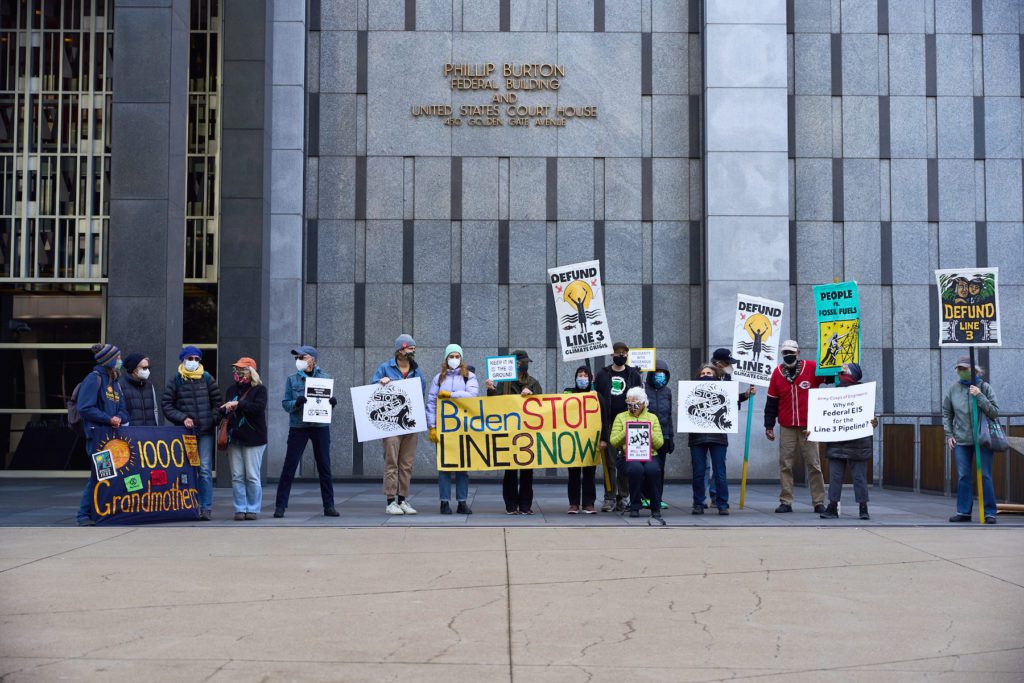 So far, local law enforcement has been paid nearly $3 million from the account for equipment, training and officer time surrounding Line 3 construction, according to the Indigenous Environmental Network. 
Not only has law enforcement been tapping the Enbridge escrow account. The chief prosecutor for the hundreds arrested during protests, Jonathan Frieden, submitted invoices to the escrow account for his office's overtime, according to documents obtained by the Center for Protest Law and Litigation through a public records account. The Center for Protest Law and Litigation is representing water protectors facing charges from the actions on Line 3.
Last summer Frieden submitted invoices asking for money to cover the cost of prosecuting demonstrators. (See the documents here https://www.protestlaw.org/news/minnesota-prosecutor-sought-enbridge-funding-to-prosecute-at-line-3) On July 30 Frieden sent an email to Rick Hart, the account manager for the Line 3 escrow account, along with an invoice for $12,207 for the additional hours three staff had worked related to the pipeline. The "hours are due to multiple arrests/citations/complaints and prosecution for public safety related costs for maintaining the peace," according to Friedan's invoice.
Hart replied, "Prosecution expenses are not an allowable reimbursable expense for the Line 3 Public Safety Escrow Account."
Frieden persisted with his demands and in an e-mail to Hart noted that he disagreed with the Minnesota Public Utilities Commission, which administers the fund. "I look forward to hearing why multiple late nights and overtime hours by my staff to charge the individuals endangering the public don't qualify under public safety," wrote Frieden, "I assume the cost to arrest them is covered, just not to prosecute them: How does that make sense under the language you provide below?"
Frieden also asked that he have more time to submit expenses, noting, "I would like to speak with you over the phone regarding the 180-day time limit following completion of the project. I'm wondering if that might be changed in the future given the significant amount of resources my office will be expending over the next 6 months in the prosecution of criminal acts associated with Line 3."
      "This leveling up of charges and setting a precedent where you can charge somebody with felony theft for a corporation's time," said Jo.  "That's really scary when you think about the large-scale impacts."      
Tara Houska, an environmental and Indigenous rights attorney and founder of the Giniw Collective, which has helped lead the movement to block Line 3, also was arrested after an action that turned violent when police fired rubber bullets and used other "non-lethal" types of force on water protectors. From jail, she wrote a letter that was eventually published in Vogue. In it Houska, who is a citizen of Couchiching First Nation, wrote, "A few years back, I was asked what world I fear most. I remember speaking of water protectors, the folks standing up for all life with their bodies, minds, and hearts, sitting behind bars as the world burned and the seas rose. Here we are."
Water protectors involved in Line 3 have launched a campaign to "Drop the Charges" and are collecting signatures on a petition asking Minnesota Governor Tim Walz and Attorney General Keith Ellison to drop all charges.
"It's entirely wrong that Enbridge – a foreign oil corporation – has committed egregious crimes against the water and people, yet it's us who are being prosecuted. Every day that pipeline is in operation, Minnesotans are in danger. It must be shut down, and all charges against Water Protectors must be dropped," said Winona LaDuke, who herself was arrested at a Line 3 action and is the executive director of Honor the Earth.
Water Protectors defending treaty rights argue that they were upholding the supreme law of the land by resisting Line 3 and should not be prosecuted, according to the Indigenous Environmental Network. The pipeline crosses the 1854, 1855, and 1867 treaty territories of the Anishinaabe.
    "I think it's really important to recognize that we don't need to respond to this with fear," said Jo, who was on a call earlier in the week to get out the word about the Drop the Charges campaign. "We actually can respond by seeing the power we have. I think that focusing on these experiences can lead us to collectivizing and mobilizing, basing our experience on resilience and connection rather than fear. That's what is going to move us forward. We need to keep being on the front lines. These charges need to be dropped in order for us to stand up for land and water, and not criminalize [those actions]. Then the next step is: How do we keep mobilizing? How do we keep showing up?"
"As Indigenous Femme and 2-Spirit leadership in this movement has taught and modeled for me: For those who understand the land and water to be our relatives, not resources, there is no choice but to fight for their health and survival as well as that of future human generations."
ACTION ALERT: Hundreds of water protectors are currently facing criminal charges in Minnesota for standing in defense of the water, the climate, and the treaty rights of the Anishinaabeg people. Learn more about the Drop the Charges campaign HERE.