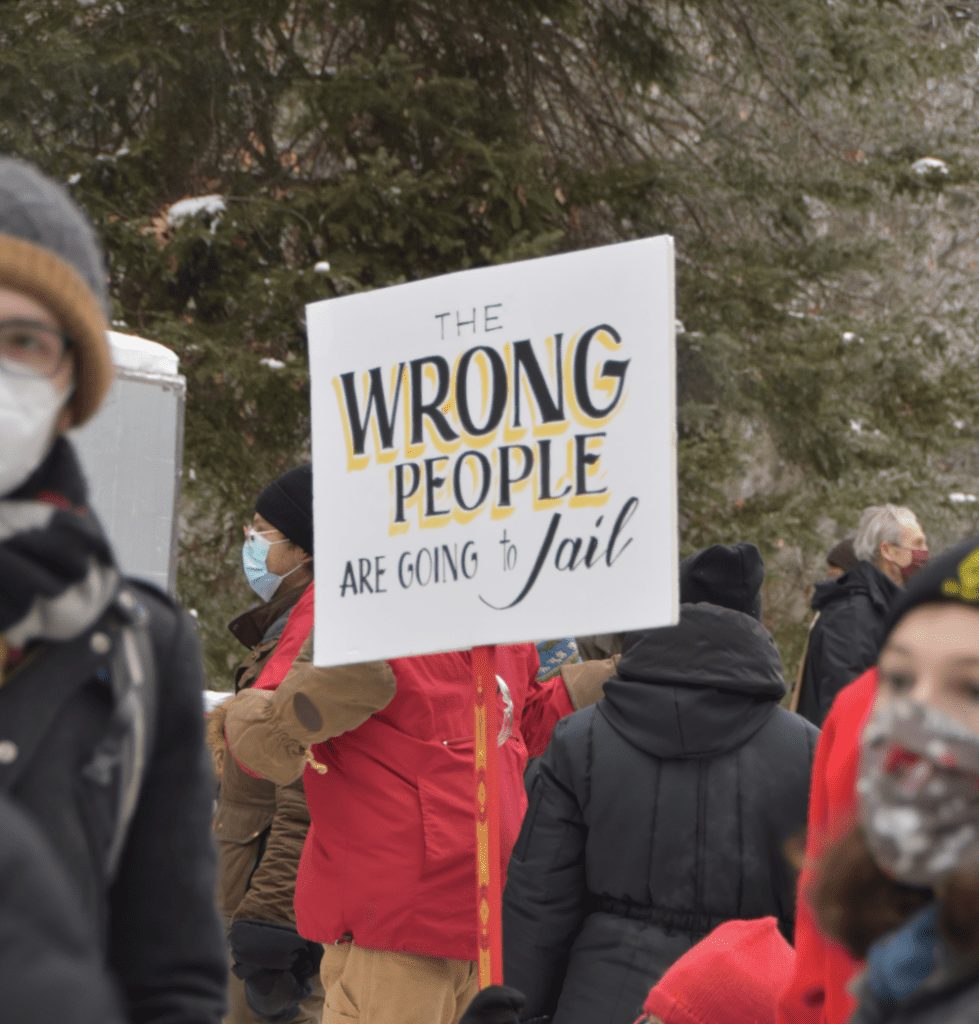 "This would be like ripping out the heart of the Anishinaabe people," said Sarah LittleRedfeather, Anishinaabe graphic designer, referring to Enbridge's Line 3 Replacement tar sands oil pipeline. "To us, that water is life. It's a being and a spirit." 
LittleRedfeather and hundreds of others gathered near the banks of the Mississippi Saturday in northern Minnesota to oppose the construction of the oil pipeline project. They say it threatens 330 miles of pristine waters that are home to their mahnomen (wild rice) and traditional ricing practices at the heart of their culture.
The construction route extends from Canada's Alberta tar sands oil fields to Superior, Wisconsin, cutting across northern Minnesota. The rally was organized by Honor the Earth, a Native environmental justice organization co-founded by Winona LaDuke.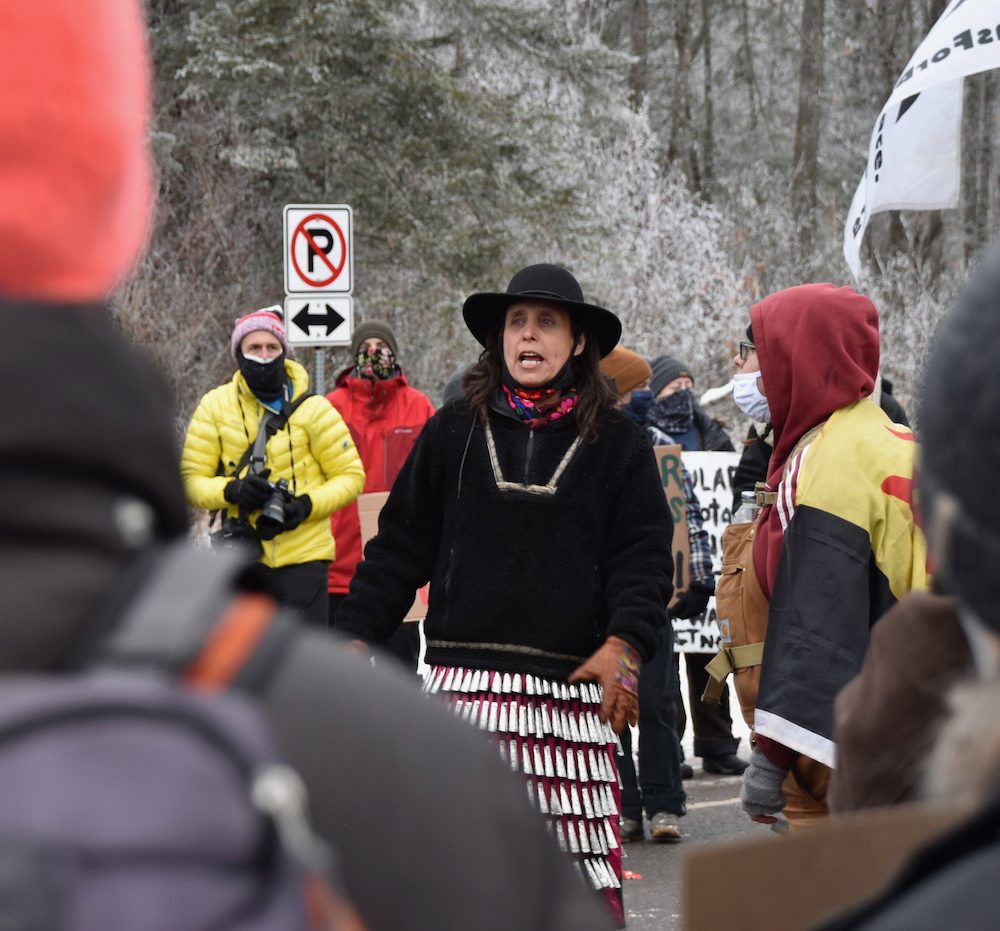 "Today is to pray and to raise awareness. Our governor isn't doing anything to stop this so we keep coming here," said Sarah LittleRedfeather, Anishinaabe and graphic designer for Honor the Earth's Stop Line 3 campaign. She said allowing an oil pipeline to be built underneath the Mississippi –and 22 other rivers – is too great a risk to the water, surrounding ecosystems, and to her people's way of life.
"This is considered 330 miles of pristine waters. There's water up here you can still drink." She talked about the importance of mahnomen (wild rice) and her concerns about how the pipeline will impact traditional ricing practices.

"A big part of this fight is about Mahnomen," she said. "Mahnomen is one of the first foods we eat and one of the last foods we eat."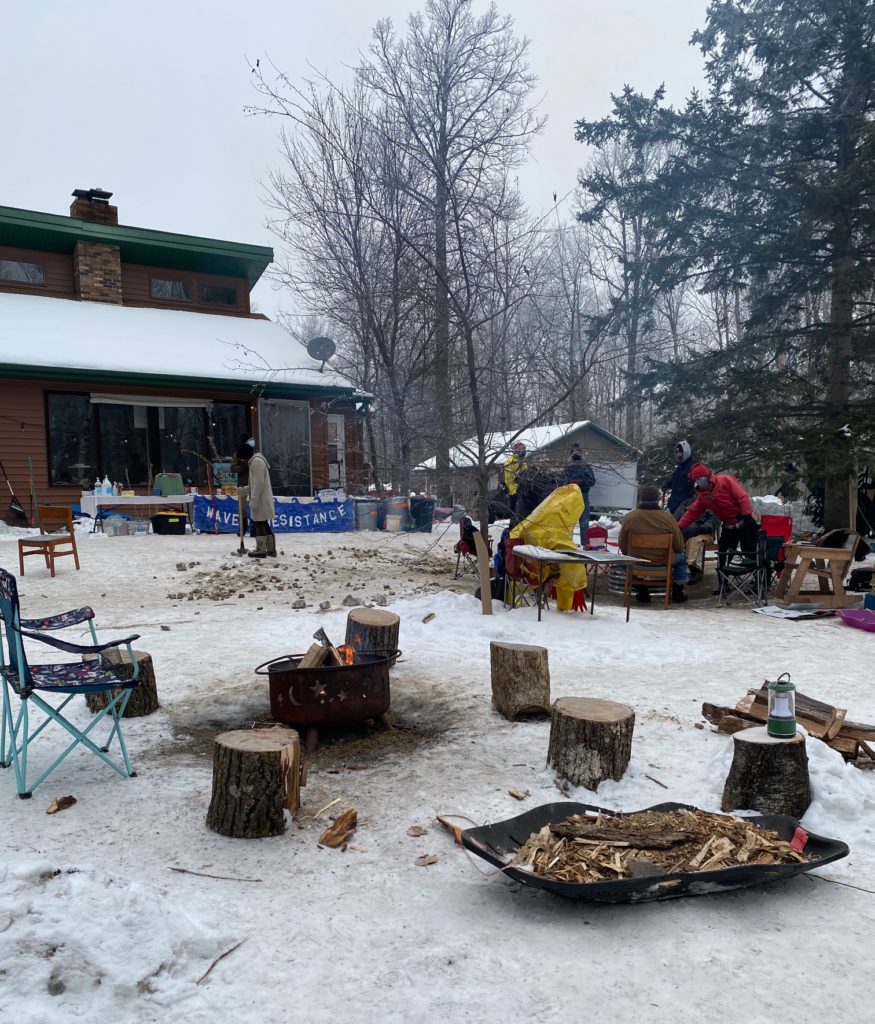 Others at Saturday's rally were focused on protecting wild rice in the area. Giiwedin Howard, member of the Leech Lake Reservation and biochemistry student at the University of Minnesota brought wild rice to the rally from home.

"If the oil spills – and it's going to spill – it's going to pollute all the waters," Howard said. "We've been wild ricing for thousands of years and we want to do it for thousands more. This is a direct threat to us."

He said his father has been harvesting wild rice for the past three years, and he remembers fondly being taught to parch rice at his high school in Leech Lake.

"We'd put on moccasins and dance on them," he said. "I remember doing that and learning the significance of it all."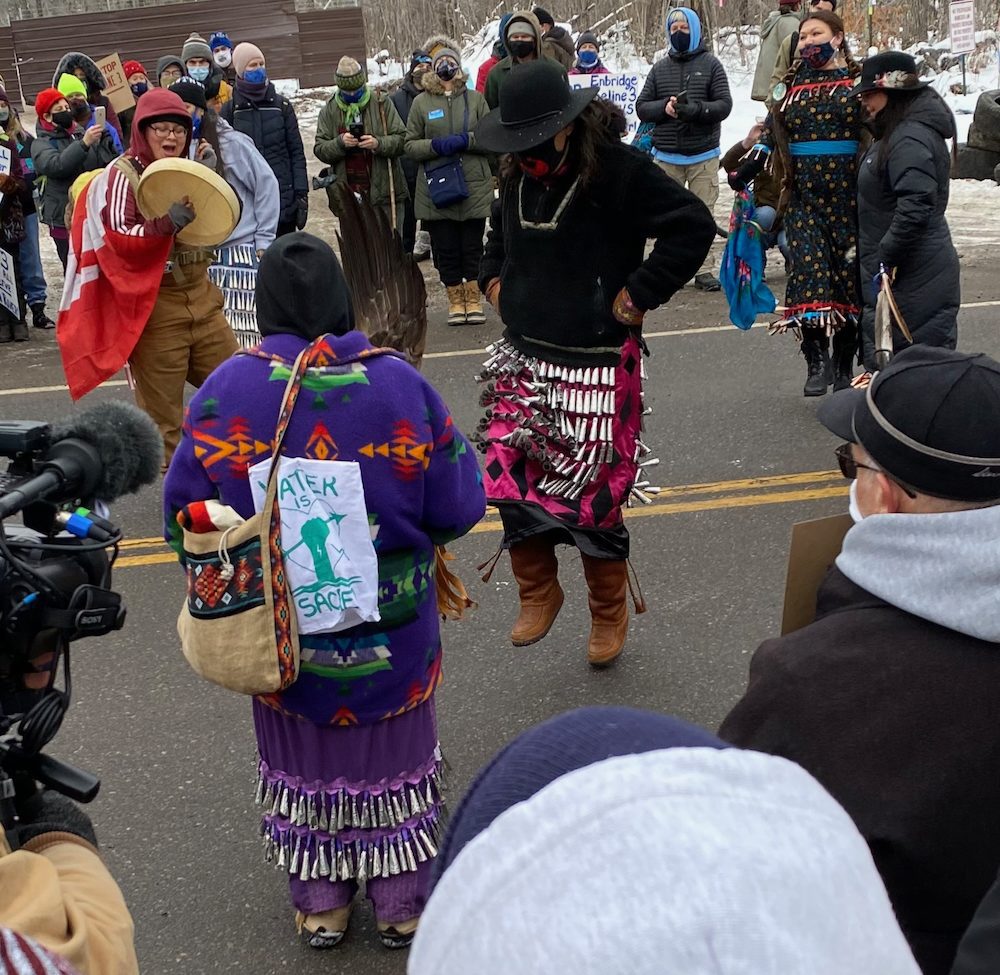 In addition to concerns about local impacts, a primary point of opposition for many are the global effects of such a major fossil fuel project. Many feel this is a major step in the wrong direction, towards fossil fuel expansion, despite Canadian company Enbridge's use of the word "Replacement" in the project title.

"It's not a replacement project, it's an expansion project," said Yarrow, who declined to give a last name. He's been staying at the water protector camp set up near the site of the pipeline construction for several weeks.

"It's the largest proposed fossil fuel infrastructure project in the world right now," said Yarrow. "It will move half a million barrels of tar sands crude oil per day, a very energy intensive oil to extract. It pollutes a lot of fresh water in the process, too."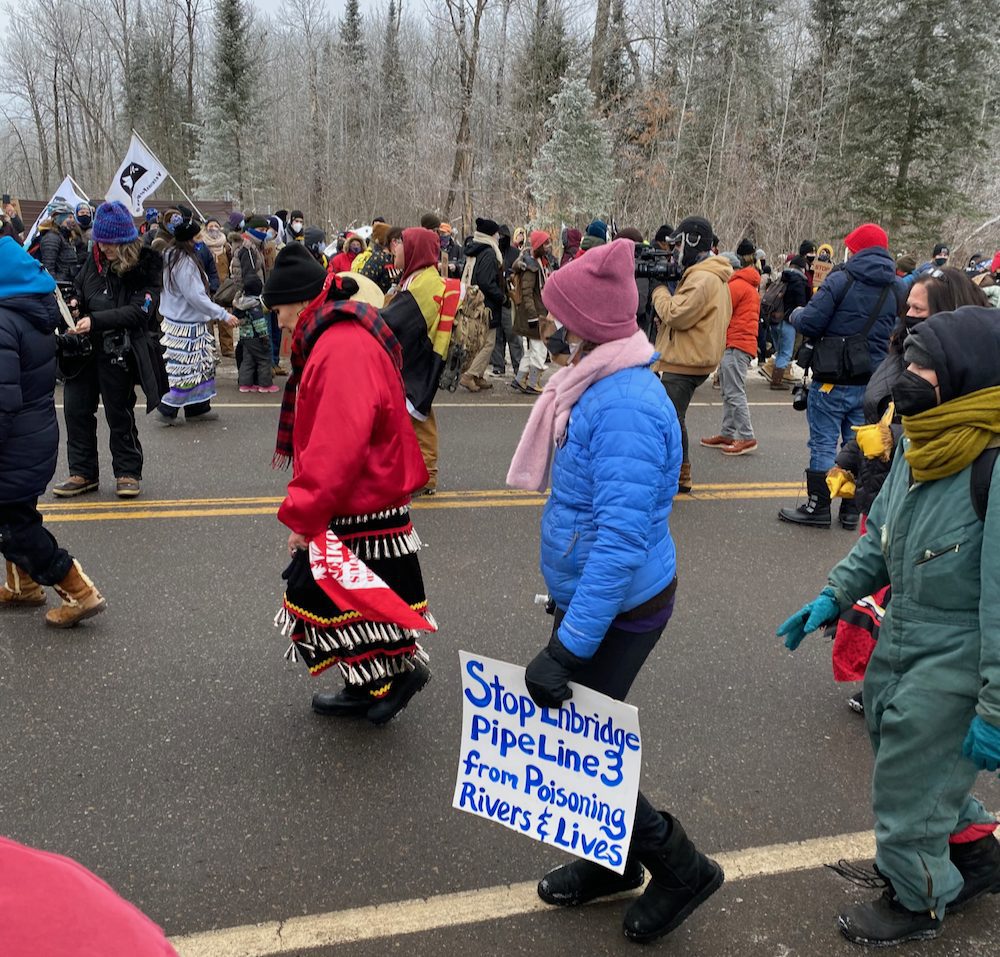 "We have enough energy infrastructure to power our transition away from fossil fuels and we don't need more of the same," he said. After a march from the camp to the pipeline route and several traditional healing dances, protestors caravanned to a pipeline construction site, where they blocked traffic on U.S. Highway 169. Eight people were arrested, seven on possible charges of gross misdemeanor trespass on critical infrastructure and an
eighth for failing to leave an unlawful assembly.

On Dec. 24, 2020, two Ojibwe bands and two environmental groups filed a lawsuit against the U.S. Army Corps of Engineers in federal court, claiming they did not perform an adequate environmental review of
the project and that it violates treaties.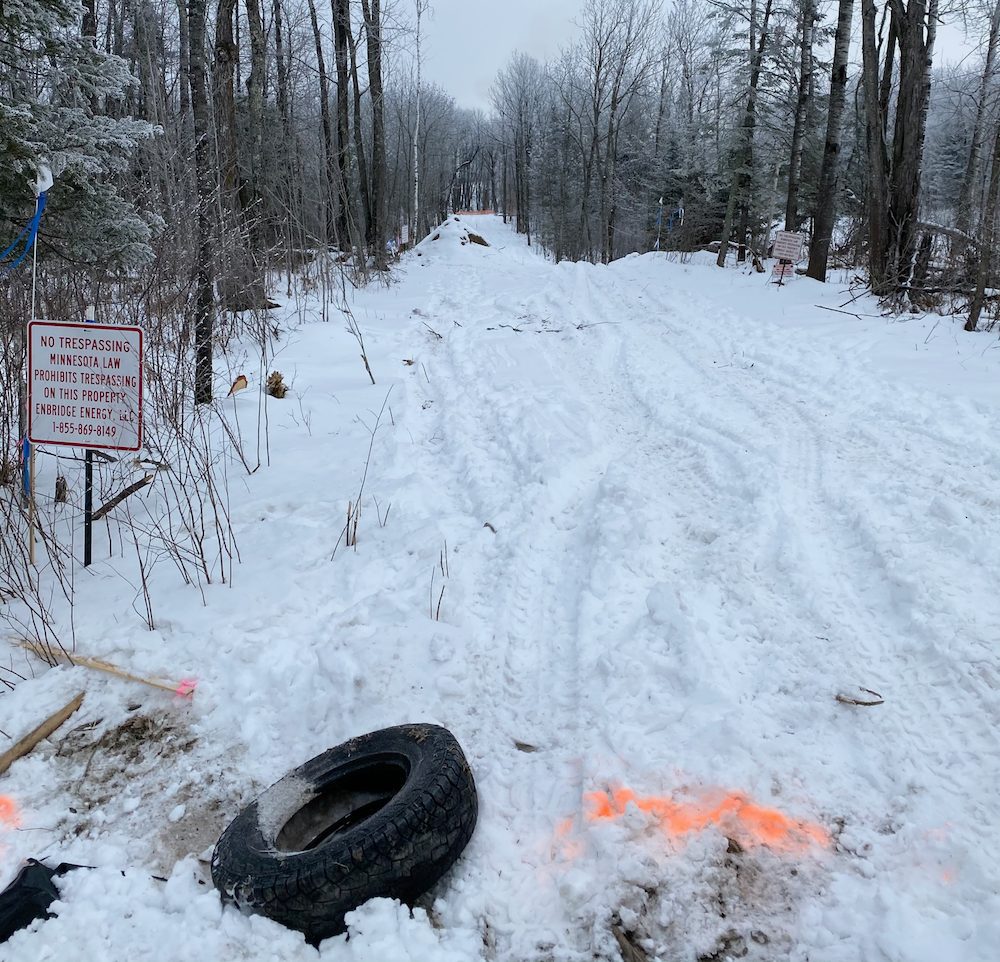 Justine Anderson is an environmental and outdoor writer, and correspondent for The Esperanza Project and Native Sun News Today based in central Minnesota. She can be reached at [email protected].
A different version of this story originally appeared in Native Sun News Today.
Enbridge Line 3 Honor the Earth Minnesota oil pipelines tar sands Winona LaDuke