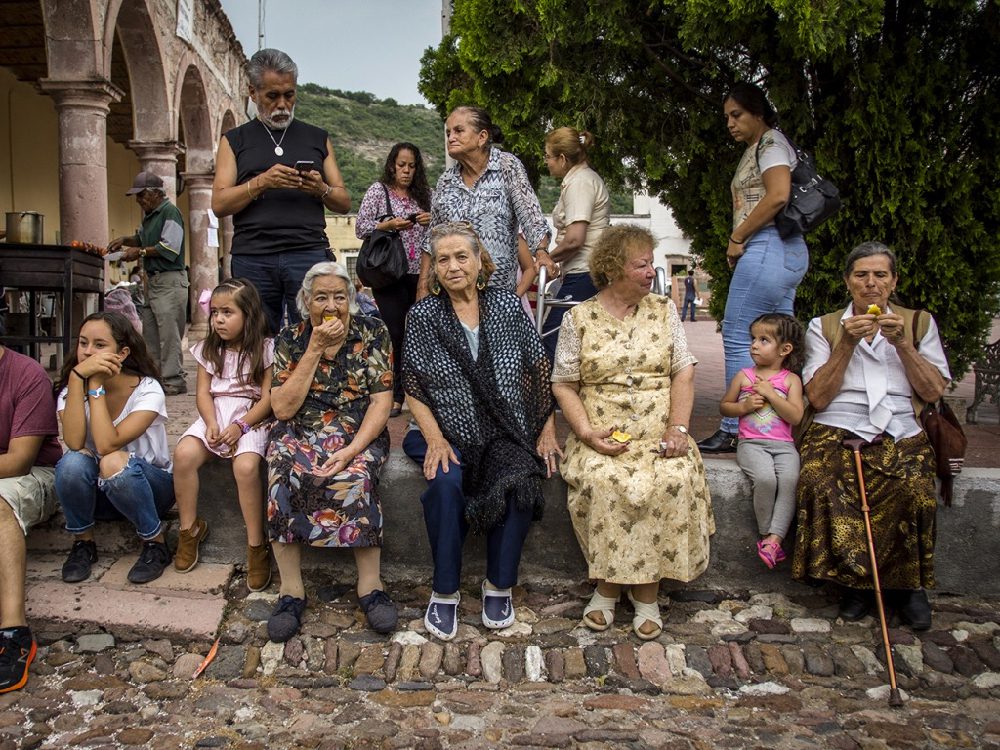 TEMACAPULIN, Jalisco, Mexico — Amid the green of Los Altos de Jalisco, hiding at the bottom of a valley, lies a village in resistance. In Temaca, as it's affectionately known, a band of women have vowed to fight to the end to preserve their territory and their dignity.
The women — and the men — lived peacefully in this town of about 400 inhabitants until in May 2005 they found out through the media — no one from the government, federal or state, was kind enough to let them know — of the destiny of the town they grew up in. An 80-meter-high dam would put their community at risk of flooding. Then the project was modified so that El Zapotillo, the dam named for the ranch where it was built, would reach 105 meters, definitively flooding Temacapulín and two other towns: Acasico and Palmarejo.
Este artículo está disponible en español aquí
"It's impossible to talk about the resistance to the El Zapotillo dam here, in Los Altos de Jalisco, without talking about the bravery and creative participation of the women of Temacapulín," said María González of the Mexican Institute for Community Development (IMDEC, for its initials in Spanish) in her introduction of the forum and photo exposition, "Women of 'Temaca': Water, Defense and Territory."
"Without these women, after 14 years, this–" she gestures to the surrounding village — the plaza with its colonial buildings, the ornate kiosk, the attentive audience — "perhaps would not exist. The women of Temacapulín have strong hearts, warm gazes and a determined will. These women have faced the imposition of El Zapotillo dam and resisted since 2006," said González.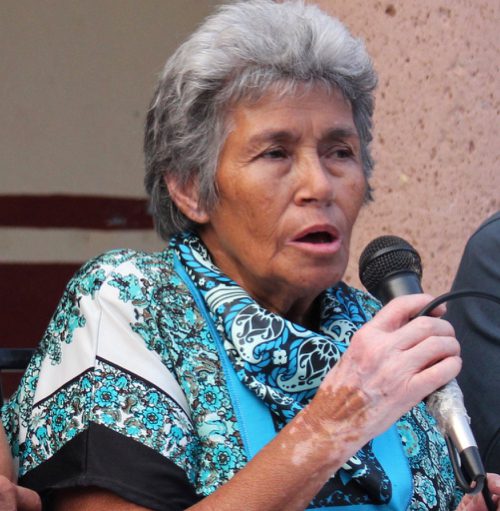 María de Jesús García is a small woman who walks with a cane. With her head high, she delivered strong words to the public at the forum, presented during the tenth Chile Fair in Temacapulín. García, Abigail Agredano, Hortensia Gómez, María Alcaraz and Isaura Gómez would share their experiences facing this hydraulic infrastructure project that would provide water – which the governments of Guanajuato and Jalisco insist are urgently needed — to the metropolitan areas of León and Guadalajara —though it is well known that the dam will primarily benefit industrial parks in Guanajuato and industrial agriculture in Los Altos de Jalisco.
María de Jesús has forged her steely character in more than a decade defending the place where she lives.
"I made a pledge. I remember it very well: I told the Virgin of Remedies [the patron saint of Temacapulin],"Holy Mother, I will try to help, and I will leave it up to you, at the moment you decide … in any way you are going to tell me how," she said, with the conviction of a true believer guiding her actions.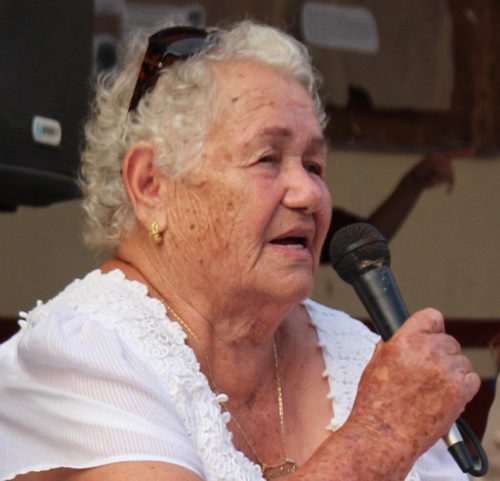 Isaura Gómez, a tough 82-year-old woman who was the first female delegate of Temacapulín in the 80s, has the liveliness of a young woman. She recalled that when she found out about the dam, "I couldn't eat, it took my sleep away. When they said something about the dam, I couldn't swallow the food."
María de Jesús corroborated: "To tell the truth, I was scared. I suffered a lot. I thought about the older people, like me. I thought about what they are going to do, how are they going to defend themselves?"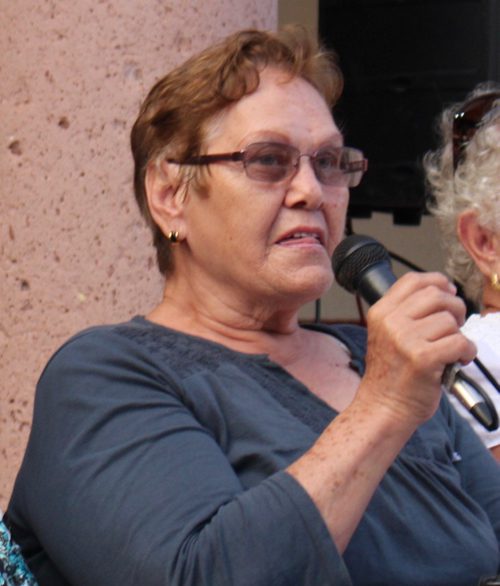 Abigail Agredano added that they had to start organizing as they could.
"We did not have the support we have today, but we began to go to the governor on our own— the right-wing Francisco Ramírez Acuña was governor at the time – to the Congress [of the State of Jalisco], where we thought it would also be good to go."
María de Jesús recalled: "There were times when I said, no more! But we continued amidst our tears … we began to organize ourselves as well as we could. Then came our compañera María González [of IMDEC] in 2011, and with her we were able to be a little more organized, because they started to show us the way."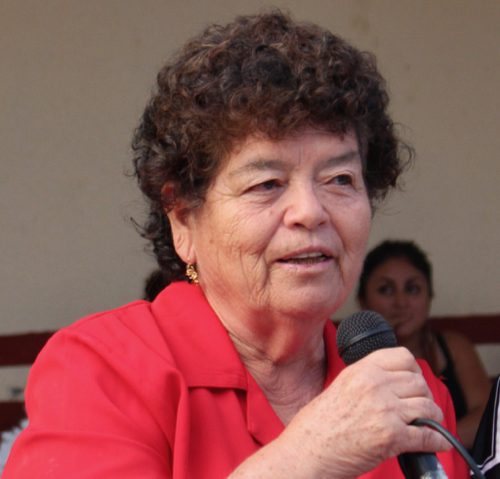 María Alcaraz, who is currently a representative in the municipal government, Cañadas de Obregón, said: "We are no longer afraid of anyone who comes. We just face them. [We ask the foreigners] where do they come from, from what institution. We ask them several questions and — thank God that He has enlightened us — we have been able to defend our land, our territory, our water, which is so important to life here in Temaca. We are not going to lower our guard. Thank God and the institutions that have accompanied us."
Over the years, politicians have taken on the fight for the defense of Temacapulín as a banner during their campaigns; but once in power, they disregard and even seek to resolve the conflict in favor of the dam. Such was the case of Aristóteles Sandoval Díaz, previous governor of Jalisco, who defended the cause in a tweet during his campaign, and once elected, immediately went back on his word. The current governor, Enrique Alfaro, once a defender of Temaca, has changed his mind as well, joining forces with the governor of Guanajuato, Diego Sinhué Rodríguez, to advocate for the completion of the dam.
Isaura Gómez railed against the political class: "I began to hate politicians. When they want our votes, they kiss the children, hug the people, offer miracles. But after people give them their vote, they're told, 'Go screw yourselves!' and they run off like cats! Then, they do whatever they want.
"Just like I'm looking at you all, I'd like to look at the politicians, face to face," she looked around the audience. "This land produces more for the people who live in this part of Los Altos de Jalisco than the entire political class in three or even six years."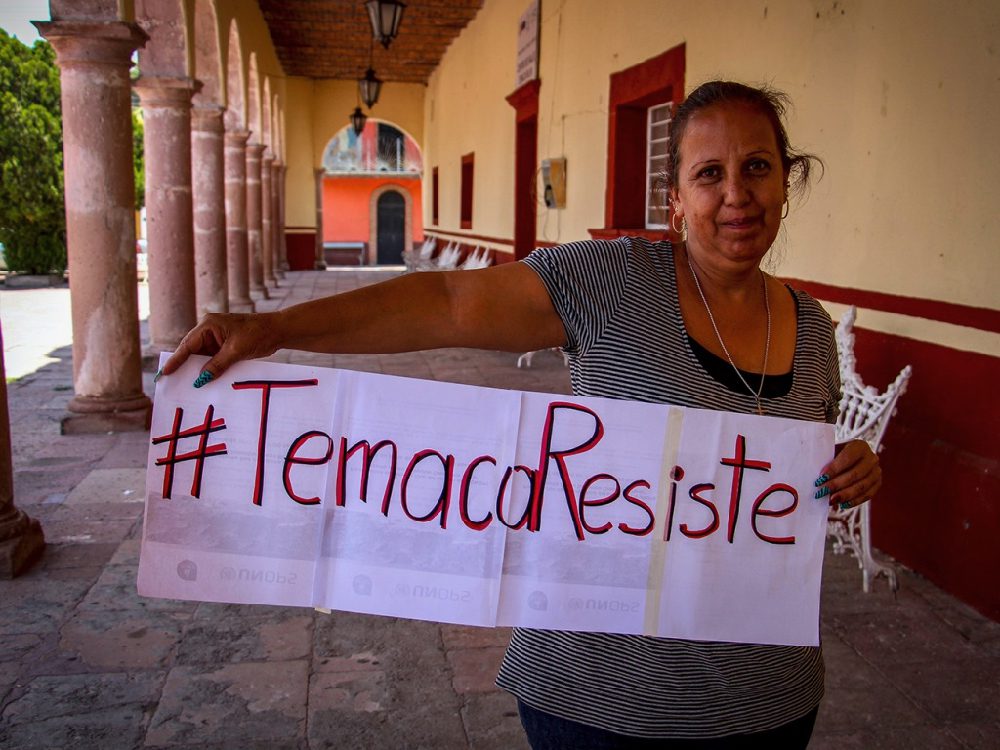 This article is the second in a series on Temacapulín, El Zapotillo Dam and resistance to massive hydraulic projects throughout Mexico. For more, see our series page, Water, Territory and Resistance.
María de Jesús spoke up: "Before, we were very naive with politicians, the blue (PAN), the PRI, all of them were the same. They lied to us every time, and we were finally able to open our eyes.
"Now we don't know fear. Now we can face anyone, because we've had enough of people wanting to trample our rights! We all have the right to a decent life, because we are Mexican. Even if they say we are just a few people, we don't care. Whether it's a hut or a ranch, we have the same rights, as the Constitution says — and now they screw us over. Here we are and here we are going to stay."
Their last hope lies with the arrival of Andrés Manuel López Obrador to the presidency of Mexico. The Tabasco politician visited the villagers three times in solidarity with them when he was campaigning. Now he has begun to try and find a middle ground in the stalemate.
According to press reports, the president promised to curb construction resources until the dialogues are over and the only expenditures will be for maintenance to prevent flooding. But Jalisco Governor Alfaro is asking for a compensation for MXP $510 billion for the villagers.
"During the meeting with the President we did not speak about the height of the dam or compensations. That is why the people from Temacapulín condition that, if indeed, it is going to be a process of dialog and negotiation with both state governments, this type of statement does not apply, because it doesn't respect the affected communities, so we are going to ask the federal government to stop the state of Jalisco,", said María González, from IMDEC.
Nor does Bety Espinoza, one of the leaders of the movement in Temacapulín, agree with the governor's request. "They are robbing us," she said. "They are trying to give us what they say is a beautiful house in exchange for everything that is the environment of Temaca. In Temaca we have everything; there is water, land, beautiful streets, hills — and there is none of this there. "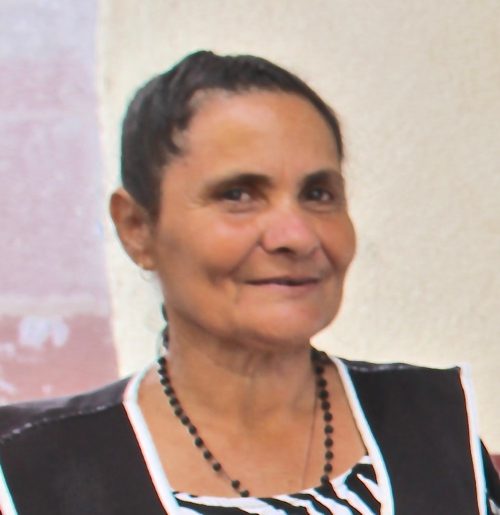 This movement has also gone through legal channels, since the Supreme Court of Justice of the Nation has ruled in its favor. Hortensia recalled: "When I was in Mexico, when we won the constitutional controversy, I remember that I told the judge: in the textbooks they have taught us that we have to defend and celebrate the national holidays because we defended ourselves from the Spaniards, who said they came to rescue us from our ignorance. The only thing that they came for was to rob us, to loot us — and unfortunately now they are not the Spaniards, they are the ones who are in power. And they are in positions to serve themselves, not to serve us. They are robbing us. These people are – I'm going to say something very unpolite – they are big-mouthed pigs, and all they do is make mud for their own pigsty."
"Marichuy", as María de Jesus is affectionately known, recalled that since they built the houses in Talicoyunque – the subdivision on the ridge above the town where the government has already relocated most of the residents of Palmarejo, and has pressured residents of the other two towns to relocate — the constant noise from the construction above them was a daily reminder of the government pressure and menace that faced them, and around 40 people have died from stress-related illness and uncertainty, she said.
For her part, Hortensia Gómez was born in Cihuatlán, overlooking the Pacific Ocean on Jalisco's Costa Alegre, and her peasant knowledge has helped to consolidate the community's sustainability project.
"On the coast, I used to plant jalapeño; here in Temacapulín, I had to plant chile de arbol. I support [the resistance] in order to help the people know that we have resources to get along… so that the people can see that we do have the means to survive. And if they come around here trying to harm us — the people of the government — we are going to defend ourselves as far as possible."
And indeed, these women have come a long way in defending their territory, even putting their bodies on the line: they have made encampments blocking the construction of the dam. Their fight is not only for themselves, but to join the resistance to the harmful effects of dams throughout the world.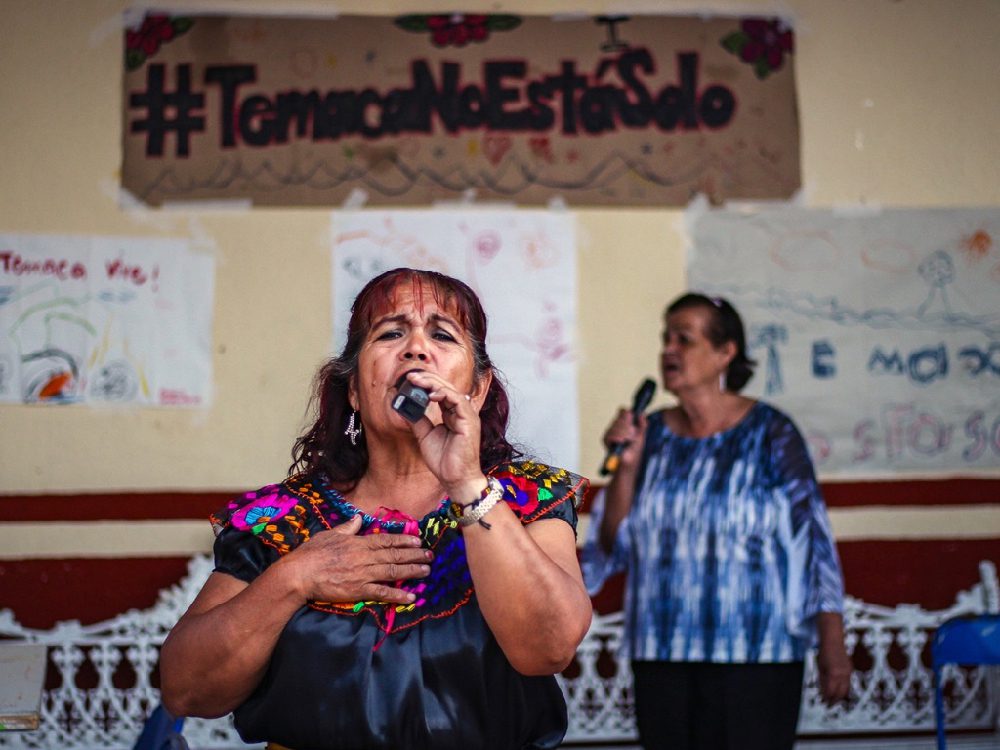 According to María Alcaraz, "for us, defending the water, defending the territory is defending our life, our identity and our culture. If we had a flooded town, we wouldn't even have an identity."
Hortensia also remembers the harassment by the Mexican Army in the evenings of the encampment. "They put soldiers there; we were watched day and night and we were afraid. The soldiers were on one side, and we were on the other. We arrived at night and even my son went down and up between Temaca and Talicoyunque. Then we were on the side of the dam and it was a very scary time. A little while ago we were told that [the people of the government] were coming to offer us one million pesos for each house. And if we didn't leave, they were going to take away our houses. I am not afraid of them because they don't even have 35 billion to finish the dam. How do you think they will come to give us a million pesos for each house?"
María Alcaraz is very clear: "We do not only defend Temaca; we defend the right to have a comprehensive water management plan," she said. "A dam has a useful life of 25 to 30 years and its cost is very high," she argued. In addition, a dam causes water, a public good, to be privatized; and to make matters worse, dams are generating methane, one of the worst greenhouse gases, she continued.
"Let there be water for all and water forever," she concluded.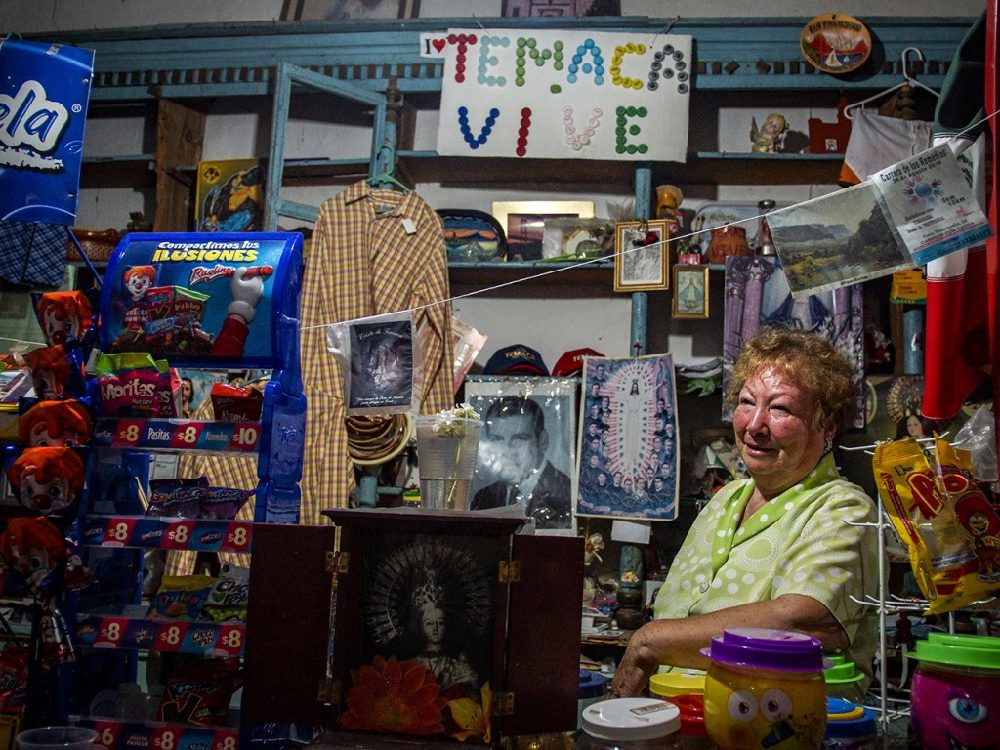 Many thanks to Guadalajara photojournalist Mario Marlo for sharing these selections from the photo exposition "Women of 'Temaca': Water, Defense and Territory." You can follow Mario's work from his Facebook page or from Somos El Medio, for which he serves as General Director.