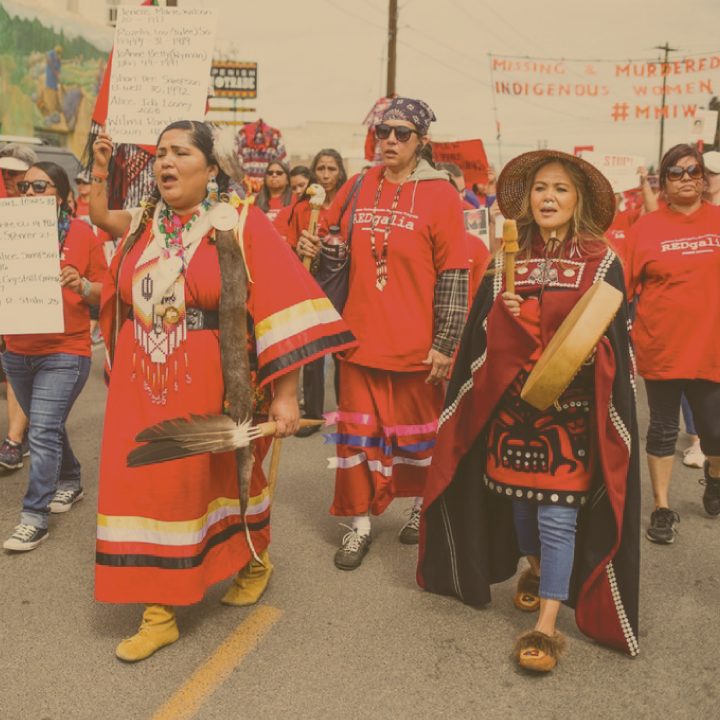 Today in honor of Climate Week we share a powerful interview by Ayana Young, founder of the innovative For The Wild podcast. As Standing Rock and the ongoing Water Protectors movement across the continent have made clear, the devastating impacts of the fossil fuel industry fall disproportionately on Native people. And as indigenous leaders Rachel Heaton and Roxanne White explain in "Funding, Fossil Fuels and Femicide," indigenous women are paying with their lives.
As we discuss the costs of our carbon-based economy, the terrible price that indigenous women are paying is barely known by mainstream society, and never factored into the equation. Rachel and Roxanne are working to change that through the divestment movement, the Missing and Murdered Indigenous Relatives movement and on many other fronts.
For sensitive readers, we join For The Wild in warning that this interview includes heavy content, including sexual and colonial violence and human trafficking.
This episode seeks to shed light on the ongoing, urgent crisis of Missing and Murdered Indigenous Women and Girls or MMIWG* that remains largely invisible in public life and mainstream media. In 2016, The National Crime Information Center reported that there were 5,712 reports of missing American Indian and Alaska Native women and girls, though the US Department of Justice's federal missing persons database, NamUs, only logged 116 cases. The Center for Disease Control and Prevention has reported that murder is the third-leading cause of death among American Indian and Alaska Native women.
These disturbing rates of violence are even higher in areas around pipeline construction and resource extraction projects, which bring an influx of thousands of male workers onto or nearby reservations. The encampment of temporary housing facilities, known as "man camps," correspond with a surge of violent crime and aggravated assault over which tribal law enforcement does not have jurisdiction to prosecute. Veiled by institutional racism and the lack of data collection, this epidemic and its systematic erasure is part of the ongoing genocide against Indigenous communities and the desecration of their land and sacred sites.
"Talking to someone about the morals and values that your bank shares and then making a decision to pull your money out— that's being an activist right there. That's making a stand." — Rachel Heaton
We're joined this week by two incredibly powerful Indigenous organizers and activists: Rachel Heaton is a member of the Muckleshoot Tribe of Auburn, Washington, a fierce activist, and mother. She traveled to Standing Rock several times to stand alongside water and land protectors and helped form a coalition that successfully persuaded the City of Seattle to divest their 3 billion dollars from Wells Fargo, one of the leading funders of the Dakota Access Pipeline. Rachel co-founded Mazaska Talks, an Indigenous-led organization that offers tools to help others divest their personal finances, cities, and organizations from Wall Street banks funding the desecration of Mother Earth.
"Since first point of contact, the genocide and the rape of our Mother Earth, of our sacred waters, our women, our children, our men — these things are all connected." — Roxanne White
Recognized nationally for her work on Native issues, Roxanne White is Yakama and Nez Perce and serves as the Indigenous Outreach Coordinator for Innovations Human Trafficking Collaborative in Olympia, Washington. Inspired by the tragic loss of her auntie, she works to amplify the voices of MMIWG across North America, providing advocacy and support for families with missing and murdered relatives. As a survivor of human trafficking, domestic violence, childhood abduction, and sexual abuse, Roxanne draws on her personal experience to empower and support other trauma survivors.
In this episode, Rachel and Roxanne share their experiences from the frontlines of resistance and call out the toxic culture of patriarchy and settler colonialism that underpins how we navigate issues of land, money, and resource extraction. Together, they discuss the complexity of jurisdictional issues on reservations, the need for free, prior, and informed consent, and potential paths towards justice, healing, and reconciliation. Those impacted by missing or murdered relatives, friends, and community members should not have to rely on hashtags to make their voices heard and seek justice. Let Rachel and Roxanne's words move you to action; we must demand better from our elected leaders, our banks, the media, one another, and ourselves.
♫ Music by Cary Morin, Justin Crawmer
♦ ACTION POINTS ♦
There are currently three pieces of legislation moving through the courts that would help address important gaps in MMIWG data collection, reporting, and visibility: Savanna's Act, the Not Invisible Act, and the re-authorization of the Violence Against Women Act through a bill that incorporates tribal provisions. Call and write to your members of Congress and urge them to take action and support these bills.
To learn more about Rachel Heaton's work with Mazaska Talks and how you can divest your personal, institution, or community funds, please visit their website: https://mazaskatalks.org/divestyourself.
Watch and share Mazaska Talks' video #DivestTheGlobe to amplify their call to action: https://vimeo.com/240198973.
Read the full Banking on Climate Change report to learn more about the banking industry's ties to fossil fuel extraction and expansion, man camps, and violence against Indigenous communities: https://www.ran.org/bankingonclimatechange2019/
Follow Roxanne White's campaign, Missing & Murdered Indigenous Relatives No Borders, on Facebook and share with your networks: https://www.facebook.com/groups/Missing-&-Murdered-Indigenous-Women-Relatives-&-Collaboratives-2066595736906051/.
Sign the statement of opposition against Enbridge's proposed new Line 3 oil pipeline and/or send your support directly to the frontlines of resistance through a donation: https://www.stopline3.org/take-action/
To learn more about MMIWG, check out Urban Indian Health Institute (UIHI) and read "Our Bodies, Our Stories," a series of reports that details the scope of violence against Native women across the country.
https://www.uihi.org/wp-content/uploads/2018/11/Missing-and-Murdered-Indigenous-Women-and-Girls-Report.pdf
Follow the work and reporting of Indigenous activist Melina Laboucan-Massimo to learn more about MMIWG in connection to tar sands oil extraction in Alberta: https://twitter.com/Melina_MLM.

---
About For The Wild
This beautifully produced and curated podcast, in the words of its team, discusses "the critical ideas of our time and parlay(s) them into action for the defense and regeneration of natural communities. Key topics include the rediscovery of wild nature, ecological renewal and resistance, and healing from the trauma of individualistic society. We will travel deep into ancient forests, align with the struggles and ways of Earth-based people, and rekindle the mysteries of intuition. We will join today's brightest visionaries in this momentous work of reimagining a world where humanity can find its way back into the web of life." Follow For The Wild here.
*This episode references the terminology Missing and Murdered Indigenous Women and Girls or MMIWG in accordance with cited statistics and studies. However, settler colonialism, extractive industry, and violence also disproportionately impacts Two Spirit people and ripples out into Indigenous communities at large. Therefore, the terminology of MMIWG has been expanded to include all relatives under MMIWG2S, Missing & Murdered Indigenous People, and Missing & Murdered Indigenous, Women, Girls & LGBTQS.
Ayana Young Fossil Fuel Divestment man camps Mazaska Talks Missing and Murdered Indigenous Women MMIW2S Rachel Heaton Roxanne White