By Tracy L. Barnett
for The Washington Post
Looking down from the hilltop through the palm fronds, the sight took my breath away: at least seven hues of blue, stretching out before me to a green-fringed horizon. This was the Lagoon of Seven Colors, and it was everything I'd been told, and then some.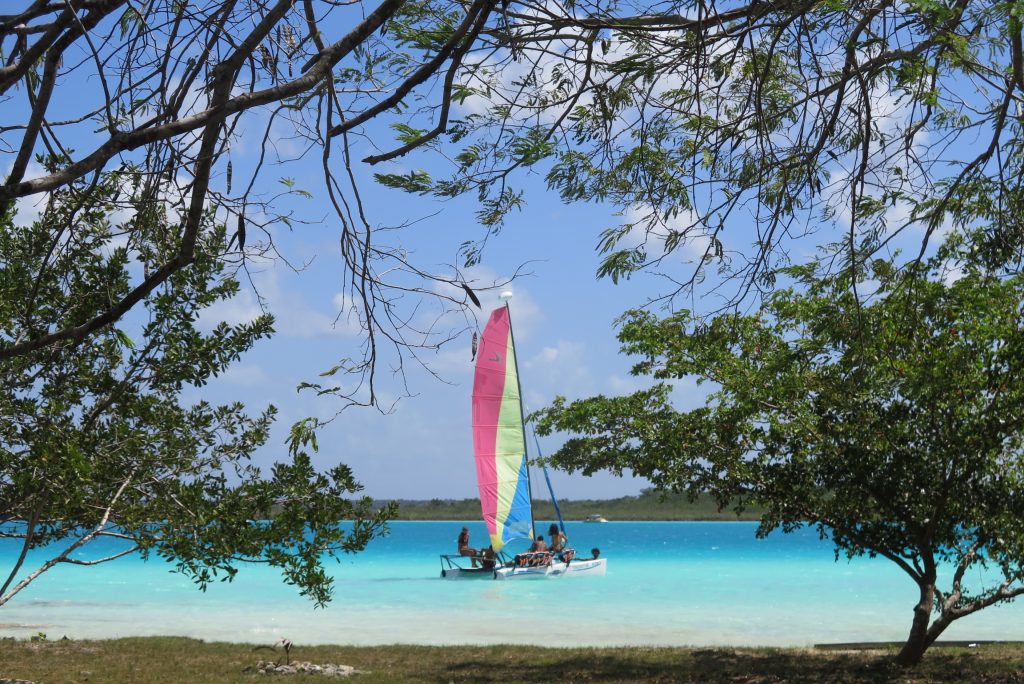 Set like a sparkling strip of blue ribbon amid the coastal jungle and mangrove of Mexico's Yucatan Peninsula near the border with Belize, this body of water, also known as Bacalar Lagoon, is like nowhere else on Earth. Its shallow, crystalline waters overlie a soft, white limestone soil, giving rise to a subtle array of shades, from aquamarine to turquoise to deep azure. But under the surface is something even more rare: reeflike formations of an organism linked to the origins of life.
Bacalar Lagoon is one of a tiny handful of places where stromatolites — layered collections of
cyanobacteria dating back billions of years — are still being formed. The alkalinity of these waters, the same factor that gives rise to the legendary seven colors, is what allows the bacteria to survive. And it's that very quality that is at stake as tourism begins to boom in an area lacking adequate infrastructure.
Developers from the north have set their sights on Bacalar as the new Cancun. On this little lake, I learned, such a development would spell ecological disaster. After attending the Vision Council, a sustainability-oriented event in Bacalar, I returned to see for myself how the lagoon was holding up to the pressures of tourism — eco or otherwise.
Mayas and conquistadors
Bacalar has been contested ground ever since the Spanish conquistadors wrested it from the Mayas in the 1530s. Later years saw the Spaniards fighting off marauding English pirates mining the red gold of the palo de tinte tree for expensive clothing dyes. And still another conflict erupted in the mid 1800s, when Mayas fighting to free themselves from slavelike conditions took over
Bacalar and made it a stronghold of the 50-year Caste Wars.
But conflict was the furthest thing from my mind on my first morning in Bacalar as I watched a heron soar overhead. I had arrived the night before at Casa Lamat, an intimate eco-retreat named for the Mayan symbol for Venus. A collection of palm-thatched bungalows set on a terraced hillside, the resort is connected by a winding path to a dock with hammocks — perfect for a sunrise meditation.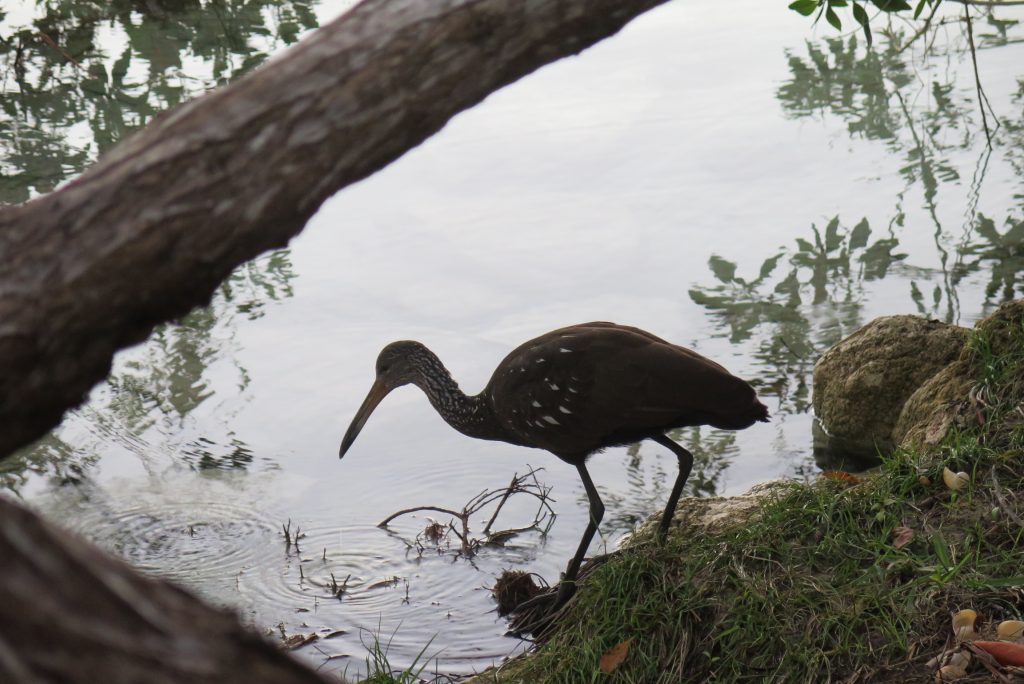 I had heard that the best way to experience the lagoon was from a sailboat, but it was not to be: The wind was slack. So instead, after a swim in the clear, fresh waters, I headed for historic Bacalar to wander in the charming plaza, see the historic fort that had shielded the town from generations of pirates and follow up on some leads.
I had consulted with Agua Clara Bacalar, a local committee working for protection of the lake, to see which activities and businesses were truly eco-friendly and not just "greenwashing," as is common on the Caribbean coast. We found no shortage of options. We enjoyed breakfast at El Manati, a vegetarian-friendly restaurant, garden, gallery and live music venue, where the soaring melodies of Estacion Fenix were wafting through the air.
We peered down from the heights at the surreal sight of Cenote Azul, one of the deep natural wells characteristic of the zone, where the perfectly round, blue mirror of the sky was juxtaposed against an entirely different blue of the lagoon. At Cayuco Maya, an ecologically sensitive resort, we surrendered ourselves to the water and the gentle hands of Denisse Tatemura, a Janzu water therapist whose treatment is described as a "rebirthing." And at the Galeon Pirata (Pirate's Galleon) we watched a preview of a new documentary about the lake by Polish filmmaker Kamila Chomicz.
We also saw a firsthand illustration of not-so-conscious tourism. We paid a visit to the Rapids, one of the greatest collections of stromatolites in the world, according to researchers at the University of Wisconsin, who have been studying these formations for a decade. Here, scores of swimmers ignore the warnings each day and clamber all over the fragile formations, some of which are believed to be up to 9,000 years old. Like corals, the surface of the structures is fragile and can die if touched, the experts say. Horrified, I watched as a man stomped a foot down atop what moments before was the feathery soft surface of a living stromatolite formation.
It seemed as if an army of vacationers were poised to succeed in destroying what centuries of war and colonization did not.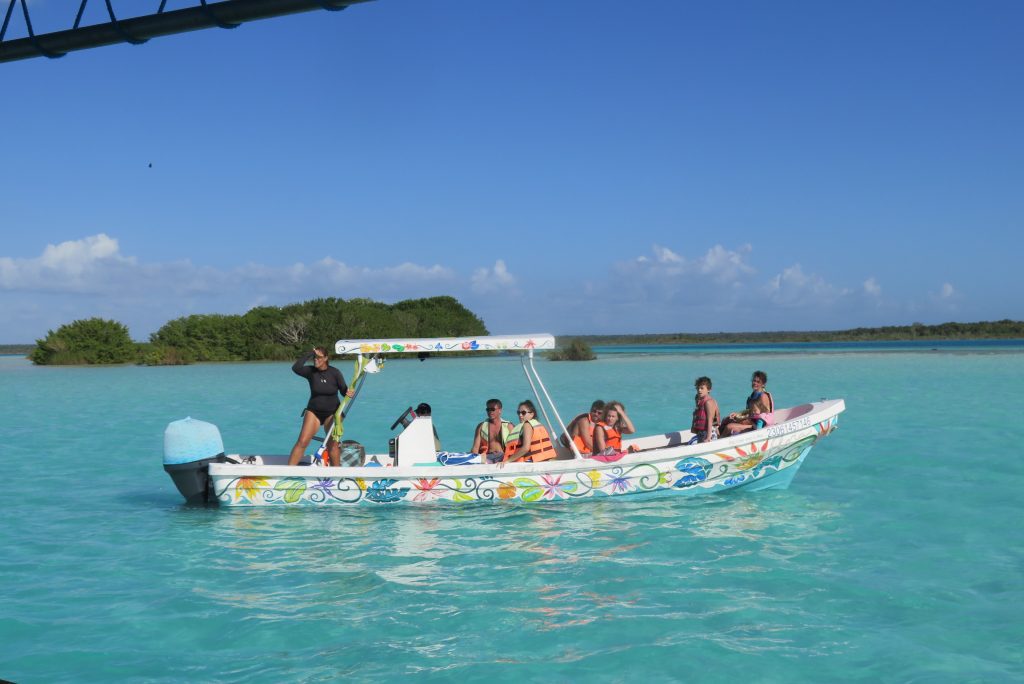 Later, I visited with Sandro Ciccarelli, a native of Florence who settled here years ago, who was preparing for the opening of Finisterre Bacalar, his slow-food, old-country Italian restaurant. Like many locals, Ciccarelli has watched as Bacalar has gone from a sleepy backwater to a bustling tourism hot spot.
He has joined forces with Agua Clara to head off the irreparable damage that looms if developmental limits are not put into place quickly and definitively. Group members are working with the municipal government and spreading the word among local tourism operators and
landowners: Ecologically sensitive tourism options are available — and can be lucrative. But time is short, said Sandro, and they are up against very tough odds.
"People know they're killing the goose that laid the golden egg — but they can't help themselves," he said. "There's too much cash involved. But if things don't stop, Bacalar will no longer be the
Lagoon of Seven Colors. It will be just another green Mexican lake."
An educator's spirit
Casa Lamat was lovely, but friends had told us that if we wanted to experience the peak of eco-finesse in Bacalar, we had to visit Akal Ki Holistic Center. Ten miles south, we wound through the jungle, past the bioconstruction demonstration area and the organic garden and the palm-thatched yoga center, ending up at a reception desk in a garden overlooking the lagoon. There before us, surrounded by the sparkling blue waters, beckoned a reclining Buddha.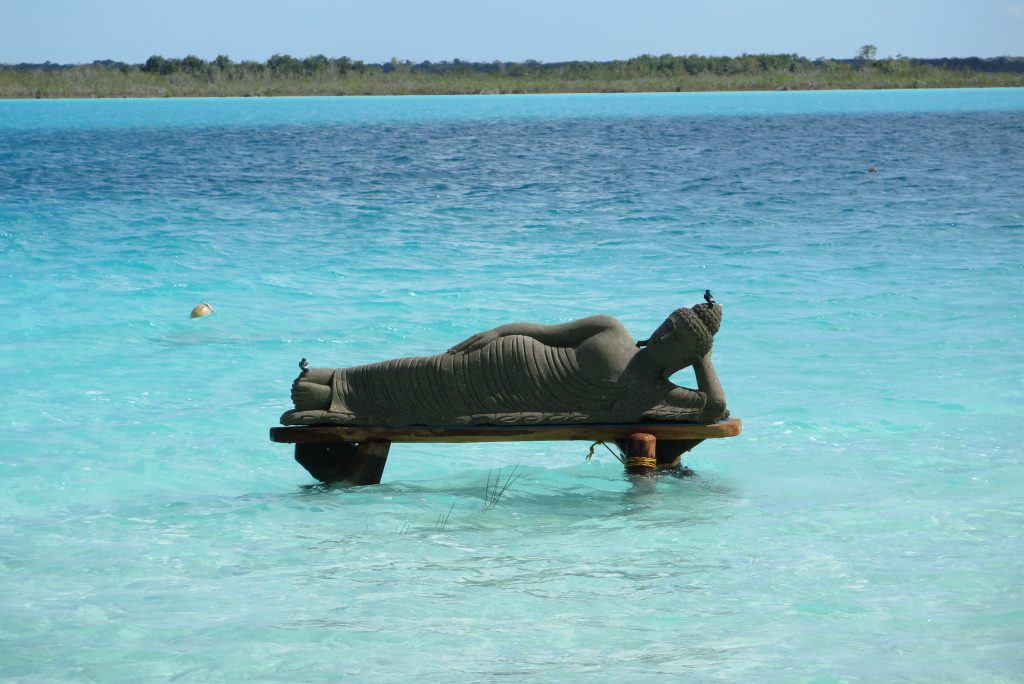 Bacalar Lagoon was completely off the radar when Arturo Arroyo, a fast-paced businessman from Mexico City, discovered it two decades ago. Here, he built Akal Ki, Mayan for "lake of sweet water" and "fountain of vital energy," and found himself transformed by these waters.
Akal Ki has evolved into a garden of peace, offering a delightful feast not only for the eyes, but for the body and soul as well, with yoga classes, exquisite vegetarian-friendly cuisine and a sound healing session with crystal bowls.
Now, as he sees his neighbors tempted by big-money developers to the north, he is working to show them another way. "Don't sell," he urges them. "They all say, 'I would love an Akal Ki.' I say, 'I will help you to build one.' "
He created a school that teaches people natural building techniques with low-cost, readily available materials — such as coconut husks, palm leaves and bamboo.
My final day, an as-yet unmet wish came true. Marco Jerico, the founder of Agua Clara, invited me on a sailboat outing.
We would not do the usual tourist route, heading for Bird Island, the Black Cenote and the Pirate Canal, where party boats congregate and passengers disembark to "exfoliate" at the urging of their guides with the soft white soil of the lake bottom — leaving quantities of nonbiodegradable suntan products in their wake.
Instead, we headed south on the "alternative tour" with the crew of Agua Viva Sailing. My spirits soared as the wind whipped the sail and we picked up speed.
Jerico shared the story of how he came to found the Agua Clara group. A native of Cancun with a background in business, he came down on tour in 2011. When he saw the brilliant colors of the lake, he recalls, "something resonated inside of me." His parents had honeymooned here, he said, and he was born nine months later — "so I suspect I originated here," he said with a laugh.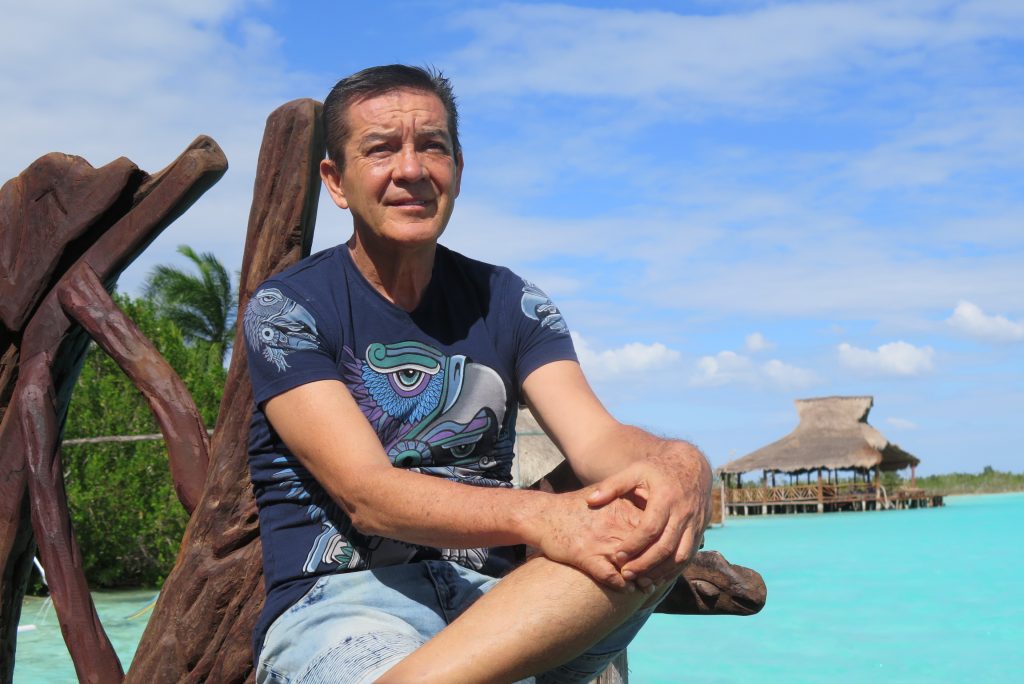 In 2015, he was offered a job and decided to make the move. He began feeling the presence of the lagoon, he said — and then he discovered others who felt the same way.
"We recognize the lagoon as a living being, something unique and special — and we feel love, affection and respect," he said. "It's like the way you would feel for a wise grandmother who cares for everyone."
He noticed, however, that the colors of the water seemed to be fading. Sometimes he would see a soapy foam or a dead fish.
"I'm not a biologist, but I could perceive a change," he said. "I made a personal commitment to the lagoon, to protect it, to take care of it. From the moment I made that pact, things began to happen. And it changed my life."
The captain brought the boat to a stop, and Jerico threw out the anchor. "There's something we want to take a look at here," he said.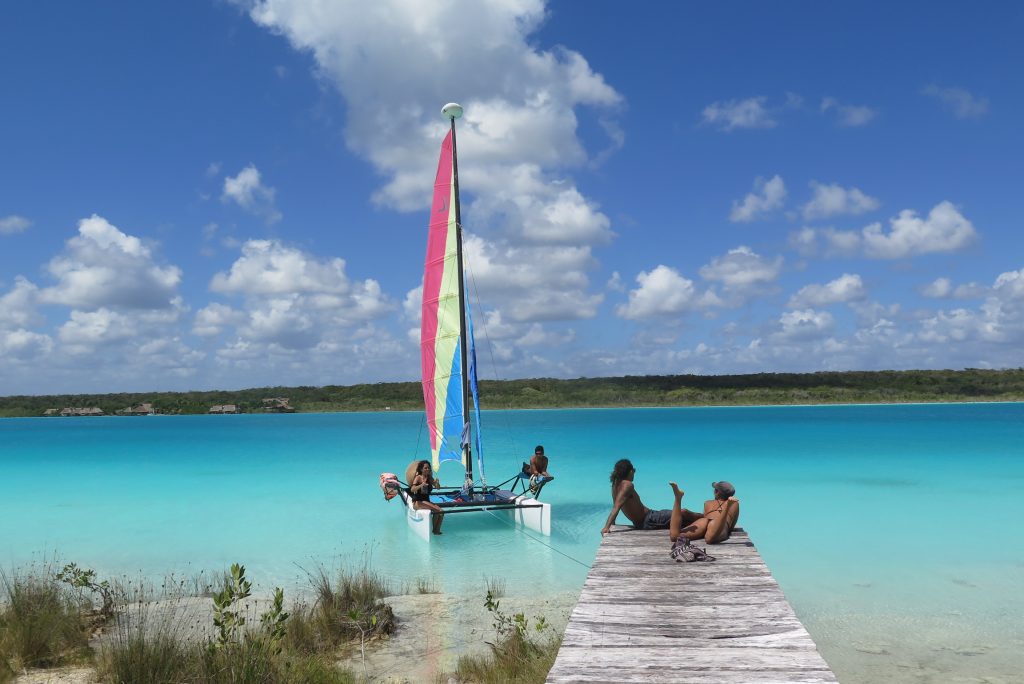 There on the shore was an abandoned hotel. In the water was what remained of a pier — rows of poles standing up from the water.
"These are some of the best stromatolite specimens, right here," said Shanty Acosta, a biologist with Agua Clara. "Here, we can observe something really unusual: They are actually growing on the poles, using them as a substrate."
We grabbed the snorkeling gear. The water was fresh and crystalline, and we made our way to the formations — like strange, knobby, felt-covered corals, all lined up in a row. In the center, an ancient formation believed to be thousands of years old took the form of a large lily pad.
"You see? The water really is alive," she said to me.
She approached the formation and gazed at it fondly. "Abuelita," she said softly. "We are going to take care of you."
Grandmother, she had said to this oldest known form of life, the bacteria that had produced the oxygen that had allowed life to thrive on this planet.
I felt goose bumps. I dove in and watched the currents flow around this ancient ancestor, connecting it to the young biologist, for as long as I could.
Barnett is a writer based in Guadalajara, Mexico. Her website is tracybarnettonline.com. Find her on Twitter: @esperanzaprojec.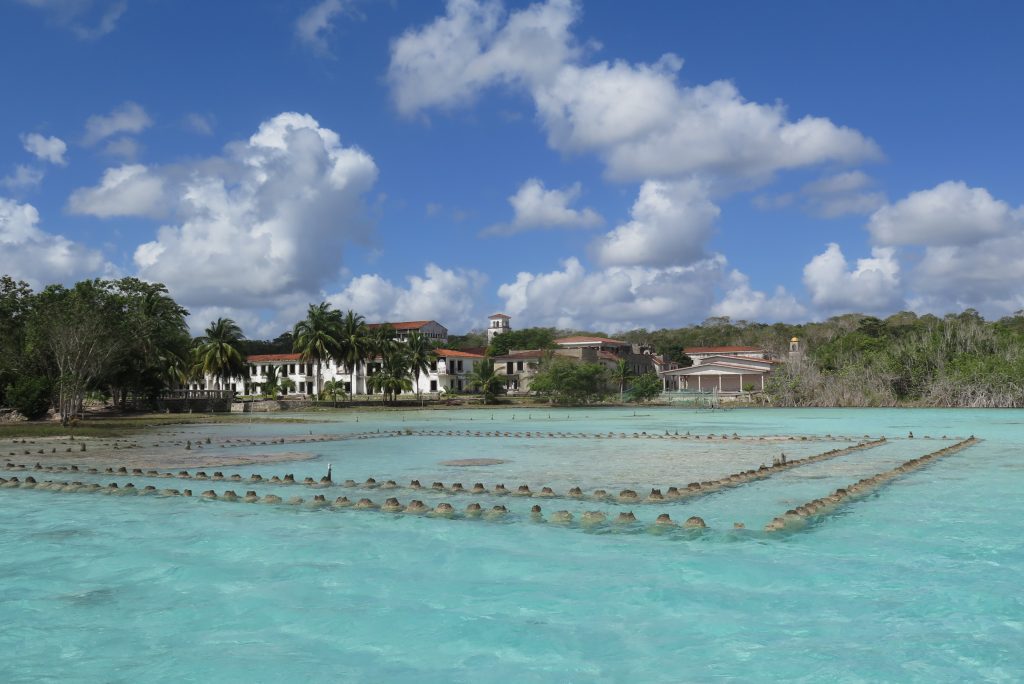 More from Travel:
If you only eat three meals in Mexico City, make sure they're at these spots
In Mexico, a dazzling museum dives headlong into the Baroque period
On Mexico's coast, skip the resort and rent a house
Akal Ki Bacalar Casa Lamat Cayuco Maya Lagoon of Seven Colors Quintana Roo sustainable tourism