Overlooking the brilliant, placid waters of Bacalar Lagoon, in the breezy shadow of a palm tree, it's easy to imagine that one has landed in a sort of tropical paradise where the noise and traffic and contamination of tourism magnets like Cancún are a world apart.
But Marco Jerico, founder and director of the environmental group Agua Clara Bacalar, is a native of Cancún and knows, perhaps better than anyone, the truth underlying the illusion. For better and for worse, the world has discovered Bacalar. Long a hidden backwater harboring the world's largest registered living community of stromatolites, the oldest known organism on the planet, the tiny colonial town and the stunning multihued waters are rapidly changing. Without a quick, strong and effective environmental defense, the singular qualities that make it a world-class lagoon will quickly vanish. 
This interview is the first in a series called "Voices of Bacalar."
Tracy: Let's start with your personal connection to this lagoon. What was it that made you decide to move here and dedicate your life to its preservation?
Marco: Well, I was part of a band, I played jazz fusion, Latin jazz, flamenco, and we received a scholarship to do a cultural tour visiting the municipalities of the state of Quintana Roo. It was 2011, just when the municipality of Bacalar was created. [1].
Our concert tour closed at the fort of Bacalar.
At that time, back in 2011 – the lagoon is spectacular now, but in 2011 it had some colors that were even brighter – and something resonated within me very strongly in this place.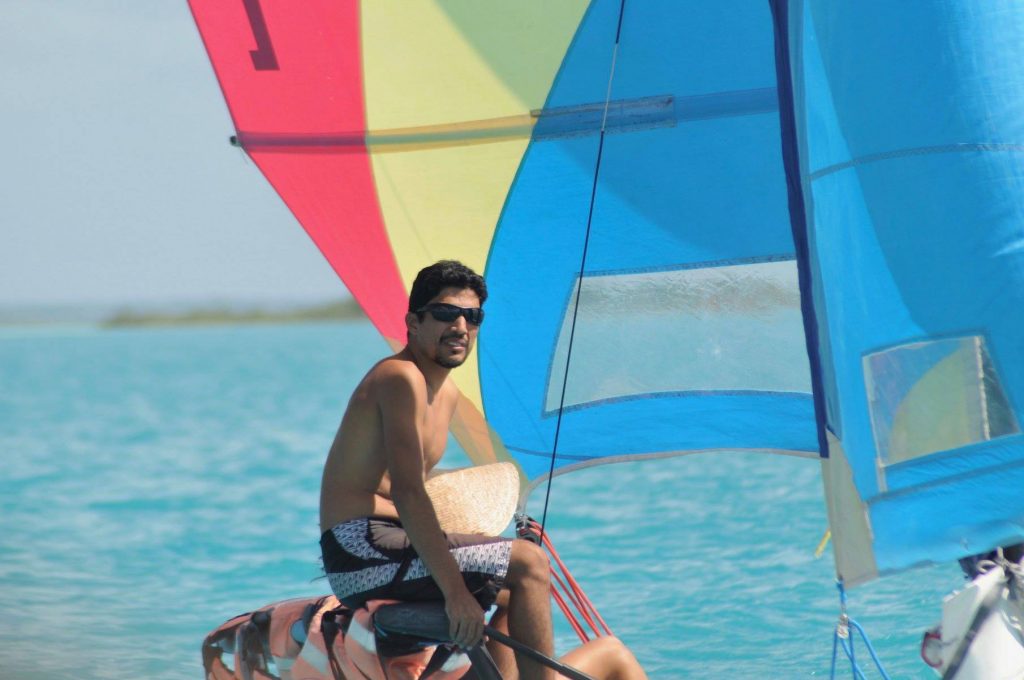 Later I was talking to my mother and she told me that they spent their honeymoon in Bacalar – they spent 15 days here. Nine months later exactly, I'm here. It may be that I originated here – in fact, it's very likely. What is certain is that there is a very strong resonance. It took a few years to mature, but I ended up deciding to come and live here in 2015. I came to work a brief but intense time in the hotel business.
My first year living in Bacalar there was evidently a falling in love with the lagoon. I have come to recognize it, and it is something that I share with other people; we recognize the lagoon as a living being; we feel affection and love and respect … that is how we identify it, as a unique and special being. That is how we treat it, with this respect, as if it were a very wise, very good grandmother, who cares for us all.
From that connection with the lagoon, there is a love that one begins to feel for what is happening here at the biological level. By knowing the stromatolites, the biological biodiversity that exists, the nature, the mangrove – I am not a biologist, but I have seen all these elements – and it is something incredibly beautiful.
Then little by little I realized the environmental impact that is occurring. Suddenly I would see this foam on the water; then, dead fish began to appear. There were areas that I knew well, that had shown no impact, that suddenly started to have algae. Sometimes certain colors of the lagoon began to change – in fact, they were already changing.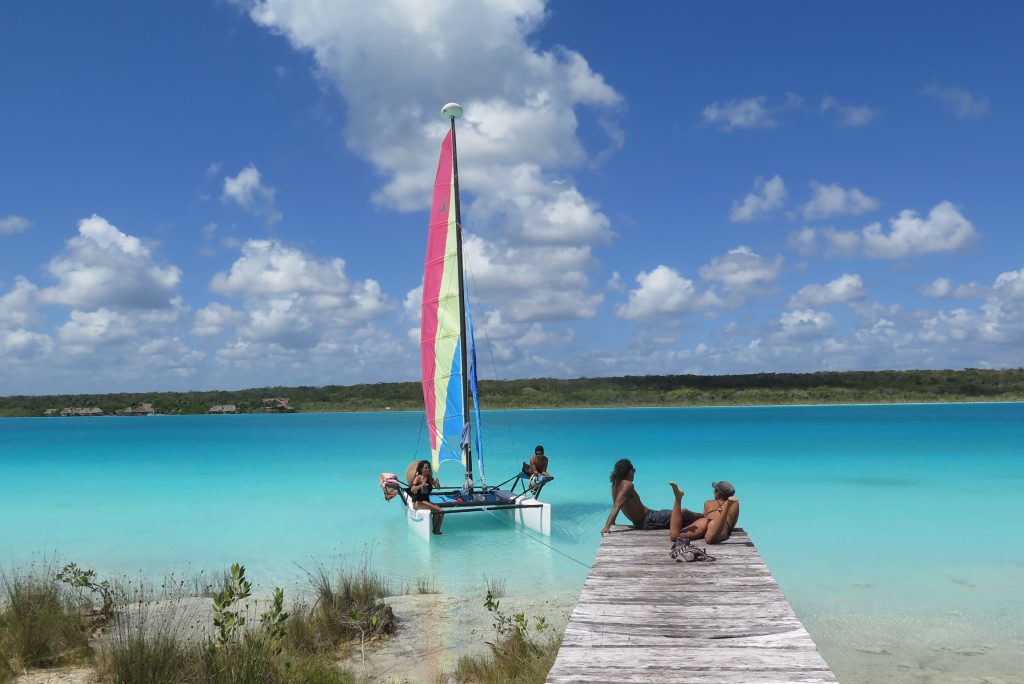 One day I made a particular commitment to the lagoon, to protect it, to take care of it, and I promised it if it was within my reach to take care of it, that I would do so. And from the moment I made this agreement with the lagoon, many things began to happen.
One day, there was a call to form what would be an environmental monitoring committee, convened by CEMDA – the Mexican Center for Environmental Law – they help and facilitate these environmental monitoring committees in different places, and these committees have the function of being auxiliary arms of PROFEPA[2]
They gave us a very fast course; they told us what it was about, and asked if we wanted to participate voluntarily in the formation of this committee. Of course, we did.
There I met several people I had already run into in various scenarios related to conservation. We had seen each other at different events and talks, and it was nice to meet here; there was a sort of complicity among those of us who were coincidentally answering this call.
This invitation to the environmental monitoring committee happened exactly a week after I had made this pact with the lagoon. I asked to be given the elements to help, and just a week later the invitation came, and it changed my destiny.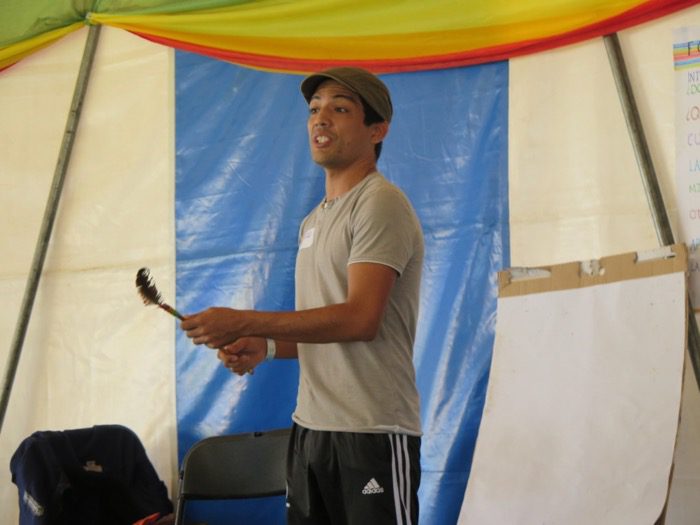 I am convinced that the lagoon made a call – it is making a call – but it is on a subtler plane, not material; it is a more energetic, vibrational plane, and it resonates in people's hearts. That call is felt by many people when they come. They feel the energy that they have, they bathe in its waters, and then they find out that it is being contaminated. They learn that it is changing, that it is dying little by little. And then the heart becomes distressed, and wants to respond in some way. And the level of response depends on each one of us.
Some people feel and act; there are different levels of commitment. There are a lot of things you can do, and they are all important. All the different commitments and actions that are made are good, as long as it comes from that resonance – this acting from love, from understanding, from empathy, from the community. That is when magic can happen.
One person or two people are not enough for us to save the lagoon. We need to operate in all the different social sectors. We need to make a multi-sectoral citizen-business-government movement.
So, well, the work that we started doing in this committee of environmental monitoring at the beginning was just a function of observation, and we were understanding how the system – environmental, above all – functioned. In terms of legislation, and also in institutional matters. What are the levels of responsibility that each governmental agency has, for example. What are the land use instruments that are being applied in the area, or should be applied throughout the bioregion?
Tracy: When did you make the decision to start Agua Clara?
Marco: It was a few months after we formed the environmental monitoring committee – in fact, everything happened very quickly. The first time we met to talk about the environmental oversight committee was October or November 2016. And we gave it the name of Agua Clara in February or March of 2017.
Many elements came together; the committee has a participation agreement and the founding document has an endorsement signed by PROFEPA, for example.
But we went far beyond this reporting function, and we started to take more concrete actions. We started to promote the creation of a drainage system; we started to work with other organizations as well, other ACs, other people from civil society. We started to connect with the academic community; we started to approach ECOSUR (El Colegio de la Frontera Sur, or the College of the Southern Border), and UNAM (National Autonomous University of Mexico), and we began to look for whatever information that is available, and who had been working in this area? We contacted Luisa Falcón (ecologist with UNAM and a leading world expert on stromatolites), and the process unfolded in a very organic way. And we started to put together a strategy for action: first, to identify each problem, and then create the solution, and a plan to implement each solution.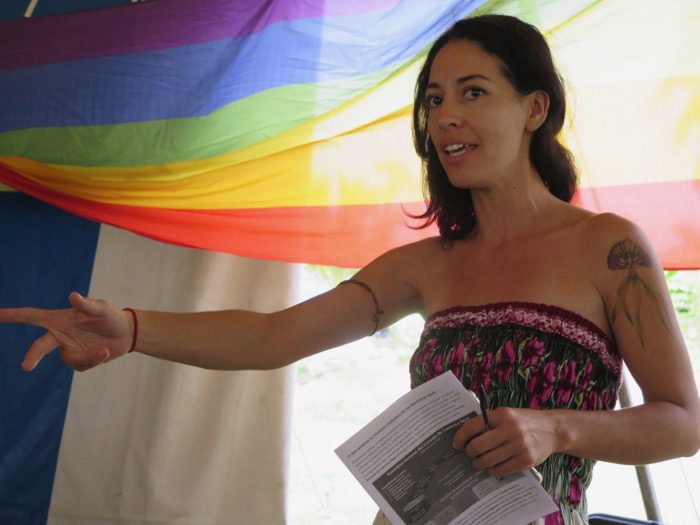 There are many social, political and environmental factors, and too many sectors involved – the energy sector and the business sector, for example. Right now we are coming into in the international spotlight as a possible high-potential tourist destination – and we are concerned, because the current tourism development model has not contemplated environmental issues very much at all. Urban development is very homogenous and with little understanding of the functioning of ecosystems, and also the importance of water in the entire aquifer and the relationship that the health of the aquifer has — with the health not only of us humans who live here in the urban areas, but with of all the biodiversity and all of the communities, human and otherwise, that live in the region.
There is a tremendous interconnectivity that exists – water transmits everything. It not only transmits sound; it transmits light, and it also transmits pollutants, for example. It is an excellent transmitter of everything. And if we throw garbage, pollutants, agrochemicals into the water – evidently at some point it will come back to us.
So this understanding is a change of consciousness that implies at the collective level we take our position in this social role and our responsibility, and we take action on this matter.
And here it is important that we all try to understand and spread the information. And all this that I am talking about is an understanding that has evolved through our work with people who already have spent a lot of time on this subject who have advised us. And also now we have our own experts. Now Agua Clara has two people who are working full time, me and Shanty Acosta, a biologist from UNAM who joined us six months ago. And she has been fundamental in this process and has already facilitated a lot of understanding in the biological aspect. So now I think that we have a good overview and we are working as a liaison between the community and the different sectors of society, including the business sector, academia and the government.
There are possibilities to make high impact projects and really influence the process of social development, moving towards a sustainable ecological model that obviously implies economic development, but in an orderly way.
Tracy: Can you tell a little more about the strategy of Agua Clara Bacalar, and the challenges you are facing?
Marco: In the beginning, we began with some actions without really knowing where to go, without knowing the problem well; but little by little we made a map of the actors, of the factors that were causing the environmental impact that was affecting the lagoon. We have the problem of the lack of a comprehensive sanitary and pluvial drainage system; we have a growth in mass tourism that is gradually repeating the development model of the north of the state (cases such as Cancun, Playa del Carmen or Tulum, where they have damaged the ecosystems to maximize short-term land use); and we have the problem of the great devastation of the forest, because the agroindustry and the planting of genetically modified monocultures use agrochemicals that put at risk the purity of the water of the aquifer, the biodiversity, and even the economy.
For example, beekeepers have had million-dollar losses as a result of the death of their bees from contact with these chemicals; but above all, the health of residents and tourists are at risk, because this water that is contaminated is the same that feeds the Bacalar Lagoon.
Another situation is the engines of the boats that use gasoline. This is the fourth factor in terms of environmental contamination. I'll explain some alarming cases in more detail:
1 Lack of a Sanitary and Pluvial Drainage System. 80% of the urban area of ​​around 15,000 inhabitants does not have a wastewater collection system. The karstic soil, which is a porous soil that absorbs everything, quickly filters any substance into the water table, and from there to the Bacalar Lagoon, the first most important water reserve in all of Mexico.
2 Unsustainable Agricultural Activity. The area is being deforested to make plantations of monocultures with the use of agrochemicals. For example, to the east of Bacalar, almost 8,000 hectares of forest were cleared to plant genetically modified products.
3 Possible loss of stromatolites. The advance of all these pollution factors in the lagoon changes the chemical composition of the water, potentially causing the death of the stromatolites, the oldest organisms that exist on Earth.
In this lagoon, the largest registered stromatolite communities in the world have been documented. These are a genetic reservoir of life on the planet, a natural heritage of humanity, a biological treasure unique in the world.
These situations led us to design strategies and actions towards sanitation and sustainable water management in the Laguna de Bacalar bioregion. A year after starting, we have promoted public policies that provide certainty and legal tools to protect the lagoon, such as the proposal to name it a Protected Natural Area. The local population and the communities are not involved in the environmental issue, they have resistance to change, they have little culture in terms of sustainability: they do not separate garbage, they burn it even. That's the big challenge: How to achieve a cultural transformation in the local population so that they value the lagoon and avoid more pollution.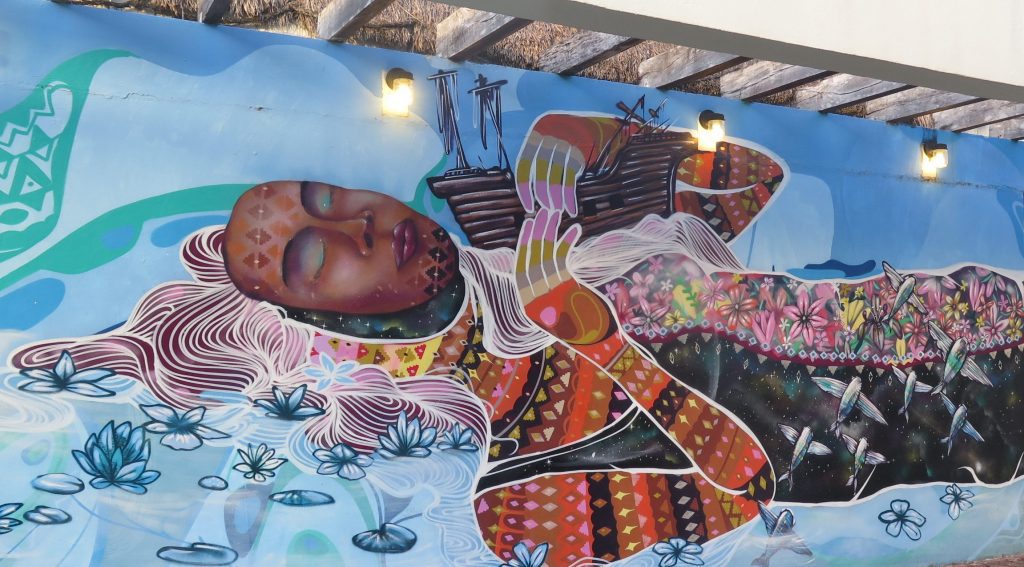 Tracy: Can you explain the role of the Vision Council – Guardians of the Earth "Call of the Water" event?
Marco: Just a year ago some emissaries arrived at Laguna de Bacalar from the Vision Council. We did not know what the Council was. They approached and became interested in what was happening regarding the lagoon. And we shared information and generated connections among different branches of academia: biologists, environmentalists, and scholars about stromatolites, analyzing and putting information on the table about how the ecosystems are related from the jungle to the great coral reef. We began to work, to socialize and share information with the Seed Council of the Council of Visions (Cá Iyari and Santiago Palomar and Dr. Ana Ruiz). Hence the participation of Agua Clara as part of the Council of Ecology in the XV Vision Council "The Call of Water," from November 26 to December 3, 2016.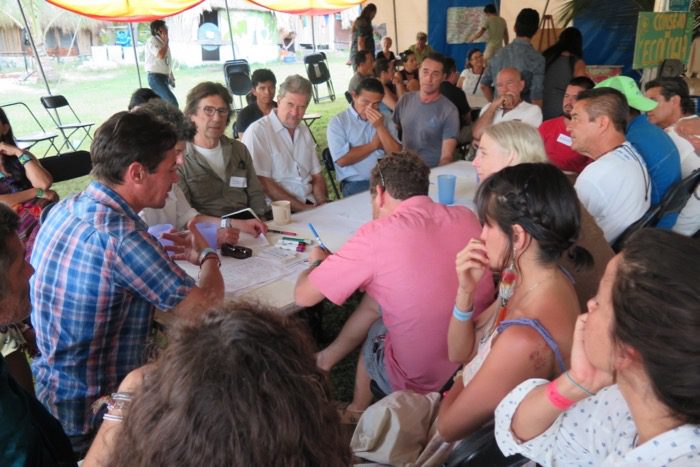 We organized several events: Forums (Water and Food Sovereignty) and working groups, where we invited and gathered local actors who have a way to influence the lagoon and its conservation to be able to discuss the options and the actions that could be taken. There were representatives of the government of Quintana Roo, of the South Border College (ECOSUR) and several representatives of civil society; there were dynamics of participatory processes and a series of agreements were reached and commitments to which they are being followed.
All of the attendees – the locals as well as the visitors – were left with the responsibility of weaving a network and generating strategies of action, of participating in the conservation of the lagoon. Those of us who remain here continue to work on promoting public policies so that the territory is managed sustainably. As part of Agua Clara, we feel very responsible. We act from the awareness of being part of the same organism, of a whole.
We are currently working to follow through on the commitments made at the Vision Council, and are planning a second event, this one more bioregionally oriented, for November of 2018.
Tracy: How can someone who is reading this support you?
Marco: They can make donations to Agua Clara [www.aguaclarabacalar.org]. They can join with their knowledge and experience coming to Bacalar. And they can help us by sharing information. We are developing a program of ecological residences to receive volunteers and get closer to the local people and do community outreach regarding the importance of conserving the balance of the ecosystem of the Bacalar Lagoon.
Stay in touch through our social networks: Facebook: / Aguaclarabacalar; Twitter: @aguaclaraqroo; Instagram: @aguaclarabacalar.
[1] Bacalar used to be part of the neighboring municipality, Othon P. Blanco. Bacalar Municipality was created at a time when tourism in the area was beginning to take off, complicating the regulatory context.
[2] The Federal Office of Environmental Protection (PROFEPA) is a decentralized regulatory agency of the Ministry of Environment and Natural Resources (SEMARNAT).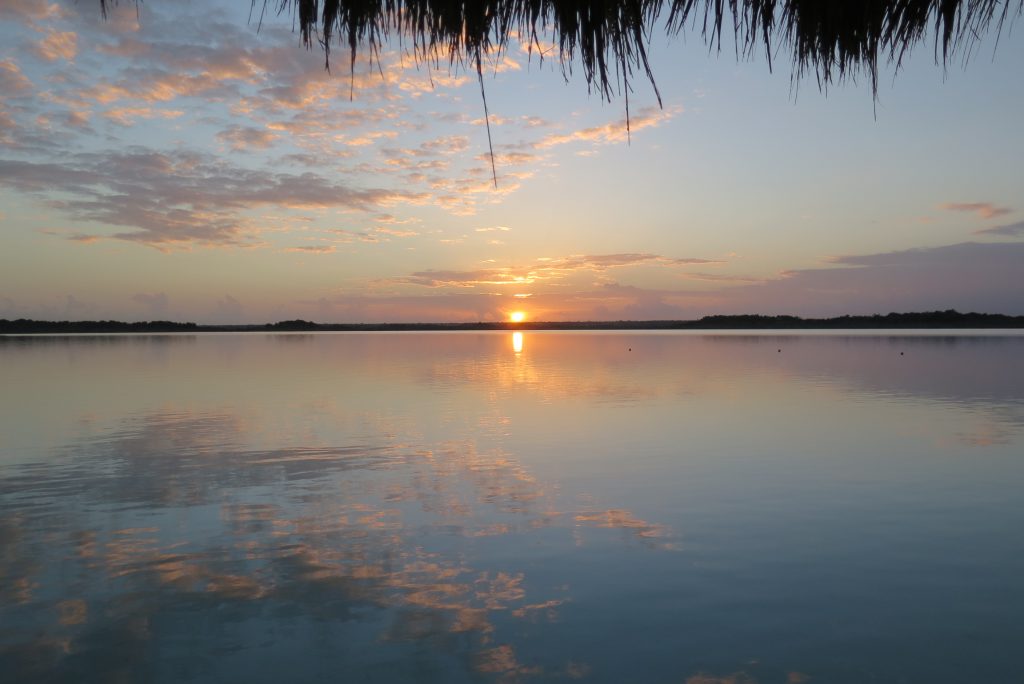 Sunrise over the Lagoon of Seven Colors in Bacalar. (Tracy L. Barnett photo)
Agua Clara Bacalar Ana Ruiz Diaz Bacalar Call of the Water Consejo de Visiones development Lagoon of Seven Colors Marco Jerico Mexico Quintana Roo Riviera Maya tourism Vision Council Voices of Bacalar Yucatan