Río Atoyac in Puebla has gone the way of most rivers in this country: It's become a contaminated, barely recognizable version of its former self.
But something is different about Río Atoyac. That's because a handful of people cared enough to fight for it. The result: Ríos Vivos (Rivers Alive) Atoyac Xicome Forum + Festival, the country's first major event dedicated to restoring a river.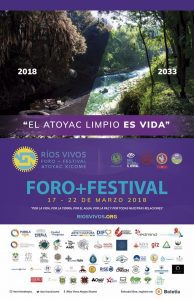 From March 17-22, the University Cultural Complex of the Benemérita Autonomous University of Puebla will be transformed by an army of artists, permaculturists, teachers, indigenous elders, musicians and dancers, among others, into a live-action learning forum and celebration of the arts in service of the rights of nature.
From their Facebook page:
"The purpose of Ríos Vivos is to create the first Forum+Festival Atoyac Xicome to propose actions of restoration for the body of water, the Atoyac River, setting a precedent on a national level through a multicultural platform of multidisciplinary art, ecology, music and culture.
We want to inspire and engage citizens, governments and businesses, as we gather the best proposals, experiences and eco-technologies so this effort can be a symbol of this country of union and rescue as we return to our roots and value that water is sacred.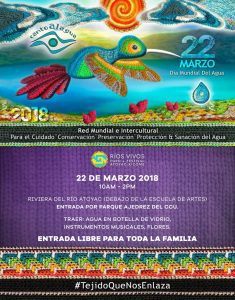 Rights of Rivers Forum, Restoration of Atoyac River and Governance, Health and the River, University Projects
Concerts + Traditional Dance + Art + Conferences + Workshops + Eco Technology + Roundtables + World Café + Ceremony + Ancestral Wisdom …"
Presenters include:
Abuela Tonalmitl * Alberto Ruz * Alyosha Barreiro * Arnold Ricalde * Abuela Alas De Águila * Abuela Amalia * Alex Eaton * Abuelo Tlahuizclanpantecuhtli * Árbol Del Sur * Carlos Gomez * Cheryl Angel * Cesar Daniel Gonzalez * Cocoa Roots * Cuauhtli Danzarte Danzas Aztecas De Puebla * Danzantes De La Luna * Danzantes Del Sol * Diogo Iori * Elias Cattan * Esther Del Río * Estusha Grinberg * Gerard Albert * Grace Terry * Grant Wilson * Graciela Mendoza * Grupo Putumayo * Heyli Davis * Heriberto Villaseñor * Jorge Islas * Jesus Hidalgo * Jefa Tonantzin * Joa Santaur * Kyra Silabaa * Melanie Gabriel * Marisa De Lille * Marino Marikawa * Michelle Button * Nacion Wixárika * Nubia Doula * Niños Otomis * Paola Suculima * Qüirio * Ruben Ramos * Sidartha Siliceo * Sierra Roja Sound Healers Collective * and many more.
For more information, a lineup of performers, live videos of press conferences and more, see Ríos Vivos' Facebook Page.
https://www.facebook.com/riosvivosatoyacxicome/videos/159758018018862/
Alberto Ruz Buenfil Atoyac River Puebla Rights of Nature Rights of Water Río Atoyac Ríos Vivos Atoyac Xicome River restoration Rivers Alive