This edited interview is a part of the EcoSapien Speaker Series segment featuring a few of the visionaries behind the Vision Council, Guardians of the Earth, as we prepare for a new Vision Council event, Embrace of the Amate, Dec. 4-11 in Tepoztlan, Morelos. The EcoSapien Speaker Series is a project of Earth Sky Woman Tami Brunk and The Esperanza Project's Tracy Barnett.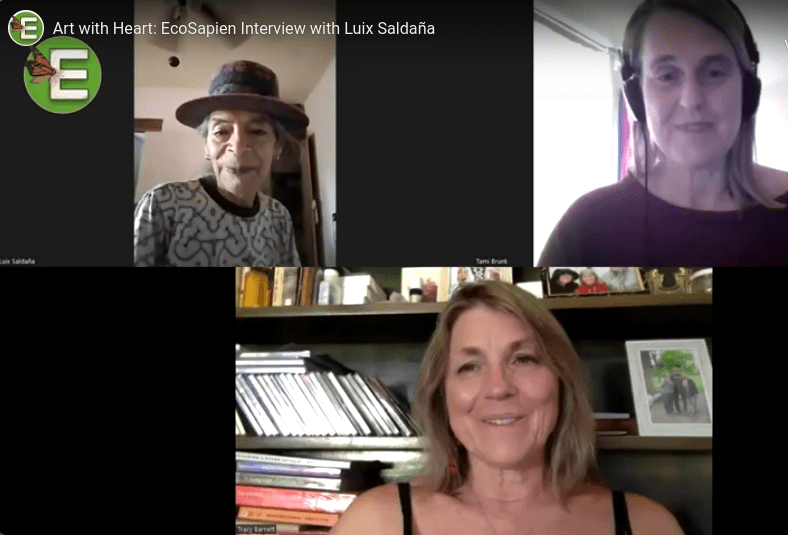 Luix Saldaña has been the artistic pillar of the Vision Council – Guardians of the Earth almost since its inception; he is the magician and convoker who brings together the creative community space and performance series that is the Art and Culture Council during each week-long transformational event.
But he is also so much more. He is a musician, composer, healer, ethnic instrument maker, craftsman, weaver, interior designer, chant maker in indigenous languages, facilitator of drum circles, writer and activist. His study and development in music was and has been mostly in Mexico City and San Francisco, California.
He is the founder of the Musical Ritual Project Tehualne, which brings together his eclectic musical journey and a spiritual search from indigenous roots. And he is the wise sage who harmonizes the energies of the people around him, sometimes without them even knowing. Join us here in a rich conversation with this unique and beautiful soul, wander through his life in photography and video, and/or read the edited transcript of this EcoSapien interview.
Para leer este artículo en Español haz click AQUÍ
Tracy: Hello, and welcome! Today we have Luix Saldaña as our special guest in this edition of the EcoSapien Speaker Series. I met Luix in 2010 in the mountain enclave known as Nierika through the Vision Council – Guardians of the Earth, where he was the magician behind three nights of high-power musical presentations in the middle of nowhere, some of the biggest names in Mexican pop, rock, rap, acoustic, traditional, every genre you can think of, and then some. In his own band, Tehualne, the music was indescribable – made with prehispanic instruments and this tapestry of harmonic voices and rhythms.
I was blown away by the transformational quality of the presentations and the socially relevant themes the artists were exploring — something that we don't see as much in the US among our top musical artists. I felt I'd stumbled upon the cutting edge of Latin America's musical scene.
It was here at Nierika at the Vision Council that the idea of the Wirikuta Fest was born and the seeds were planted. A year and a half later, I saw the fruits of that labor when I stood at the center of Mexico City's Foro Sol stadium. 60,000 people turned out for a daylong lineup of the country's top artists, all of them donating their proceeds to the fight to save Wirikuta, the sacred desert where the Wixarika or Huichol people make their annual pilgrimages, the place where the peyote and the visions are born. You see, Wirikuta was under threat from transnational mining companies, And Luix was at the heart of that project as well. Behind the scenes, working his magic to make the connections and put everything into place. And that event, perhaps more than anything, helped make the defense of this sacred site a national priority.
So Luix has been an artist himself but also a convoker of artists, and an awakener of the artist within us all. He's done this in prisons and in corporate board rooms, in forests and deserts, and of course in the artistic and social phenomenon he helps to create that is the Consejo de Visiones.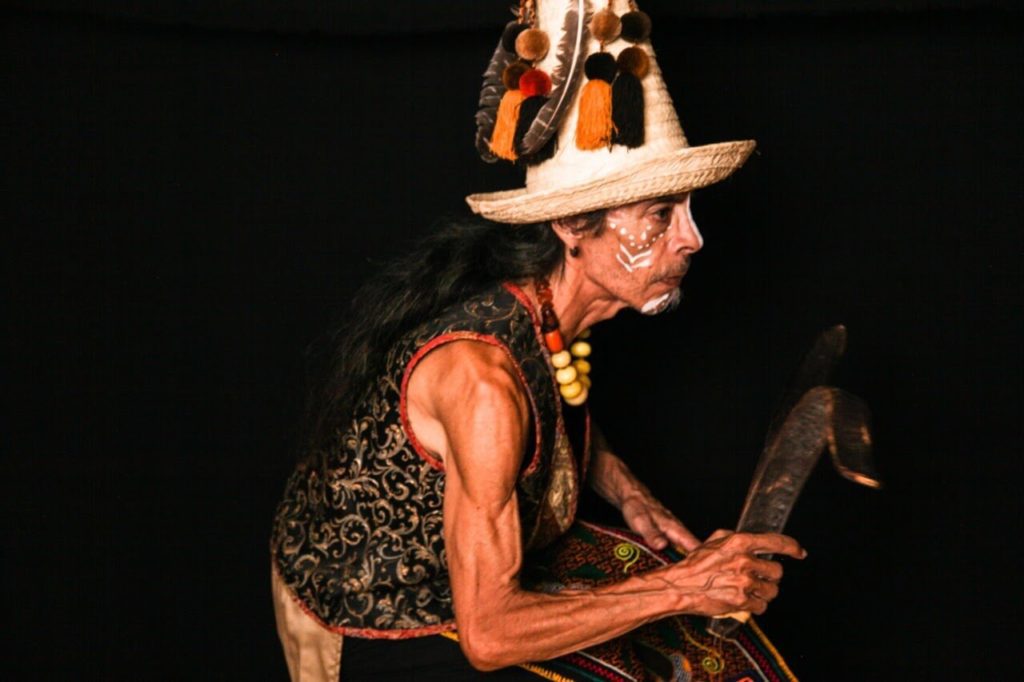 We will come back to this. But first, I'd like to begin with an intervention from Earth Sky Woman Tami Brunk, who is the originator of this series, and also an astrologer, as many of our readers will already know. And Tami has done a little reading of your chart to kind of lay the groundwork for us as we move into this interview. So, Tami, would you like to share some of your insights?
Tami: Absolutely. And to give a bit of a background on the Eco Sapiens Speaker Series, it was part of a convergence to bring visibility to eco elders and individuals who are bringing forward a new vision for how we can create a sacred culture across the Americas with the recognition the whole globe is in the midst of a massive turning of the ages, and that the focus of that is in the Americas.
And you can look at this based on the eclipses that are traversing the Americas from 2017 until 2024. Also the US having its Pluto return right now, but that this is a moment where we need to be able to hear from individuals like Luix, especially in the North. We very much need to have our imaginations and our vision seeded with the kinds of magic and beauty and hope that you bring. And your chart can give us some clues about how your story weaves into the larger story. Right now, as we speak, we have Mars in the sign of Gemini. And so it's going to be soon beginning a new Gemini cycle. And that has to do with the emergence of the magical masculine.
And we're shifting from the warrior masculine archetype to the magical masculine. So here we have Luix with his Gemini Sun, and even just watching the first video of the beautiful music that he's been creating, I think you can feel this that we have such a need for the masculine who is here to weave, to cast a new spell, to tell a new story, to bring a new way of interacting with the world. So that's the first piece.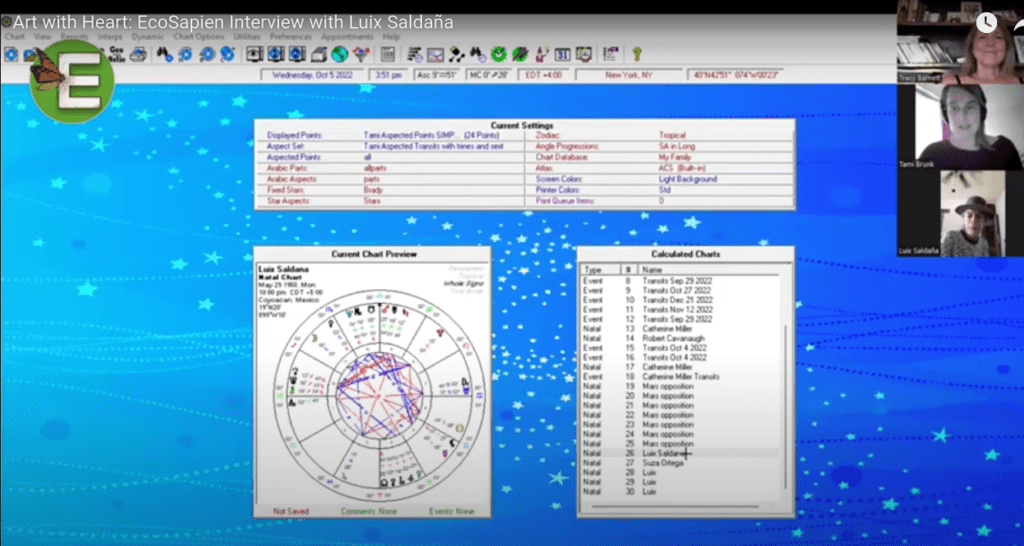 But one of the first things that I saw in your chart, Luix, was that you have your Moon in Scorpio. And not only that, you also have the asteroid Hygeia, the fourth largest asteroid. It's a really important astrological figure that's often not seen but is very essential. Both Scorpio and Hygeia carry this very primordial, primal energy helping us connect into the aliveness we can only access when we have a very strong, deep connection to the Earth herself. When I hear you play, Luix, it stirs something inside of my soul that's so ancient and so deep. And I think this is part of what we need to remember as a collective, especially here in the North.
Your music speaks for itself, but thank you for allowing me that deeper look. And as we begin, Luix, how do you see the times we are living in? How do you see this Age Change and how is your work inspired by that?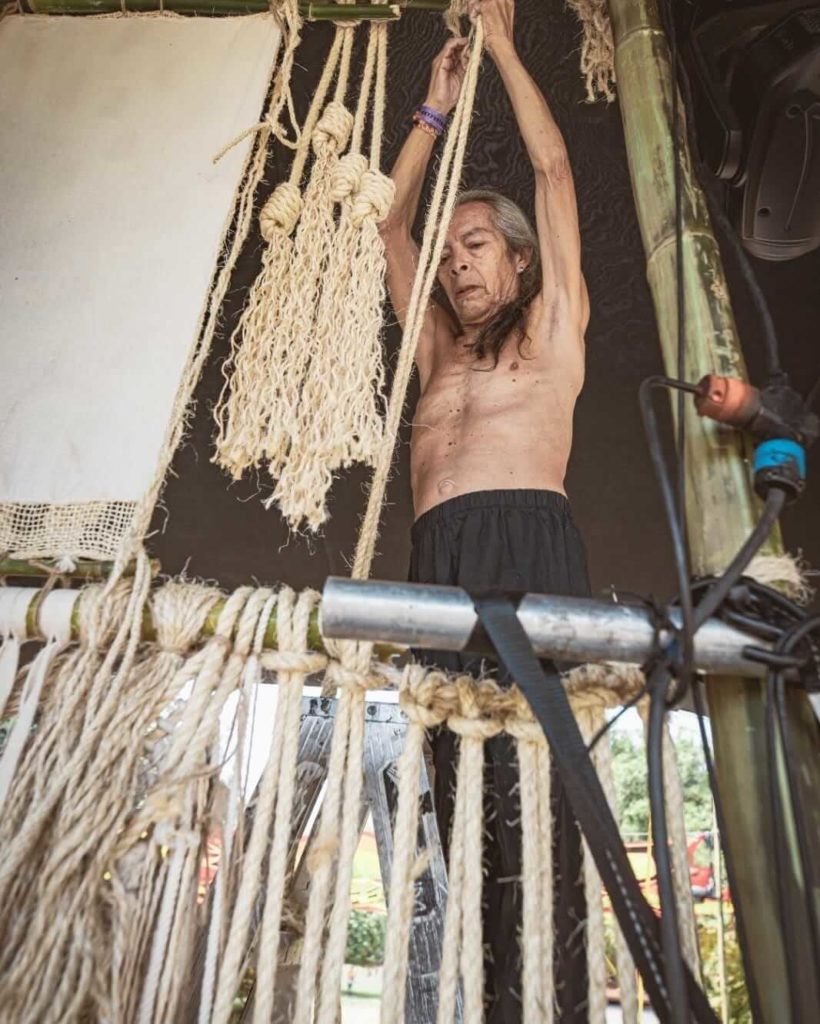 Luix: Well, I think the inspiration comes from my path and from my resilient and strong spirit, both helped me to walk on the edge of the mainstream in a daring walk from an early age. To begin with I never decided I wanted to be a musician. I never decided that I want to be an artist. It just happened. Strongly influenced by the hippie culture, I simply started to create with my hands and produce beautiful things. And people started to ask for my art, for my work, for my presence. Such response for my artwork gave me as a consequence economic independence at the early age of 15, and the world became wide open, open in a time of big changes coming with the "flower power revolution," a wide world revolution of love, art, music, deep social changes. Sadly what I see nowadays is that the world is in such a state that the majority of the young ones are living a really fast life and without consciousness.
It's just "let's have fun, let's party." I live in the Caribbean and I see what is happening in Tulum. Everything is mixed up. The party, the drugs, the fast life, the technology and also the mysticism. The same people that partied last night and were totally loaded with synthetic substances and probably having group sex, today are going to the Temazcal, or going to the Ayahuasca ceremony to purify themselves. And everybody is doing everything they can possibly do to live really fast, in the first row of the VIP zone. So, I think my role in this is to try at least to be an element of equilibrium in such a whirlwind of escapism… "Stop, and look around you, stop, the world surrounds you, stop, before it is too late." Just relax, just walk slowly, just observe what is happening around you. Observe, learn from nature and take care of your soul, your mind, your body and the earth.
Two days ago, there were two people from the street, you know, kind of homeless types pushing their shopping carts; on passing by they asked me if I could heal them. They asked me if I could help them, just by walking in the street and looking at me. And I say, "Well, how do you know, I can heal you?" And the guy said, "Because I can see you're a healer", right?
While working playing my music in a big fancy hotel, the manager asked me if I was a shaman. I told him that I was not, then he answered, well that's what your energy and your looks strongly project, and he offered me a job doing healing work. And I tell you what, the whole thing is coming naturally to me. So, now I have several calls a month asking me for my session sharing love, magic, wellbeing, peace, inspiration, hope.
Tami: Amazing.
Luix: So I have this energy and I use it. Life has blessed me with this kind of energy. And I assume the role with gratitude and responsibility. And yet, I wouldn't call myself a shaman, as some have suggested.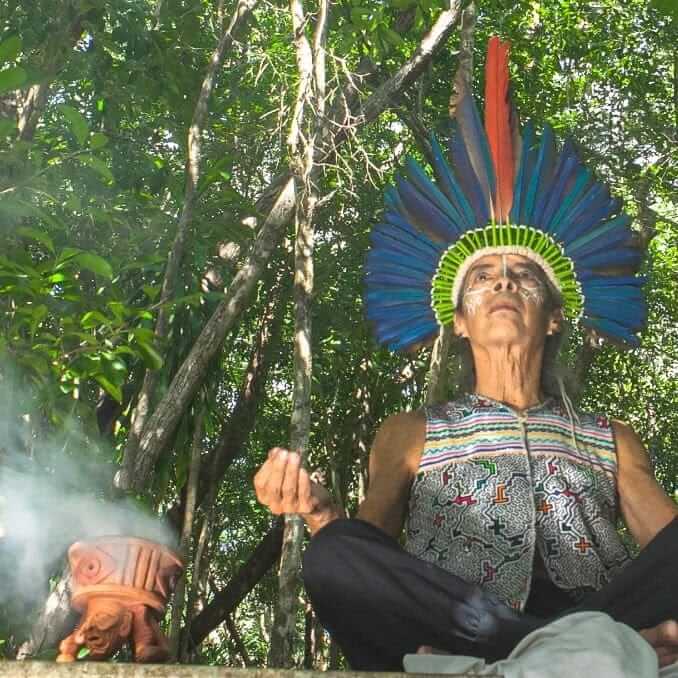 Tracy: Thank you. Your role is important on so many levels. And I'd like to know more about your role with the Vision Council, because you've been there since almost the beginning. You've been a pillar in that whole institution — if it could be called that, after 30 years. Luix has already put together a star-studded program for a series of "noches mágicas" and then an All Species Festival for the Embrace of the Amate that will culminate the entire event. And I'd just like to know the story of how you got involved with this group of visionaries and what it was that made you decide to stay.
Luix: Wow, that's a great story. So I met these people when they were touring in the United States and they came to Berkeley. At that time, I was working as an activist with AIM, the American Indian Movement, and they were holding these events in La Peña, a cultural center in Berkeley, and Toña Osher was working there, too. We both were doing videos, and that's how I met Toña, who lives in Huehuecoyotl ecovillage, and is also part of the Vision Council. So I met her and several times she mentioned her family in Mexico and her community in Tepoztlán, Huehuecoyotl. And I was very curious.
We had one event with The Illuminated Elephants–all these people from Huehuecoyotl, from Tepoztlan, and they were coming to one of AIM's events and bringing their act. And I was like "Great, I'm going to meet your family from Mexico!" So the day came and I was deeply impressed, because for starters, every character had a very strong personality. There were about ten or 12 of them, and they were from all over the world. They were led by Alberto Ruz, and their presentation was a mix of activism, art, poetry and singing and preaching — not preaching, but informing of their actions, mostly on the side of ecology and spirituality.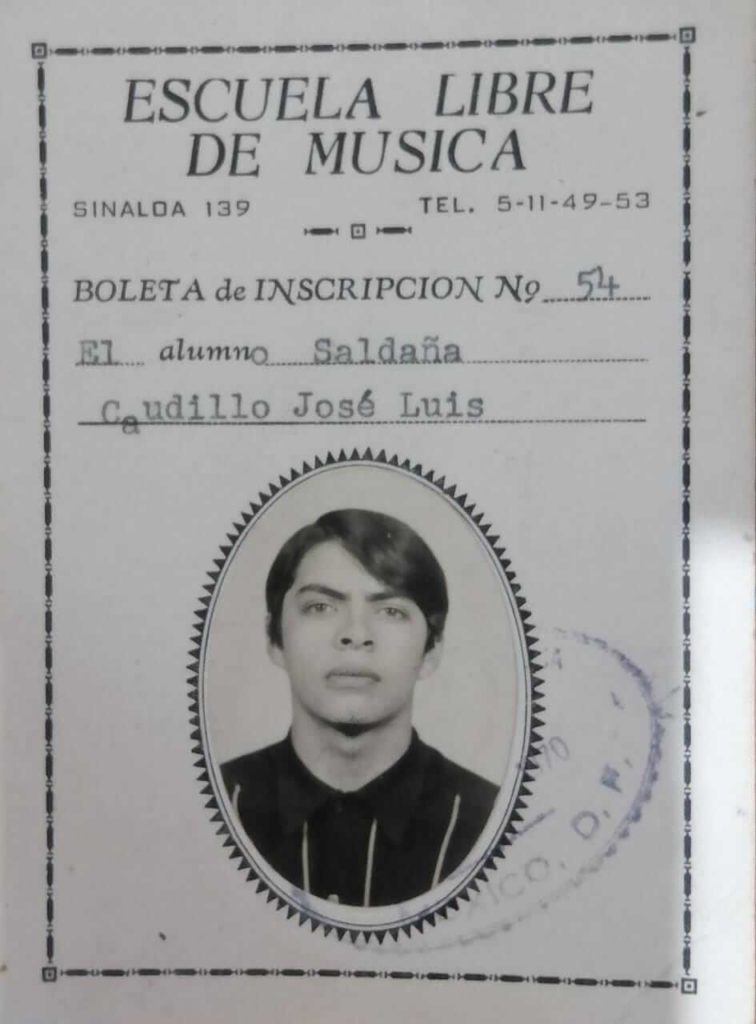 And so, that night they projected some pictures of their actions and their tours. They were a caravan going everywhere. So I was deeply impressed. And I got stuck with them being their driver. So I took them to several different events, and we became friends, almost family. They invited me to Huehuecoyotl, and Toña offered me her house.
Well, unfortunately I had a negative situation where I didn't feel welcome in Huehuecoyotl. So I got out of there the next day and I was sad because I was expecting a deep connection with all these people. But anyway, I was fascinated by the people and by Huehuecoyotl and by Tepoztlan. I had never been there before. Tepoztlan is a very strong and very unique place. So eventually I moved back to Mexico and went to live in Tepoztlan.
Eventually the time for a gathering of the Vision Council came and I got invited by some of the people; because of my sad experience in Huehuecoyotl I was not so keen on going. But these people were very persistent. So I told them, "Look, I don't want to go because this happened, and I felt so hurt and I didn't feel welcomed." And this person told me, "Yeah, sometimes we are not very nice people. We are a little bit arrogant, which is not very good. But come to the Council, come to the gathering and look and experience the quality of the work." So that convinced me.
So I went to the first gathering, for me it was in Michoacan and I was open. I went to work the whole week in the kitchen, and gave myself to the task. The thing that impressed me most was that Helen Samuels, one of the elders, came with a group of "chavos banda." You know, like gangs from Nezahualcoyotl, Iztapalapa, the really poor districts in Mexico City. And she invited about ten of these people. And these guys were assigned a place to camp and they had their own camp. And night came and they managed to smuggle some tequila and mezcal, and they started to get drunk in their own camp.
You see, these gatherings are full of beautiful women, with very light clothing, really nice hippie chic fashion. And these guys were saying things to every woman they passed by, you know, "Mamacita, qué guapa estás, take me with you." So the next morning all the women were angry, and they were ready to cut some throats. Before breakfast they were holding some kind of trial against this group. Saying things like "We cannot allow this to happen. We cannot allow these kinds of people to come here."
One of the leaders, I believe it was Loko, said, "Okay. Can we talk, please?" And he told us a story about how it is to grow up in the ghetto; a story sprinkled with drugs and alcohol abuse, violence in the family, economical straits, family members in jail, promiscuity, beatings and sex abuse. he went on. "So I grew up in the streets, and I'm a rascal. I've been a thief. I've been a gang member. I have done really terrible things. And if you can listen to the story of each one of us, it's similar. But we like what we see here. We want to learn from you. We want to find a better way of life. So please don't reject us. Please don't throw us out. We want a change, but the change won't come from one day to another. Sometimes we are going to make mistakes like last night. But we are willing. Please don't reject us."
So all these women changed. Everybody started to hug them. We surrounded them in a big embrace and we welcomed them. For me, it was the most impressive result of the work the Consejo was doing. That's the story I lived in Michoacan.
Tracy: Wow. And if I can add as a footnote to that, by the time I got to the Consejo in 2010, it was maybe eight years later and Loko and all of his band were serving as security there, the security team for the Consejo. And we accidentally locked our keys in the car and guess who knew how to get the keys out of the car? Loko! And those guys were just the most lovely, really welcoming people. I'll never forget the vision of them lining up to give hugs to the elders.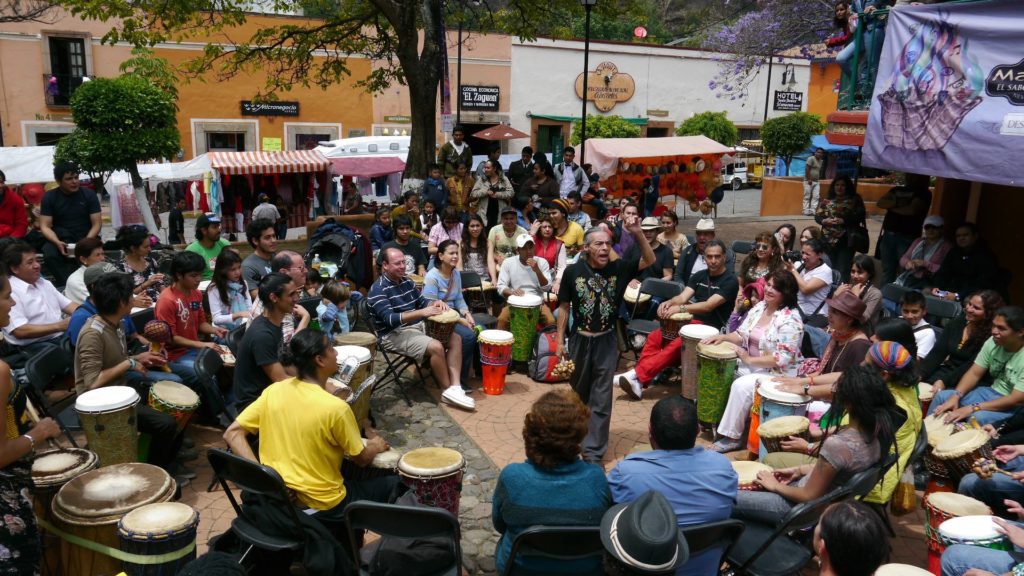 Luix: In the end, all these gang members became punks, all of them. And nowadays most of them are businesspeople. They manage the Pulqueria de Insurgentes and they have a big festival that happens every year. Some of them are martial arts national champions and some have international titles. So they are so positive. They are achievers and they are a good tribe and a great example to all of us. And so that's the result of this story.
Tracy: Amazing. Just to explain that a pulqueria is a bar that sells pulque, which is a prehispanic fermented agave drink, which tequila is derived from. But the Pulquería Insurgentes is enormous. It's like four stories high, at least, or five. And each different story has a different thing going on, a different band, maybe projecting a movie. It's become a cultural center of sorts too, and they'll have benefits for different causes and it's become a real hub of alternative community and quite a successful business too, as you say. So yeah, one of many success stories and the Vision Council.
And Luix, your role in that, I notice you have a way of talking about everybody else, but you don't talk very much about yourself, which is one of your endearing qualities. But I would like to know, the Vision Council is divided into different councils, different thematic councils like Health and Tradition and Ecology. And the one that has been heading up for all these years is Art and Culture. So can you tell us a little bit about how that got started?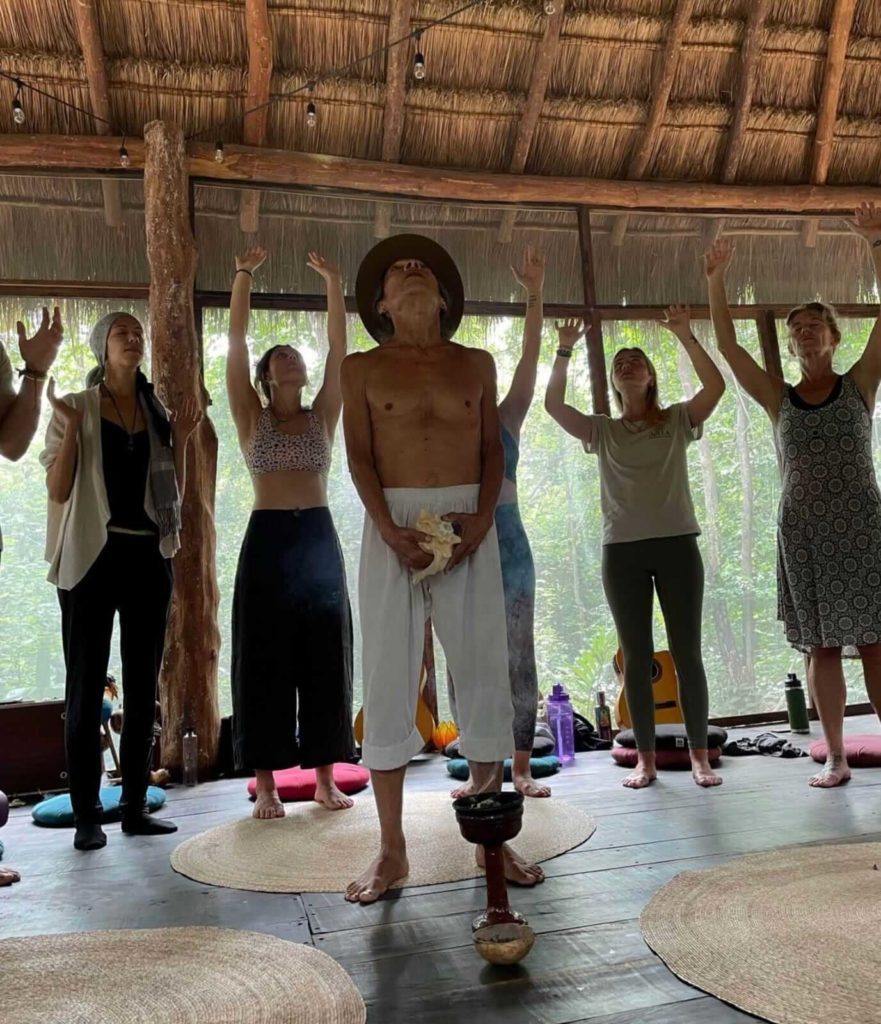 Luix: Okay. Well, my first gathering, as I said, was in Michoacan. And I loved the kitchen. I love to cook, so I enjoyed myself the whole week. And I wanted to continue there. But in the next gathering, I don't remember which one it was, I started to see the art that was happening. It was beautiful, but not well organized.
We were just having a good time every night around the fire. And sometimes somebody with a guitar and a couple of singers would take over the fire and stay there the whole night, and wouldn't give room for other people. So I realized that was an area that could get better with a little bit of management and a little bit of programming.
So right there I started to organize the people around the fire. You know, like making a program to give time to the people that wanted to say a poem, sing a song, tell a story, do a dance, share something. So I started to make my list, my programs, and invite people during the daytime. And it was a success. And I realized that I wanted to go a step further.
So in the next gathering I invited musicians. And I dared to have a sound system— which was unheard of. There were a lot of people against having a sound system. But mostly I was supported by the young ones. The young ones were so tired of singing around the fire because the quality of what was happening with the songs and the chants around the fire was very much… Air and Water.
And very little Fire, with very little Earth. And the young ones were tired of Air and Water, they wanted Fire and Earth. So I started this program with more spark. I managed to have a sound system. And the young ones were really happy. And I made my first program electrified. And it was quite controversial, I was attacked by so many people because [they said we would upset] the birds and the mountain, blah blah. And I said "We have to walk with the times. I mean, maybe the birds are angry, or maybe the birds are not liking it, but maybe they are liking it. How do you know if the birds are not happy?" So anyway, that's how I started this. And every year I was daring more and more.
And from then on, I have opened programs. They finally decided I was doing something good for the people. They decided I was enriching the Consejo with all this daring and all these programs. And throughout the years, I work on weaving a network of artist allies. See, the Consejo has no money. Every time we hold a gathering, we are in the red. So I became this guy convincing artists to donate their art. Because it was a good cause and because it was something that they didn't want to miss. It's how I sell the Consejo to the artists. This is one place you want to be. And this is one event you don't want to miss because it's going to change your life.
So I have managed to weave this nice network of artists so that nowadays I have more artists than I need. And I managed to have programs that in theory would cost me half a million or $1 million to program these shows. And I do it with $20,000, $50,000 (pesos, or $2,500 USD) at the most. So this is a good weaving of a network. Also within the network there are engineers, sound engineers, technicians and people to help me. So this is how the art council came about, and it's how it's operated.
Tracy: Well, that's so interesting. I've always wanted to ask you how you were able to get people like Ruben Albarran from Cafe Tacuba, Roco Pachukote, Moyenei, Lengualerta, these really high powered people. These are big names in Mexico, and they don't charge a dime. Really, they have a feeling of real warmth and affection for the Consejo. They feel part of it and now I understand a little bit more about how that happened while you just brought them in and you changed their lives by bringing them in, I suspect.
Luix: Yeah. And it's how the Wirikuta Fest happened. It's the same technique.
Tracy: I bet it was! You don't want to miss this. You have to be there.
Luix: Yeah. The Wirikuta fest started like a dream. I learned about Wirikuta, and I learned about the mining companies. And I learned about the agriculture full of pesticides and agrochemicals that was happening there. At night I was going to bed thinking, What can I do about it? I love the Wixárika culture, I love the territory, and I love what they share with us. And after several nights of thinking "What can I do for Wirikuta?" I went to Niérika with Armando Loizaga and had a conversation with him. And this was the seed of the whole thing.
I started to send messages on Facebook and all the social networks and started to talk to people and I went when the Wirikuta Defense Front organized themselves and made a call for people to come to Centro Cultural La Pirámide to start the resistance against mining, industrial agriculture and contamination. So there they organized themselves in Committees they called Mesas, or roundtables. The ecology roundtable, the administration roundtable, the communication roundtable, the so and so roundtable; at the end… They had no art roundtable.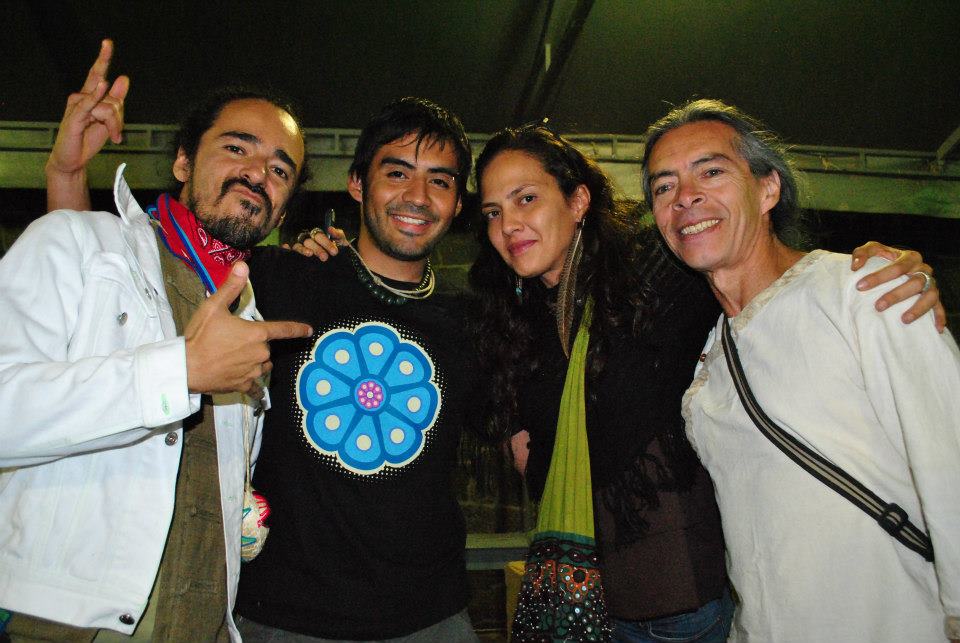 So I came to this meeting with Roco and Moyenei. And we offered ourselves to be the committee representing and organizing art. And they accepted because Roco was there. But all these people, along with some Wixárika people, knew each other. Some of these mestizos had a longtime relationship with the Wixas, so they were all like family, they all knew each other except us. So at one point I realized that we were like the unwanted child of "El Frente". They only accepted us because Roco was there, but we were the outsiders, see. So it was a very interesting story, too.
After that, soon enough we were the strongest and the biggest committee that the Frente had. We grew so fast, we grew so much and they were trying to control us by sending people to our meetings to tell us what to do or what not to do. Aware that my most precious resource was the artists, all these musicians, I was making my moves in a careful way to protect them from all the politics. In that way all the attacks, the complaining, and all the blocking of the work of my committee was coming to me. So it was interesting work. We had to consult and ask permission for everything. And I was realizing with so many rules, with so much control, we're not going to achieve what we want to achieve. So we had to separate ourselves from El Frente. We had to separate ourselves from the Wixárika Regional Council. We wanted to be independent allies. And that created turmoil.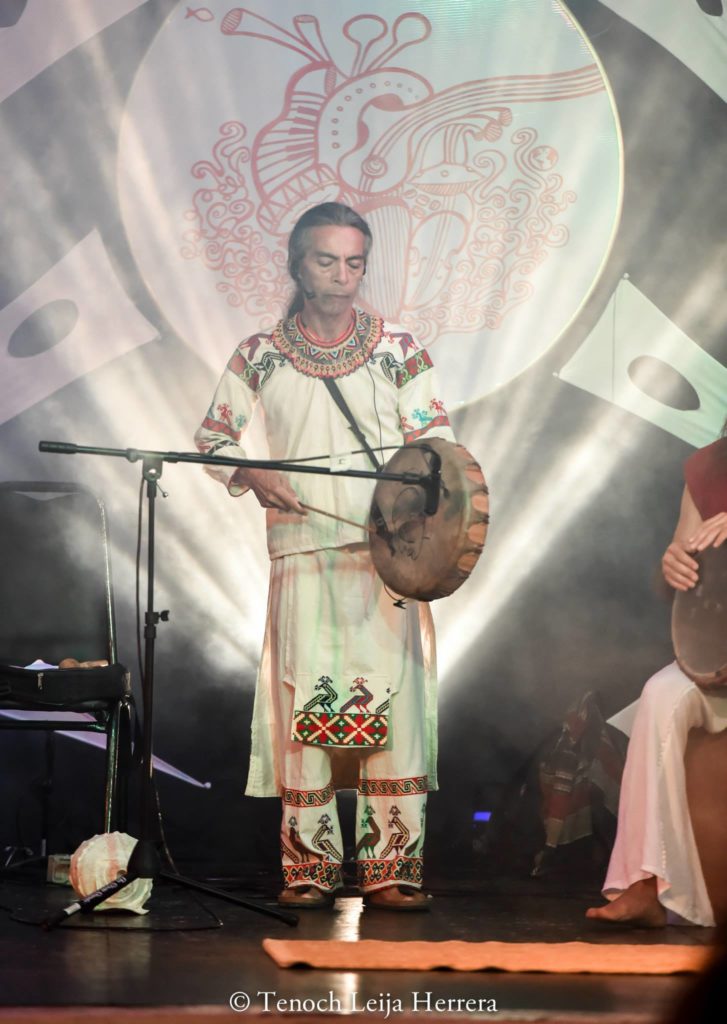 Some people from the Frente and some of the Wixáritari were calling Roco and calling Ruben [Albarran, of Café Tacuba, one of the country's most popular artists] and telling them that I wanted to take control of everything, that I was not a good person. So it took time for the artists to really trust what I was doing. But finally they all agreed we would separate ourselves and create a whole new colectivo. Once we created the Aho Collective, things moved fast.
Every meeting we had a new ally, strong allies. And we had this committee working with Roco, with Hector Guerra, with Moyenei and some video makers and some graphic artists. And one night Moyenei called me and asked me to come to Tepoztlan to have a meeting with Ruben Albarran. So I went to Tepoztlan, had a meeting with Ruben. We explained the project, we explained what was happening in Wirikuta and we explained what we wanted to do. We wanted to have this incredible festival. The name of the festival, we got it with Armando right in the first conversation: Wirikuta Fest.
So Ruben was excited, he said "Wow, let's do it. I'll go for it." So we started to have these meetings in Mexico City at La Piramide, and soon there was Lengualerta, soon there were more people, more video makers, more allies. We were like 30 people working towards this goal. And one of these meetings Ruben came with the manager of Café Tacuba, and this guy was also working in Ocesa, Ocesa is the biggest event producer company in Mexico City and they are the ones that run Foro Sol and Palacio de los Deportes, the biggest venues in Mexico City, so this guy Balbi came and joined the committee and then we took it one step further.
So the first step was to make an invitation letter for the artists. It was a very seductive letter. "Give us your work. Give us your heart. We choose you because you have this type of consciousness about the Earth and about Wirikuta." At this point I like to mention "Marcoatl." Marcoatl (a master graphic artist) was the creator of the graphic image of the movement; whatever and whenever you see a poster or a video regarding the Wirikuta fest or the Wirikuta defense, it is Marcoatl's design. Marcoatl and myself became the pillars and the base of that concert; I miss working with him
Back to the invitation letter; It was a very seductive letter with great art, great graphics, and we sent it everywhere. We send it to the biggest rock stars and artists in Mexico. It was a big success. We put out 10,000 tickets just days before the concert and they sold out in one hour. So Ocesa started to look at us. Who are these people? Because we had no publicity. We had no money for publicity. So it was all word of mouth.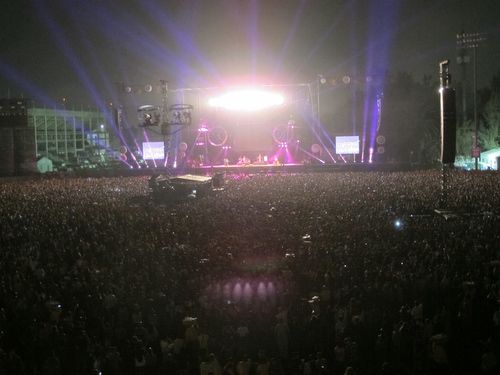 So in the next couple of days, they put out 10,000 more tickets and they were sold in a few hours. So there was a revolution, and they wanted to give us el Palacio de los Deportes, which has space for 20,000 people. And we said no, we want Foro Sol, because we're going to sell all these tickets. And they say, okay, we open the Foro Sol but we need one more big band.
We already had Enrique Bunbury, Julieta Venegas, Café Tacuba. We had like six, seven good numbers already lined up and they want one more so they can give us Foro Sol. So we had to convince Caifanes. That was a tough job because they had internal problems. I think they were not talking to each other. So we had to convince them to make peace and come and play with us because this was the place where everyone wanted to be that night. So finally, with Caifanes we got Foro Sol and we had all the tickets sold out. We opened the place for 60,000 people. We had Calle 13, who came with Zach de la Rocha, from Rage Against the Machine.
There were a whole lot of things happening. Javier Sicilia, the poet who was very popular at that moment, came and gave us a speech. Alejandro Jodorowsky sent us something magical on video. It was an incredible night, full of peyoteros. The graphics were peyote, the decorations were peyote and it was all peyote time!
We raised 20 million pesos. The concert cost us 10 million. So we were able to put out 10 million for the cause. And several amazing things happened. Ticketmaster gave us all their percentage. Ocesa works with providers, they don't have equipment, they don't have the lights, they don't have a stage, they don't have sound. They all hire. So a lot of these people gave us discounts. Once they saw the movement, people were thoroughly open, giving us back their economical gains. So that was very moving. And we were so amazed we were able to touch so many hearts.
The Aho Collective, the main force behind the concert, won the main prize for the concert of the year; also the collective was able to record an album called Wirikuta Station, which became an instantaneous international success, topping charts in the networks, and we were able to put the mining companies on hold.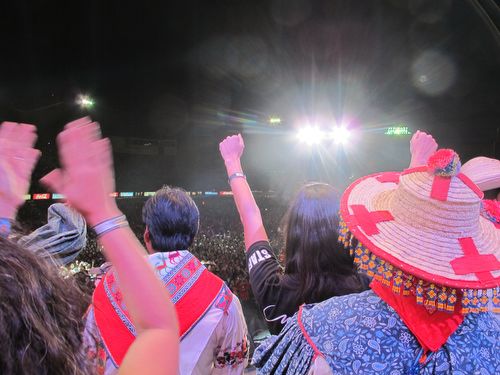 Tracy: I will never forget the moment I got to join everybody up on stage at the end when they were making the acknowledgements – because I was a part of the Wirikuta Defense Front, actually – and to see that sea of people. 60,000 people all across the ground chanting "Wirikuta no se vende, se ama y se defiende – Wirikuta is not for sale. Wirikuta is to be loved and defended." I'd never seen anything like that in my life. That kind of movement building needs to be happening again and again. If we could replicate that for let's say climate change, for example. I don't know how that can be reproduced, but that's a success story we need to really examine.
Luix: Yeah, it was very beautiful. It was very moving. It was so strong for me that throughout the whole process I was so calm. I was so, so in my center and I was managing things really well. Then when the day came and we saw the results of our work, the power of our wills and how we wove this network of allies, somebody came and asked me, How are you feeling? I could not answer, I started to cry. I couldn't contain myself. I guess it was some kind of cleansing.
Tracy: I love the concept of your own musical project. Luix, "Tehualne", it means "you are me." And that's the Nahuatl counterpart to the Mayan concept of "In lak'ech," right?
Luix: Right.
Tracy: So it's something I see reflected in your work, not just on a human to human level, but in terms of your connection with the natural and even the supernatural world. Music and art have been a real spiritual expression for you. So can you talk a little bit about how this concept has influenced your life and your art?
Luix: I was living in San Francisco for 13 years and I was working mostly with Africans. And my observation and learning with Africans is that they were really proud of their roots and they were honoring their roots. They were playing pop African music, but really attached to the roots. And that made me question, What about my own roots? What about my own music?
And I started to dig a little bit, and I learned that the ancient Mexican indigenous music was lost. We lost it with the conquest. We kept the instruments but we no longer have knowledge of what they were doing with them. So I started to study a little bit about this ancient culture. I started to dig in deep. And eventually I moved back to Mexico and the first thing I did was to start to learn Nahuatl, the language of the Aztecs and Toltecs.
When I started to be a musician I was a rock musician singing in English and that was great fun. And then the rock revolution came to Mexico and we started to sing in Spanish. And that felt better, singing in Spanish felt more like me. But when I started to do this kind of music, my roots, ancient music, I started to sing in native languages. And I felt that that was very right. I finally arrived home, you know. And it's the most comfortable language I feel when I sing in native languages.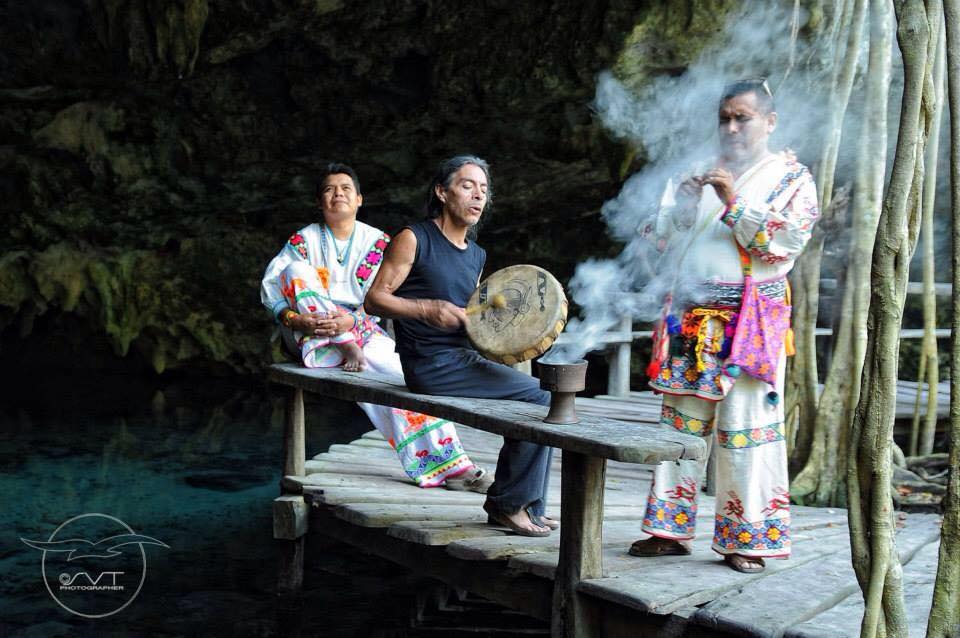 So it was a whole lot of investigation with instruments. Many were not available in stores. I had to learn how to make these ancient Mexican instruments so I can have my own instruments. And I kept learning Nahuatl. With time I started to learn a little bit of Wixárika. Now I'm here, living in the Mexican Caribbean, I'm learning Maya, all with the intention of making chants, doing my own chants.
Also doing research on sacred ceremonies and sacred calendars, because one thing is to learn to say father, mother, table, house, home, day, etc. And the other thing is to learn and use in a proper way the terms and prayers they use for their sacred chants or ceremonies, "the sacred ancient and magical lingo of healers, seers, visionaries, rainmakers, priests, shamans" — and so my chants become more effective and powerful.
You see, when i started in this path in my naivete I was learning and singing chants from different native cultures without any knowledge of traditions or symbolisms, and that got me in trouble, especially in North America, because you cannot just go ahead and sing a chant from the Lakota or from the Diné and do whatever you want to do with that chant because you'll get in trouble. So I got in trouble several times singing a chant in a place that I'm not supposed to sing or in the ceremony that I'm not supposed to sing that particular chant. So I decided, "Well, I'm going to make my own chants."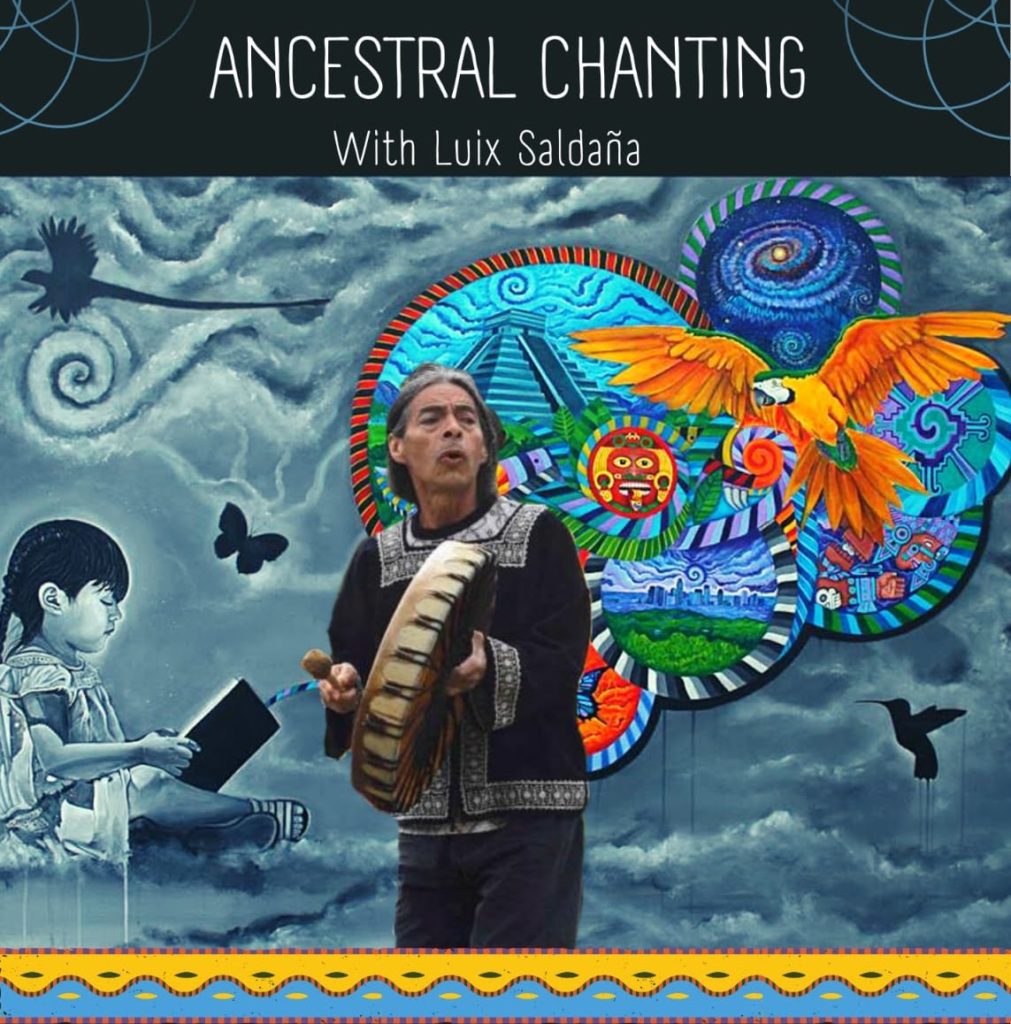 I was very influenced by all kinds of chants from the Amazon, from the Chippewa, the Wixárika, the Lakota, the Apaches, the Shipibos. Throughout the years I have practiced all these different styles to the point of having them well within me so I can make my chants in almost any native style. So that's what I did. I made my own chants and I chant whenever, whatever, and I do whatever I want with them, share them, record them, put electronic effects, or take out the electronic effects, all that. And I'm not offending anyone. I'm just sharing my spirit.
Somebody told me "Can you sing something more authentic?" And I said "Wow, what is more authentic than this? This is me, authentic me. And from that came Tehualne. I got myself some like-minded friends, good musicians. And I started to organize this, and it became a really nice project. We haven't been very successful in terms of money, but we have created an impact, we have reached the culture. This project started in the middle of the nineties and there are so many people who have come through Tehualne and also Tehualne has experienced some evolution, changing instruments, changing concepts and all that. So now I'm here and musically, I am right where I want it to be. I don't need to search for more direction. I only have to polish what I have achieved. I have to polish my act, my chants. I have to polish my compositions. But I'm home, you know? I'm here.
Tami: That's so beautiful. I've worked with Indigenous people throughout my life and like you, Luix, it has always made me go back to my own roots. And so a couple of things that really struck me were the dance you've had to do in learning from and being an activist, being in allyship with Indigenous communities while also having to maintain your own integrity and autonomy and creating something that draws from Indigenous traditions. It's a very tricky place. Here in the north, they often talk about cultural appropriation and the challenges of working with indigenous cultures.
You are a Capricorn ascendant, I would say you are in many ways an elder, but you're an elder who has such a youthful spirit. So what kind of advice might you give to people if they want to draw from the wisdom of indigenous cultures or these roots of cultures that are richer and deeper than what we were born into? How do we do that? In a respectful way while maintaining enough space to create powerfully?
Luix: It's a difficult question–but i will say, dive deep within yourself and search and reach out to your ancestors, call them, ask them to guide you to your essential roots, but also in the practical side do your own research, try to find the power, the knowledge and the magic of your ancients, that's basically what I did. Otherwise, how do we share with all of these people who are a little bit lost, who are only interested because we look cool, we look mystical, we look powerful, and they want to take a picture with us. And send a photo like "Mom, I'm being spiritual, I'm with this great shaman." Conscious art can reach many people, especially if you create your art according to the times, according to the tastes. So that's the idea. You know, I speak your language or I understand your taste and your needs, I can share this with you, and maybe it'll be easier to digest.
Tami: Yes. To speak in a language people can understand. And I think also what I see in you is that you're so passionately and actively creating more beauty, more art, creating something new. You're taking from the roots, but you're making something original and it's in service. Up here in the north we're also remembering our creative spirit and to create beauty in the face of what is falling apart all around us.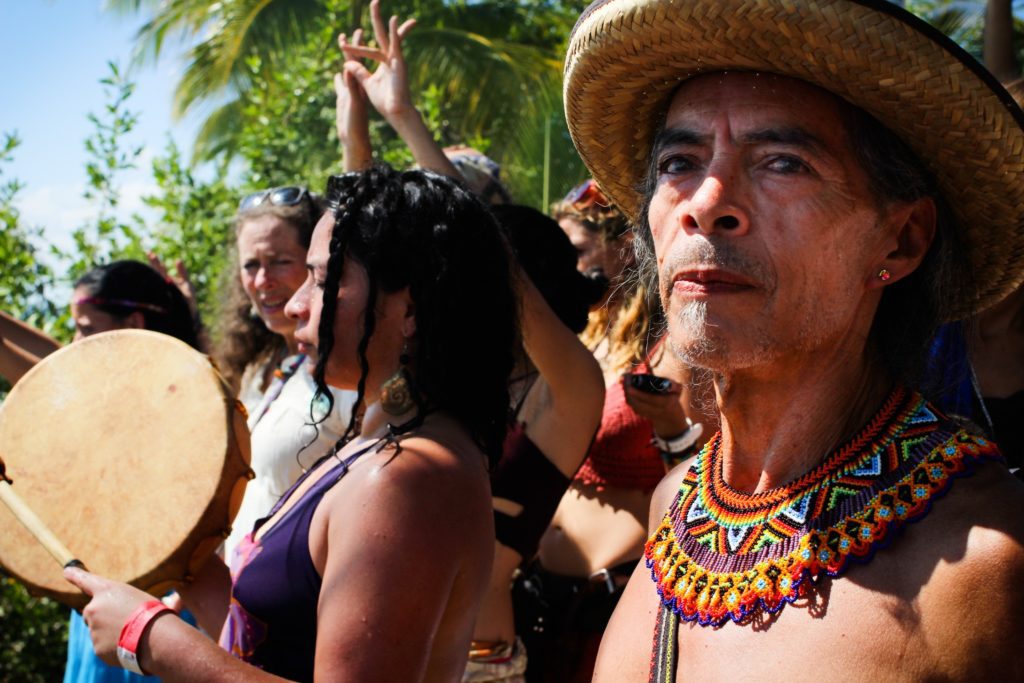 I'm also curious about the topic of money. We talked about how you brought the artists. They don't make any money. And when they've done the Consejos, it's always in the red numbers. It sounds like part of the initiation is being willing to put ourselves out there for something far beyond money. And I think that's a beautiful example. So this is more a comment than a question, but mostly I just want to express gratitude for the wisdom that you're transmitting.
Tracy: That's a really important reflection. And I think there are so many things that you're saying, Luix, that are just really resonating with me as well. And I only hope that I can find the way personally to hold the space in the way that you do and to provide the kind of example of inner inner peace and consciousness that you do. It's really inspiring.
Luix: You guys are doing great work. I admire you. I respect you a lot. And I'm glad we are part of the tribe. We are part of this movement and we are connected. I'm grateful.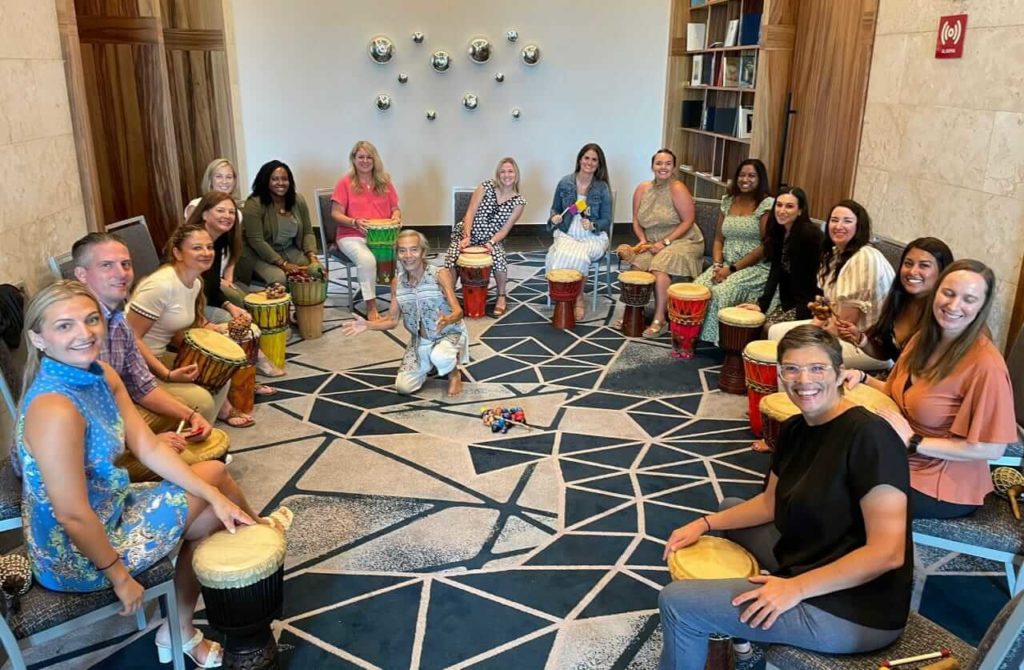 Tracy: Thank you. Getting back to the questions, I do have a couple more. I don't want to miss talking about the amazing work that you've done facilitating percussion circles — a project whose objective is, in your words, "to share with the general public the healing, integrating and educational power of rhythm and to show people their own rhythmic power." And you've done this work in corporate settings, in spas and schools, and you've even created a large and successful program of drumming circles in prisons. Can you talk about that healing, integrating and educational power of rhythm and the way that you've applied it and the settings that you have?
Luix: I started to do this around 1992 when I arrived in Tepoztlan because I had the drumming fever. I spent a lot of time drumming in the streets in Berkeley, and I got fascinated by the whole thing. And when I moved to Tepoztlan, I wanted to keep on doing it. Then I started to teach people and to facilitate groups. And then soon I discovered that there was a whole movement all over the world that had structures to facilitate rhythm events, and they had different rhythm events specializing in different types of groups and even had produced literature and videos regarding techniques, games and dynamics.
There were business groups, sports groups, religious groups, there were groups just for fun. And wherever there was a group, you can do a drumming and have some benefits and focus your facilitation into the main theme of this group. Soon I went to Canada to take a three-day workshop on how to facilitate, and I got into this with one of the founding members of the whole "drum circle" movement. He was the teacher, and he was excellent. I learned so much.
And I came back to Mexico but I had nowhere to practice. I had no group to practice with. Sometimes I called people, my friends, and they would come. But it was not good with my friends. And I went to knock on doors in Mexico City, especially with the government. They had programs for poor people in marginalized barrios. And I went there with my drums, and it was not good either. So I started to knock on doors in prisons. And it happened that the prisons opened the doors for me. So really, the people in jail were my teachers, that's where I practiced my skills the most.
And I loved it because they were so open and so grateful. And I developed my own techniques. I evolved the things I learned with my teacher. I can say that I went to every big prison in Mexico City and I started to go to federal prisons outside Mexico City. And this went on for several years. I went to Islas Marias, which now is closed, but was one of the biggest and most interesting federal prisons in Mexico and something that I would like to continue.
But now I live in the Caribbean, I live in Playa del Carmen and I've been trying to open doors in the jails around the area and Yucatan and Quintana Roo, but I haven't been able to connect. I want to keep doing this work, I love this work. I don't make money. It's just volunteering. But it fulfills my heart and my soul, it feeds my mind, feeds my life. I have drumming gear for groups up to 150 people, but I can tell you that I can facilitate groups of 2,000 people. I have done a group of 1,000 people and it's so powerful. So that's the brief story of my facilitation.
And drumming is a great medicine. Drumming has so many benefits. Drumming creates community. Drumming in groups with friends and family creates a different type of communication. You start to communicate with people at a different and deeper level. Drumming creates better working groups and it creates better relationships, drumming enhances your immune system, drumming synchronizes your brain hemispheres, and it gives you a more assertive personality. It's amazing what drumming does to us.
Tracy: Yes — truly powerful. Look at the power chant and song circles, as well, which you have done a lot of. And that leads me to the song that actually prompted me to invite you to do this interview. I wanted to hear the story behind the song that went viral in 2015 at the Vision Council that I helped to organize ,the Call of the Sage here in Jalisco, where I live, Jalisco, Mexico, close to Guadalajara. We have a tradition that the last day of the Consejo that we call the cosecha, the harvest, is when each of the councils presents a summary of its teachings or its activities in a creative and beautiful way. It's a sort of pilgrimage or procession around the encampment, passing through the Councils of the Children, the Youth, Ecology, Health, Spirituality, Traditions — each one with their presentation or activity. And finally, Art and Culture — and the Harvest of the Art and Culture Council was sort of an explosion of creativity that just really stayed with everyone. It's a moment that is engraved on my memory and everyone who was there, and our friend Jorge Guzman created a beautiful video that went viral, but nobody knew that the song was written by Luix.
We knew that he was at the center of the circle, kind of guiding everyone, from just his place close to the ground. And everybody around him was shining. But nobody knew that Luix was the author of that song until Jorge did a new video, which we're going to be sharing here in this story that we're doing. And it's going to be released here shortly as a promotion for the upcoming embrace of the Amate, the 16th Vision Council, in December. I would like to know and we would all like to know the story behind how the hymn of the Vision Council came about.
Luix: My mind is busy all the time. I have a very active internal life. I'm always creating. My head is full of projects, all kinds of projects. My head is full of chants, full of the signs of weavings and poetry. My mind is an art machine. So I was doing my work coordinating art, especially musicians at this event at Teopantli Kalpulli. And while I was doing my task, I started to sing. The main line came very easily. You know, "Consejo de Visiones, Guardianes de la Tierra, el Llamado de la Salvia, Tonantzin." And then I started to develop from there and after chanting these lines for a while, I had a little composition.
And I realized we should sing this. And then the idea came up inviting other artists. By the way, the main lines are mine, I started it, but Pedro Vadhar contributed with the chanting. He's the heya heya ho expert. So I asked him to be part of it. And then I asked the other artists to have a rap of their own interjected in the middle of the chorus and the Heya heya ho. So I created the first line and the rest was done by all of us.
And it happened magically. And it was a very powerful moment to perform it. It was very deep. I still can see the eyes and the smiles of the elders. They were sitting with their eyes wide open and they couldn't believe that we were making them fly. We were making everybody fly. So that's the story, the brief story of the whole thing, which I want to repeat at the Embrace of the Amate, but this time with anticipation, I already have the lines written. I already have the lines recorded. So soon I'm going to share with everyone. So it's not only the Art Council singing it, it's going to be the whole tribe. At least 500 people are going to sing it.
Tracy: So if those of you listening are available on the fourth to the 11th of December, come on down to Tepoztlan and you'll be able to sing it yourself.
Luix: Finally I would like to give my closing recommendations for everyone for a healthier and more connected life: temazcal once a month, yoga once a day, love making at least once a week, drumming, singing and dancing daily if possible; eating in family always, practice positive perceptions all the time and spend quality time in nature.