HILL CITY, S.D. — A Standing Rock Sioux teen tribal member is among Native headliners to play on the moving picture screen beginning Feb. 22 during the Black Hills Film Festival's 12th annual season.
Lakota youth pipeline fighter and climate justice advocate Tokata Iron Eyes stars in "My Name Is Future," a new independent feature documentary that fuses her worldview with the art of Los Angeles-based activist Andrea Bowers.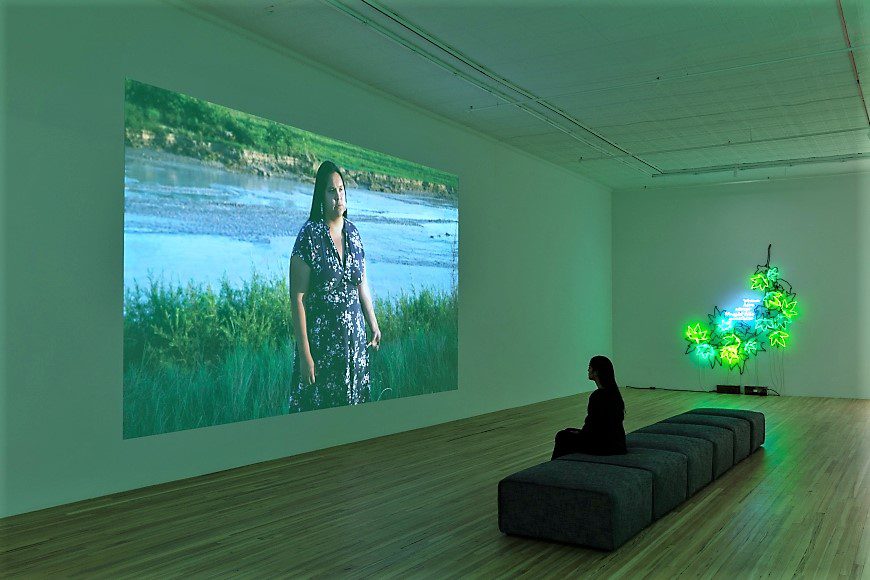 Bowers met Iron Eyes at the Oceti Sakowin camps that attracted international solidarity and provided grassroots backing for tribal lawsuits against the Dakota Access Pipeline in 2016-2017.
As one of thousands of campers who joined the Lakota-led resistance, Bowers agreed: "For the Standing Rock Tribe and surrounding communities, the pipeline was not only a threat to the region's drinking water and farm irrigation but was also a direct threat to ancient burial grounds and cultural sites of historic importance."
During her stay at the Standing Rock camps, she said, "I was moved by the activism of these young water protectors. One of them was Tokata Iron Eyes." She learned that Tokata means future in Lakota and that youth from Lakota communities were at the forefront of the movement to stop DAPL.
Since the movement's inception, Iron Eyes has been involved in trying to prevent the hazardous materials pipeline from crossing the Missouri River just upstream from her tribe's drinking water intake.
The 16-year-old from Standing Rock hosted global youth climate action leader Greta Thunberg when the Swedish teen visited Lakota Territory on her 2019 tour of Turtle Island.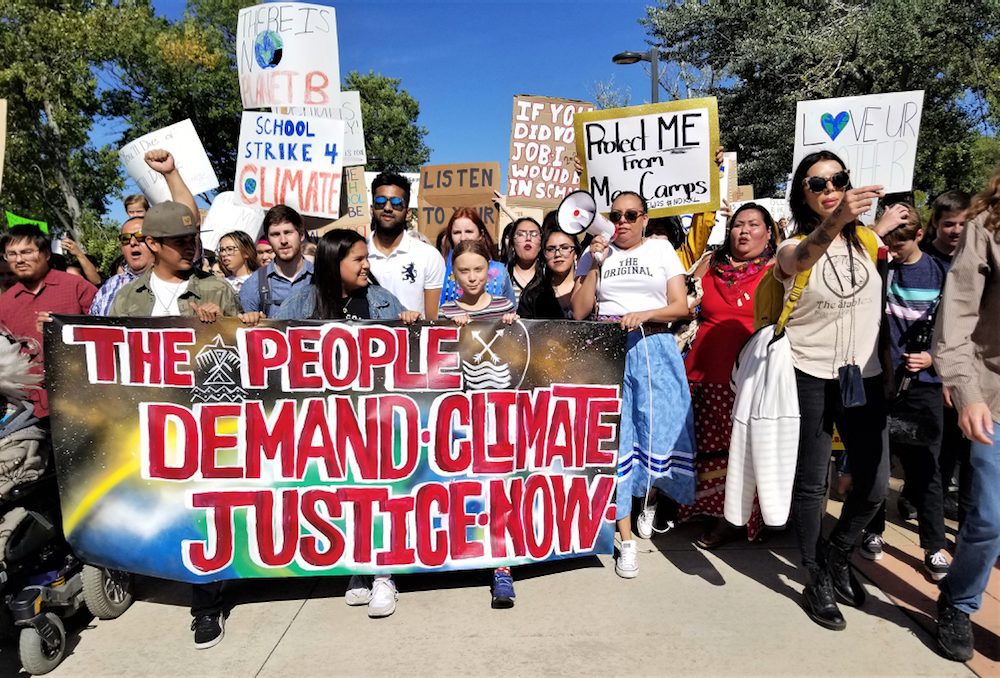 Bowers is a multimedia creator whose work is on exhibit in the collections at MoMA NY, The Whitney Museum, The Hirschhorn, MoCA LA, and German galleries.
She applied her media skills to direct the 51-minute indie picture show because "I believed along with thousands of other opponents of DAPL that the pipeline threatens sacred native lands and could contaminate the Missouri River—the longest river in North America," she explains.
After meeting Iron Eyes at camp, Bowers said she asked her "to show us some of her most sacred places in South Dakota.
"With a small group of friends – all artists and activists, we traveled together recording video interviews and landscape drone shots" while discussing their histories, as well as the personal and political issues that arose from being in these sacred sites, she relates in festival program notes.
"I want to thank Tokata Iron Eyes for graciously sharing some of her most sacred sites in South Dakota and for lending her voice, intelligence and joy to this film," Bowers says. "I can't wait to see the gifts she gives this world in the future."
"My Name Is Future" was edited by Lindsay Mofford and recorded by cinematographer Teena Pugliese.
It is among dozens of movies destined to attract attention this season at the local non-profit festival providing films from the world over and specializing in titles of particular interest to the Black Hills viewing public, including many films with indigenous and environmental justice themes.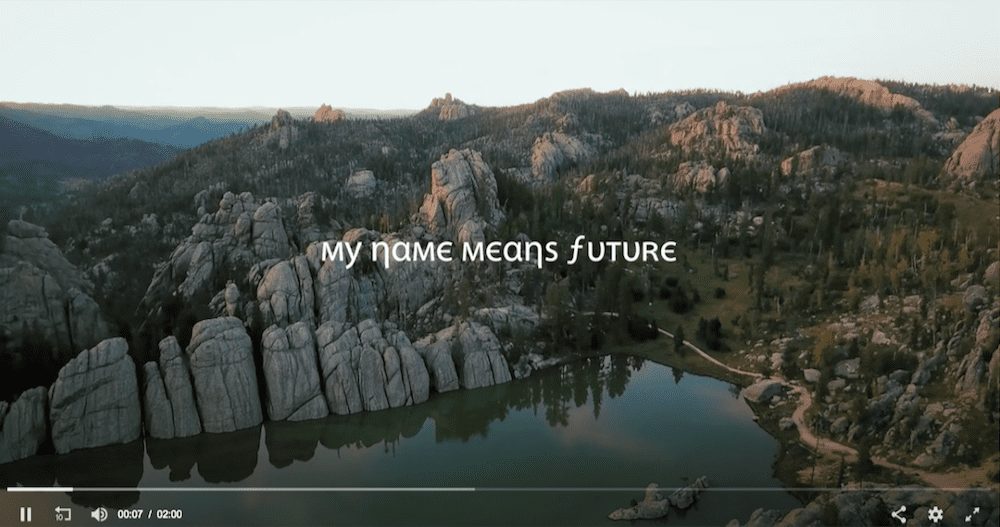 Titles are easily accessible with the festival's first-ever all-virtual format. Tickets are available online at $9.99 for this or any other single release on the festival program.
Gift certificates, day passes, and full festival passes also are available through the internet. Films will display on your TV, computer, or mobile phone. Bonus viewing extends to March 1 for "all-access" pass holders.
Seminars and discussions, such as the "Activism Discussion," are included in their own carousel and can be viewed anytime during the festival for anyone who has a login.
The event, which runs through Feb. 25, pays a tribute to Cheyenne River Sioux tribal member, performer, and festival mainstay Barry LeBeau, who was master of ceremonies for screenings and film discussions held at theaters in communities throughout the Black Hills during the festival's previous 11 seasons.
LeBeau passed away unexpectedly at age 69 in late March of 2020.
Now, with the novel coronavirus pandemic encouraging moviegoers to stay home and make their own popcorn while watching shows, a business called Film Festival Flix is stepping up to provide a digital master-of-ceremonies function with a platform introducing the offerings for the Black Hills Film Festival online.
LeBeau was known as an actor, a voice talent, a narrator and an announcer for the South Dakota Symphony's Lakota Music Project, a tribal relations consultant, as well as an Indian affairs and arts lobbyist.
LeBeau played the protagonist in the 1999 creative release "Yes I am Not Iktomi." In it, he wears a coyote mask to portray Trickster for the half-hour blend of legend and satire. Filmed in the Black Hills, it includes a deconstruction of Mt. Rushmore through filmic special effects.
He was the first member of the Black Hills Film Festival board of directors after the festival's creation by its three founders in 2009. He served several terms as president and secretary, as well as 11 years in the capacity of master of ceremonies.
"Barry, we will miss your dedication, sense of humor, big voice and hearty laugh," his colleagues say in a message shared with festival fans.
The song "Between Earth and Sky" accompanies his homage, thanks to Ojibwe-Tohono O'odham musician Darren Thompson, who recorded the original composition and played it on an 800-year-old Native Pueblo flute made of western cedar.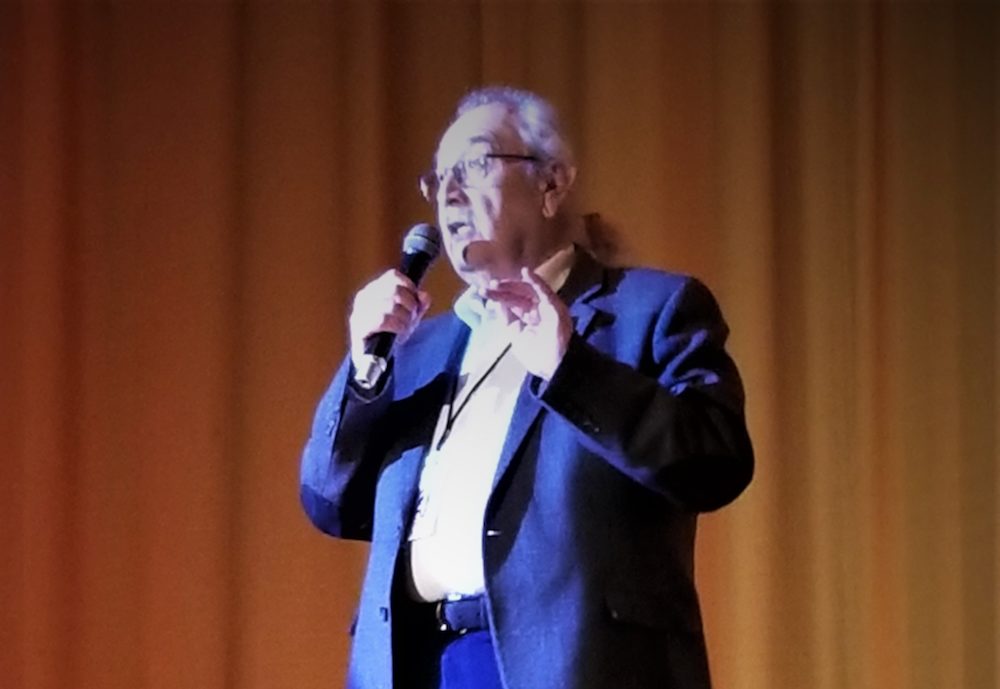 During the festival, a 48-minute presentation of "7th Generation" will examine how Oglala Lakota tribal member, advocate and educator Jim Warne helps tribal nations find ways to succeed in the contemporary American system and remain Indian at heart.
Also filmed in South Dakota, this award-winning feature documentary covers generations of history. It addresses past and current perspectives gleaned from elders and community members, focusing on a positive future for youth – the seventh generation.
A Native American Short Program, underwritten by The Puffin Foundation Ltd., will provide more than an hour of viewing that covers "She Carries On" – directed by Isaac Fowler and Tim Morris, and produced by Natalie Welch and Nick Geidner; "Little Wolf: The Night Trail" – written and animated by Jesse Cowan; "Whiteface" – written by Todd Houseman, Lady Vanessa Cardona, Everett Sokol, and Sam Burns, and directed by Everett Sokol; "The Lakota Daughters" – written and directed by Victoria Kupchinetsky; and "Hop Along Hang On" – written and directed by Cobra Collins, and produced by Xstine Cook.
The festival is presented thanks to support from South Dakota Community Foundation, South Dakota Arts Council, and Hill City Chamber of Commerce. Supporting sponsors are the HomeSlice Group, KEVN and KOTA. Hill City Arts Council provides additional backing, and Stu Fromm underwrites the inclusion of South Dakota films.
Talli Nauman is Lakota Country Correspondent for The Esperanza Project. She is a longtime Americas Program collaborator and columnist, a founder and co-director of Journalism to Raise Environmental Awareness, and Health and Environment Editor for Native Sun News Today. She can be reached at talli.nauman(at)gmail.com.
This story was reported and produced with the generous support of the One Foundation.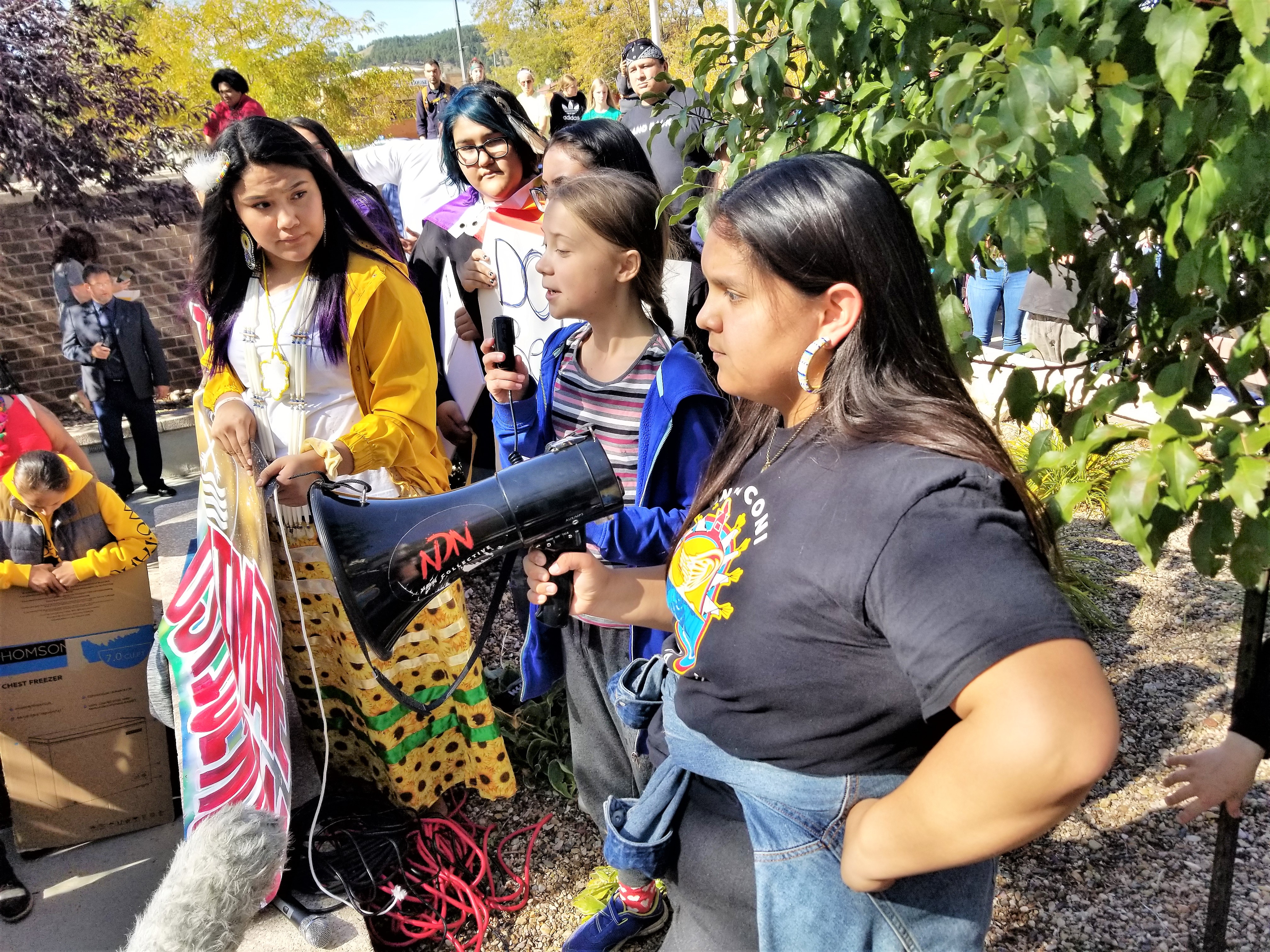 Andrea Bowers Barry LeBeau Black Hills Film Festival Greta Thunberg Tokata Iron Eyes