Story and original photos by Eric Warren, Jessica Plance, Angel Amaya and Talli Nauman
BEMIDJI, Minnesota — Massive direct actions to stop Line 3 tar-sands crude-oil pipeline construction here in Native Anishinaabe ancestral territory launched a weeklong Treaty People Gathering on June 7. Attracting an estimated 2,000 participants, the occasion was "the beginning of a summer of resistance," according to Indigenous-led groups, communities of faith, and climate justice organizations hosting it.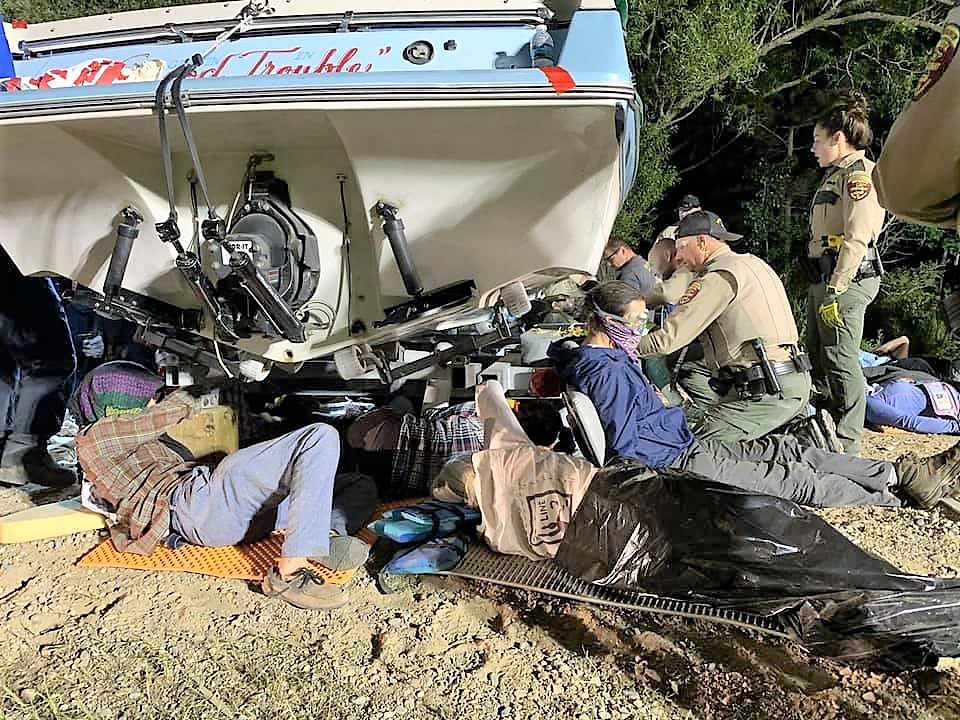 In one of the first of numerous actions, upwards of 1,000 self-proclaimed water protectors marched to a bridge near the Mississippi Headwaters where the largest watershed in North America and fourth-largest in the world begins as little more than a stream. Dragonflies filled the air, gliding over the surface of the water where its course is less than 10 feet wide. Indigenous Environmental Network Executive Director, Tom Goldtooth, a Gandhi Peace Award recipient, spoke softly, but forcefully, into a megaphone. He was reminding the gathered people why they were here:
[smartslider3 slider="2″]
Moments from a Morning of Action — Slide Show
Just 100 yards down one of the most important waterways in the world is a drill pad where Enbridge Energy Inc., a Canadian multinational energy corporation, plans to begin boring not one, but two, tunnels to lay pipeline under the Mississippi River. At the front of the assembled group of demonstrators, hundreds of young activists walked united in the fight to protect precious waterways. Chants rang out from the crowd, "Water is life!" Dozens of protestors carried a large, winding effigy of the pipeline as the "black snake" that they seek to slay.
"I am here fighting for my children and my grandchildren—for when they come here for clean water," said Silas Neeland from White Earth Nation. "Our elders are going to get sick of fighting, so we need to step up. And where we're from, we have a thing called wild rice. It's one of our important foods, and the pipeline is 13 miles away, which is very bad, because the wild rice grows in the water. So, if that pipeline contaminated it (the water), we can never have wild rice ever again from it." Neeland is one of many young people who are fighting for generations that don't yet exist.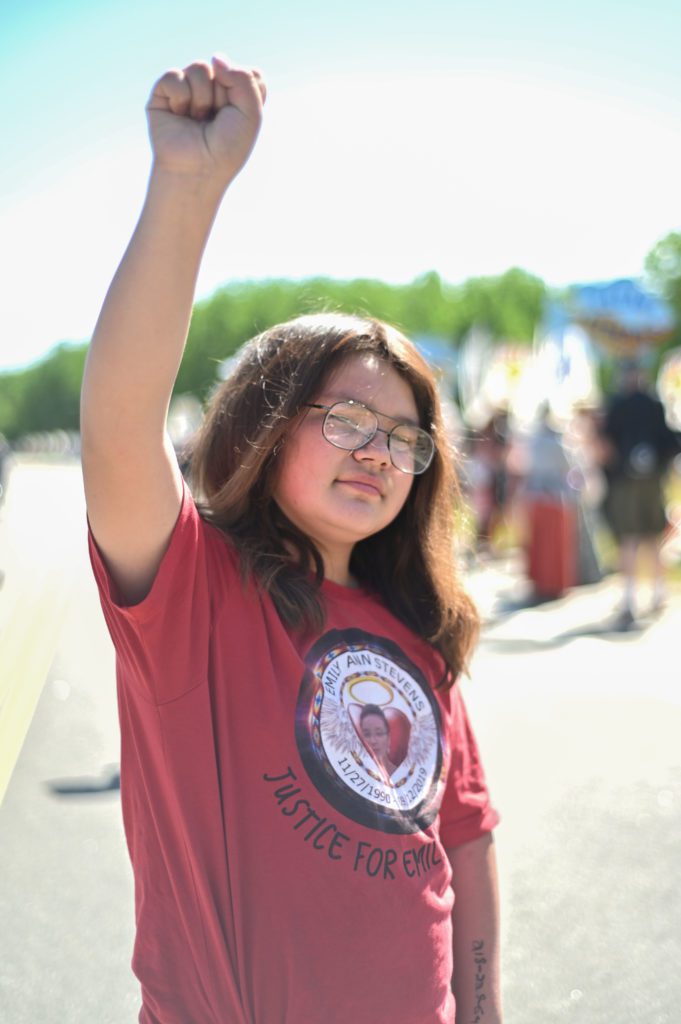 The Treaty People Gathering brought young and old from across the continent to resist the construction of the Line 3 replacement, which could carry tar-sands crude-oil from western Canada through the Anishinaabe lands of Minnesota to a shipping terminal in Wisconsin. The oil would then be shipped to refineries and abroad. Indigenous-led resistance seeking to stop the project resulted in more than 200 people arrested at various direct action events in the six months leading up to the Treaty People Gathering. On the first day of the mobilization, timed to coincide with summertime construction startup, more than 100 more submitted to arrest at a Line 3 pump station site they shut down.
The action at Two Inlets pump station opened at 8 a.m. with an estimated 500 supporters. They blockaded the entrance with a boat and pried up platforms meant to park heavy equipment. They converted station materials into a barricade, locked themselves to machinery, and pitched tents. By midday, 250 people remained at the site with 24 locked down, according to Giniw Collective, which describes itself as an Indigenous women, two-spirit-led frontline land defense group.
Joining Anishinaabe grassroots leaders Winona LaDuke and Tara Houska to make statements on-site were Jane Fonda, Catherine Keener, Rosanna Arquette, Taylor Shilling, Siihasin Senior, and Big Wind.
After a 12-hour occupation of the facility, dozens of county sheriff's deputies arrived with sidearms, helmets and night sticks.  They ordered pipeline fighters to disband. A few hours later, they arrested and zip-tied the front liners, for later booking and release. Most face charges of unlawful assembly.
A few hours later, they arrested and zip-tied the front liners, for later booking and release.
However, the next day officers found more water protectors locked to the boat. Removing them nearly doubled the arrest toll at the site to almost 200 within 29 hours, Giniw Collective calculated. Water protectors reported injuries from sound cannons and helicopter dust wash.
"Throughout the blockade of the pump station, police escalated tactics," it said in a media release. "Initially, law enforcement attempted to disrupt water protectors via a Department of Homeland Security helicopter flying at an unlawful height to kick dust and rocks into people's faces." Officers later deployed a Long Range Acoustic Device, or LRAD, without warning, the group said in a media release.
Participants in an earlier Indigenous-led gathering to stop a different oil pipeline from endangering sensitive water sources recalled being harassed by LRADs. The Treaty People Gathering has the feel and energy of that 2016 mobilization, when Indigenous treaty rights advocates and activists from all over the world rallied against the Dakota Access Pipeline on the Missouri River banks in North Dakota.
The fight against DAPL at Standing Rock galvanized the movement of water protectors.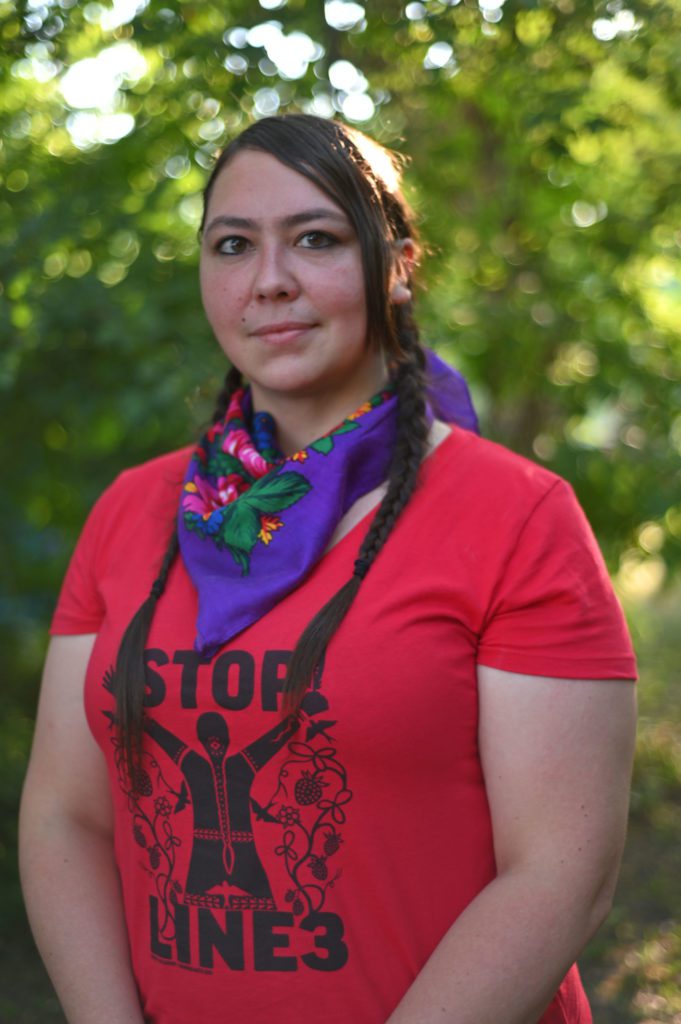 "Standing Rock has impacted movements today by showing us that we can get together and we can fight," said Gina Peltier, an Anishinaabe member of the Turtle Mountain Band of Chippewa. Peltier was on the ground at Standing Rock and said she saw brutality committed by the police and Energy Transfer Partners' private security forces. "What I saw is all these powerful people, unarmed non-violent people, standing against dogs that wanted to bite them, standing against rubber bullets, standing against mace, and the water cannons. People got back up, and they went back in to stand their ground. It showed what we needed to do, and that it can be done non-violently."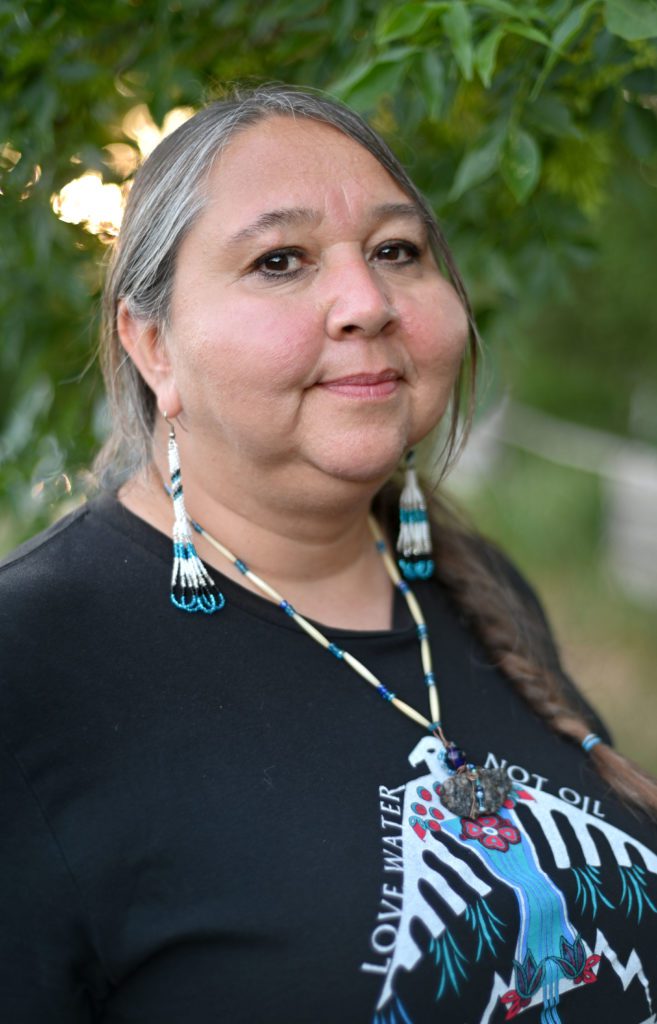 "Because of Standing Rock, many, many people were awakened and now know that we all need water to survive," said organizer Gaagigeyaashiik–Dawn Goodwin of the Minnesota Chippewa Tribe and enrolled member of the White Earth Nation. While reflecting on some of the positives that came from the Standing Rock demonstration, she said, "That has continued to awaken many and has carried over through those years and to this moment here today."
Since the Standing Rock demonstrations, the call to unify and fight to protect water has gained worldwide support. When the Minnesota Department of Natural Resources, DNR, asked for comments during the permitting process for Line 3, 94 percent of respondents opposed it. When the state granted the permits anyway, it set the stage for a new battle.
"I was devastated when I heard that the permits for Line 3 had been approved because I knew the fight was starting, Peltier said. "The dangerous work was going to have to start, and I knew that people were going to have to start putting their lives on the line for this."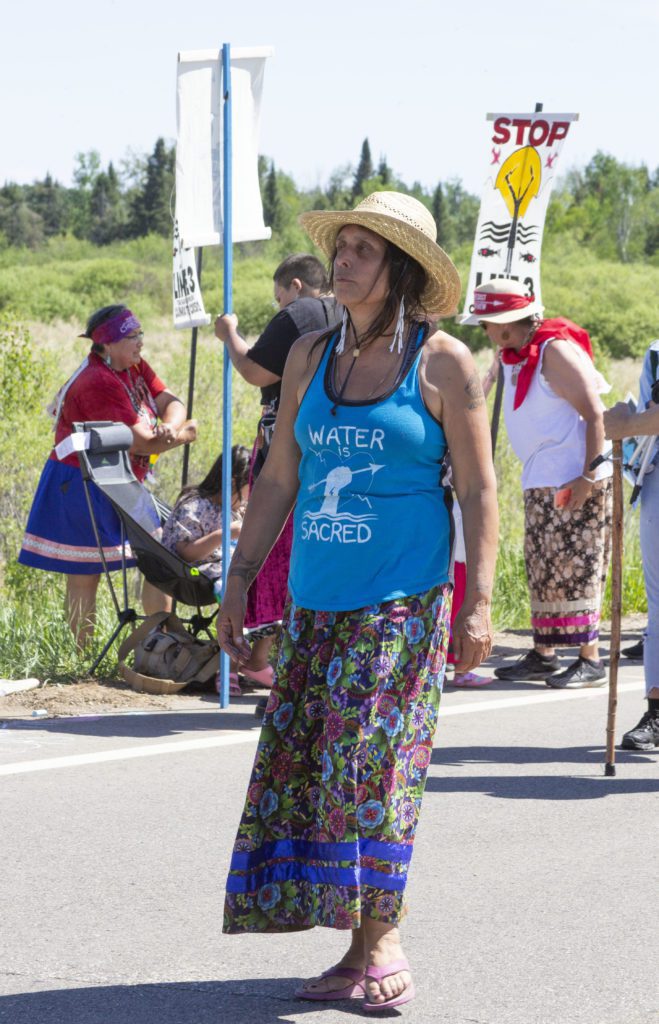 "This is a public-land giveaway," said LaDuke, executive director of Honor the Earth. "But more than a giveaway of the land to the Enbridge corporation, they've given away the water." DNR has permitted Enbridge Energy Inc. to drain 630 million gallons of water from wetlands and use other surface flows. "Interesting that you can get a permit to do such," she told The Esperanza Project.
The DNR has given away the water in a time of unprecedented drought. "Last year, Minnesota experienced the worst drought in its history," said LaDuke. "This year is on track to be worse, yet." With droughts an ever more common part of climate change, the water that the Anishinaabe people rely on for drinking, traditional harvests, and lifeways is in jeopardy. Everyone at the mobilization is aware that consequences of dewatering and toxic oil spills could be devastating for future generations.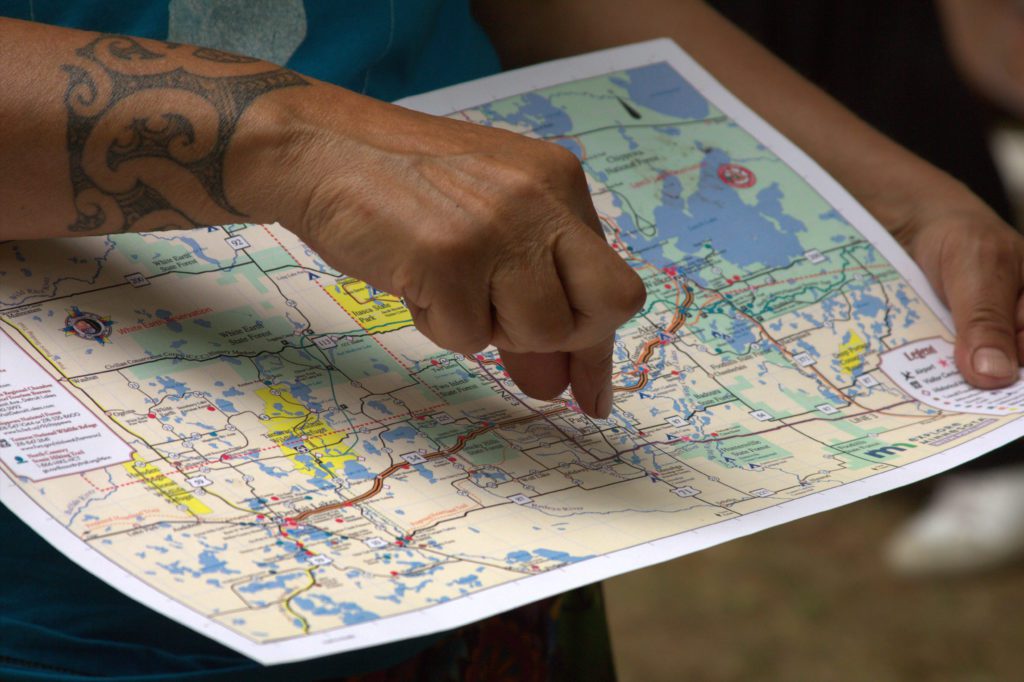 Enbridge pipelines have a history of oil spills in the hundreds. In 1991, the original Line 3 pipeline spilled 1.7 million gallons of oil near Grand Rapids, Minnesota. Its Line 6B rupture flushed another million or so gallons into Michigan's Kalamazoo River in 2010. These are the largest inland oil spills in the United States' history.
The likelihood that the Mississippi River could be similarly spoiled is a threat that's young people think worth confronting. Many are facing their fears and stepping up to protect their rights.
"It's really scary to be out there, especially in this type of work. To put yourself out there like this and put the truth out there with these types of businesses, because people will possibly target you and your family," Peltier said. "So, it's very scary, but also empowering. People are actually listening to you. That's what keeps me going. It's like, okay, yes, let's do this."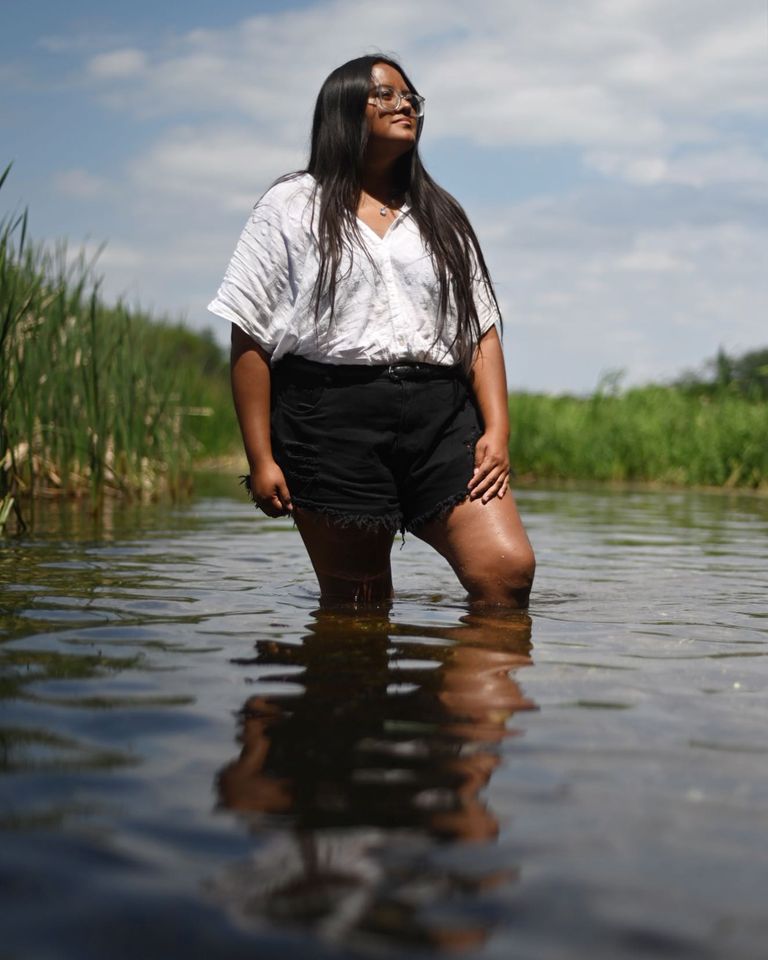 The role of women in leadership among water protectors is notable throughout the numerous prayer camps perched on the Line 3 route, as it was at Standing Rock. A co-founder of the RISE Coalition, Goodwin noted, "Women are the water carriers. The children are born from water. I am here to protect water. Water is everything. So, we need to protect all, the full circle of life."