DEADWOOD, South Dakota – Descendants of both the original residents and the settlers of the Great Plains brought their experience and philosophies to bear on contemporary challenges of race relations at the 28th West River History Conference Oct. 8-10, here in the heart of ancestral Lakota Territory.
"Hope is the only thing that ties us all together," former Black Hills State University American Indian Studies Professor Jace DeCory said in her presentation entitled "Words of Wisdom from Lakota Elders."
A Cheyenne River Sioux tribal member, DeCory shared concepts encompassed in Lakota language that have helped people stay alive and have helped a culture to survive — vocabulary every bit as relevant in this pandemic period as in past times of trouble.
"Wise words are what I call them, the 'w' words; they help us to heal, as our people have gone through a lot," she said. She proceeded to explain the terms wolakota, wotakuye, wicozani, wokicunze, wicoh'an, wiconi, wicoyake and wokiksuye.
"We lived in balance and harmony – wolakota – with good hearts, good minds, good bodies," she said. "Advice from the elders helped the tiospaye (extended family) stay emotionally strong."
DeCory is a participant in the WoLakota Project, a partnership between Technology and Innovation in Education and the South Dakota Department of Education that aims to improve learning opportunities for all the state's students, Native and Non-Native.
"With the decimation of the buffalo, really on purpose, it almost exterminated us," she related. From its once vast herds, the American bison population was reduced to only about 1,000 head. "We almost lost this wonderful, beautiful animal. It almost caused ethnic genocide," DeCory lamented.
However, with careful reintroduction, "the buffalo remains our relative," she noted.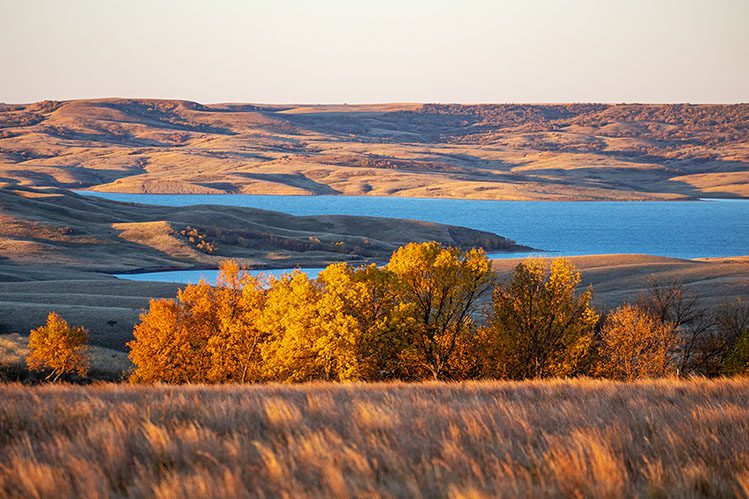 By the same token, she said, "We lived through diseases, such as smallpox." Boarding schools, with devotion to the cause of cultural collapse, cut children's hair to "so we could be assimilated; it was taking our identity. Hair holds our memories; that's why we only trim it in mourning," she said.
"We also survived confinement," in the form of being bounded by reservations, she said, recalling the need to learn farming and ranching skills to supplement the "survival mechanisms" of gathering berries and digging timpsila.
Through it all, storytelling, humor, meditation, prayer, and ritual have provided "coping mechanisms." Natural herbal remedies and traditional recipes have supported daily health. More than a few lessons were handed down between generations:
"Knowing when to listen more and talk less is associated with being courageous and having the fortitude to deal with whatever is put in front of you.
"It's important to find your niche. All of us were given gifts. There's no accident that we are here. The Creator puts us where we're supposed to be.
"Put responsibility and respect above riches and rights. Look inside yourself each day. Share your knowledge. Be the change.
"Always give thanks for the water and that Tunkasila has given us a life.
"We should be kind to one another and try not to berate or denigrate but choose to hold people up."
Conference presenter Bernie Hunhoff, publisher and editor of South Dakota Magazine, emphasized the same theme of hope in remarks related to his topic, "How South Dakota Magazine has explored the issues of race relations over the past 35 years."
"We've really tried to find Native Americans to tell their own stories about the two cultures and how they can find common ground. I hope our magazine has helped," he said.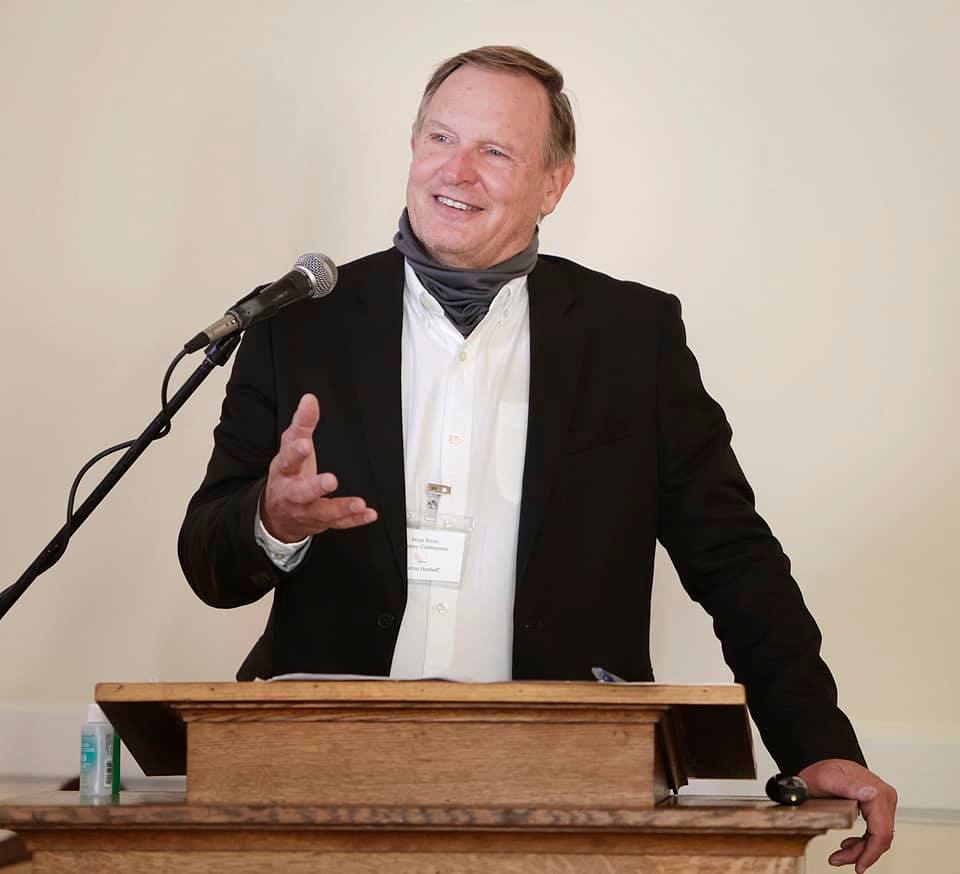 A former lawmaker in the South Dakota State Legislature, Hunhoff said that too many politicians at the state and federal levels are "slipping away" from the task of finding common ground. "If we can't get back to that, I fear for our nation," he said. "I'm not confident our politicians are going to do it," he added.
"In the 1990s, when I was first in the legislature, I used to be able to say, 'Pierre is different from Washington,'" he said, contrasting the state and federal capitals. "Everybody was still trying to find common ground. That's really gone south.
"We're going to have to expect more of our politicians," he declared. "They are pretty much in debt to big money. Our politicians have to be leaders and teachers."
Meanwhile, he said, "I have nothing but hope for America because of the decency of people like those of South Dakota.
"You learn the most from people who are different from you," he said, recalling fellow legislator Paul Valandra, a Native American representing the Indian reservation counties of Bennett, Shannon, and Todd.
Year after year, Valandra would push unsuccessfully for a bill to provide state money for the cost of educating non-tribal students attending tribally run colleges, Hunhoff recounted. Finally, one year, a majority of legislators pledged they would vote in favor of the proposal.
Hunhoff backed it. "I don't know of any politician who shouldn't make poverty on our reservation the No. 1 issue, and it doesn't even get lip service," he said, noting that four of the poorest counties in the nation are on South Dakota reservations.
However, one of the legislators did not keep the promise to vote for the tribal college money, and the bill failed. This infuriated Hunhoff and colleagues, who vowed to retaliate by voting down another bill sponsored by the lawmaker who opposed theirs.
Valandra, much to Hunhoff's surprise, said not to kill the next bill. "You cannot go any faster than the last cow in the herd," Hunhoff remembers Valandra saying.
"That kind of patience and that long view that many of our Native American neighbors have" should be a lesson for everyone, Hunhoff concluded.
Asked by an audience member if he thought the day would come when non-Indians would greet Indians in native language, Hunhoff responded, "There's so much more that needs to be done before we get to that step. We have a responsibility to friends and relatives on the reservations, where the people have so many very dire things that require a solution for extreme poverty."
West River History Conference Board of Directors President Peg Aplan recalled how her late husband and business partner at the Tilford-based Antiques & Art, Jim Aplan, insisted "if you were a Native American, when you came into our home, he spoke your language."
Peg Aplan received the most prestigious of the West River History Conference annual awards, the 2020 Herb Blakely Award, named after the conference founder.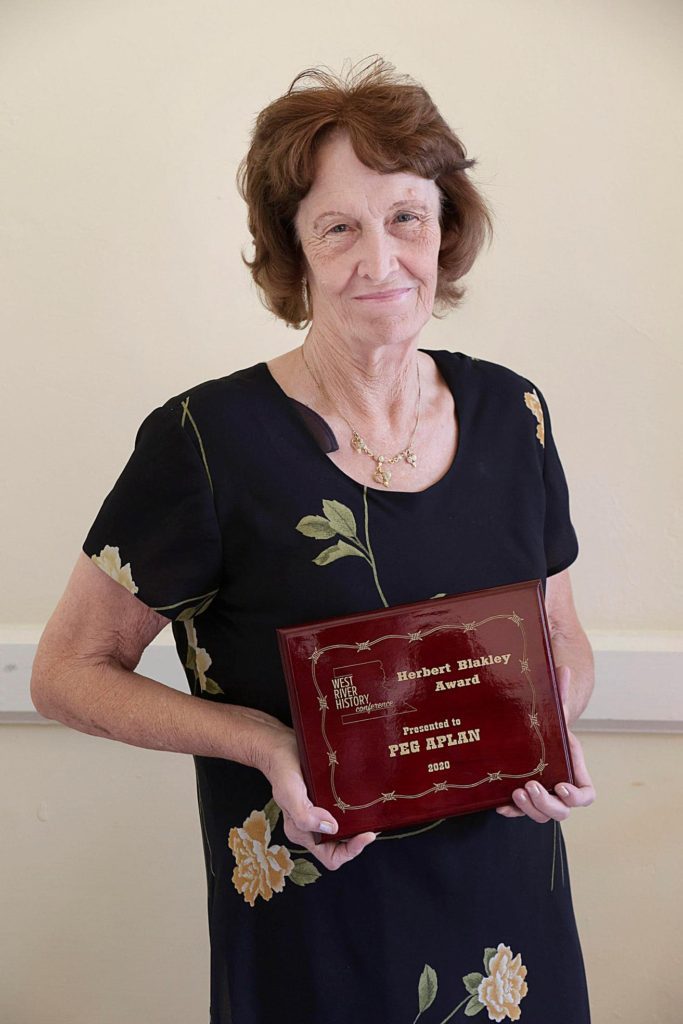 Peg had shared with Jim the "Individual Award" at the 2013 South Dakota Governor's Awards for History, a telltale emblem of their close career association in the antiquities business.
Now, decades after Jim hired her as the secretary and girl Friday for their business, she is the sole proprietor, with certification as a member of Antique Appraisal Association of the Americas rooted in her penchant for finding and evaluating rare books.
Conference Executive Director Laura Hovey Neubert thanked the dozens of presenters for having "sent a message of forbearance and tolerance for one another." She echoed DeCory's phrase: "Mitakuye Oyasin – We are all related."
She noted that the participants of the conference "work together to archive historical happenings as a path to the future. We feel we are a hub where small historical organizations throughout the region can reach out to one another and network."The painstakingly restored Victorian-era Martin and Mason Hotel was the setting for conference activities, also made available online in real time to the public. Sponsors and more information can be found at https://www.westriverhistoryconference.org/2020-theme
Talli Nauman is Lakota Country Correspondent for The Esperanza Project. She is a longtime Americas Program collaborator and columnist, a founder and co-director of Journalism to Raise Environmental Awareness, and Health and Environment Editor for Native Sun News Today. She can be reached at talli.nauman(at)gmail.com.
An earlier version of this story previously appeared in Native Sun News Today.
Bernie Hunhoff Jace DeCory native americans Paul Valandra Peg Aplan race relations West River History Conference