GUADALAJARA, Jalisco, Mexico — Yesterday I went to the papelería around the corner, owned by my neighbor Alejandra, to pick up a few office supplies. "How are you going to celebrate Día de Acción de Gracias?" she inquired, using the Spanish word for our uniquely United Statesian holiday.
I hadn't thought about it, really. There will probably be phone calls with family, I told her – maybe even video chats – but beyond that, it will be just another day in Barrio Analco, trying to get caught up on my workload.
But as she tallied up my purchases — standard papelería fare, four ink pens and a small notebook with a colorful cover – I reflected a bit more. My feelings about Thanksgiving run deep, as they do for anyone who has familiarized themselves with the true history of the holiday, or with the history in general of the subjugation of the original peoples of this continent, for which Thanksgiving has come to serve as a bitter reminder. Yet every day is an opportunity to make our peace with that reality, while pushing hard against it.
Giving thanks is never a bad idea. And as it turns out, there is much to be thankful for this year, as there is every year. And every day, and every moment. And focusing on those things, even and especially in the face of great uncertainty, is one of the healthiest things that we can do.
Last night I had a long-overdue reunion with my beautiful indigenous Wixárika goddaughter, Yamina, and we went to see the premiere of "La Vocera," the story of Mexico's first (and only) indigenous woman presidential candidate, Maria de Jesus Patricio Martínez. It was an amazingly beautiful film, and the presentation made the more poignant by all the efforts made by the Festival Internacional de Cine en Guadalajara (FICG) to make it safe – outdoor screening, social distancing, mask mandates. Seeing this inspiring story playing out on the big screen – especially meaningful in the company of Yamina, and the first movie I've seen in public since this pandemic began – gave me yet another reason to feel thankful. Witnessing the rise of Indigenous women (and men) throughout the continent – and that of women of color, and women in general – has been a great source of inspiration and hope in these times.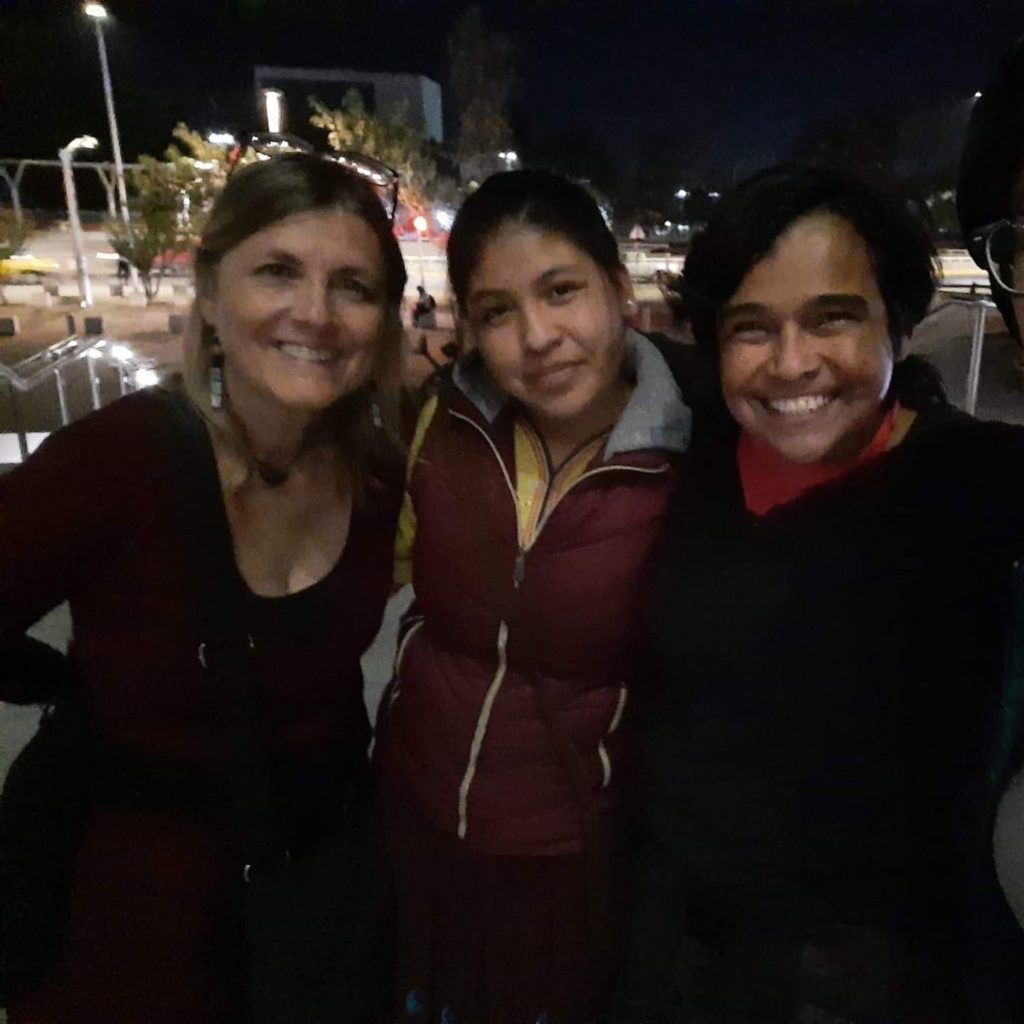 Here's what I'm thankful for as I look around me at this moment in time, at this miracle we call life.
I give thanks that a majority of people in my mother country, the United States, have spoken, and delivered a resounding "no" to the steady escalation of neofascism, white supremacy, climate denialism and environmental destruction that was represented by the leadership of the past four years. Clearly Joe Biden has his limitations and whether he has the vision or the wherewithal to lead us through the multiple cascading crises that face us in the years ahead, remains to be seen. But at least he has expressed an intention to turn the ship around and head in a better direction — one of healing our toxically divided nation — and those words come as an enormous relief.
I also give thanks for the Wisdom Keepers. Those who have shared their insights with me and with us, collectively over the years, who have made it their life's work to show us the way, to show us what is needed to truly live well and in harmony with this living planet. People like my mother, who taught me the vital importance of a true and central relationship with the Divine – in her words, God; in my words, Great Spirit, Creator, Divine Light, Mother-Father God, however they may manifest, Let the Mystery Be, and Blessed Be.
People like Cheryl Angel, who taught me that activism at its best is a fundamentally spiritual endeavor. Like LaDonna Brave Bull Allard, who reminded me of the powerful capacity of the Earth to heal us. Like Lyla June Johnston, who taught me that sovereignty takes forms I could never have imagined, and that the very best farm is the forest.
I give thanks to the Defenders. People like Jodi Goodwin and Jenn Budd, Brendon Tucker and Jennifer Harbury, who have dedicated their lives to those who have been thrown under a fast-moving train by the likes of the outgoing administration (and previous administrations from both parties, just less catastrophically), particularly the mothers and fathers and children fighting for a better life and freedom from violence, otherwise known as asylum seekers.
Or Land and Water Protectors, like Homero Gómez González, who gave his life defending El Rosario Monarch Butterfly Reserve of Michoacán, Mexico, and Berta Cáceres, who gave her life defending the sacred river of her people from a hydroelectric dam; Guadalupe Lara, who stood up to the government and lost everything she owned, but saved the Santiago River and the spectacular Barranca de Huentitan of Guadalajara; and the women and men building alliances throughout the Americas to fight climate crisis and the destruction of the natural world, as depicted in the epic climate justice film, The Condor & The Eagle.
And also, not to forget those on the frontlines, today and every day, in the hospitals across the world, risking their own lives in the fight against Covid. May their labor be recognized and appreciated by the rest of us; we can do our part by taking the measures necessary to minimize the spread of this pandemic. Nine months in, many are feeling it's time to take back the normalcy we so badly crave. But with winter upon us, at least those of us in the Northern Hemisphere, this is the time of greatest danger, and those frontline heroes are asking us to wait a bit longer. The spring will come, and with it the joy of being alive, and ready for a whole new adventure.
Let's give a few moments of this day for gratitude – that most noble of emotions. No, more than a few moments. Let's walk in gratitude all day long, and make it our daily practice. We have our health, we have our loved ones, and we are possessors of a miracle beyond comprehension: Life Force Energy. Regardless of all the rest, it's more than enough. Let's rededicate ourselves today to finding the best ways to move forward in a good way, toward a world that nurtures the good in each of us, and our bond with this beautiful living planet.
Giving thanks for you, dear readers. Blessings on your day.