A crisis facing Mexican corn farmers emerged decades ago as corporate giant Monsanto pushed to get the country to use its GMO corn seed. As a result, a movement was spawned to prevent industrial agriculture from threatening the sustainability of thousands of years of farming tradition. In February, we visited Oaxaca to report on an important meeting to address the crisis, and followed a troupe of artists who were hard at work on making some theatre art for the cause. This special report by Chris Lowry, with photography by Whitney Smith, originally appeared in The Journal of Wild Culture.
We are in the cathedral plaza — also called the zócalo — the spiritual and recreational centre of the town and region of Oaxaca, Mexico. It is a magnet for families, hustlers, and gringo travellers. Small, stout ladies, nestled among their blowup animals and gaudy helium balloons, beckon passers-by to make a sale. Here around la catedral and the palm trees and gardens and low sheltered café terraces is the flow of conviviality and commerce. It is also a place for the renewal of bone-weary souls.
I came here twenty years ago when my two sons, 4 and 6, were drawn to it like excited bees to an exotic garden. But this trip is different. The kids are grown, pursuing their own trajectories, and I am here with my old friend and wild culturist, Whitney Smith. We know that later in the week there will be a street performance and a ceremonial procession, a spectacle with acrobats and a colloquium. We're not sure what to expect, but we like it that way. The precious tolerance for ambiguity is a muscle that needs to be exercised.
HE MADE A VOW TO LIGHT A CEREMONIAL FIRE EVERY DAY FOR A YEAR.
The friend who invited us here is Chris Wells, a community animator, singer-songwriter, poet and farmer. He is known internationally for his work in the tradition of socio-political performance art with huge puppets. His organization, the All Species Project, is similar to many pageantry theatre companies around the world; a very short list would include Bread and Puppet Theatre in Vermont, Welfare State International in the UK, Shadowland Theatre in Toronto (co-founded by Whitney), and Wise Fool in New Mexico, whose co-founder, Amy Christian, has joined this week's event as a lead puppeteer.
These companies go into small communities and teach people how to make giant figures out of papier maché, how to walk and dance on stilts, how to play horns and drums — whatever is needed to tell brave stories through outdoor performance. With the All Species Project, Chris Wells has done that all his life. And here he is today in the mid-seventies, doing it again. He calls it 're-enchanting the world.'
The reason that Wells and his troupe have gathered here is to organize a full day of events called 'Milpa Mexico: Tradicion, Ciencia y Futuro' (Mexican Cornfield: Tradition, Science and Future). The purpose of it all is to promote the defence of traditional corn farming threatened by agriculture industrialization, a topic of great importance and urgency to the farmers in Oaxaca.
We join Chris and the members of his current tribe in the courtyard of their hotel. They have just finished a long day of work — building puppets, painting fabric and sewing costumes, honing logistics. The team are all artists and craftspeople and raconteurs of one kind or another, and they are clearly united in their passions. The inexpensive but commodious hotel, the Posada del Marques (the Marquis, or nobleman, being Hernán Cortés), is giving them rooms at a discounted rate, partly because a young painter from Santa Fé, New Mexico, Mariel Rose García, is tasked with painting a mural of a lush traditional Mexican cornfield in all its polycultural glory on a wall beside by the pool.
As the guitars and mezcal are passed around, songs in English and Spanish fill the air of the courtyard.

José 'Pepe' Azcona is an elder Oaxacan artist who supervises the making of the larger-than-life figures for the procession. He focuses, delightedly, as we play some American standards by Gershwin and Porter.
"No hablo ingles," he says. "Escucho con mi corazón." (I listen with my heart.)
A thoughtful and gentle young man in his thirties, Ibrahim, also from Santa Fe, is off in a corner practising the art of traditional fire-making, without matches. Recently he made a vow to light a ceremonial fire every day for a year.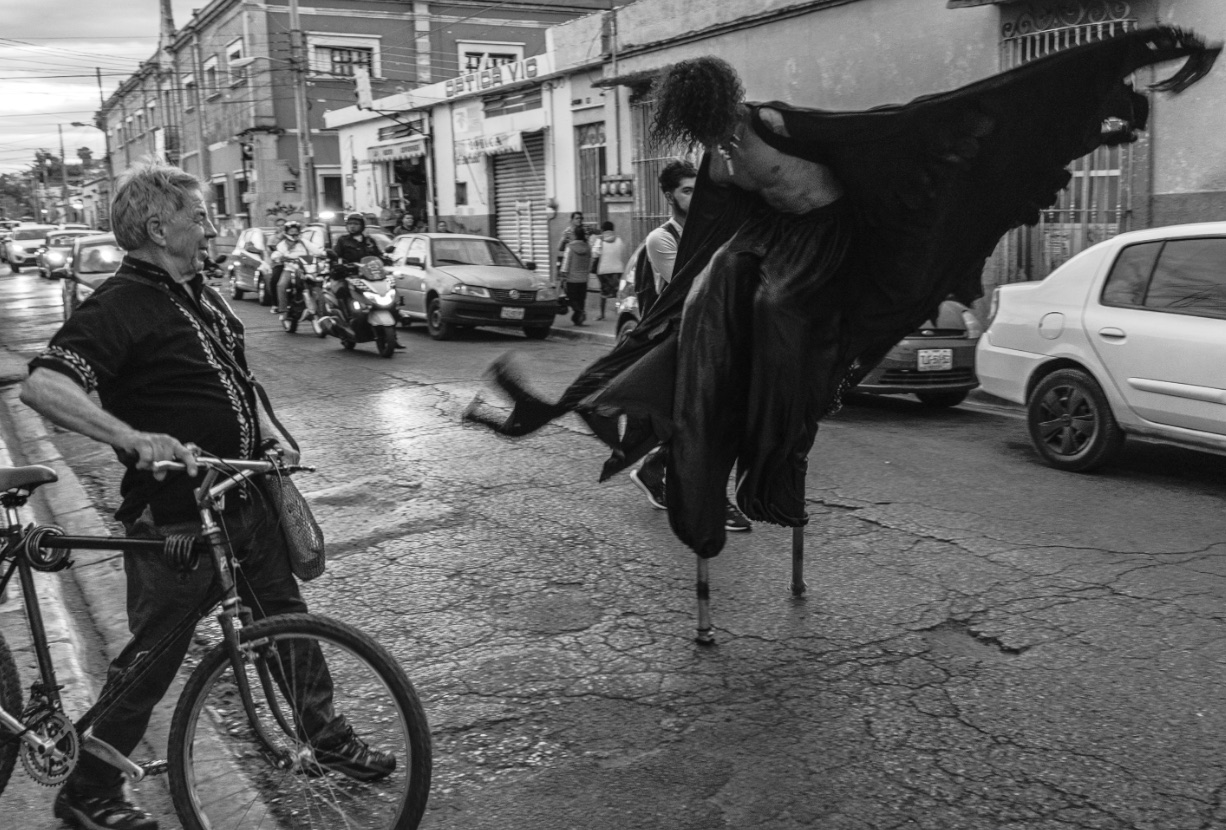 The night rolls on painlessly. Roasted tamales and fresh corn tortillas appear magically on the table beside the beer and small glasses of mezcal. Tracy Barnett, an American journalist living in Mexico whose website, The Esperanza Project, "gives voice to those who are building a better world", picks up a guitar and begins singing a haunting melody. It's a ranchera ballad called 'La Llorona', the weeping woman, a dark folk tale full of vivid images. I resolve to learn it. While the song fills the air, Ibrahim comes forward to light a fire. Putting wood shavings into a stone bowl, he spins a piece of wooden dowel attached to a string. When the friction of the dowel gets hot enough, the shavings catch fire. He will do this again tomorrow evening in front of hundreds of people in the city's amphitheatre, following the procession through the streets.
I feel a bit like Spock among Earthlings, carrying my alien culture and political perspective from El Norte with care and respect. Regardless of what your job is here, there is mutual recognition of a common cause: an ecological way of being. It intrigues and moves me that these people are expressing this shared vision by making things by hand and participating in a theatre for the citizens of the town without expectation of reward.
This is their way of defending the way of life of small farmers, and advocating for the protection of native corn from contamination by genetically modified varieties (GMOs). The story of corn is a very long one. The central valley of Oaxaca is one of the places that corn first flourished 6,000 years ago, carefully cultivated in a very selective way by Mesoamerican farmers from a grass called téosinte.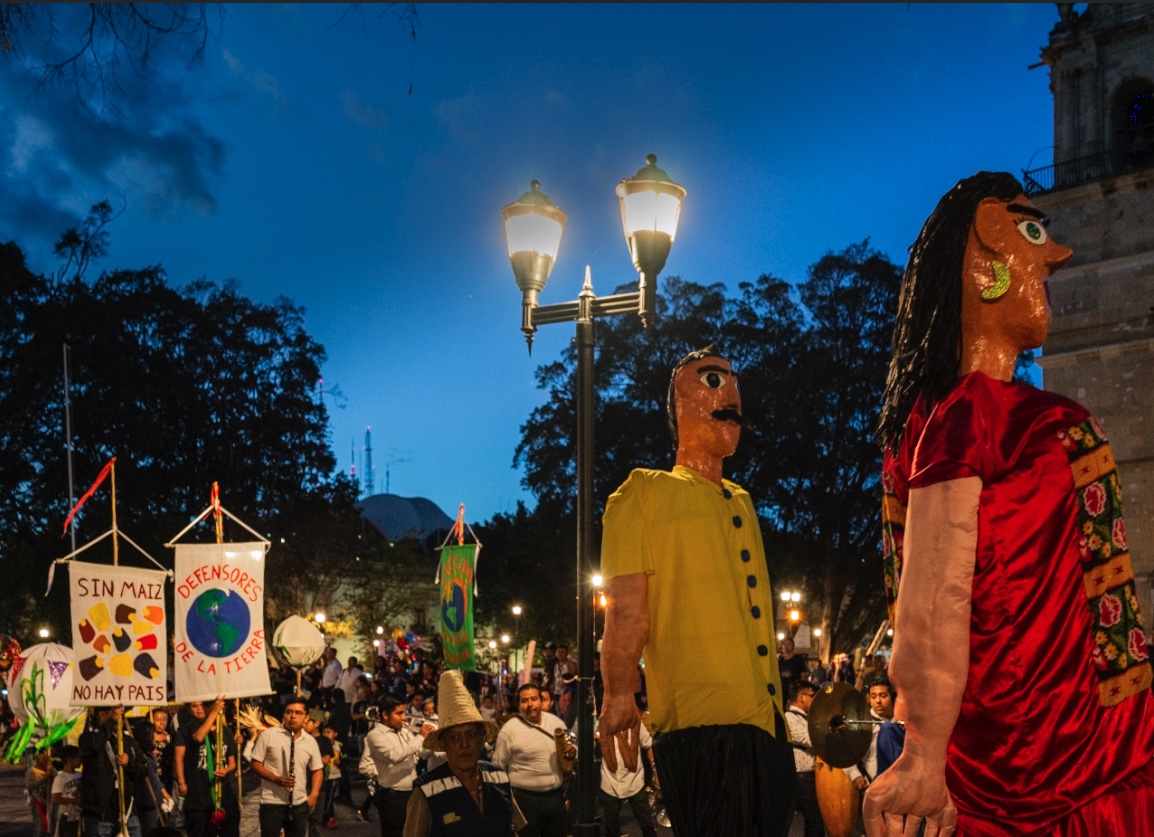 In the morning we attend a press conference to start off the day of events, which bears witness to a rare collaboration between campesino leaders and scholars. They share stories about the problems of local farmers, including corporate agrobusiness and their GMO seeds, unfair trade, rising land prices due to strangers looking for recreational properties in this beautiful place, and climate change. One of the local leaders in this struggle is Gustavo Esteva, a well-known Mexican activist and educator, a long time colleague of Ivan Illich and founder of Universidad de la Tierra, University of the Earth. He speaks about Via Campesina, a coalition of small farmers in 120 countries, as the largest organization in all human history.
"Small farmers, mainly women," says Esteva, "feed 70 percent of the world's population today, while agri-businesses owning more than half of the planet's food resources are only feeding 30 percent." Esteva contends that "defending the native corn is a matter of life or death. To say that we are a people of corn is not a pretty metaphor, but rather, it is the state of things."
The coordinator of the colloquium, Ana Ruiz, is a Mexican academic specializing in Physical Anthropology. She is one of the leaders of a team that launched a class action suit against Monsanto's efforts to dominate global corn and grain production with genetically-modified seeds. The suit sought to ban transgenic corn in Mexico and in 2013 it was successful, a spectacular victory for farmers trying to maintain the viability ancient and indigenous strains of corn seeds.
THE BIRD PUPPETEERS GET UP ON THEIR STILTS AND START FLEXING AND HOPPING — 'GETTING THEIR LEGS'.
Back at the Posada del Marqués, many hands put the finishing touches on giant puppets, banners and bird costumes for stilt dancers. A local parade band with plenty of brass and percussion, The Conquistadores, arrives and tries out a few raucous tunes on us. The sudden mayhem they create leads to some dancing. The bird puppeteers get up on their stilts and start flexing and hopping — 'getting their legs'. Pepe is wearing a conical straw hat, anxious to get going. Wells sits atop his bicycle, calmly observing as the final puppet costume details are attended to. He will ride alongside the procession as supervisor, directing while he moves back and forth — keeping an out for anything that could interfere with the procession.
Not the largest but the most important puppets in this parade depict the activists Homero Gómez Gonzáles and Berta Cáceres, recently assassinated in Mexico and Honduras. Homero was a former logger in the state of Michoacán and the director of El Rosario Monarch Butterfly Biosphere Reserve; he was killed for his opposition to illegal logging. Berta was internationally recognized for her work for environmental and social justice in Honduras. She led a year-long grassroots protest that prevented the building of a dam on the Rio Gualcarque. Berta was assassinated in her home at age 44.
Also in the parade are large puppet figures of indigenous farmers with clenched fists, under the word "Cherán!" While the deaths of Berta and Homero have been reported in the international media, I have never heard of Cherán, a community, also in Michoacán, that has taken its land and community back from corruption, cartels, politicians, and their former police force.

As dusk falls, the parade moves out of the courtyard of the hotel and wends its way into the public sphere with volume and gusto. Through the narrow streets jammed with pedestrians who move gladly aside to watch, past sidewalk stalls and grand markets, around the gazebo in the central gardens of the zócalo, by the cathedral and down more cobbled streets. Some onlookers are curious yet puzzled; many are thrilled and proud that this happening in their city.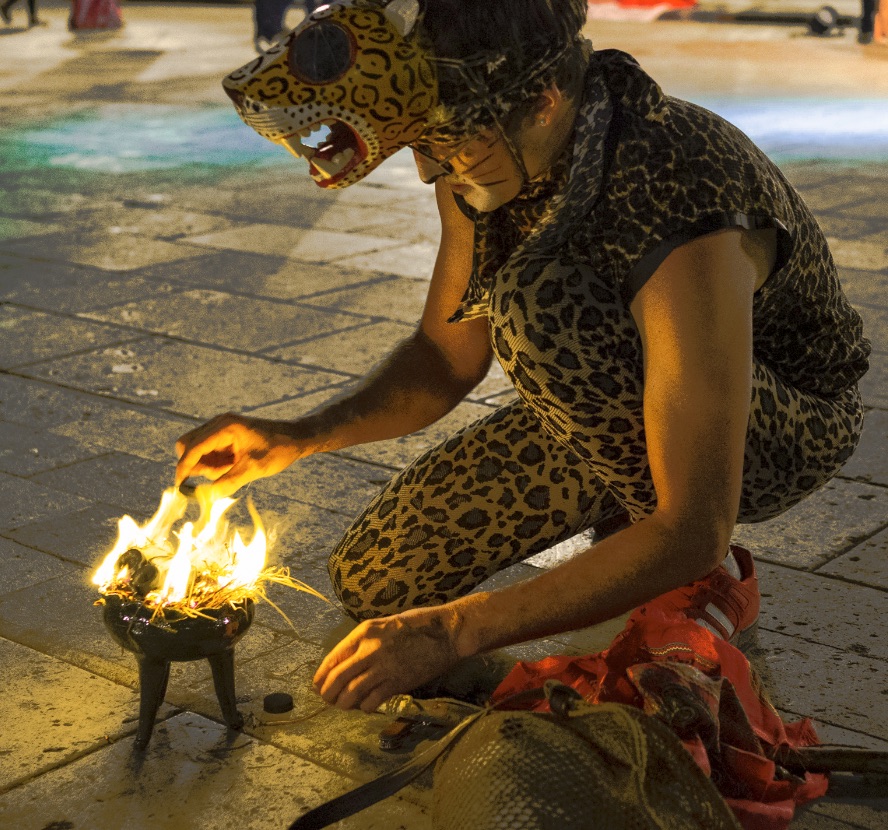 Forty minutes later the procession spills into the Plaza de la Danza, an outdoor theatre made entirely of stone. As an audience settles on the terraced stone steps, the Mermejita 'Bioloco' circus — partners with Wells in this venture — sets up a huge tripod to support the acrobatic performance. Actors dressed as bats, bees, butterflies and wild felines, pollinating and controlling crop pests weave a fabulous dance into the web of life. The performance features a pantomime of Monsanto as a fat man with a sprayer threatening these creatures, melodramatic slapstick clowning that seemed to appeal to many, particularly children. The audience is clearly moved by the visual poetry of the caterpillar becoming the monarch butterfly woman.
Dressed as corn, gods, goddesses and wildlife, Wells and his friends celebrate the tattered web of life. They defy the crashing waves of corporate agriculture and the rising tide of late capitalism's suicide economics. On his guitar, he has written a 21st century mutation of what Woody Guthrie had scrawled on his guitar: 'This Machine Composts Fear'. (Guthrie's read: 'This Machine Kills Fascists').
Later in the evening, after the puppets and dancing jaguars become people again, I help to sweep up the husks of the monarch chrysalis. Others roll up the banners that say "Justice for the Guardians of the Earth" and 'Todos somos Berta'/'We are all Berta.' ō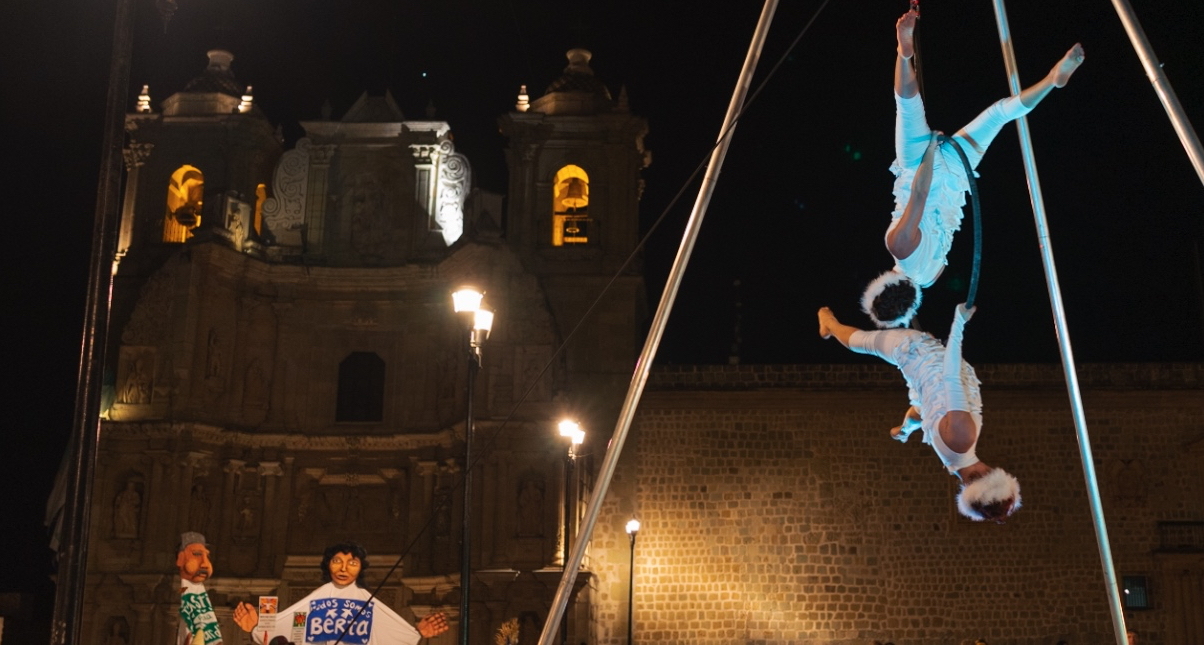 FURTHER READING
§ 'Protecting our Guardians in Oaxaca' by John McLeod
§ 'Milpa in Mexico: Defending a Way of Life' by Gustavo Esteva
§ 'Women of the South Against Masculine Assumptions' by Gustavo Esteva
§ 'GMO Corn, Mexico, and Coloniality' by Ernesto Hernández López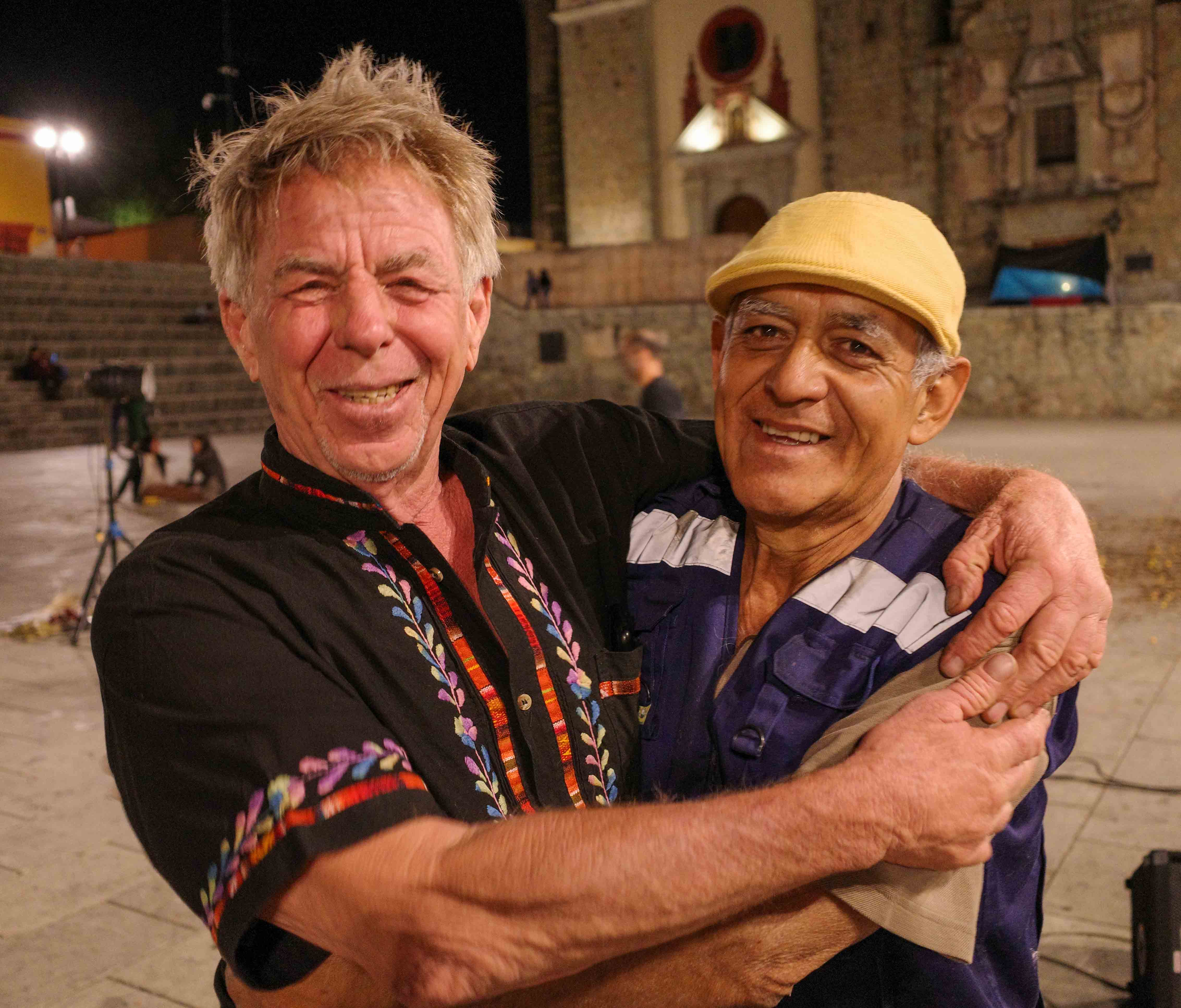 CHRIS LOWRY is a media producer and singer. Before working for many years in international development and sustainability, he made films on art and music, and is currently working on a documentary feature about the Canadian cultural figure Ross Woodman, Rebel Angel. Chris was part of the original team that created The Journal or Wild Culture with Whitney Smith in 1986, and served as the magazine's Senior Editor. He lives in Toronto. Browse Chris' website here.
WHITNEY SMITH is the founder and Publisher/Editor of The Journal of Wild Culture, where this article first appeared.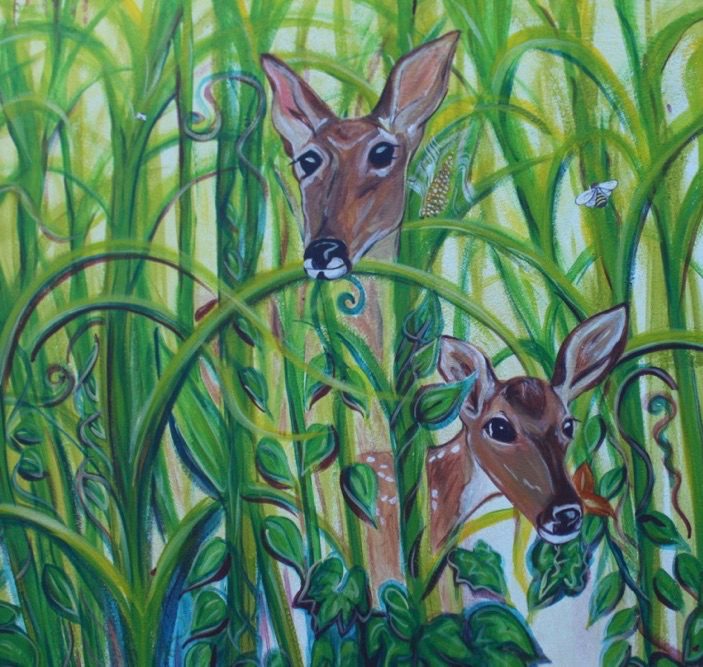 All Species Project Amy Christian Ana Ruiz Berta Caceres Chris Wells Homero Gómez González José Azcona Mariel Rose Garcia Milpa Mexico Monsanto Pepe Azcona Wise Fool New Mexico