As we work to prevent the spread of COVID-19, environmental racism is presenting a deadly parallel threat for Indigenous peoples across North and South America who continue to defend their lands and waters, protecting their territories from extraction and the pandemic. Meanwhile, the climate crisis has not paused as we battle racialized violence and COVID-19. On the contrary, as countries ease restrictions, emissions levels have rebounded to just 5% lower than last year at this time, and experts warn that we could be facing increased emissions by year's end. Meanwhile those at the front lines of the struggle for climate justice are battling disproportionately high rates of infection from Covid-19 while facing heightened risks of violence and illness from the extractive industries.
The timing could not be better for a film that chronicles the indigenous-led climate justice movement. The Esperanza Project is proud to partner with Voices of Amerikua, 350.org Guadalajara and the director of The Condor and the Eagle to bring you an online screening of this epic award-winning documentary. The film, called "one of the best new climate documentaries" by EcoWatch Magazine, follows four Indigenous leaders embarking on a transcontinental adventure from the Canadian boreal forests to the heart of the Amazon jungle to document the Indigenous struggle to protect the land and water.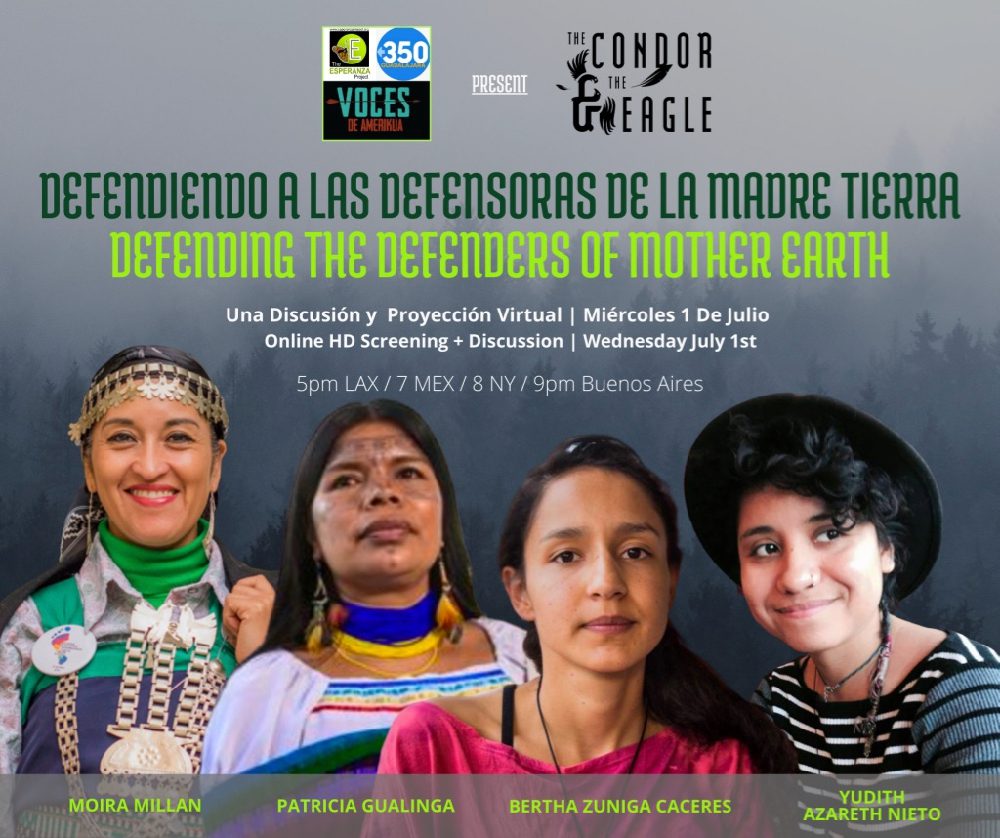 Join us on Wednesday, July 1, for the Latin American premeiere event, Defending the Defenders of the Mother Earth, and a lively discussion afterwards, with updates from the front lines of many Indigenous struggles across North and South America. We will hear from the inspiring protagonists of the film, as well as other land defenders from across Turtle Island, including Bertha Zúñiga Cáceres, the daughter of Honduran environmental martyr Bertha Cáceres.
The online screening is through a sliding scale donation. Please give as generously as you can as this money will be used to support the participating groups with their urgently needed, indigenous-led climate and environmental justice efforts. The proceeds of this film will be divided between the groups and communities of Bertha Zuñiga Cáceres, Honduras (COPINH, promoting environmental justice and solidarity, and justice for environmental martyr Berta Cáceres); Patricia Gualinga, Ecuador (Sarayaku community of the Amazon, currently dealing with a devastating Covid-19 outbreak and virtually no government support); Moira Millán, Argentina, cofounder and coordinator of the Movement of Indigenous Women for Good Living and the People's Movement Against Terricide; and Yudith Nieto, Houston/Louisiana (Another Gulf is Possible and the BanchaLenguas Language Justice Collective). Read on for more info….
1. Make your donation
Join us in supporting our Defenders of the Mother Earth.
Date: Wednesday, July 1, 2020
Time: 5 PM Pacific/ 6 PM Mountain/ 7 PM Central/ 8 PM Eastern/ 9 PM Atlantic
Cost: By donation. Suggested donation is $10-$100.
Donate here.
Registration: https://event.webinarjam.com/register/93/xyg1yuw9?fbclid=IwAR2pNe5jKZJ3jXlmHROc8ifD1JtxQkKNG1QB2xx41WST7XrL7knai_kGnHU
PATRICIA GUALINGA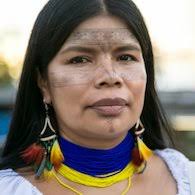 Patricia Gualinga is a human rights and land defender, indigenous leader of the Kichwa people of Sarayaku, located in the Amazon, Ecuador. It works to protect its community from threats detected by oil extraction projects carried out by Chinese companies on their traditional lands. She has participated in the preparation of the proposal led by the indigenous people 'Kawsak Sacha', or 'Bosque Vivo', which calls for the legal protection of the Ecuadorian Amazon. She has spoken before the United Nations, the Inter-American Court of Human Rights and throughout the world, has been persecuted and threatened with death for her activism.
BERTHA ZUNIGA CACERES
She is a social activist from Honduras of Lenca descent. She is the daughter of social leader Berta Cáceres, murdered in 2016. When Zúñiga Cáceres was three, her mother founded COPINH, with her father as one of the original members. The organization is dedicated to the defense of the rights of the Lenca people and the defense of the environment, two of her mother's great passions, along with combatting sexual discrimination and the oppression of women and LGBT communities, all issues Berta Cáceres saw as interconnected.
MOIRA MILLAN
She is a Mapuche weychafe and activist from Argentina, one of the leaders of the indigenous ancestral lands recovery movement and the founder in 2000 of the Lof Pillán Mahuiza community. In 2012, she began a series of meetings with women from different indigenous communities of Argentina, actions that were consolidated in 2015 with the formation of the Movement of Indigenous Women for Good Living, representing 36 native nations, and of which Moira is coordinator. This same movement organized and convened the peoples of the world in the Peoples Against Terricide Climate Camp, where the Peoples Against Terricide Movement emerged.
YUDITH NIETO
Film Protagonist. Yudith is a is a Mexican-American artist, organizer, language justice worker originally based in Houston, Texas, where she advocated for the fenceline community of Manchester in collaboration with Texas Environmental Justice Advocacy Services (t.e.j.a.s) Now she's enjoying spending time in the bayous of Louisiana while forming part of the core leadership circle for Another Gulf Is Possible. She's worked with frontline communities across the country to create,develop and amplify community-led media around just transition stories, artbuilds in solidarity with intersectional movements for a decolonized direct action approach. She has collaborated on initiatives that focus to create youth leadership and art in activism trainings to teach people about environmental issues that affect their communities through arts, media, Language justice and cultural organizing.
CLEMENT GUERRA
Film Co-Director / Film Impact Producer / France
This internationally acclaimed feature film was directed and produced by Clement Guerra, a 37-year-old French international marketing manager working in London, and his German wife Sophie. As told to The Esperanza Project in 'The Condor & The Eagle" Takes Flight, the couple left their comfortable careers in Europe and took their savings to live in a camper van and spend five years documenting the Indigenous-led climate justice movement. Now they are using it as an organizing tool to support grassroots movements like Bertha's, Patricia's, Moira's and Yudith's all across the Americas and the world.
Bertha Zuñiga Cáceres Clement Guerra climate justice environmental justice Moira Millan Patricia Gualinga Sophie Guerra The Condor & the Eagle Yudith Azareth Nieto