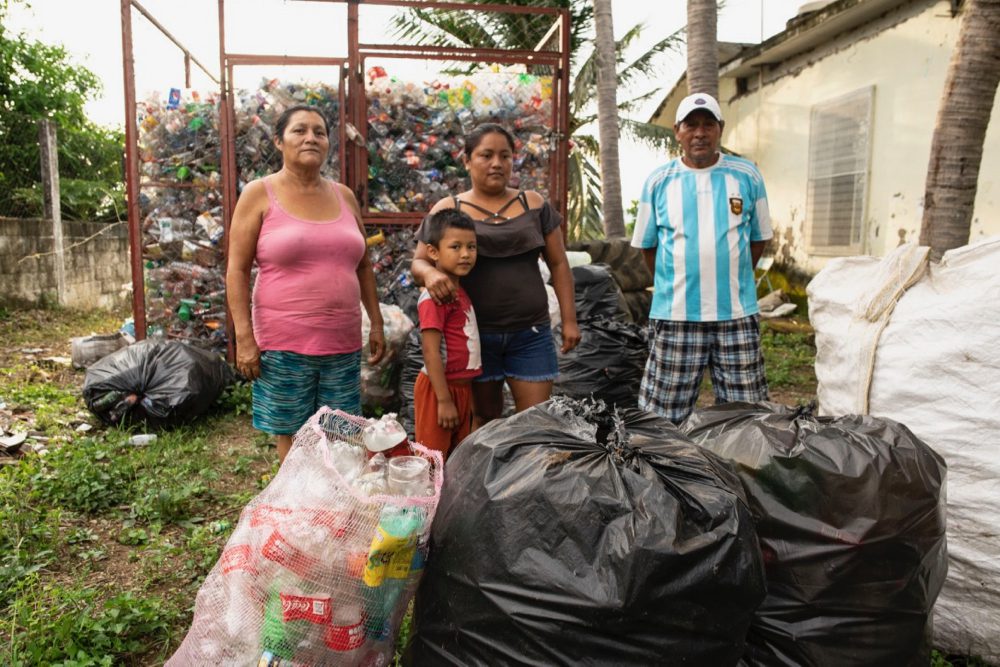 SANTO DOMINGO INGENIO, Oaxaca, Mexico — Down in the narrow waist of Mesoamerica, in the region known as the Isthmus of Tehuantepec, innovation has given rise to a new kind of pet – but it's not a friendly animal companion. Rather, it's a new form of currency that's cleaning up the environment while putting food on the table.
Leer este artículo en español aquí.
A "pet" is a PET-type plastic bottle. Its worth is equivalent to about a penny, and gathering together several of them you can purchase some basic food items through a project developed by a university student and implemented by his local government.
In this town of more than 7,000 inhabitants, environmental awareness has been on the rise, said the student, Darwin Regalado Enriquez, who explained that two years ago he came up with an idea to help cut down on the flood of plastic pollution in their town. His idea was to set up a program to exchange the bottles for basic grocery products. He discussed the idea with Fernando García Santiago, Santo Domingo commissioner, who took the idea and ran with it.
"Now there's a big demand for the plastic bottles," said Darwin, who receives almost 10,000 of them every Friday that women and their children collect throughout the village. "It has been surprising how clean the town looks," he added.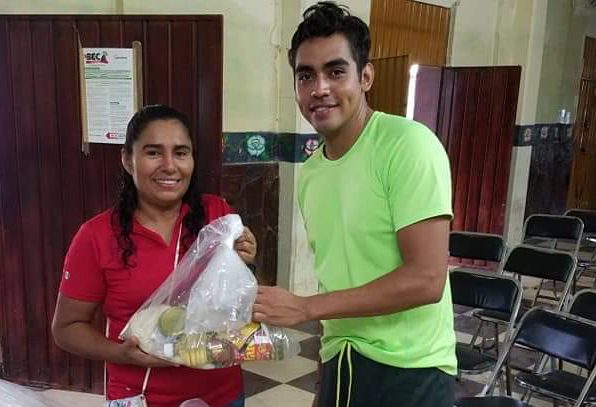 For example, 300 pets equals one kilogram of sugar or one liter of cooking oil, while 100 pets equals a can of tuna. "People already know that every Friday is the exchange and they come with their sacks of bottles," he said.
"It's surprising, because the river is now cleaner and in the streets we no longer see plastic bottles lying on the ground," said Mrs. Amable Cabrera, 70, one of the women who takes her huge sacks full of plastic bottles every Friday to the collection point located in the Santo Domingo Ingenio government building, where in return she obtains products from the "tiendita (little store)" that has been set up there.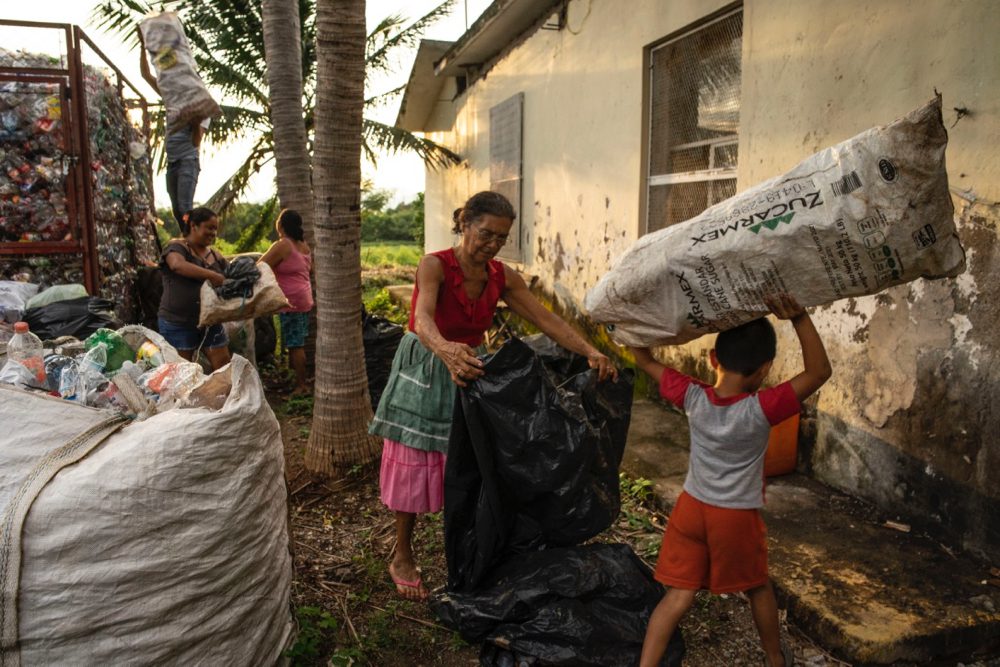 About 40,000 to 50,000 bottles arrive monthly at the exchange center, and are then sold to recycling companies to be reused, contributing to the economy of the families in an area with a rising unemployment rate.
It's mostly housewives who do the work of collecting the bottles and gathering them in huge plastic or cloth sacks, and sometimes their children accompany them.
Edith Dominguez, 34, and her little son gathered a thousand bottles and got a liter of oil, a kilo of sugar, a kilo of beans and a can of tuna in return. She and the boy took some long walks together gathering the bottles. It was her first time at the bottle exchange, and it probably won't be the last.
"My husband is unemployed, and this helps us a lot because we have no money," she said.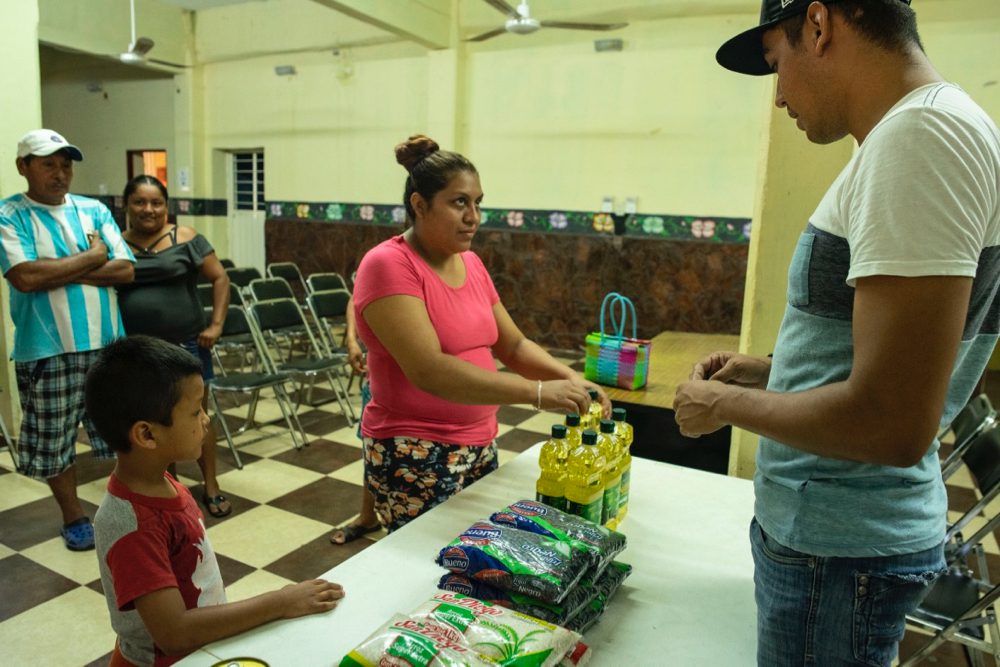 Fernando García said that the project has been very popular, and way the community has been cleaned up is proof.
"With what we sell, we are able to buy food items and stock our store," he said. The Isthmus of Tehuantepec is home to a number of wind generating power companies, and several have donated to the project as well. And there has been an added bonus.
"Now our community building has come to life," he said. "Before, no one even looked at this place."
He acknowledged that nobody imagined that this initiative would be so successful, but looking around to see their village newly clean has been a source of great joy.
Now the new challenge is to grow the "tiendita," perhaps adding aluminum and other recyclables, and turn it into an exchange store with a variety of products that will be open seven days a week, contributing to the environment and to the economy of the families as well.
"There are no more bottles thrown away; at parties people even fight over them because they know they can exchange them for a bag of coffee or pasta for their pantry, and that gives us great pleasure because environmental awareness has come to our village."
Each Friday, villagers deliver more than 10,000 plastic bottles to the town hall

Darwin and Fernando supervise the delivery of the products

Students of primary and secondary schools of Santo Domingo Ingenio have also joined the collection of pet bottles which has brought about a cleaning and visual improvement of the community. (Diana Manzo photos)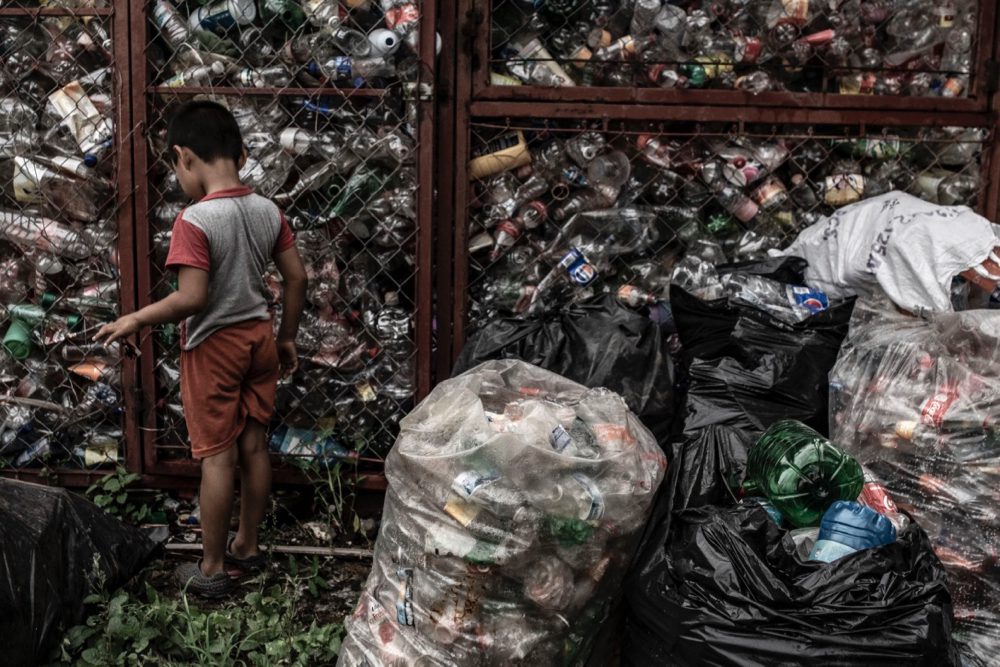 Darwin Regalado Enriquez Oaxaca PET plastic pollution recycling