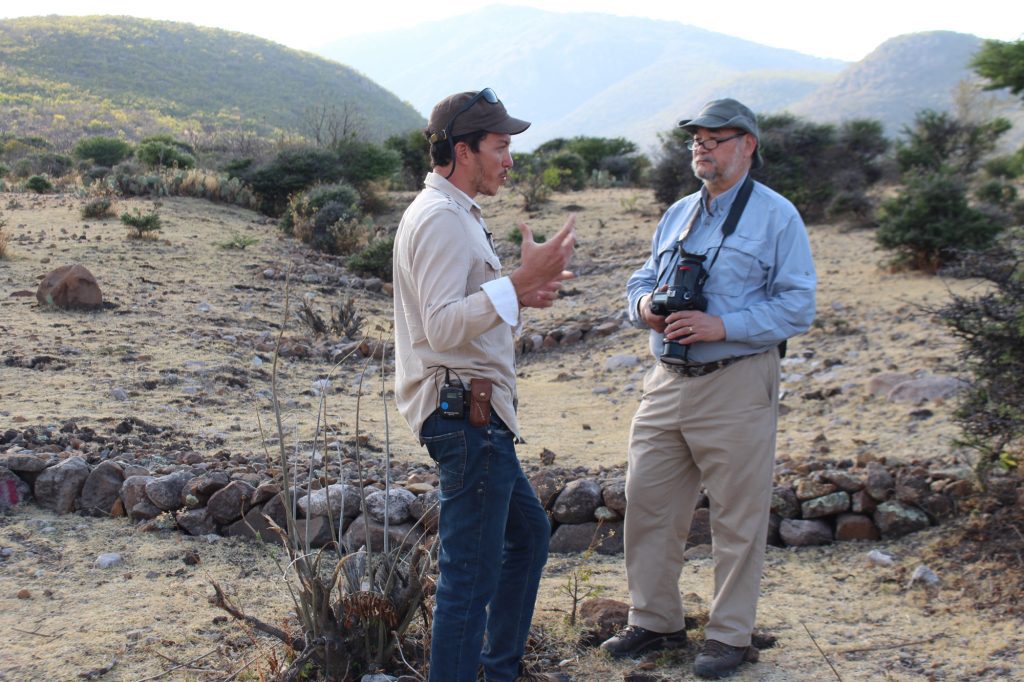 Our most popular story of the year was Regenerating the Human Story. That piece was just an excerpt of a much bigger story on Vía Orgánica, the Mexican branch of the Organic Consumers Association, which has inspired an organic renaissance in San Miguel de Allende, Mexico. Now, together with the Ecosystem Restoration Camps movement, the group is taking that inspiration to the international level.
The Ecosystem Restoration Camp movement, founded by John D. Liu, is an innovative approach to reversing climate change while engaging everyday people in the business of large-scale landscape restoration. The Vía Orgánica camp was the first in the Americas. We also wrote about the first camp in the United States, in the fire-ravaged town of Paradise, California, where the camp restoration model continues to break new ground in disaster recovery (See Restoring Paradise: Permaculture Meets Disaster Response).
This story is the original, uncut version of one that ran in Permaculture Magazine (in English, subscription only) and Mongabay Latin America (in Spanish). It became one of Mongabay's Top 10 Stories of Mexico for 2019. The next Ecosystem Restoration Camp at Vía Orgánica is scheduled for Feb. 21-March 1. Find out more and sign up here.
SAN MIGUEL DE ALLENDE, Guanajuato — Don Manuel García Pacheco stands at the edge of the field he has known since his birth more than six decades ago, when the land was plowed by oxen. He smiles broadly as he surveys the industrious crew that has come from all over the world to work in his cornfield. "Estoy feliz como un lombriz," he declares in typical campesino parlance – I'm happy as an earthworm.
As well he should be. A lot has changed since his return from the United States, where he migrated like so many others from the Mexican countryside, where millions of subsistence farmers can no longer eke out a living from the degraded soils and harsh arid climate of the region. Added to the general decline of productivity, Mexico's rural agricultural economies have been decimated since the North American Free Trade Agreement by tons of cheap subsidized corn imported from the United States, making traditional agriculture more of a ceremonial ritual than a means of subsistence.
"The day came when people emigrated to the north because of poverty, because here there wasn't even enough to buy a good pair of pants, much less a car," said the farmer, squinting as he watched a couple of young men sweating under the sun, digging holes to plant a row of agaves. "So most people abandoned the land; all that's left here are us old people."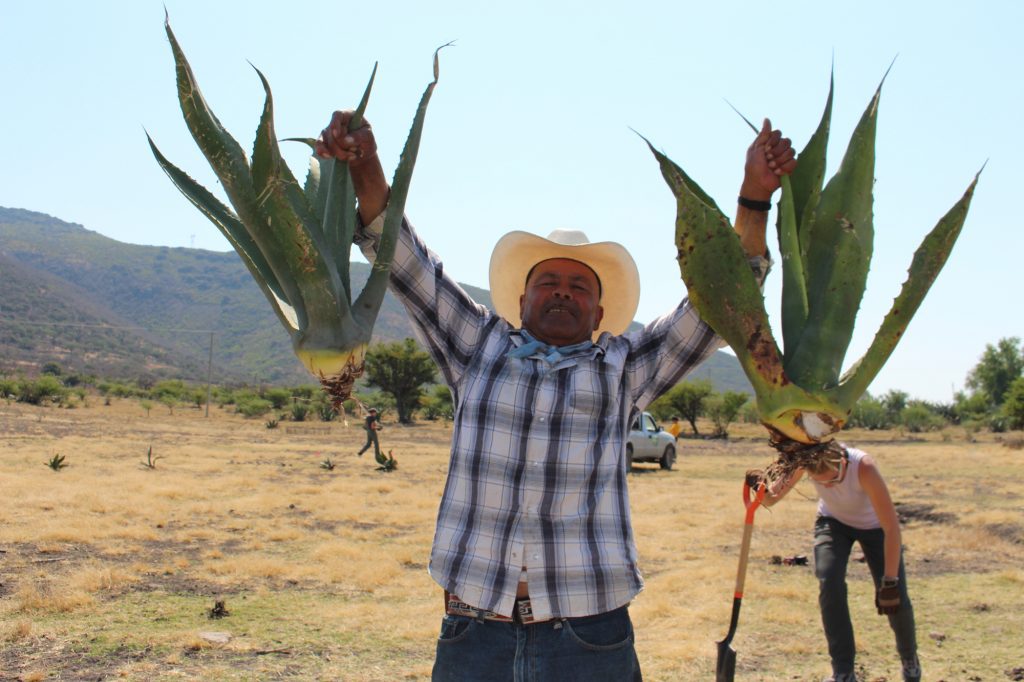 In fact, of the more than 26 million hectares of cultivable land in Mexico, almost half are abandoned, according to researchers from the Universidad Autónoma Chapingo (UACh). Centuries of poor land practices – beginning with deforestation by the Spanish colonizers, followed by overgrazing, erosion and industrial agriculture – have left vast stretches of the Mexican altiplano highly degraded, exposed and on the road to desertification. Analysts estimate that Mexico is losing 400 square miles of farmland to desertification each year.
García, however, had the good fortune to own land next to the parcel that would become Rancho Vía Orgánica – a regenerative organic farm established in 2009 as a model for the region's campesinos and a project of the U.S.-based Organic Consumers Association. At first he wasn't too sure, when "Doña Rosana," his new neighbor, came by to advise him that he was poisoning the ground, the air and the water – and even his crops – with toxic chemicals.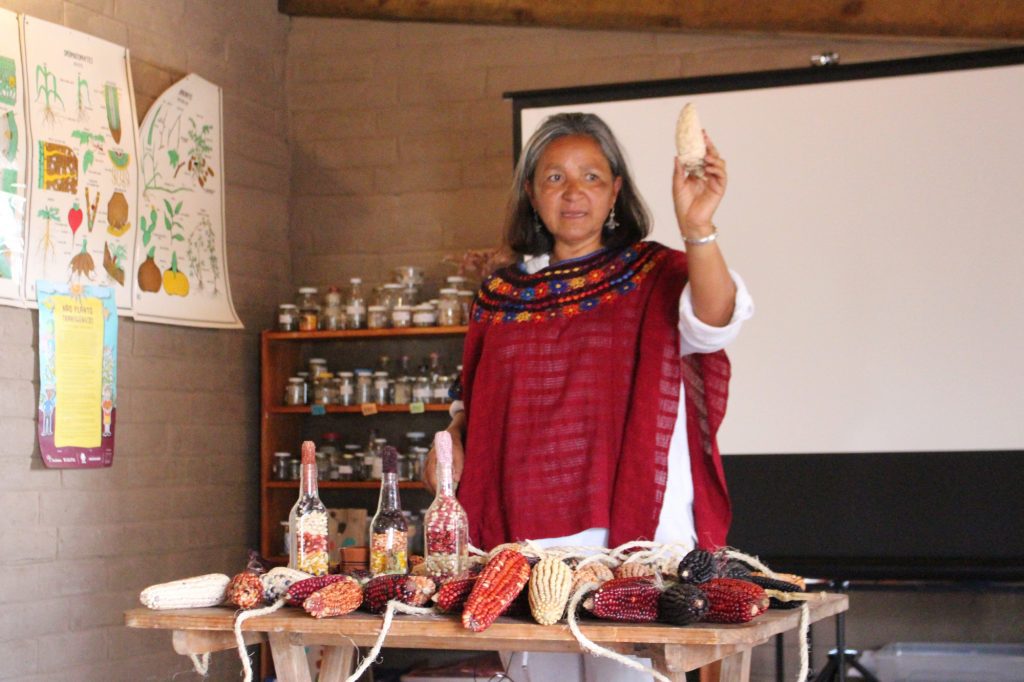 "Before, we used to spray chemicals on them out of ignorance — and she said to me, 'It's going to hurt you; that doesn't work,'" Don Manuel recalled. "When they made me see things, I woke up and I realized. Now we only put the sheep and cow manure, and we see a good harvest, as long as God sends the rain."
Via Orgánica is part of a growing movement of farms practicing a form of agriculture that goes beyond sustainable. The goal, say cofounders Rosana Alvarez ("Doña Rosana"), Roger Jones, Ronnie Cummins and Rose Welch, is nothing less than regeneration: of the ecosystem, the soil, the hydrological cycle, the climate, the local economy – and while they're at it, the lives of the people around them.
As with all permaculture projects, this one begins in Zone 1: the Vía Orgánica Ranch itself – 25 hectares of what was once a vast forest of giant oaks, transformed since colonization into an expanse of hardpan clay soil, dry weeds and bare tepetate. After ten years of hard work, the ranch is now a blooming and highly productive oasis, a training center for farmers throughout the region and the epicenter of an organic renaissance in the nearby town of San Miguel de Allende. And now they've begun expanding outward, renting an additional 175 acres and working with neighboring farmers like Don Manuel to help regenerate their lands as well.
With its ranch, restaurant, grocery store and market, Vía Orgánica has grown to provide a dignified livelihood for more than 200 families, including 60 fulltime staff, many from campesino families in the surrounding communities. Thousands of visitors come each year to learn about their regenerative approach to agriculture, many of them taking the techniques back to their communities and farms. Not a small accomplishment in its first decade – and now, with the launch of its first Ecosystem Restoration Camp hosting volunteers from across the Americas and Europe, the group is taking a leading role in promoting a global network to heal the Earth.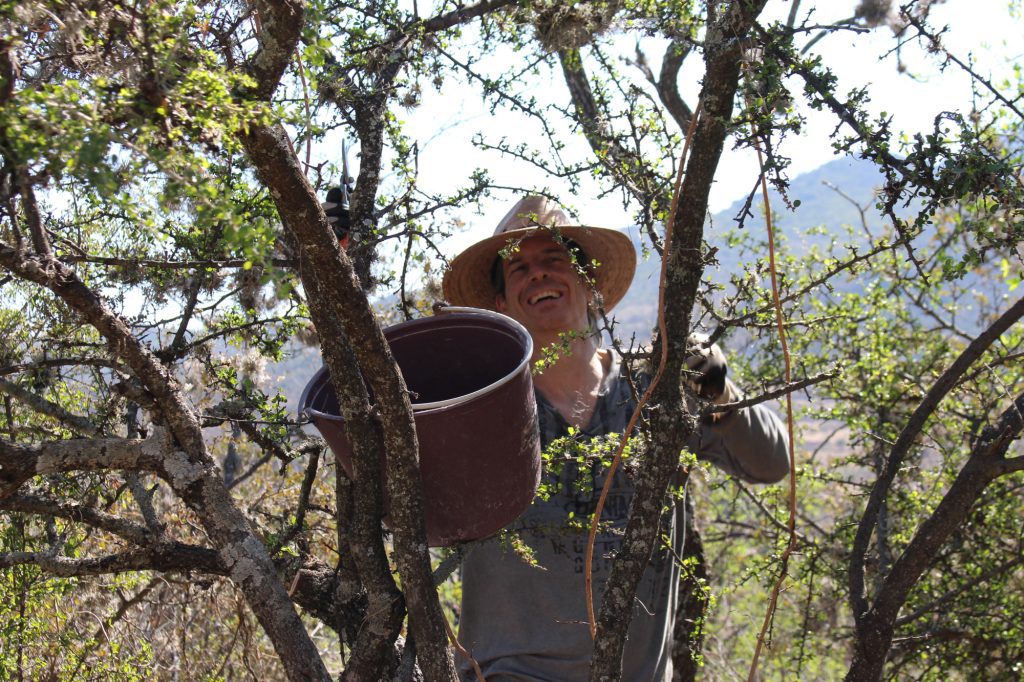 Ecosystem Restoration Camps
The first such event in the Americas and the second in the world, the Ecosystem Restoration Camps movement was founded in 2017 by international journalist, soil scientist and filmmaker John D. Liu, who has dedicated the past 25 years to the study, documentation and promotion of large-scale ecosystem restoration around the globe. Liu joined forces with Via Orgánica and the nonprofit Regeneration International to produce this two-week intensive camp, and was among about 30 participants from seven countries who participated, exchanging skills, knowledge and ideas about ecosystem restoration while rolling up their sleeves to do the work.
Liu, who has come to be known as the "Indiana Jones of landscape degradation and regeneration," was moved to action after a reporting assignment on the Loess Plateau of China – the cradle of Chinese civilization, reduced over the centuries to a vast desert. An initially skeptical Liu watched as the government's massive restoration project transformed the landscape to a lush, biodiverse and productive ecosystem. He has been promoting and documenting ecosystem restoration around the globe ever since.
"It's possible to restore large-scale damaged ecosystems. So if we can restore large-scale damaged ecosystems, why don't we do that?" says Liu in his award-winning documentary, "Green Gold." In 2017, he founded the Ecosystem Restoration Camps as a way to put what he was learning into practice, while giving people around the world an opportunity to join the effort. The first camp was established in Murcia, Spain. Via Orgánica is the second, and Liu said it was like a dream come true to see it happen. After the Via Orgánica camp, he set off for California to help lay the groundwork for the third Ecosystem Restoration Camp in a region with a much different set of circumstances: the fire-ravaged town of Paradise, California (More on the Restoring Paradise project, the first of a series of California restoration initiatives, here; and a parallel initiative, the Earth Repair movement, here).
The arid high plains of Southeastern Spain and of Central Mexico have much in common with the regions Liu documented. "Dysfunctional systems are really seriously concentrated in the cradles of human civilization – where agriculture began," he said. "That's where the big deserts are centered. That's where the soil is so impacted that nothing can grow."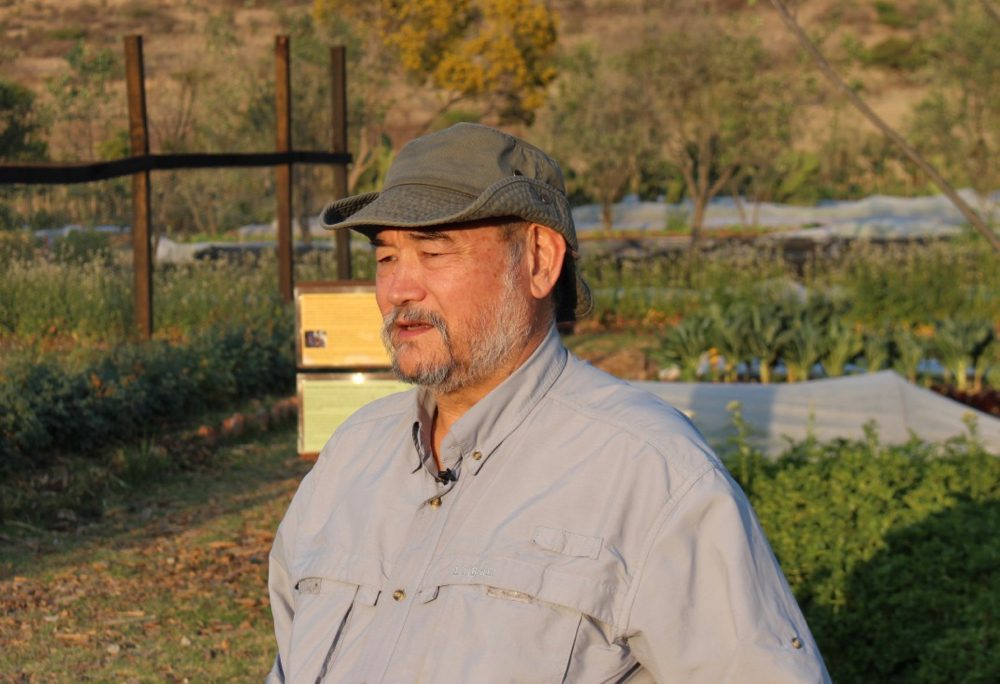 Something about the way agriculture has been done since its inception is clearly not working, says Liu. The answer, he believes, is a concentrated effort to restore biomass, biodiversity and accumulated organic matter to the ecosystem. Regenerative agriculture hubs like Via Orgánica are doing just that, restoring degraded lands and creating replicable models for repairing entire ecosystems, literally from the ground up. And now, teaming up with Liu and Regeneration International to adopt the ecosystem regeneration camp model, these methods are being spread like seeds to sprout in other regions across the Americas, and beyond. Of the 30 attendees at the March camp in Mexico, at least a dozen were preparing to follow up with similar initiatives back home.
The regenerative agriculture concept takes time-tested techniques for managing water flow and basic soil conservation strategies – crop rotation, sustainable grazing management, cover crops and contour planting – and amplifies them with scientific breakthroughs like bioreactor compost generation, keyline design and high-tech mapping technologies.
The movement is casting as broad a net as possible, says Tim LaSalle, co-director of the Regenerative Agriculture Initiative (RAI) at California State University-Chico; the movement seeks to go beyond labels like "organic" and "conventional," getting farmers of all kinds on board. "It's not conventional or organic, but it's soil building and soil regeneration — so we can pull in hopefully the organic farmers – because they have a tendency to till too much and destroy the biology of the soil — and conventional farmers, who tend to use too many chemicals that destroy the biology of the soil."
Restoring the microbiology of the soil is as key to restoring the carbon cycle, he says, as it is to recuperating lost fertility. He cites the research of adjunct faculty member and RAI Associate David Johnson and his wife, Hui-Chun Su. The Johnson-Su composting bioreactor, one of the methods being taught at Via Orgánica, has made impressive breakthroughs in soil fertility as well as carbon sequestration capacity by shifting the emphasis from soil nutrients to microbiology. Johnson found that the balance between fungus and bacteria is key to healthy soils, and he developed a biologically enhanced agricultural management process (BEAM) to create fungal-dominated compost.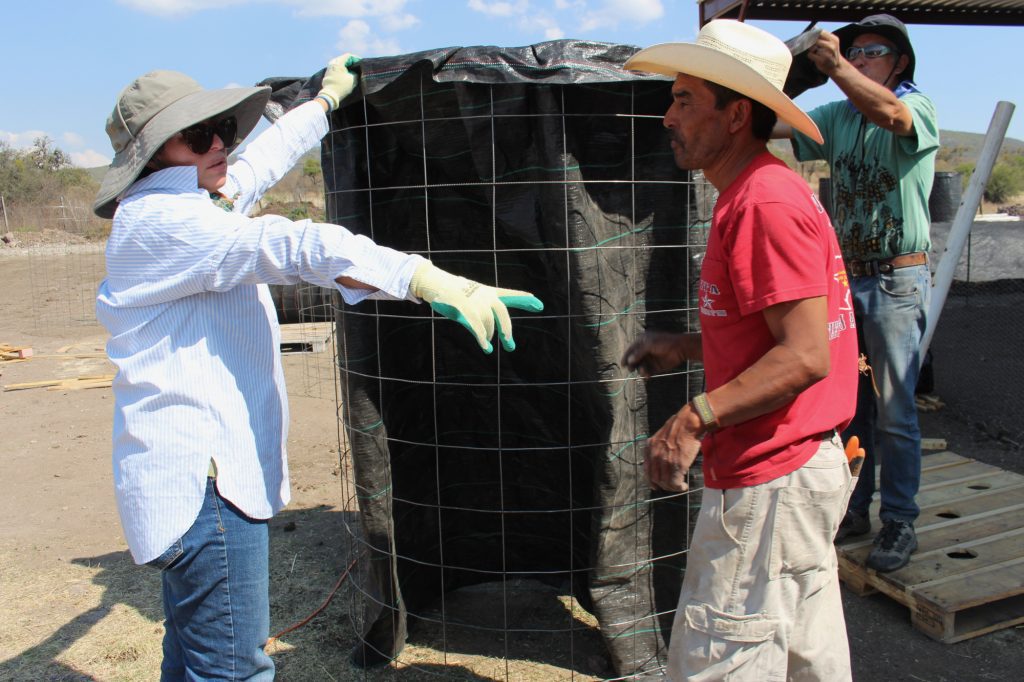 Johnson documented that using the system during a 4.5-year field study, he was able to achieve a 25-times increase in active soil fungal biomass and, amazingly, 20 to 50 times the currently observed soil carbon increase in 40 different no-till soil samples. Cotton yields using the method were double the typical production for the region, with zero chemical inputs.
Back at the ranch, Via Orgánica's Ronnie Cummins and ranch coordinator Azucena Cabrera showed off their first generation of bioreactors and shared Johnson's findings.
"We need about a billion of these things," remarked Liu, who joined participants from Quebec, Colombia, Minnesota, California, Vancouver, France, the U.K. and different parts of Mexico in the demonstration. Later, volunteers divided into three groups to put the concepts into practice. One group set to work building another set of bioreactors; another group gathered wheelbarrows full of chicken manure to be used in the compost; and another group soaked hay in a giant tub, preparing it to be inoculated by native microbes gathered from a nearby forest.
Via Orgánica at a glance
Via Orgánica co-founder Ronnie Cummins is a Tejano by birth, but "Mexicano en mi corazón," he says with a wry laugh, "because Texas was stolen from Mexico." He and wife Rose Welch are the founders of the US-based nonprofit Organic Consumers Association. They had their first Mexican headquarters in Chiapas, but decided to join the rapidly burgeoning international community in San Miguel de Allende in 2009, realizing that this would be the ideal place to start an organic farm and advocacy group that would be the counterpart of their U.S. organization.
"Organic farming is not some gringo invention brought down from the United States; it's actually the traditional form of agriculture developed by indigenous people that's been going on in these lands for thousands of years," Cummins maintains.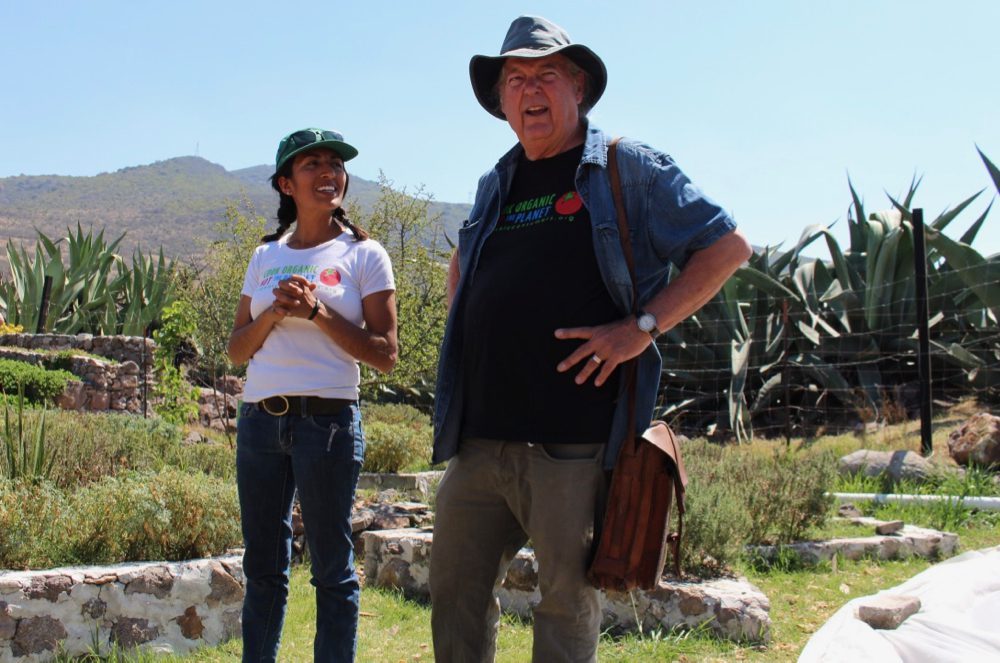 Biodiversity was a feature of indigenous agriculture, with the traditional milpa, or cornfield, typically containing up to 50 different kinds of plants, most of them edible or medicinal – wild greens such as amaranth, verdolagas (purslane) and huazontle (lambs' quarters), known collectively as quelites. Much of the diet of the original peoples of these lands came from the countryside, as well.
Via Orgánica is employing some of those traditional practices, incorporating mesquite, whose seed pods are rich in protein, calcium and other nutrients; nopal cactus, a longtime staple of the Mexican diet now known to provide multiple health benefits; and agave, which before the Spaniards began distilling it into tequila and mezcal, was traditionally cultivated for its prodigious yields of the sweet and nutritious aguamiel – fermented, it was used to make pulque, rich in probiotics and a light dose of alcohol.
But the Via Orgánica plan goes beyond human health, Cummins emphasized, to restore the health of the land. Its silvipastoral agroforestry design intersperses rows of diverse tree crops like mesquite, olive and pomegranate – alley cropping, as it's known in agroforestry terms – employing carefully managed animal grazing and some 1,500 chickens into the mix, which fertilize the young trees while providing pest control, as well.
The strategy has been to start small and scale up, and they have had successes on many levels — but it has not been easy. For one thing, the entire region only receives an average of 10 inches of water a year, most of that coming between June and August. For another, that water would come in torrential waves, further eroding an already severely devastated landscape and swamping their crops. That's when it became evident that regenerating the soil and the hydrology of their land was not just a good idea – it would be necessary for the project's survival.
Their farm, they would discover, was similar to most in the region. An estimated 86 percent of the 4.5 million family farms in Mexico have no wells, said Cummins, and over 90 percent make no money. "That's what's fueling migration; that's what's fueling the cartels," he said. "Many programs support growers with wells, and the 14 percent who do have a well have no applicability to the majority of the population."
At this stage, rainwater harvesting is probably the most important aspect of the entire project, says Rose.
"The area we are in is certainly running out of water, and the is the crisis that needs to be dealt with most urgently. It is not lawful to use any groundwater coming from our area for agriculture if you are not a large agribusiness company that has permits for a well. People say that the water is leaving San Miguel in broccoli which is grown in massive amounts in our region and exported mostly to the U.S. So if you want to farm in our region you have to have water catchment."
That's why the ranch has built so many rain water capture systems with cisterns and now four large ponds, so they are now able to water the organic garden and trees for most of the year until the last month or so of the dry season, when they have to pay the water company to truck in "pipas," or water tanks. By next year with the ponds more developed, they hope to have enough water for the whole year.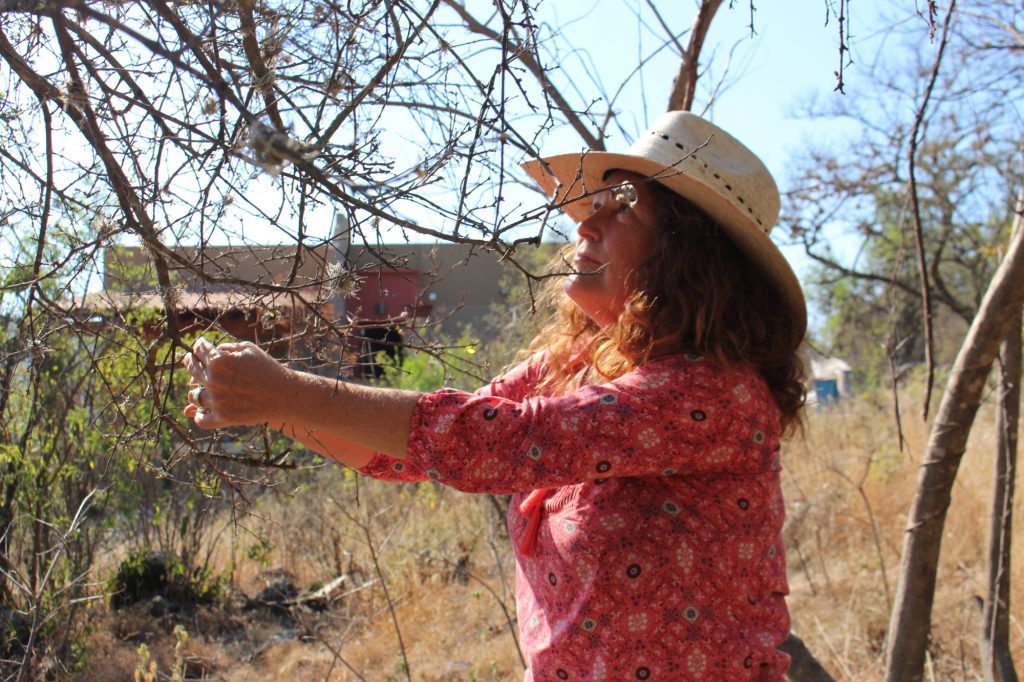 Tradition meets high tech
Agricultural engineering meets permaculture design in the form of Gerardo Ruiz Smith (Permaculture North America, No. 08), a farm designer for the new century. Ruiz, a graduate of Monterrey Tech University and the Urban Permaculture Institute of San Francisco, joined Via Orgánica's design team three years ago and has taken its approach to a new level.
Ruiz Smith is as passionate as he is knowledgeable about natural systems, and his fluency with cutting edge technology makes for a powerful combination. He uses a real-time kinematic satellite positioning system together with a drone and a cell phone app to map the contours of the land within a centimeter of accuracy. He takes us to the upper section of the ranch, where his technology and skillset have allowed him to design a road and a series of rock walls and terraces to redirect the rainfall – first, to slow it down, so more of it absorbs into the soil, and then, into one of three ponds that have been strategically placed on the land to capture the rainfall for use in the dry season.
On the morning of the agave planting in Don Manuel's field, Ruiz used the occasion to demonstrate, directing the crew in mapping out contours that would help slow down the rainwater and stop the flooding of the Via Orgánica Ranch across the road. The crew of international volunteers followed along behind, planting rows of the traditional maguey, an agave used to make mezcal that will bring a pretty penny in a few years when they mature – but meanwhile, Don Manuel can continue to plant his traditional milpa in between, as Ruiz has spaced the rows so as to allow plenty of room for a tractor to maneuver.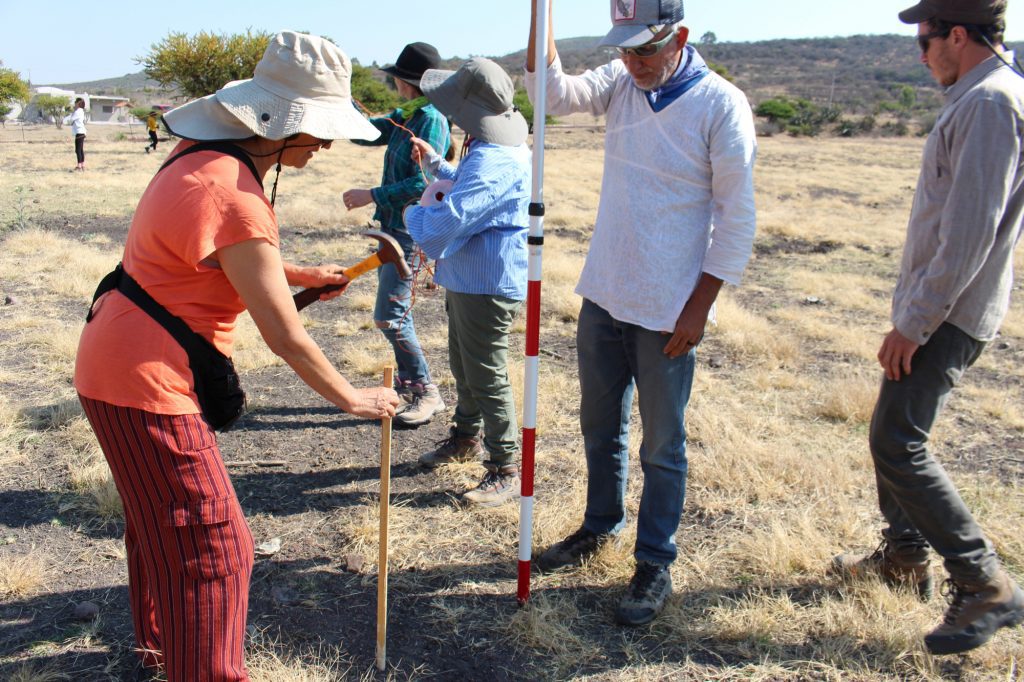 Ruiz has worked with Vía Orgánica to implement a series of water conservation measures like this one in the 25 hectares of the ranch, plus 15 hectares of neighboring land. They have also collaborated with another 40-hectare watershed restoration project upstream of the ranch. These projects are fundamental for restoring the hydrological cycle of the region because they are located in the headwaters of the Lerma-Chapala mega basin, the most important in the country in many ways.
Contouring the land to capture the rainwater is key, but it's just one aspect of water management, said Ruiz. "The real problem is that the soil is dead, and (land contouring) won't fix that. If there's a really strong flow of water, I find a way to slow it down – but I would rather focus on improving the soil and the landscape function in general."
Ruiz and the Vía Orgánica team have planted different combinations of perennial tree crops, especially the native mesquite, in 15 hectares in different configurations, intermingling with different native species such as agave, nopal, palo dulce and the oaks that once formed the great forests that covered these lands. Along with those there are species of perennial arboreal crops such as mulberry, olive and pomegranate. All these trees grow rapidly in this area and generate shade and organic matter, which in turn help to rebuild the soil.
Ruiz is working with peasant women in the area to collect seeds, paying them up to seven times what they earn for the same amount of corn, thanks to a marketing project for flour as an organic "superfood". Now, Gerardo is preparing to plant them in another 40 hectares. https://www.organicconsumers.org/sites/default/files/mesquite_in_mexico_-_pmna.pdf
Mesquite is an excellent pioneer species to restore ecosystems like this one, said Ana Isabel Moreno Calles, director of the Thematic Network of Agroforestry Systems of Mexico. Moreno has worked in similar semiarid lands in the state of Puebla, where they have used mesquite for the same reasons. They are able to live in highly acid and dry soils and, the roots help to recover the organic matter of the soil and to fix nitrogen. It attracts several species of birds, which are dispersers of seeds, which increase biodiversity. Their deep roots also provide a process Moreno Calles refers to as hydraulic lifting, taking water from the lower parts of the water table and making it available for other species.
Like birds, the goats and the chickens are key to the farm's strategy, explained Ruiz. Left to their own devices, livestock have caused widespread and severe damage to ecosystems, overgrazing and eventually killing out the native grasses and other ground cover. But managed properly, they can be put to work processing biomass and returning it to the soil with great efficiency. Especially on abandoned farmlands in the Mexican altiplano, where dry, bleached grasses can take years to break down, the goats greatly accelerate the process. "The only place where there's enough moisture to break down this grass is in the gut of the animal," he said.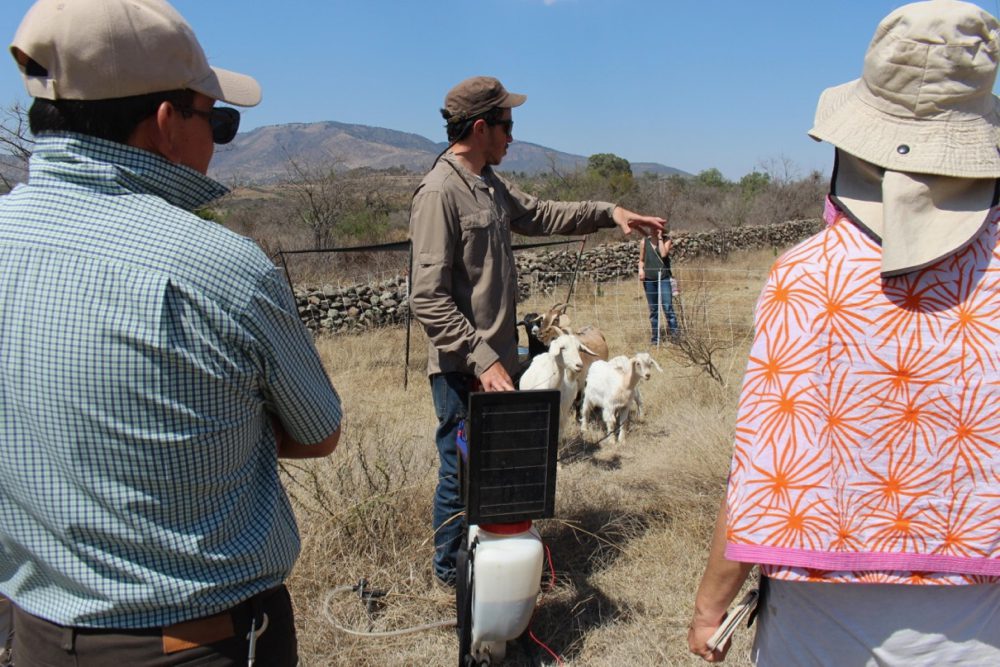 Ruiz considers that the ranch's goat crew is in some ways filling the function of the giant herds of megafauna that grazed these lands in prehistoric times, before early humans hunted them to extinction. "Some of the most fertile soils are in the Midwestern United States, where the Great Plains were grazed by migrating bison herds – that's why you'll find 10 inches of topsoil in those areas." Now that fences limit the animals' range and the natural migration cycle no longer exists, it is necessary to "migrate" the herd manually. Via Orgánica does this with the use of a moveable electrical fence, where the animals are put to graze for one to two days before moving them down to the next section of field.
Without close management, however, the goats would tend to gravitate to areas where the grass is greener – and graze it literally to death. "This is the problem with the 'free range' concept; people think it's a good thing," Ruiz explained, as the goats happily munched on the dry grass behind him. For the animal, free range is a good thing, he explained, but only in the short term – because if it destroys its range, there's nothing else for it to eat.
Composting is also a key for the whole project, with a variety of approaches being used. Their restaurant is an abundant source of organic matter, as are the animals and crop waste. Microbial compost, vermicompost, Johnson / Su, "Bioreactors," and abundant use of biochar are all a part of the strategy.
Regeneration of the human story
For Azucena Cabrera, Lourdes Guerrero and Martin Tovar, Vía Orgánica is a dream come true. Cabrera, who began as a student volunteer when the ranch was just getting started, has worked her way up to become its coordinator, and a teacher and inspiration to thousands of visitors and students each year.
Like so many other children of campesinos, Cabrera's father moved to the city to earn a living, becoming an electrician and a plumber. But his commitment to the land of his fathers was strong.
"So he said, 'I was born here, these lands fed me,' and when the family immigrated to the city he said, 'I have to recover the land.'" So every weekend it was a picnic, and Azucena grew up playing in the milpa, eating wild tomatitos (a tiny native tomato) and huitlacoche (a Mexican wild edible related to lambs quarters), looking for flowers and bees. As a young girl, Azucena decided to study agronomy, thinking that it would put her back in touch with that nature. However, when she saw the options for employment, there was not much for a person of her orientation.
"The agricultural models made me think, 'What will I do when it's over? Work in an agribusiness, selling fertilizer products in a poison office? '
"At this time I decided, I do not want to be an agronomist. I am a campesina. Because a campesino has that knowledge, that wisdom, this instinct of a human being who knows how to do things. "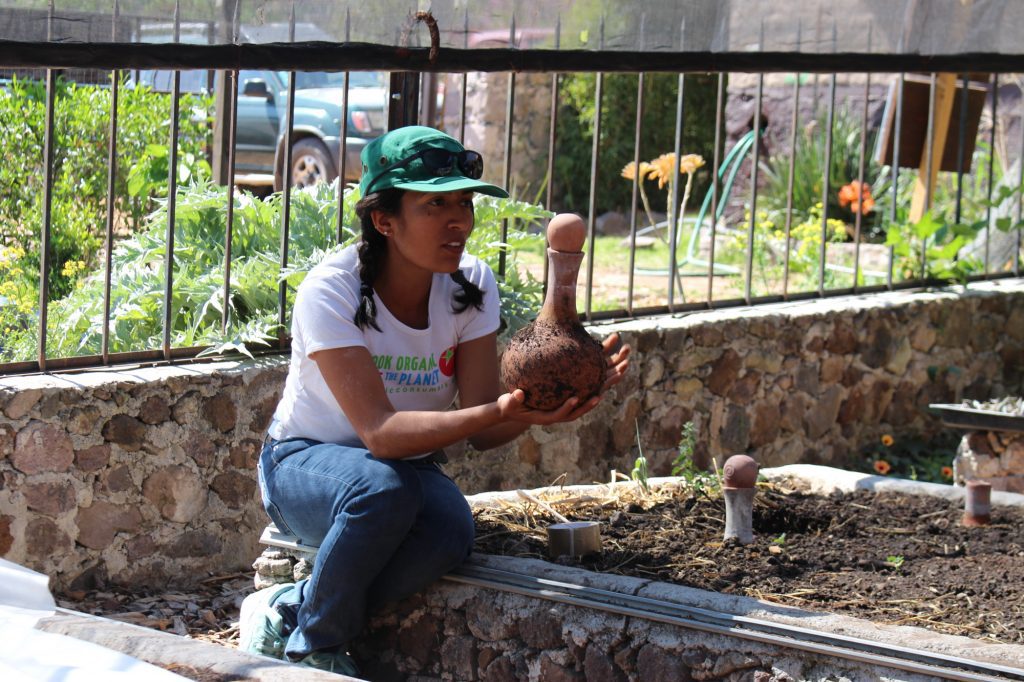 She discovered Vía Orgánica on the Internet when it offered a backyard agriculture workshop. That's where her story began with the organization. She began as a social service student, and now spends her days working in the field, learning from the best teachers of regenerative agriculture and sharing her knowledge with others. She feels a special satisfaction when she can tell the young agriculture students:
"We need to get close to Grandpa and ask him what he did, what he ate, how did he know? Because there is a lot of new knowledge available, and the instinct falls asleep, and now modern knowledge dazzles us. "
Seeing the way this work has transformed the lives of her team makes her happy, too. Seeing how organic farming is regenerating the lives of her coworkers — like Don Martin, now the head of maintenance, who immigrated to the United States at the age of 14, where he worked 12 hours a day in a processor factory of chicken. Now to be able to live well in his homeland and show his son how to plant, grow and make organic fertilizers gives him great satisfaction.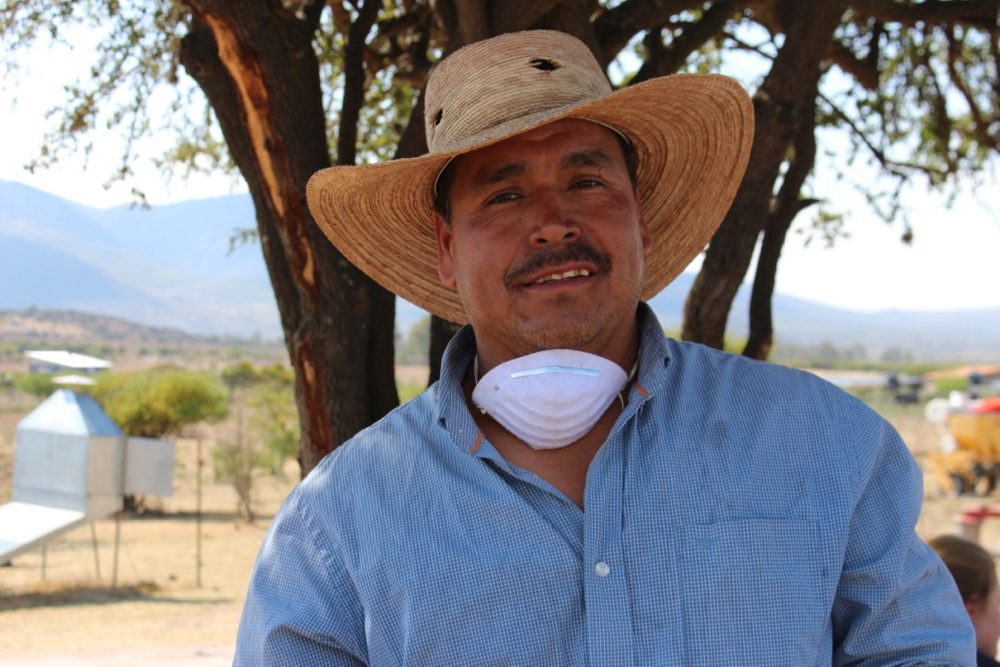 Like Lourdes Guerrero, who previously worked in an industrial chicken operation. "It was a terrible mistake," he says, shuddering to remember the conditions in his previous job. Now she is the coordinator of the chicken operation and the "regenerative farm" where the birds circulate, fertilizing the fruit trees while they produce organic eggs.
The impacts go far beyond the 25 employees of the ranch and the 45 employees of the restaurant and the store, says co-founder Rosana Álvarez, who manages the contacts with the producers. She has seen many changes in her work with producers. Some have stopped using agrochemicals; others, who were about to use them, have made the decision to resist the offers of the conventional government "package," which involves the use of agrochemicals. Some have learned to make compost and protect the earth with mulch. Most of them have taken classes and workshops, which are free for farmers.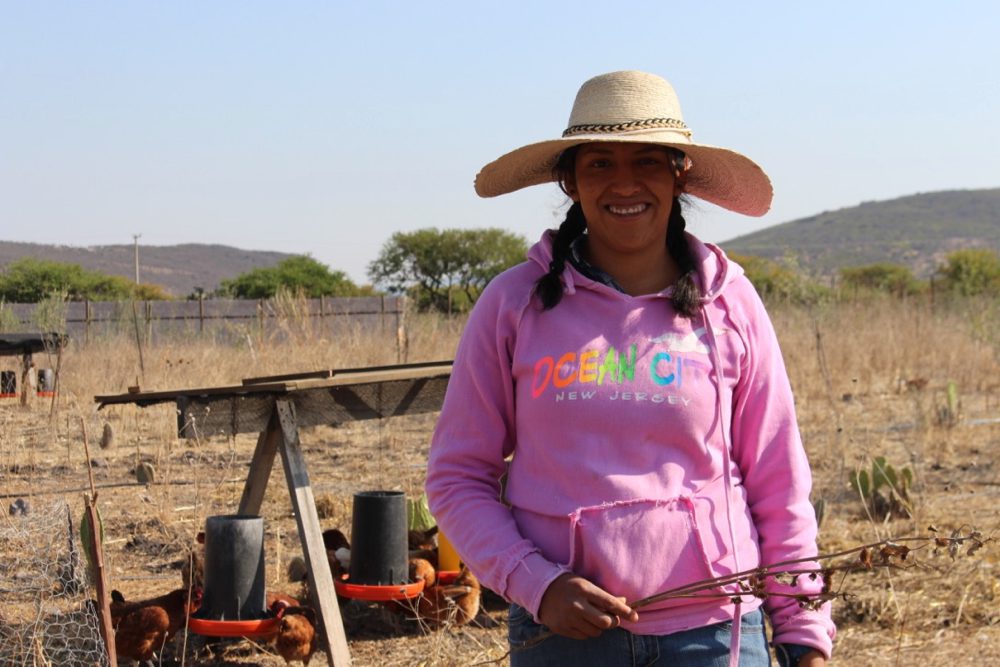 The most important thing, says Rosana, is the change that has been seen in every farmer who has gone through this process. "They are understanding more, their eyes are more open, they are brighter, they are happier. They are doing what they love, they just needed a way to keep their economy going."
This economic aspect is an important part of the change, and that economy has blossomed with the growth of the Vía Organica Restaurant and store, and the opening of several tianguis or street markets of organic and artisanal products. At the same time, the landscape of that arid altiplano is gradually changing.
"I think it is one of the most important agro-ecological transition projects in the country," Barrera said, not only because of its ecological and social value, but also as a center for education and dissemination of innovation.
Vía Orgánica's test run with its first Ecosystem Regeneration Camp in March was roundly embraced as a success, and now they are looking forward to hosting four such camps per year, two in English and two in Spanish. The third camp was held in Paradise, California, in a region devastated by fires, on April 26, 27 and 28, and a California Council has been organized to set up the camps in other parts of the state. (More on this here and here)
"Regenerative agriculture centers like Vía Orgánica are restoring degraded lands and creating reproducible models to repair complete systems, literally from scratch," said Liu. "These methods are spreading like mycelium to other parts of the world."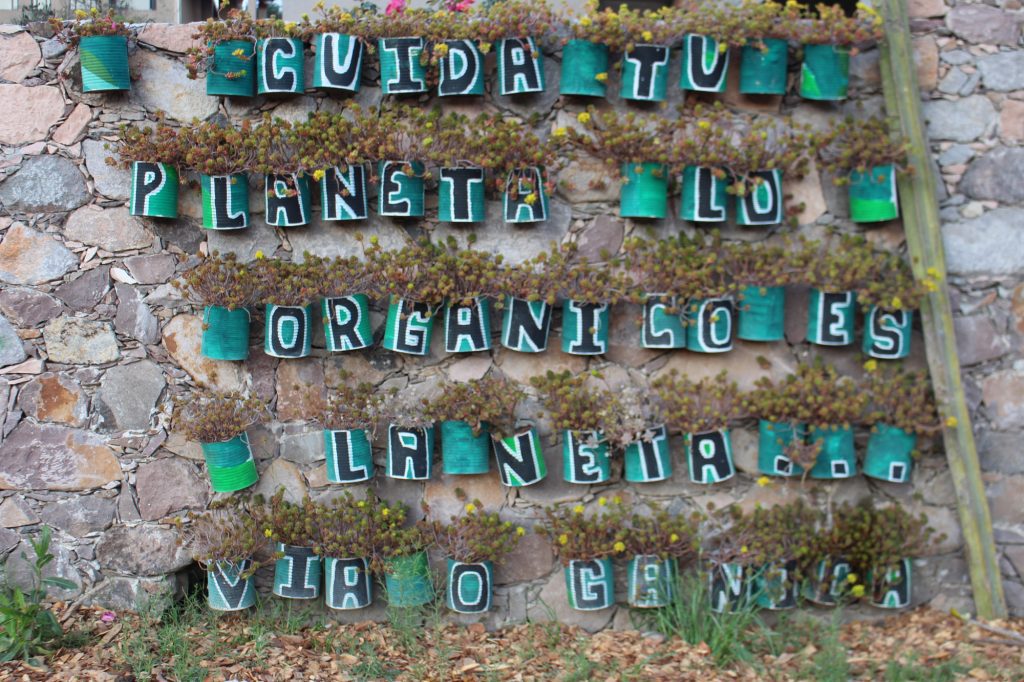 Ecosystem Restoration Camps Gerardo Ruiz Smith John D. Liu. Organic Consumers Association regenerative agriculture Ronnie Cummins Rose Welch San Miguel de Allende Via Organica