We are currently living through a time of accelerated environmental collapse. What is the role of indigenous people in reversing and preventing this collapse? Is it possible to prevent further damage and begin a process of Earth restoration?
Join us for the latest conversation in a six-week journey into Indigenous Ecology, where Voices of Amerikua founder Ivan Sawyer explores and answers some of these questions. Friday's featured guest is Pat McCabe, a Diné grandmother, activist, artist, writer, ceremonial leader and international speaker.
Pat is a voice for global peace, and her paintings are created as tools for individual, Earth and global healing. Her work draws on the indigenous sciences of thriving life to reframe questions of sustainability and balance, and is dedicated to supporting the next generations, Women's Nation and Men's Nation, to be functional members of the "Hoop of Life" and champion the honor of being human.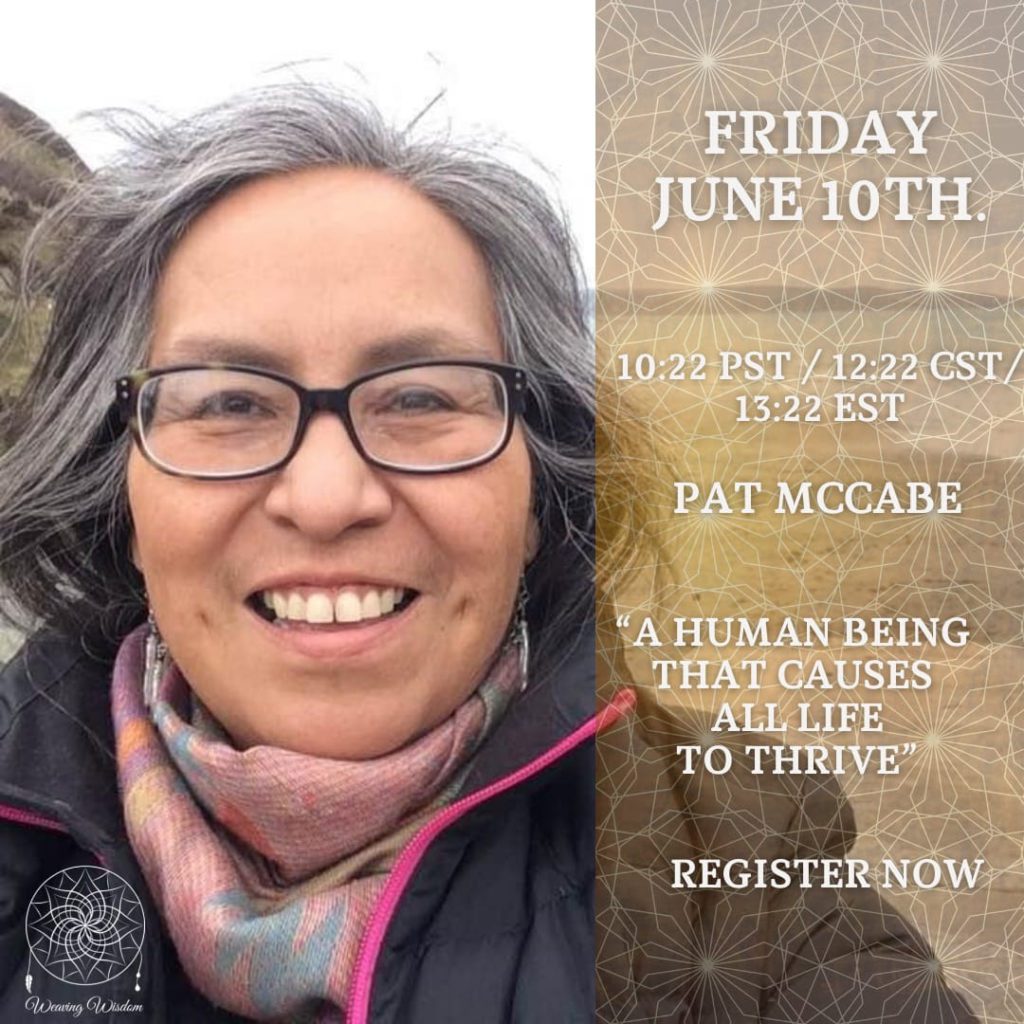 Pat and other Indigenous leaders in this series make it abundantly clear that Indigenous wisdom is not a thing of the past. The knowledge and wisdom of Indigenous people is very much alive today and may be the key for the survival of humanity.
This interview series, hosted by Voices of Amerikua, features key Indigenous leaders across a spectrum of perspectives, cultures and communities throughout the Americas who ask the fundamental questions of our times: What are some of the key teachings and experiences of Indigenous leaders today that can help indigenous, rural and urban communities strive forward into the future? How can ancestral legacy help us as humanity to create a planetary future in balance with Mother Earth?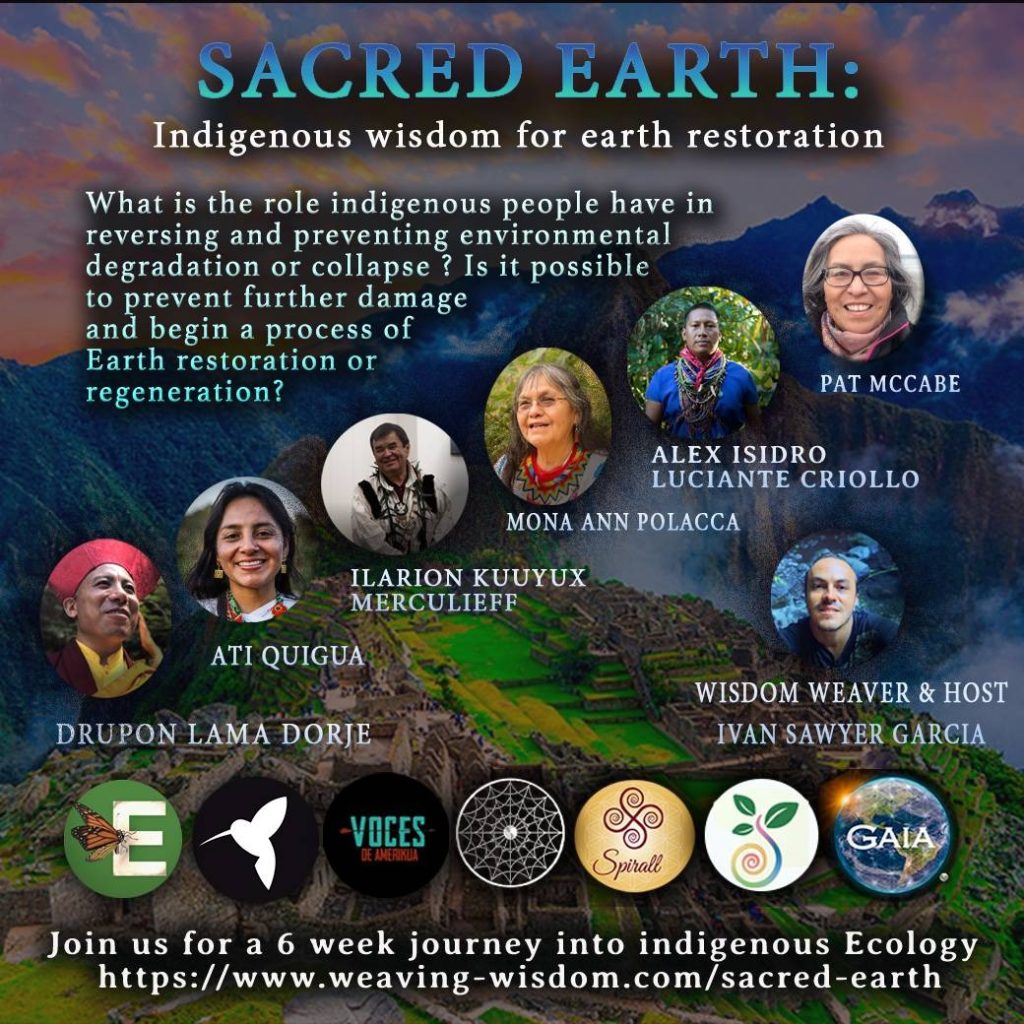 Leading with the Heart
"The Wisdom Weavers, elders and other Indigenous people understand that the root cause of all the illnesses we are responsible for are caused by letting fear into our hearts a long time ago," according to Ilarion Kuuyux Merculieff, founder of the Global Center for Indigenous Leadership and Lifeways and a speaker in this series. "There was a time when this wasn't so. When we left our hearts, we separated ourselves. When we separated from ourselves, it became easy to separate from others, and then from our Mother Earth. This is the cause of wars, environmental destruction, corruption, the gross violation of women and, of course, the climate crisis."
Other speakers in the series include:
ILARION KUUYUX MERCULIEFF. Unangan (Aleut) | Alaska, USA. Founder of Global Center for Indigenous Leadership and Lifeways. Ilarion "Larry" is the visionary behind Wisdom Weavers, the project founder, and the main speaker of the organization. Raised in a traditional Unangan (Aleut) way, he received his Unangan name "Kuuyux" at the age of 4. The name is given to one person in each lifetime amongst his people. Kuuyux means an arm extending out from the body, a carrier of ancient knowledge into modern times, a messenger. Today he is living the legacy of his name. (Source: https://www.wisdomweavers.world/elders-council)
MONA ANN POLACCA. Hopi / Havasupai/ Tewa Elder I Arizona, USA. Founding Member of the International Council of Indigenous Grandmothers, a group of spiritual elders and wisdom weavers whose mission is to preserve and protect Indigenous Earth-based medicine and culture and promote "oneness" consciousness. Mona is a member of the Colorado River Indian Tribes of Parker, Arizona. She is known for her social and spiritual activism and her leadership and is a featured conference speaker nationally and internationally.
ATI QUIGUA. Arhuaca/ Colombia.
Arhuaca Indigenous Leader; Public Administrator of the Higher School of Public Administration ESAP Master in Government and Public Policy of the Externado University of Colombia, offered in agreement with Columbia University, NY (School of International and Public Affairs, SIPA).
ALEX ISIDRO LUCITANTE CRIOLLO. Cofan, Ecuador.
Alex is a young Indigenous leader and human rights defender of the A´i Cofan Nationality of Ecuador, Sucumbios province. He is from the ancestral community Cofan Avie. He comes from a family lineage of wisdom keepers of the ancestral Medicine of Yaje (Ayahuasca). He is an activist in defense of the rights of indigenous nationalities and nature. He was part of the Ministry of the Environment in protection of the Cofan Bermejo Ecological Reserve (his territory) and is currently part of the Council of the Alianza Ceibo Foundation.
DRUPON LAMA DORJE – Tibetan/ Tibet.
Lama Dorje is an intercultural Himalaya master who was born in the small village of Limhi in a nomadic community of the Himalayan Region. At the age of 5 he became a dedicated monk in the Drikung Kagyu lineage and later went into solitary retreat for four years in the mountains of India, where he trained deeply in the five-fold path of Mahamudra, Dzogchen and the Six Yogas of Naropa.
Register for the talk with Pat McCabe – or the entire series – HERE.
33% of proceeds from the program will be donated to Alianza Ceibo, an indigenous-led Ecuadorian non-profit working towards the defense of indigenous territory, cultural survival, and the building of viable solutions-based alternatives to rainforest destruction.