There's nothing like a talk between sisters — especially sisters with a common vision and dream — to inspire action. This talk with Earth Sky Woman Tami Brunk, the astrologer, dream nurturer and world-changer who is my fourth of seven sisters, was just the first of a whole series of inspiring conversations with eco-elders, indigenous leaders and activists, people who are restoring elements of sacred culture that make up the EcoSapien Speaker Series. And for me, at least, it inspired a series of actions, as my talks with Tami often do, together and apart. One of them was to join her in this series, turning the talks into stories and keeping the series going. Our dream—if we can find the funding to do so—is to turn it into the EcoSapien Podcast.
Para leer este artículo en Español, haz click AQUÍ
For Tami as for me, the Indigenous nations across the Americas have always been a deep source of inspiration. Tami's first name for this series—Turtle Island Reborn—reflects the Indigenous concept of the continent, and also a dream that gave birth to this convergence. As it came together, a Native friend of hers shared that the name felt like cultural appropriation, so out of respect, Tami reframed the series under the subtitle of Restoring Sacred Culture Across In North America Convergence. But turtles continued to appear to her, to me, and to collaborators North and South—so the image remained, and that powerful way of seeing our nations, our bodies, our territories connected as a living entity is a powerful one.
Here we share the highlights of that conversation as the first in an epic series that we hope will inspire you towards reflection and action, as well.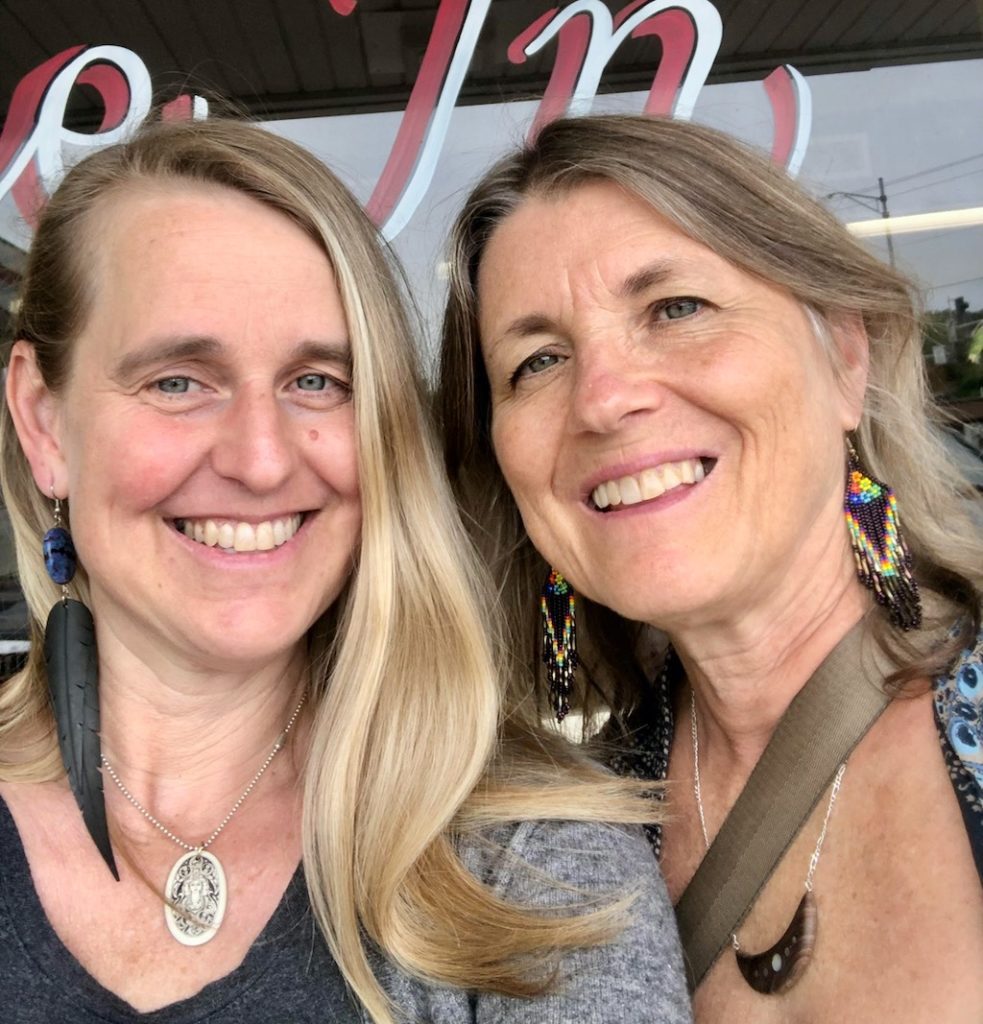 Tami: Thank you, everyone, for arriving. Welcome to this opening of the EcoSapiens series as part of the month-long Restoring Sacred Culture Across the Americas Convergence. I'm so absolutely delighted and thrilled that my amazing sister Tracy Barnett has agreed to be the opening speaker for me. I can't imagine anyone I'd want to have with me today more than Tracy.
Tracy L. Barnett is the founding editor of The Esperanza Project, a bilingual magazine covering the protagonists of social change movements in the Americas. She is an author, journalist and photographer specializing in environmental issues, indigenous rights and sustainable travel. She has served as editor and reporter at newspapers in five different states of the US and is now freelancing from her base in Guadalajara, Mexico. She has written in English and Spanish for a wide range of publications, including The Washington Post, BBC, USA Today, National Geographic Traveler en Español, Esquire, Latin America and Yes magazine.
Currently she is at work on her first transmedia project, "Cosmology and Pandemic: What We Can Learn from Indigenous Responses to the ongoing Health Crisis," together with Argentine filmmaker Hernan Vilchez.
She has mentored scores of young journalists, beginning with a dozen years teaching at the University of Missouri.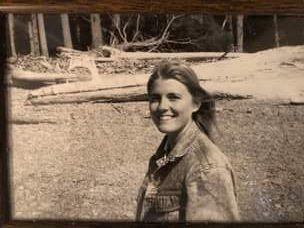 So Tracy, welcome! Thank you so much for being here. I'm so delighted. I want to start each of these conversations a little bit with the personal. So I want to ask you, when have you had experiences of the sacred, maybe when you were younger, on your own alone, but also when have you had that experience in a communal context?
Tracy: Well as you know, I had the blessing of being raised out on the land. Before you were born, our parents bought five acres south of the city, and it was right in front of a huge forest that I would escape to every chance I got with our dog, Brownie. And Brownie was this sort of enigmatic character that would take me to the most beautiful places, and I would just follow his trail and sometimes put myself in his mindset and realize that there's a consciousness out there that is way, way bigger than any of us, that he was so much more tuned in than I was. So Brownie was my first guide. Really, he was.
But yeah, that was my first personal connection with something other than the Christian—also very deep and beautiful—cosmology that was presented to me as a child. And I will always be grateful to my parents for helping me to grow up in a way that I felt like the universe is basically good and that God is good and he's not there to punish us, but he's there to support us and love us. And all we have to do, really, is tune in and be present, and I watched my parents do that in a very real way, every single day.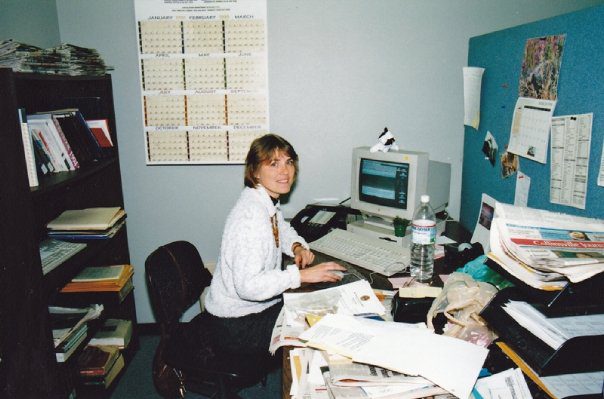 But for me spirituality was going to be something a little more expansive, interdisciplinary, perhaps, and certainly incorporating the Earth element in a very big way, and soon incorporating a vision that was transnational. And I think that probably started for me when I was in college, because our country was enmeshed in a huge series of wars throughout Central America and supporting terrible dictatorships in South America.
And it was extremely painful to me as a college student coming of age to see what was happening. We had several Central Americans come up and share their stories with us, and I started tuning into their music and their culture and their language and their art and their poetry. And seeing the beauty that was there and a connection with the Earth that's so deep and so profound. And something I had never heard articulated before, I first heard articulated in Spanish.
That was the whole liberation theology thread, which was Christianity seen from a perspective that is most connected, like Jesus was, with "los de abajo", those from below, those who are living with and on the land. But I wasn't able to really act on that right away. I was a single mom working my way through college, becoming a journalist. And so it took me a while, but my daughter Tara grew up very quickly, as children do, ¡but especially quickly! And when she was 16, she got an invitation to travel to Europe, and I got an invitation to join a Pastors for Peace Caravan.
It was 1994, and the Internet was being born. And along with that, the Zapatistas, who were a group of indigenous people in Chiapas, Mexico, who stood up one New Year's Eve and said "NO" to NAFTA, the first of a series of international trade agreements that would end up undermining environmental laws, workers' rights, and, as I soon learned, Indigenous lifeways as well. And they were saying "NO" to centuries of injustice, but NAFTA was the last straw. And they were all wearing these black ski masks, including the women in their traditional skirts and braided hair, and they had a spokesperson named Subcomandante Marcos, who was sending out communiques. We were receiving them in our emails. It was the most amazing thing to have this dial-up connection with a phone and a computer and suddenly you're connected with a bunch of revolutionaries in the jungle. And particularly inspiring and poetic revolutionaries they were.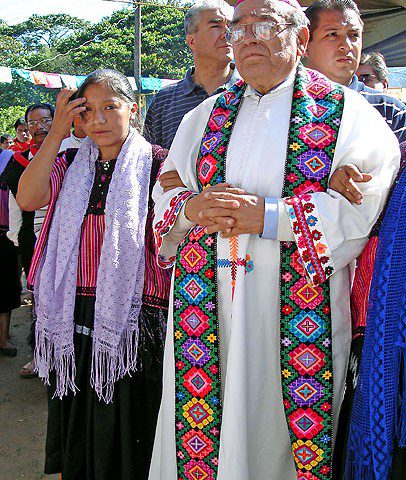 So in 1995 I had an opportunity to travel there with a faith-based group called IFCO/Pastors for Peace in a caravan filled with different kinds of humanitarian aid to the Zapatistas. This group runs solidarity tours to support certain Latin American resistance movements and gives first-hand access to key players in these tours. And I'll never forget our first meeting when we landed at the Diocese of San Cristobal de las Casas with the legendary Bishop Samuel Ruiz, a practitioner of liberation theology and the spiritual leader for the state of Chiapas in southern Mexico at that time, a state that is characterized by extreme poverty and a majority Indigenous population, primarily Mayan. Thousands of Mayan people honored him as a defender of Indigenous rights and called him "Tata Samuel," "tata" meaning father.
And so when our group arrived, we first met Tata Samuel in a room full of Zapatista comandantes, with their ski masks, that were all around in the diocese building.
So Bishop Samuel Ruiz held a special Mass and blessed our caravan. And that was the first time when I ever saw in Spanish a mass or a church service that was aimed at something that felt to me so socially powerful and relevant as the Zapatista uprising.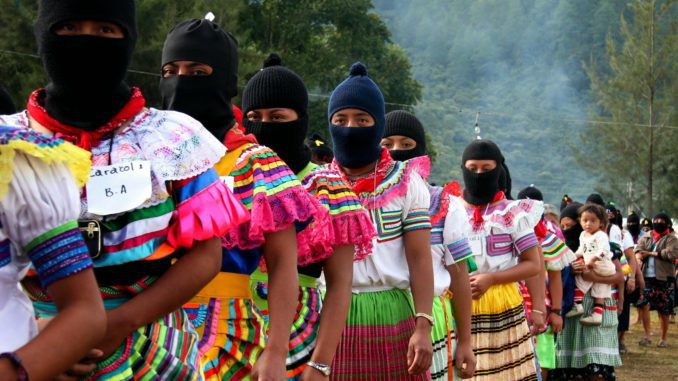 Tami: And also that that was your first real experience in Latin America, which would become such a source of inspiration for you, even more so over the years. That's so powerful. You have become so immersed in the cultures in Latin America and in the progressive movements working with indigenous and alternative communities as a journalist, really highlighting those stories and those voices through The Esperanza Project. Do you want to tell us a little bit more about the Esperanza Project and what that is?
Tracy: Esperanza means hope in Spanish, to start with. And as a journalist, I've always tried to focus on stories that uplift people to some degree, which is kind of a paradox when you're covering sensitive topics such as social justice, the environment, or immigration. On one hand, you don't want to brightside everything and only focus on the positive. That's not helpful. On the other hand, there are ways to cover these issues that are empowering, by focusing on solutions, on the inspiration of the protagonists of these social change movements—not portraying people as victims, but portraying them as people with agency, with their own stories and their own voices. The people who are actually working for change in creative and uplifting and powerful ways.
So, you know, it sort of gets back to my personal philosophy as a human. I feel like we are in a really, really critical moment in human history. We don't know which way this is going to go down. We have no way of knowing. But as Joanna Macy talks about—Joanna Macy, author of The Work that Reconnects is such an inspiration for me— and she says that what really matters most is what we do with ourselves in this time. You know, we may or may not win this fight to save humanity from itself. We may or may not. But if we give ourselves to this work in an integral, valiant way, we can feel that we have lived well.
And there are so many people that are out there doing just that who have inspired me. And I wanted to see a journalism that focuses on that from a perspective of hope. And so the Esperanza Project was born in 2009 when I was preparing for a journey through Latin America.
In some ways, I guess it was a one-person version of what the Vision Council folks did with their 13-year caravan through Latin America, promoting permaculture, Earth-based spirituality, and a culture of peace. And that's the people that we're going to be talking about and highlighting not just today, but during the course of this series.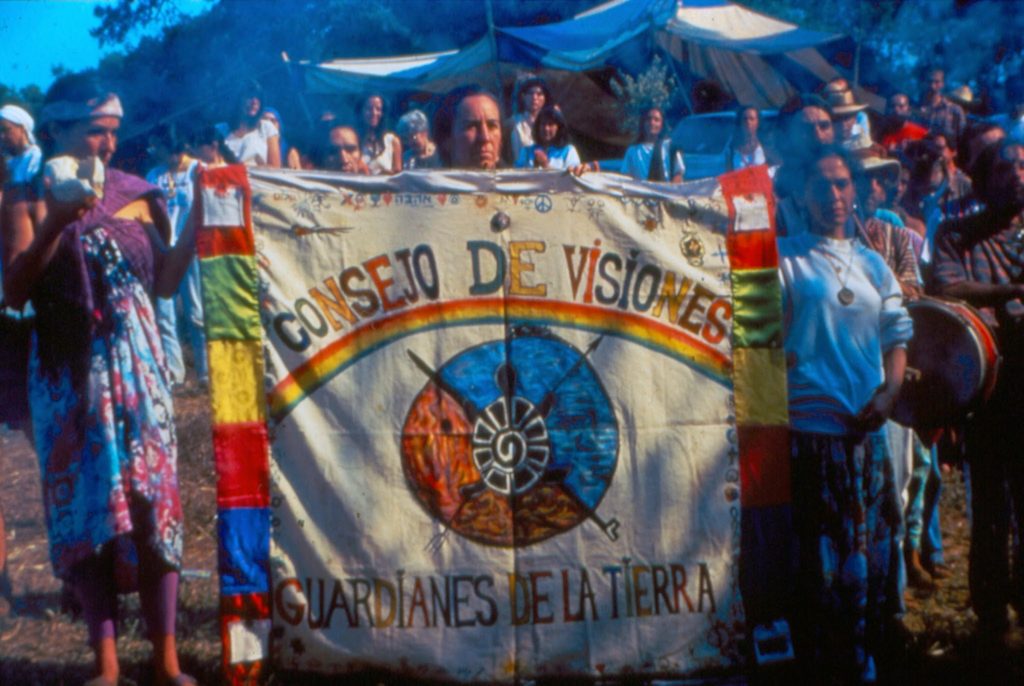 Tami: Just briefly to say about the Vision Council that many of them are based out of a village near Cuernavaca, Mexico. And Tracy and I will be featuring some of those eco-elders and others who have also been very deeply influenced by Joanna Macy, and will be featured as well in these talks.
Some of the leaders of that Vision Council I met years ago and introduced Tracy to them while she was preparing for this journey, and since then she has been deeply immersed in working with them. So we'll have several talks with some of their founders and visionaries, and then we also will be having a full-day event on August 7th, kind of the culmination, where we're going to recreate a day-long virtual Vision Council gathering.
Tracy, what is a Vision Council gathering and how did you meet them?
Tracy: Well, as you said, I met them through you! And if it weren't for Tami, who knows? My trajectory probably would have been quite different. I don't know if I would have necessarily been in Mexico right now.
It was 2003, when you were in Peru and you attended an event called The Call of the Condor, and you wrote this beautiful piece that you shared that talked about all these incredible characters, Coyote Alberto and Laura Kuri, this wonderful woman who was teaching bioregionalism throughout Latin America.
So I was really intrigued. And this Coyote Alberto was sending out communiques, kind of like Subcomandante Marcos, in fact at that time he was calling himself the Sub-Coyote. And I was entranced, and I really wanted to go. I wanted to drop everything, my whole newspaper career and go. But of course, that wasn't practical or possible. So this was in 2003 but it wasn't until 2010, seven years later, that the universe set me free from my newspaper career, I guess you could say.
With the recession of 2008, the newspaper industry kind of imploded and there was no need for the services of a travel editor, which I had worked my way up to be the travel editor of the Houston Chronicle, which was a pretty awesome gig. But after that, nobody's going to want to go back to the confines of a desk job, right? So I decided to pick up my pen and my backpack and do something I'd always wanted to do, which was to make a trip through Latin America reporting on people, and start with the people from the Vision Council that you put me in touch with.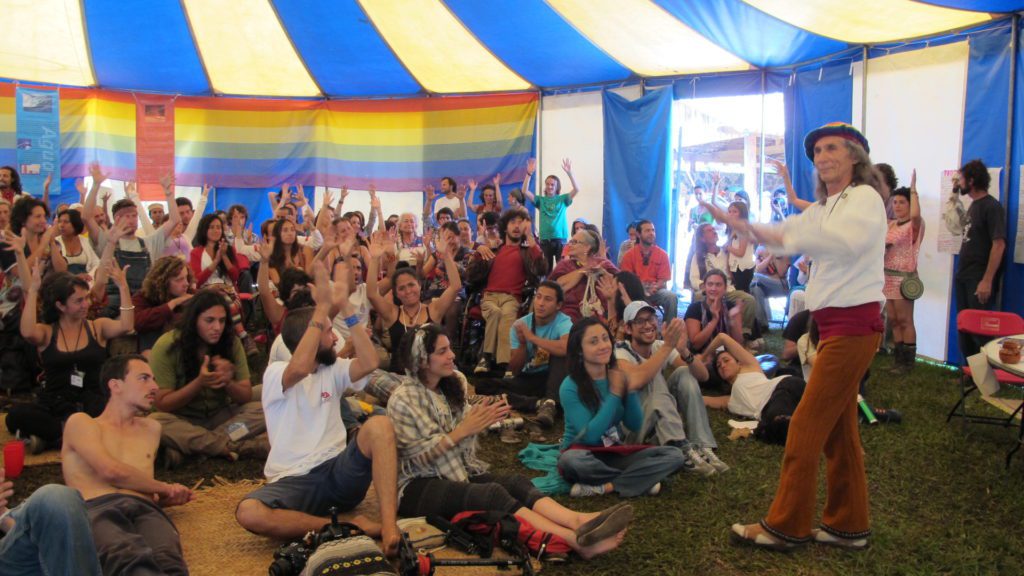 And my first meeting was not with Alberto because he was still finishing up the 13 year Rainbow Peace Caravan. That Caravan took the eco-techniques and the permaculture and ecovillage teachings and theatrical presentations and music and art all throughout Latin America, all the way down to Patagonia and back. He was still immersed in that, and so the first people I met with were Noelle and Arnold from a group called Organi-K (pronounced "Organica"). They were among the early members of the Vision Council as well. And soon after I met with Alberto.
And they gave me leads throughout Latin America that I followed, among others that I generated myself, people I ran into on the street as well. And that's how the Esperanza Project was really born, through that series of interviews with protagonists of environmental movements throughout the Americas.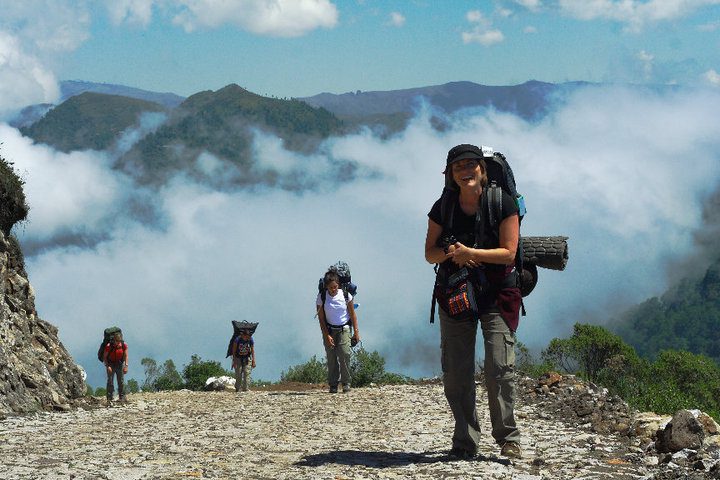 Tami: Yes, so to paint a little bit more of the picture in people's minds, there was a caravan that traveled for 13 years, from Mexico all the way down to Tierra del Fuego. And all along the way, many of them were performers, and they were performing acrobatics, and putting on these incredible shows, in these villages all across Latin America. And they were planting the seeds of permaculture design, and some were ecovillage founders. And the event I attended in Peru was really amazing because it was an opportunity to connect people from ecovillages, the Global Ecovillage Network, and the founders of those groups, including some from Findhorn, from all across Europe, all across Latin America, all across the globe—they were all gathering at the Call of the Condor Vision Council gathering.
Tracy: Yes, really amazing. I wish I had been there! But I've been to a number of council gatherings since then, and what's happening now, in 2022, is that we are organizing the long-awaited 16th episode of the Vision Council, and it's going to be taking place in the beautiful hills outside of Mexico City near the little village of Tepoztlan. It's in a scout camp outside of Tepoztlan called Meztitla — right where the Vision Council began.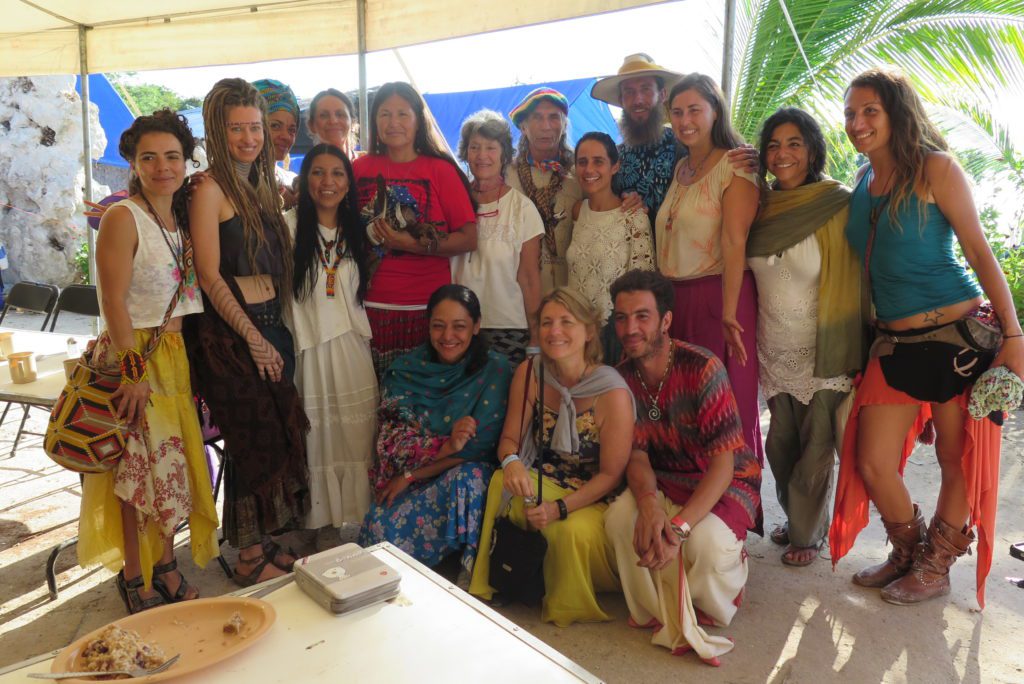 Tami: One of the things I want to ask you, Tracy: I remember in some of our conversations you talked about how people in the South understand that people in the North bring something really helpful to helping them organize. At the same time, the people in the South have so much to share with us in the North. It feels like there's a way that we can partner that feels really rich and fertile. How do you see the North and the South interfacing in a really positive way—in your travels and in the work with the Consejo and with indigenous groups and others, what are some ways you think we can cross-fertilize?
Tracy: Well, I think one of the things that I think people in the South really have to share with us is their human warmth and their creativity and their passion. That's what has always drawn me. There's this sort of chispa, you know, the spark that brings things alive. I had just landed in Medellin, Colombia, and didn't know a single person. And there was a street demonstration, all these people walking on stilts and dressed up like clowns and animals and things—clear out of the blue, you know?
I got to know some of them and I said, What is it about? I mean, what gave you the idea to have this kind of protest? And the guy said, well, people are tired of seeing people all angry and carrying signs. You know, we have to be creative if we want people to follow us. We have to be creative and we have to greet them with music and joy and smiles and laughter. They're tired of anger.
But what they were dealing with was really serious. There was incredible violence going on in Colombia, and they were just coming out of a 50-year war, and there were all these displaced people who were being treated unfairly. And so they were dealing with very serious issues. They were dealing with it in a way that brought music and art. I'm seeing activists on the front lines in the United States doing this more and more now and seeing the rise of "artivism" just in the past ten years, really, since I started the Esperanza Project, I've seen it more and more. And I love highlighting those kinds of things. But I think it's the passion, the creativity, the poetry and the absolute commitment to the point of being willing to die, to begin to be willing to sacrifice their lives if necessary, to defend their territories and their land and their rights and their principles. The right to self-determination, which is something in a lot of cases in Latin America, has been denied to them.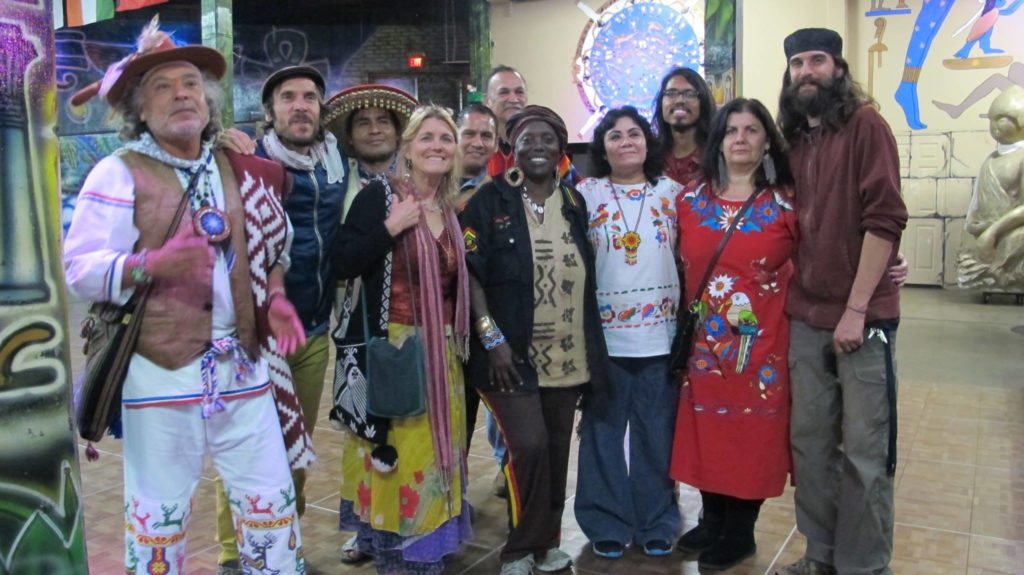 Tami: Wow. Thank you, Tracy, for sharing that, because I think it's such a paradox, isn't it? It feels sometimes like those of us in the North have become somewhat comfortable. And yet we can learn from the South about what it means to actually fight for your democracy or for your dignity or for your land. That's very powerful. I really love so much what you're saying specifically about beauty, because even when I was convening this, you know how many conversations we've had where sometimes the tone or the feeling of the more resistance-based culture can feel very, very heavy. And sometimes heavy is what's needed. But early on I decided that the people I featured here, I wanted there to be an undertone of celebration, of joy, of beauty, because one of the deepest beliefs I have about how it is that we come together and create something new is that we first have to take off our blinders to actually see how gorgeous and incredible this this earth is, and also to see that within each of our selves and see that in our human communities. And it feels like you really experience that at a deep level.
Tracy: Yes. Another thing I'd like to really acknowledge is that part of what I think makes Mexican culture so special, and I would say a similar thing about all of Central America, Peru, Bolivia, many countries in Latin America is the really high percentage of Indigenous people in the makeup of those cultures and the ethnic diversity.
And as Moira Milan, my very dear Mapuche friend who is going to be featured in tomorrow's Esperanza Project, if you keep your eye out, it's the concept of plurinationality. For example, Bolivia calls itself the Plurinational State of Bolivia. It's multiple nations in one. So, you know, we started to publish the story and I ran the first draft by her, which talked about a national Indigenous women's movement in Argentina, and she said, no, no, no, it's not a national movement. It's a plurinational movement. And that's a very different thing, because Argentina is not a nation, it's a pluri-nation because there are 40 nations here.
And that's true for the United States, too. We just haven't acknowledged it. And if we could, what a rich and incredible culture we would have, if we embraced and celebrated each one of those nations. That's a huge part of the territory that we call the United States.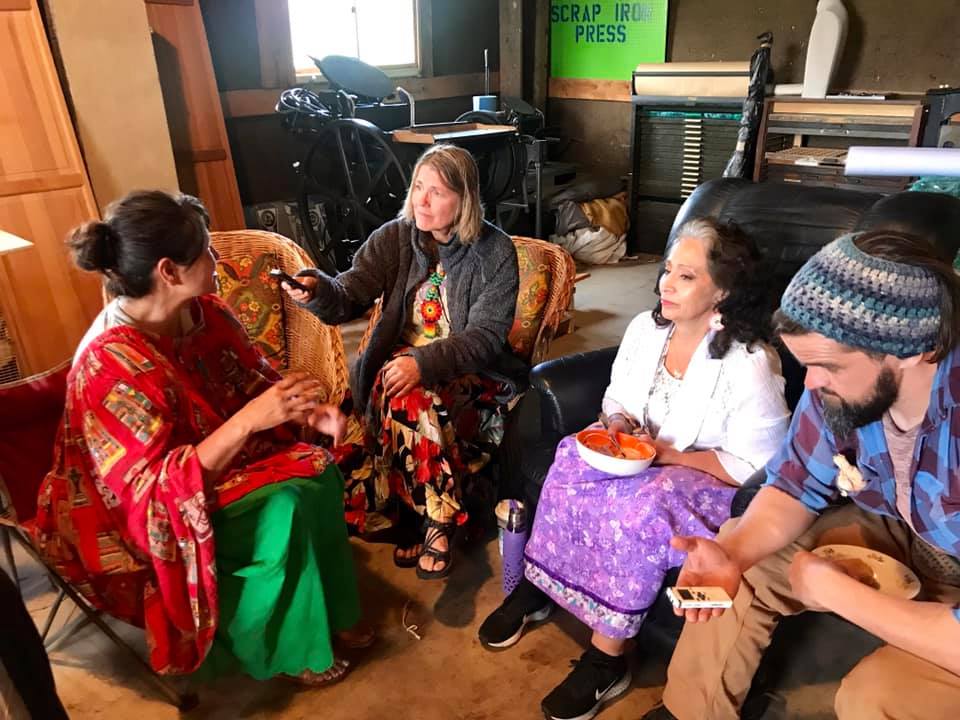 Tami: Absolutely. And it just strikes me so deeply that the US Constitution was deeply informed by the inspiration of the Haudenosaunee, the Iroquois Confederacy, and the way they operated. And so it has Indigenous roots, the wisdom of the original peoples, and the way that they were living. And it's so interesting to me that so much of what you're talking about specifically is about people who are actively living and engaged in a way that we would always aspire to. That's how we see ourselves, that it's being lived out as an active democracy that values the diversity of the many nations, the different peoples—that's what we aspire to. So I want to just honor and acknowledge that, and I think you're giving us a transmission of that to help us remember who we potentially could be.
So thank you for sharing all of that. You have so many stories, Tracy, and The Esperanza Project is such a source of inspiration. We had one of our richest conversations a couple of weeks ago, when I was with Tracy, who is currently here in Missouri and staying in a little RV next to her daughter and her family. And so I spent the night in the RV. It was really fun, and we were just having this conversation with Tara the next morning about—Why is it that it sometimes feels as if stories about indigenous issues specifically are so hard to communicate? It's like people can't see it. Unless people have been really open to that and really are immersed in that culture themselves here in the US especially, it just seems like it's something that kind of just goes right over people's heads when it involves actual Indigenous communities.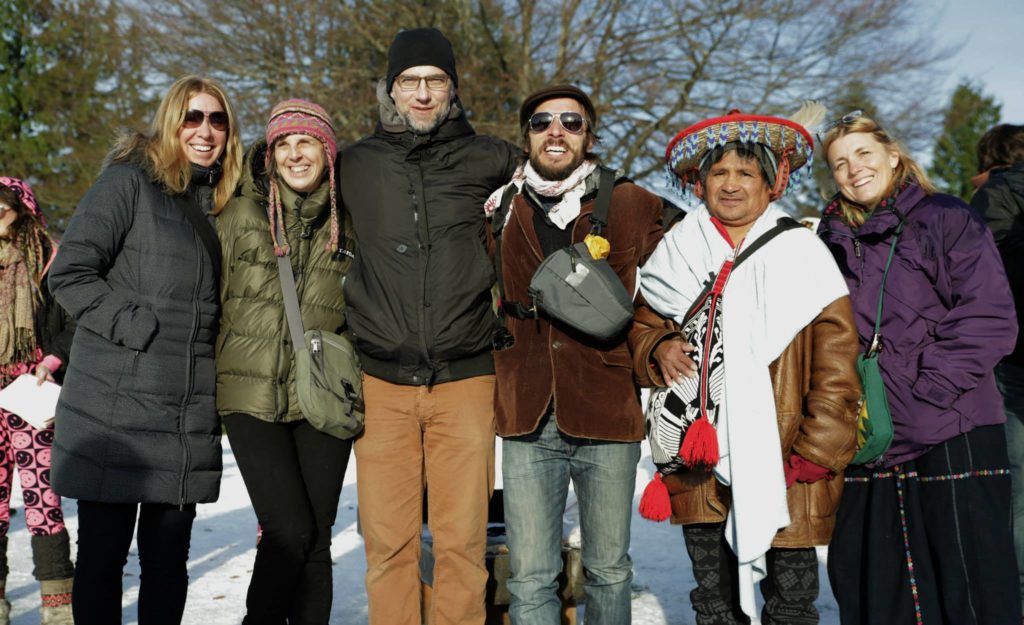 If there's kind of a charismatic Indigenous spiritual teacher, that might be different. Not to put that down, but it's different from what actual Indigenous communities are facing. To bring visibility to that seems like it's something that just misses. Right? But I think that's changing. So check out the Esperanza Project because these stories are amazing. You'll be so deeply inspired by what's happening in the South, I think. Do you want to talk about some of what you've been seeing, that can inspire us with where we're at right now in our country?
Tracy: Well, right now I'm so deeply immersed in the organizing of the Vision Council that I think I'm just going to circle back to that, since that's something that I think people can really apply in the US. Both in terms of gleaning ideas from the organizing model – and there's a new manual available now, as you reminded me, Tami, so people can contact me if they are interested in organizing something like this in their communities. And, of course, they can come to Mexico in December and live the experience in the flesh and really recharge their spiritual and artistic and activist batteries. Finally, if they can't come but would like to support the attendance of an Indigenous elder or an under-resourced youth, they can make a tax-deductible donation, and they can contact me about that, as well.
So what happens during a Consejo de Visiones or Vision Council is that for a week, we build an itinerant ecovillage for everything from the outdoor kitchen to the composting toilets, to the ceremonial sites, to kitchen, to the clinic. It's got everything. Some people have had the opportunity to experience a Rainbow Gathering, and the Vision Council was actually born with two twin influences—and certainly others as well, but the main ones I'm aware of are the Rainbow Gathering on one hand and the Bioregional Movement on the other hand.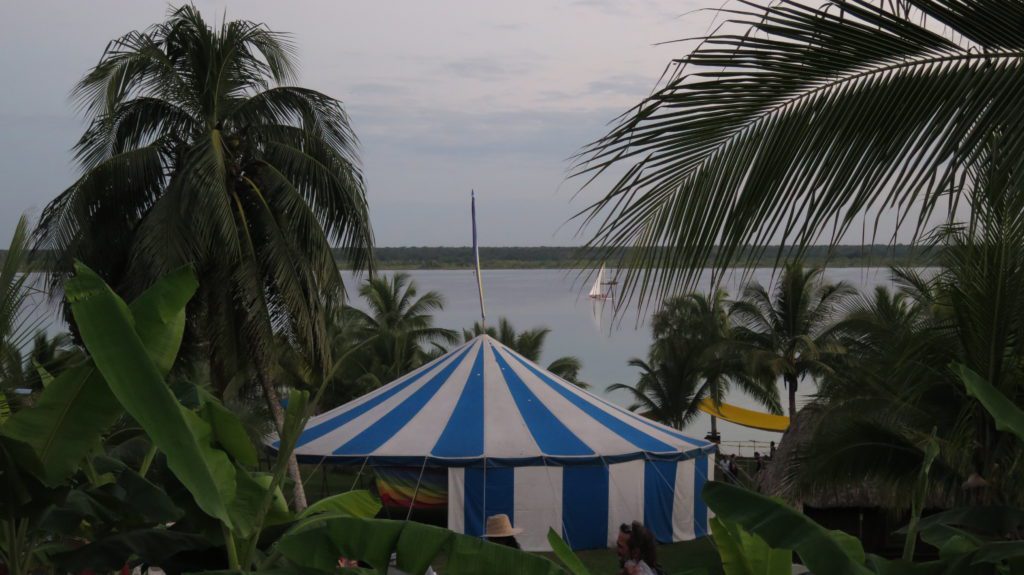 So I like to think of the Vision Council as a Rainbow Gathering that's a little bit more purposeful, it's more activist-oriented. It's also more deeply rooted with Indigenous culture and with the local community. It's divided up into different councils: there's the Health Council, there's the Education Council, there's the Tradition Council that unites Indigenous peoples and those who want to learn from them. There is the Spirituality Council, which explores spirituality in all its dimensions; this year the two are being combined in what's being called the Cosmology Council. There is the Art and Culture Council, the center for artivism and music and all kinds of artistic expressions, including the nightly concerts with musicians that come from all over the world. There's the Youth Council, the Children's Council, and sometimes an Elders Council.
So there are spaces for each of the councils that are carrying on a complete program of activities, talks and workshops, kind of like an outdoor university, for a whole week. There's a complete series of programs that are going on at all times. Social movements, Environment, and Education. It's just really hard to choose, because there are so many really dynamic people from all over, not just Latin America, but there are people who come from the United States, from Europe and from beyond. Really, I've seen people come from as far as Australia and Europe, and we have lots of people who come from Colombia, Argentina and other places in Latin America.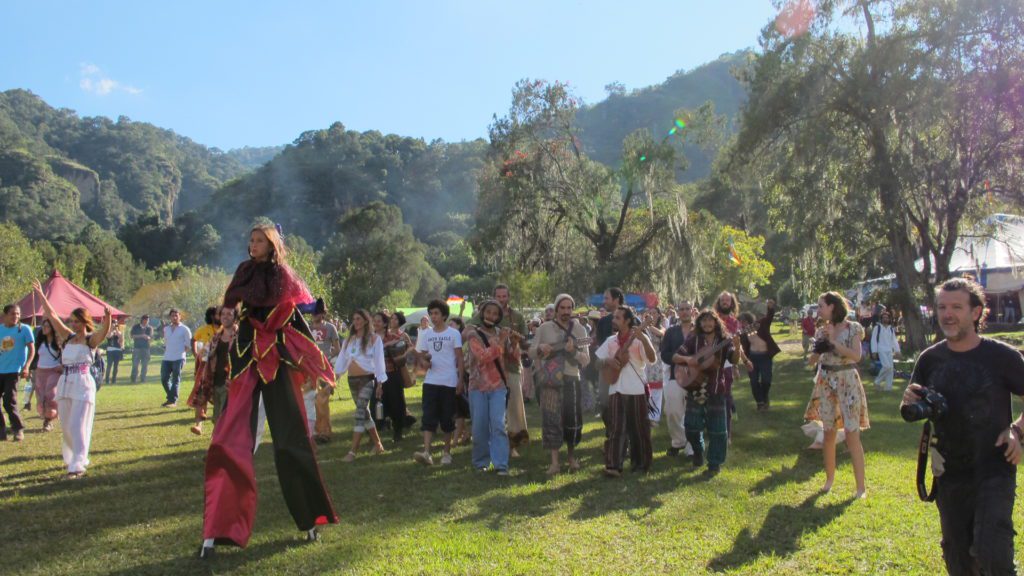 Tami: There were 35 different countries represented at the Llamado del Condor, the Call of the Condor gathering I went to in 2003; we were 700 people from 35 different countries. Thank you for describing it so beautifully, because it reminds me of what I've often found. There are so many separations between groups, as when I've spent time working with more permaculture-oriented individuals and groups — they're often not into spirituality.
They're very practical, they're very down-to-earth. A lot of times they're anti-spirituality, or anti-new-agey. It's like, there's no patience for such things—we need to get work done. With activists, it's the same thing, right? But I found in one gathering this incredible space that was big enough to hold the astrologers and to actually have a space where they respected people who were looking at the larger cycles, as well as having really practical people who are making things happen on the ground that were so incredible, just very down to earth and very savvy, smart people who are creating a new ecological kind of reality around them.
Tracy: That's so important to create spaces where we bring together those diverse mentalities, right? And it's also really important to bring in the people who are around us, just living their lives—so that's why the Community Council is so important, which is the council charged with making that connection to the local community. In the Vision Council I helped organize in 2015 in the ecovillage where I lived in Jalisco, we ended up having a big impact in the neighboring village, because something that we try very hard to do in the Vision Council is to include the local community where the event is held—so that they don't see us as just a bunch of hippies coming in doing their thing and leaving, like the Rainbow Gathering. I love the Rainbow Gathering too, which is celebrating its 50th anniversary this year, but they have some serious issues and sometimes they really upset the local communities.
For a Vision Council gathering we send in advance groups of people who are super professional. Oftentimes, these are people from the local community, who do all the organizing and put fears to rest and make a plan to attend to what the local people really need. A lot of times there'll be a project that's being done and the whole Council works with the local community. There's a series of workshops going on in the nearby town, and those people are all invited to come to the Consejo free of charge.
So, the next gathering is happening December 4th through 11th in Tepoztlan. We are calling this edition the XVI Vision Council: The Embrace of the Amate. The Amate is an amazing tree that has a sort of sparkly golden bark and incredible roots that grow on cliffs or huge rocks. And the Huehuecoyotl ecovillage, where the Vision Council was born, has a massive Amate tree at its heart. And because this Vision Council is kind of a coming full circle, it's the Embrace of the Amate.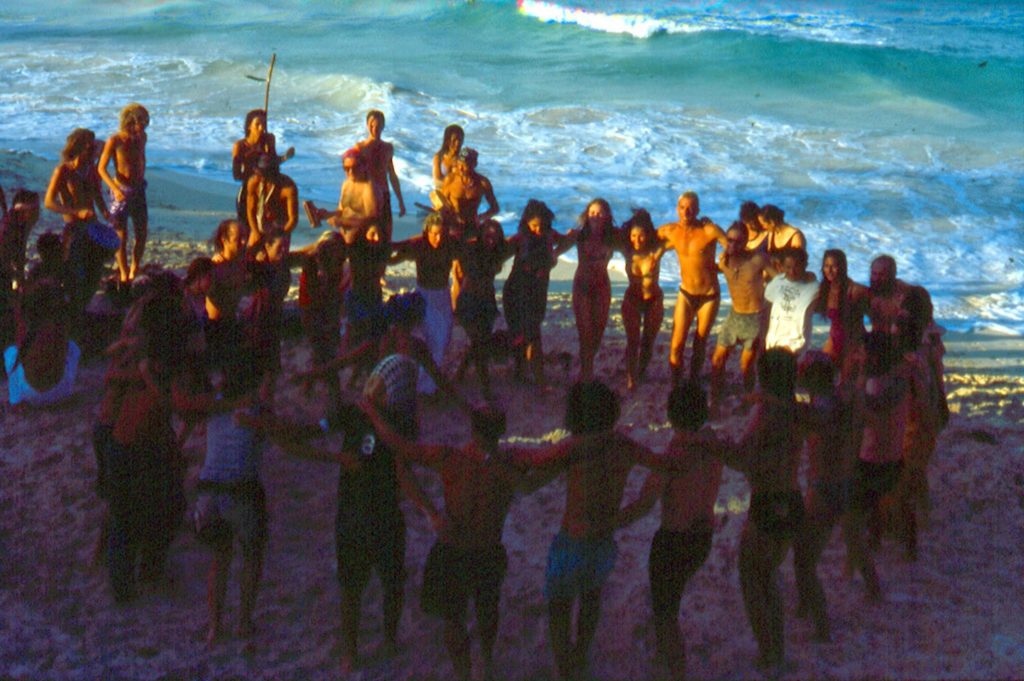 Tami: You're reminding me that when I went to The Call of the Condor event, it was a very dark time in the US. We had just started the war in Iraq recently and I remember I was working on my master's degree, focused on environmental studies and environmental writing. I was studying many of these thinkers like Joanna Macy, these deep ecologists.
After becoming interested in Bioregionalism, Tracy introduced me to David Haenke, one of the key founders of the Bioregional movement.
I wanted to find people who looked like me, who had more of an Indigenous perspective that felt alive and authentic and true, and who lived that way. So that's how I met David Haenke, founder of the Bioregional Congress movement. He was a back-to-the-lander in the Ozarks. He was a total animist, talking to the trees, but super practical, doing all this amazing work. And he was the one who told me about the Call of the Condor Vision Council gathering.
And yes, it's so amazing that it's full circle now. It's going to be in Tepoztlán. Tepoztlán is like Mexico's version of Boulder. It's a very beautiful, progressive community in the mountains. It's so exciting to imagine our listeners here in the North would have the opportunity to experience something like this. And I see that several of you are asking about it.
But before we open up the Q&A, I want to weave a little bit of astrology into all of this because I think it's helpful to understand that frame and always fun to see how the archetypes are playing out. So, for example, I don't know if you can guess this but Aries is a strong part of Tracy's chart, in that she has an Aries Venus.
So when she's talking about Subcomandante Marcos and she's talking about the Zapatistas and she's talking about the ski masks and all these things—even the way she wrote her bio, she's very focused on guardianship of the Earth. She has a fierceness, wanting to be the one who protects and brings justice and balance back into our world that is currently so out of balance.
She also has a Taurus Sun, as she was born on Earth Day. So Tracy, there's this beautiful medicine that you bring.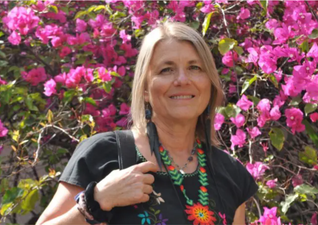 Before we open to questions, Tracy, I do want to end as we began. Somehow you straddle the worlds of North and South you move back and forth between Mexico and the US and navigate those two cultures, I think, pretty skillfully , both in your work and your personal life.
You spend a lot of your time writing, immersed in your work and in front of the computer. So you're part of this modern world, on a day-to-day basis. How do you sustain a connection to the sacred within your everyday reality? How do you keep that spirit alive in you? How do you do that? What are your practices?
Tracy: Oh, gosh, when I'm in Mexico, it's so much easier.
Tami: How so?
Tracy: Well, it's hard to know how much of it is the culture here compared to there and how much of it is because here I'm immersed with my family, so I'm very, very busy. Yeah. You know, I like to start each day with time for spirit and time for reflection. And that's very hard to do when you have two little beautiful, adorable, intelligent granddaughters banging on your door saying. Let's go jump on the trampoline! It's not exactly time for reflection and connection with spirit. You've got to hit the ground running, and that's pretty much it. But sharing with my grandchildren has its own kind of special magic.
And I find my ways to connect with spirit, you know. But ideally, one starts the day with that, and I like to go up to my rooftop and I'm very blessed to have a rooftop where I've created a little garden. Scruffy though it may be, my little garden and my connection to the divine up there is my refuge. And I do my yoga, I do my meditation, I care for my garden, and that's how I start my day. And I can also circle back up there at night. And that's been a really important touchpoint for me throughout all of this.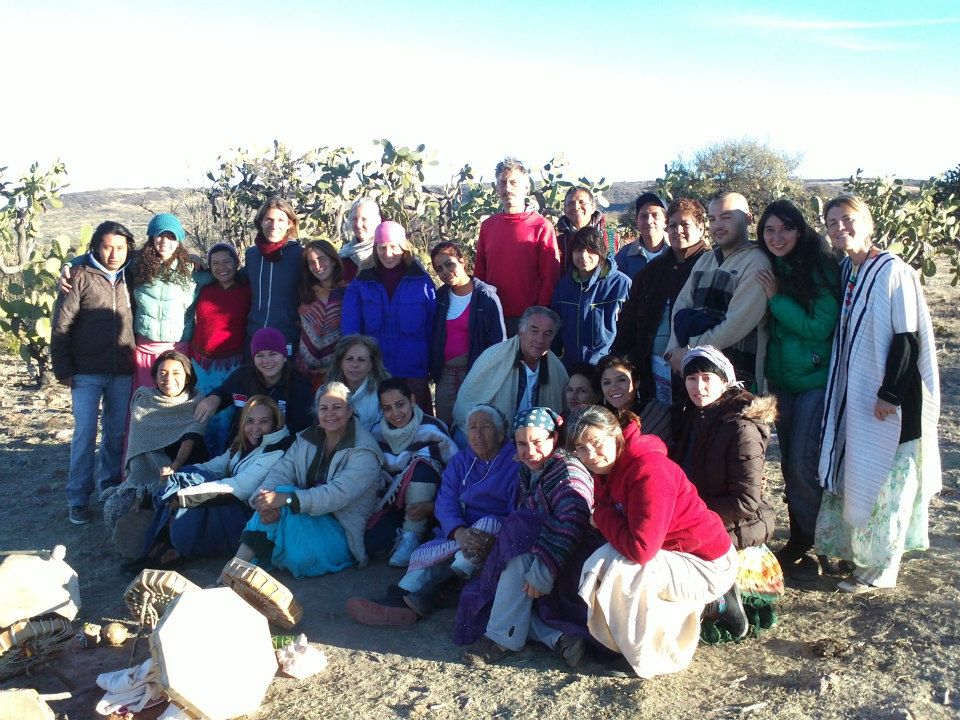 Tami: That's so beautiful. Thank you. Yes, because I think you are also touching into this topic when you talk about needing your personal connection to Spirit, the space you need to cultivate that connection to the sacred and your own rituals and ceremonies. And I feel like what we're talking about, too, is how to live life more ceremonially. So there's an individualistic aspect, which I think is also more Western, right?
Tracy: Yes, and you know, I was also going to share about my Aztec dance circle. These folks are amazing. I mean, I just am blessed to live in front of a historic little plaza in the oldest neighborhood of Guadalajara. And every Monday night, the Kuetzpalkalli Dance Circle comes and practices the same traditions that have been practiced since time immemorial. And they taught me the dances and I dance with them every Monday. And among that group there are at least half a dozen pipe carriers that have learned the Lakota tradition, and they are carrying out every full moon, a Lakota pipe ceremony. And I pray and sing with them.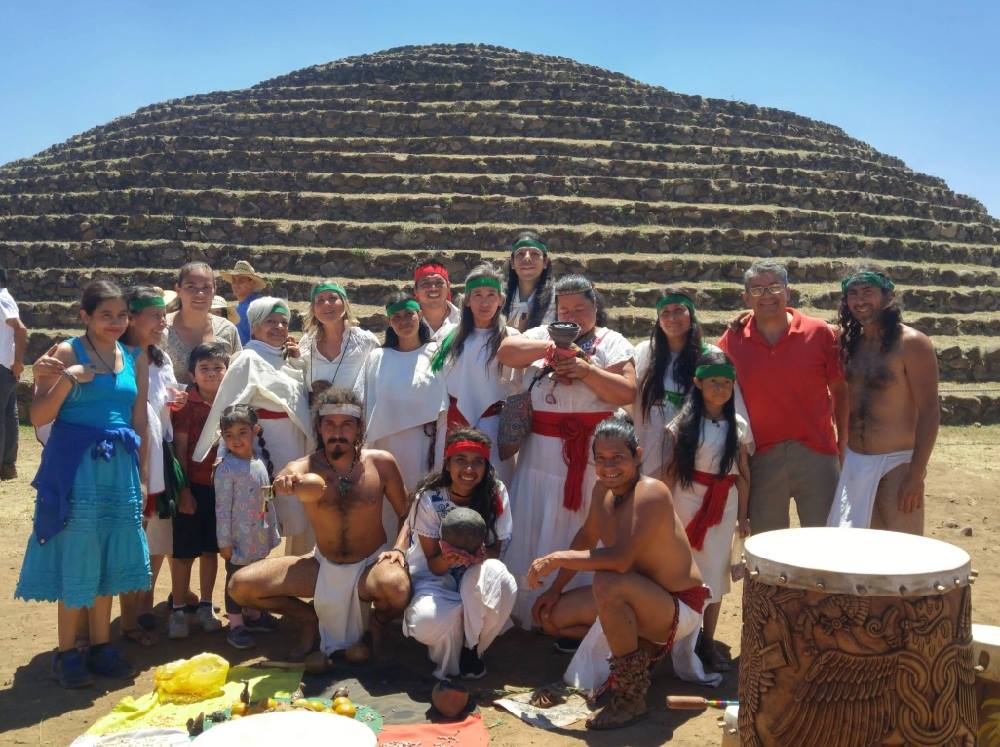 And they are just such lovely, high quality people. I couldn't ask for a better group of people to pray with. Aztec dance, or really as we call it in Mexico, because it's much more than Aztec, it's Pre-Hispanic Dance, it is prayer in motion. And every Monday night we do that, and every Wednesday there's the traditional song practice. And every full moon we do the pipe ceremony.
Tami: That's so beautiful. Thank you for sharing that, because the way you're describing it, I feel like that is what so many people are missing is the communal aspect. I think there are many places where those kinds of ceremonial containers are being created. There are growing communities where people are bringing in sacred culture in a lot of different ways. But I feel like what you're describing is so unique to where you are and it's so powerful and alive.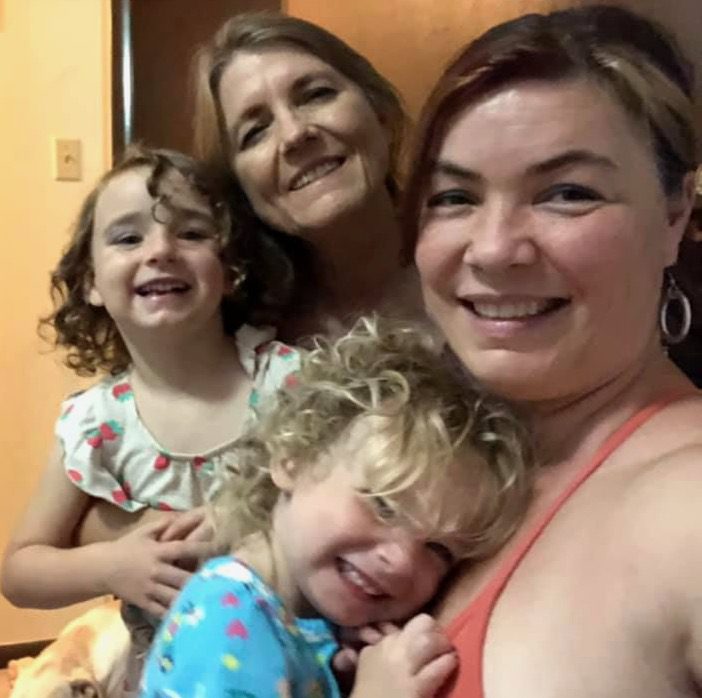 I also want to say that when I've gone to spend the night with you and Tara, your daughter, what I felt was that I was immersed in this little magical world. I felt the sacredness of the community the two of you with the two children and their Dad were creating together. And I think part of that is because Tara was raised in the Rainbow family, and very much influenced by that culture. So I feel that with the way she raises her kids; they're very intelligent and free, and there's something about the way you've woven your communities together that feels familiar, to the dynamic of a Consejo–alive and connected.
Tracy: Thank you, Tami. That's really sweet, and, thank you for seeing that. So I guess we're all trying to create sacred culture in the ways we can. And I love to see the way you're weaving that, where you live.
Tami: Thank you for all of your stories. And again, check out The Esperanza Project. Tracy's featuring such incredible stories that you will not usually see, you will not usually hear, and some amazing interviews with indigenous elders and speaking to what's happening with the Wixárika, the Huichol people, and many others as well.
To read more about the Vision Council or register for the upcoming one, click HERE.
To listen to the entire interview, click on the video above; to hear the live Q&A, fast-forward through the video to the last 30 minutes.