BRIDGER, South Dakota, USA — The Keystone XL victory was sweet for Native pipeline foes in unceded Lakota treaty territory, and a month later, they were still celebrating. The historic victory over Canadian oil giant TC Energy Corp., however, did not erase the dire need of support for the ongoing effort — both here and along other pipeline construction routes. 
The announcement from TC Energy's corporate headquarters on June 9 was terse: "The company confirmed today that after a comprehensive review of its options, and in consultation with its partner, the government of Alberta, it has terminated the Keystone XL."
Indigenous Environmental Network organizer Dallas Goldtooth immediately cheered, "Keystone XL has thrown in the towel!"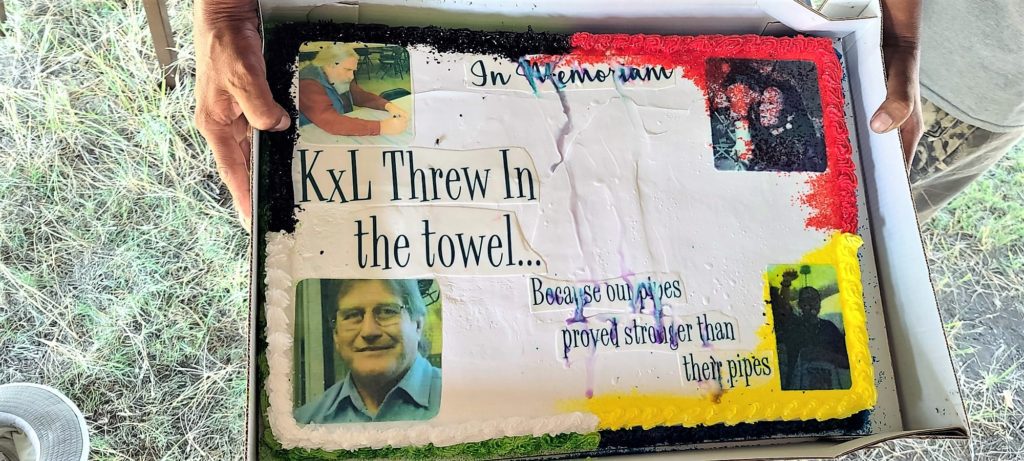 "What I love most is seeing all the pipeline fighter posts today announcing the news! These are just a handful of the dedicated water protectors who went to countless hearings, attended countless conference calls, organized rallies and marches and actions — who built a campaign that truly changed the climate movement overall," he said in a social media message.
The people of the Oceti Sakowin (Seven Council Fires of the Great Sioux Nation) initially opposed KXL for violating constitutional law by taking treaty-protected land without consultation or consent. Tribal governments and constituents likewise criticized the megaproject for menacing water supplies in Montana, South Dakota, and Nebraska.
The Indigenous Environmental Network soon attracted international support for the cause by also exposing the climate justice angle of the struggle. TC Energy Corp.'s tar-sands oil, or diluted bitumen, destroys the Native Athabascan boreal forest where it is mined in Alberta and generates three to four times more greenhouse gas than conventional fossil fuel.
"From Canada to the Gulf of Mexico, everyday people resisted and stopped a multi-billion dollar corporation from threatening our future. Many fought, many got arrested, but none gave up," Goldtooth said. "We beat this: Now on to the others!"
Still reveling in the KKL victory a month later, a contingent of grassroots pipeline opponents gathered on July 10 at Bridger on the Cheyenne River Sioux Indian Reservation. Participants prayed and feasted in one of many celebratory events to take place across the Northern Great Plains, where the private hazardous infrastructure megaproject had been slated to cross vital waterways and habitat.
"Perhaps more celebrations are in order!" proposed participant Jennifer Baker, a lawyer who helped the Ihanktonwan (Yankton Sioux) tribe sue the federal government over failure to hold tribal consultations in project permitting.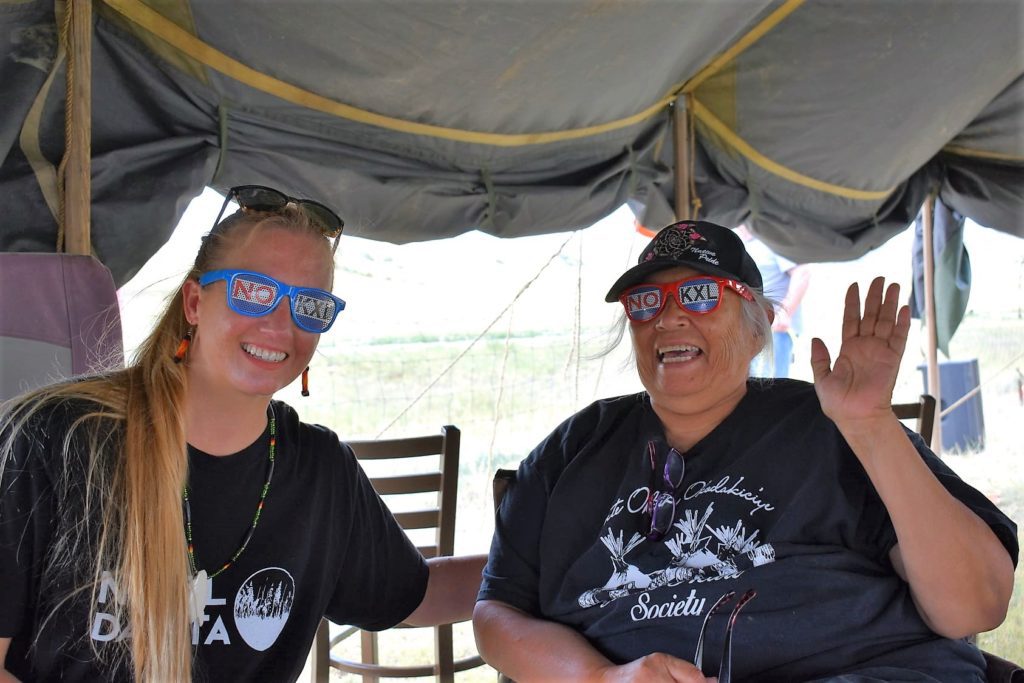 All 1868 Fort Laramie Treaty tribes — as well as the National Congress of American Indians and the Great Plains Tribal Chairmen's Association — were on record in opposition to KXL. The consensus-building dates back to the 2013 Gathering to Protect the Sacred from the Tar Sands and Keystone XL, which culminated in the initial signing of the International Treaty to Protect the Sacred from Tar Sands Projects.
Faith Spotted Eagle, chair of the Ihanktonwan Treaty Committee, which floated the foundational document, attended the Bridger celebration. After more than a decade of fending off the so-called Black Snake of Oceti Sakowin prophecy, Spotted Eagle paid homage to the late fellow pipeline fighters. Recalling those who gave their lives in the service of countering the threat until U.S. President Joe Biden kept his 2020 election campaign promise to halt it, she noted she "really could feel the presence of those who went on, and it was greatly appreciated."
At the July celebration, Cheyenne River Sioux tribal members Jasilyn Charger and Oscar High Elk received honoring blankets for KXL civil disobedience and prayer camp activities that landed them multiple state indictments. South Dakota penalized 25-year old Charger for locking herself to a KXL pump station to delay construction. She paid a fine and will serve six months' probation for trespassing on her treaty land.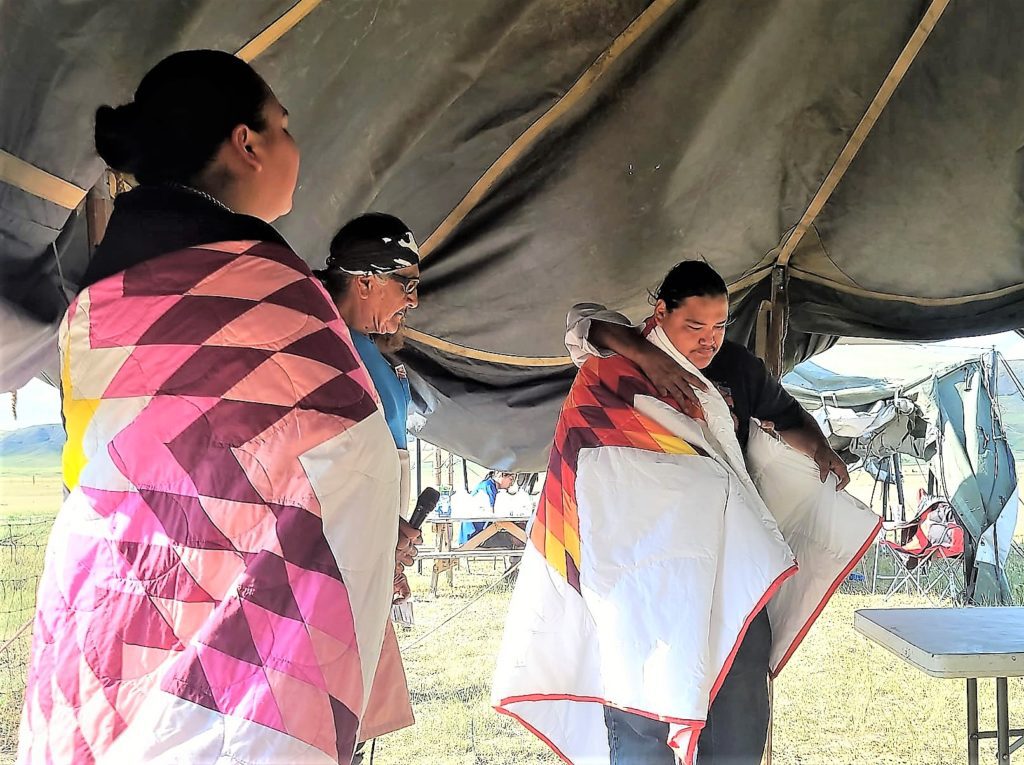 High Elk is expected to face trial in 2022 for a first felony rap, as well as 11 misdemeanor claims, stemming from police activity near his Rootz Camp in late 2020. Punishment could result in a prison sentence of nearly two dozen years and fines up to $48,000.
He "is being persecuted by the so-called state of South Dakota for boldly — yet peacefully — asserting the treaty and sovereignty rights of Oceti Sakowin Oyate while protesting the Keystone XL Pipeline last winter," his supporters said, in asking for petition signatures to drop charges.
On July 7, a state judge set a status hearing on High Elk's case for September. The 30-year-old husband and father of two hails from a family of modest means, asking for donations to make up for expenses incurred in jousting at pipelines. He and relatives also have been taking part in the struggles against the Dakota Access Pipeline, or DAPL, and Enbridge Energy Inc.'s Line 3 in Minnesota.
Tribes are still suing the federal government over DAPL and Line 3 permits denied during the administration of former U.S. President Barack Obama then granted during the administration of subsequent former U.S. President Donald Trump. Meanwhile TC Energy Corp., formerly TransCanadaCorp., is suing the Biden administration for knee-capping KXL.
"One of the first executive actions Trump took, on his fourth day in office, was to force through both the KXL Pipeline and the Dakota Access Pipeline. Four years later, on Biden's first day of presidency, he shut down the KXL Pipeline," photojournalist Ryan Vizzions commented on his social media site No Spiritual Surrender. "As we patiently wait and hope that his administration will shut down both DAPL and Line 3, it's important to remember all three of these crucial environmental fights were led by Indigenous communities," he said.
"Despite making up less than 5 percent of the world's population, Indigenous communities protect 80 percent of the Earth's biodiversity," he pointed out. "There is no discussion on protecting the Earth without setting a seat at the table for tribes and First Nations. The actions happening today wouldn't be possible without the leadership of the communities this nation once set out to destroy through genocide. As we move forward on a path to fight climate change, we should always remember those who tried to protect us when we didn't deserve it and showed up to the fight when we wouldn't."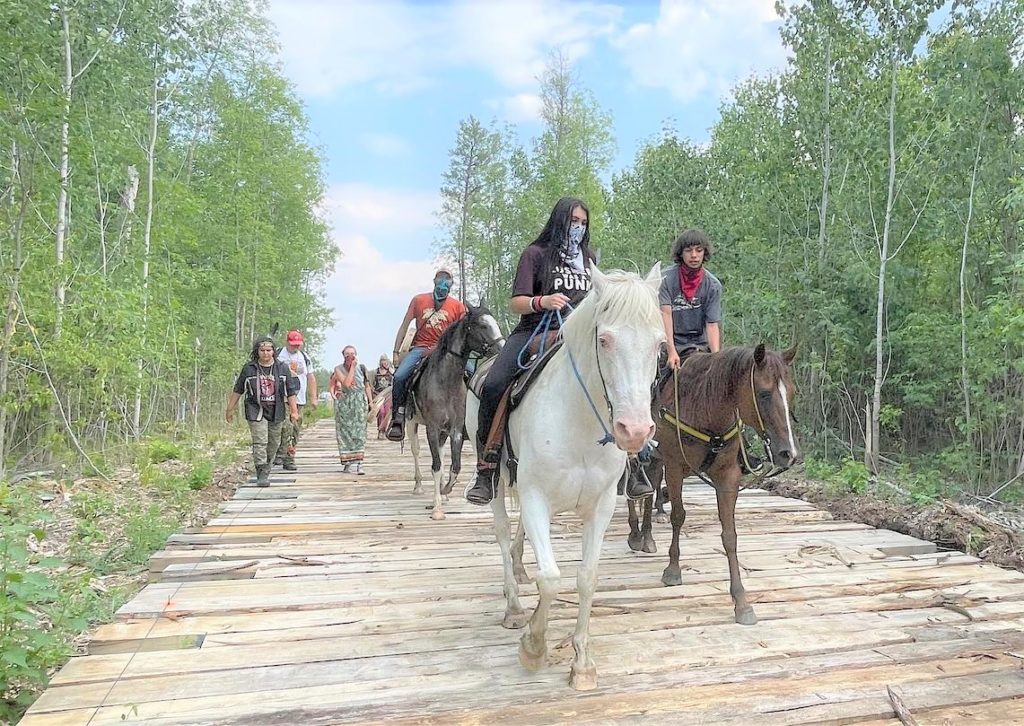 On July 17, Line 3 opponents, now in their seventh month of direct actions to stop construction through Mississippi River Headwaters in Anishinaabe (Ojibway) treaty-rights territory, called out, "Please come to the river to stand for the water." Enbridge Energy Inc. was drilling under the Shell River, despite Minnesota state Department of Natural Resources withdrawal of many of the company's water permits due to extreme drought.
Meanwhile, DAPL continued to operate illegally, pending a court date to stop the oil flow at least until completion of a final supplemental environmental impact statement.
Many of the opponents in the KXL saga had yet to achieve justice after TC Energy Corp. used the rule of eminent domain to cancel individual property papers and obtain easements. Lawyers are trying to reclaim the losses for farmers and ranchers who dubbed themselves "the new Indians" after the corporation succeeded in forcing them to provide rights-of-way.
Grassroots membership organizations, among them Dakota Rural Action and Bold Nebraska, mobilized to convince regulators to revoke KXL permits at the state level.
Line 3 water protectors held a media conference July 7 to direct the news spotlight toward a celebrity letter to the White House.
Signed by more than 200 actors, musicians, environmentalists, Democratic donors and community leaders, the letter that day applauded the administration for cancelling the Keystone XL Pipeline. It urged Biden and Jaime Pinkham of the U.S. Army Corps of Engineers to hold Line 3 construction to the KXL standard.
"Since the construction of the Line 3 project, there have been over 500 people arrested throughout the course of resisting this destructive force that should have never been allowed in the first place," Native water protector Tara Houska said in the media conference. Founder of the Giniw Collective, she insisted, "The level of state repression has become a point of human rights being openly violated. The people who have been arrested have been thrown into kennels, we've been shackled, we've been strip-searched, all for misdemeanor charges."
She said authorities now have started filing felony charges for "doing nothing more than protecting the land and the water," adding, "We are not trespassing; Enbridge is trespassing."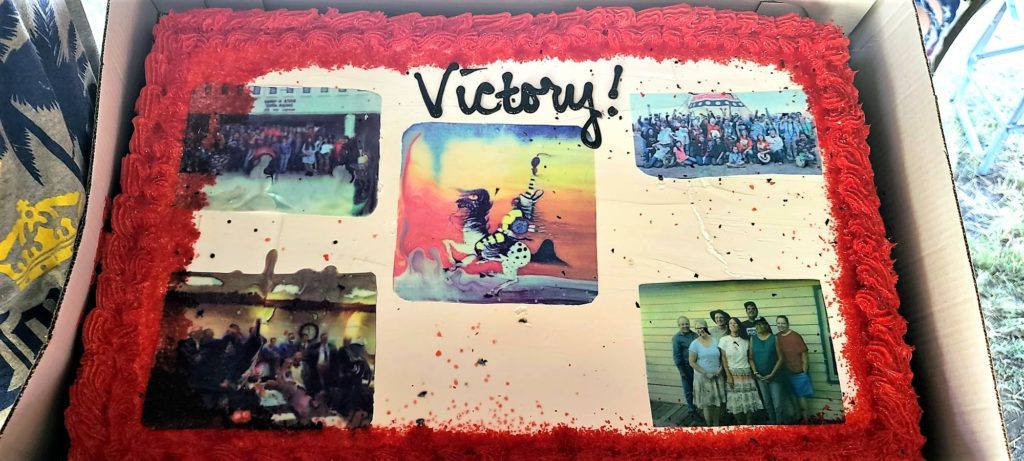 [simple-author-box]