Malorie Arrow recalls the Sicangu Lakota Youth Council members' tour of the former Carlisle Indian Industrial School in Pennsylvania like it was yesterday. Their last stop was at the gravesites of children who had died while attending the boarding school some 140 years ago. They laid small pieces of candy on the graves as offerings. Her cousins Chris and Trey sang a song for the children. As they were getting ready to leave the cemetery, a swarm of fireflies appeared.
"It was such a beautiful and spiritual sight for us to see," Malorie related last week in a Facebook post. "One of them followed us into the bus and I hadn't seen a firefly in such a long time so I held it in my hands, and as we started driving away I released the firefly out of the bus window. I recorded this moment and in the video, Rachel said, 'This is one of the spirits,' and 'Bye, friend.' At the time we didn't know one of the names of the children we would be bringing home was named Friend Hollow Horn Bear."
Moved to repatriate the remains of fellow tribal members, the Sicangu Youth Council succeeded after exactly six years of collaborations. During the week of July 10-17, participants journeyed from the Rosebud Sioux Indian Reservation to Carlisle and back to escort the caskets of nine among 187 children buried at the prototypical U.S. Indian boarding school.
"We want our children home no matter how long it takes," U.S. Secretary of Interior Deb Haaland told tribal members as the transfer from Carlisle Barracks military installation commenced on July 14. The first Native American to hold a Cabinet post, Haaland recently announced the Federal Indian Boarding School Initiative, a probe like one in Canada that so far has revealed more than 1,500 unmarked graves.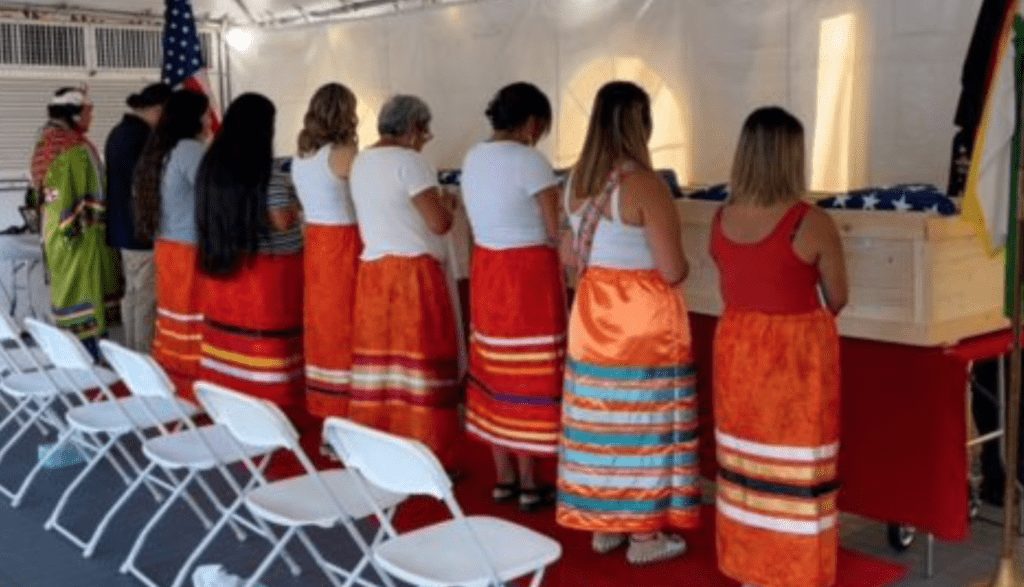 The U.S. Army, which runs its War College at the former boarding school site, agreed to the exhumation. Rosebud Sioux Tribal Historic Preservation Officer Ione Quigley supervised the disinterment.
Thousands of students from more than 140 tribes attended Carlisle during its 38 years of operation ending in 1918. Its cemetery had 187 graves of children forced to live there. Hundreds of boarding schools, both private and government-run, modeled their programs after Carlisle, according to the Carlisle Boarding School Project.
Participants in the project aim to build a museum and heritage center near the original school site to relate its far-reaching impact. Opened in 1879, it was the first government-run boarding school for Native Americans. Civil War veteran Lt. Col. Richard Henry Pratt spearheaded its goal of forced assimilation.
Pratt, like many others at that time, believed that the only hope for Native American survival was to assimilate fully into colonist culture, according to project documentation. His common refrain was "Kill the Indian, Save the Man."
The program forced students to cut their hair, change their names, stop speaking their languages, convert to Christianity, and endure harsh discipline, including corporal punishment and solitary confinement. Hundreds of other Native American boarding schools — some operated by the government and many more operated by churches – ultimately used this approach, the project notes.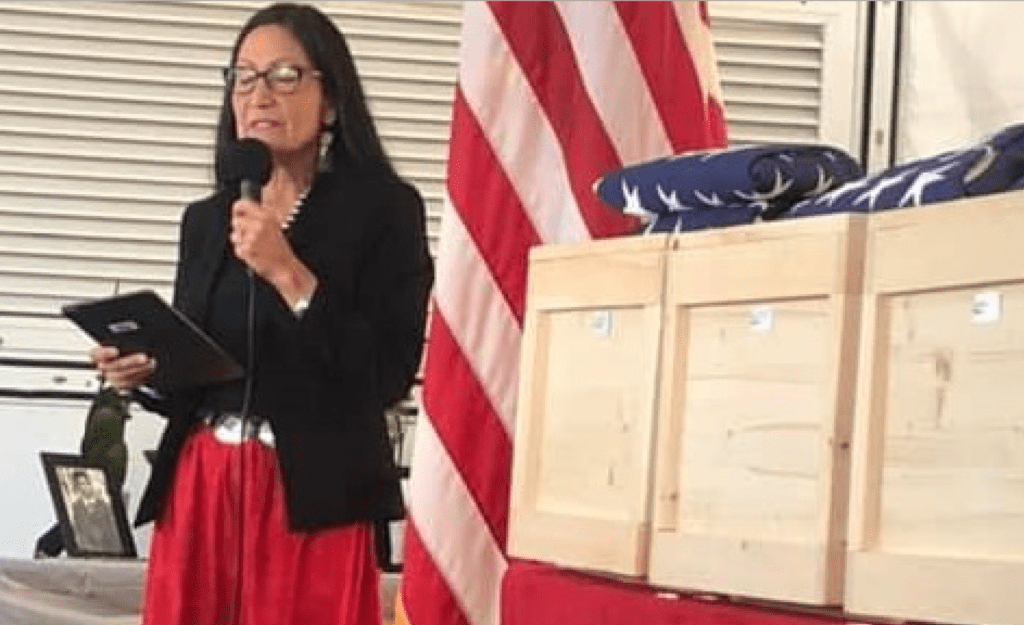 Many survivors and offspring still carry the emotional scars and lack of cultural identity that resulted, the Carlisle Boarding School Project explains. Some conscripts died of disease, some of broken hearts. Parents lost children. Tribes lost members of their community and tribal traditions. Trauma has a long-lasting impact that remains with Native people for generations. Research about adverse childhood experiences (ACES) shows it changes how adults parent their own children.
"The Department of War directed Pratt to travel to the Dakota Territory and recruit the first students from the Oglala Sioux and Brule Sioux," according to the Carlisle Indian School Project. The student roles are packed with hundreds of Lakota tribal members.
Those whose remains returned to Sinte Gleska University in Mission, S.D., for an honoring ceremony July 16 were Dennis Strikes First (Blue Tomahawk), Rose Long Face (Little Hawk), Lucy Take The Tail (Pretty Eagle), Warren Painter (Bear Paints Dirt), Ernest Knocks Off (White Thunder), Maud Little Girl (Swift Bear), Friend Hollow Horn Bear, Dora Her Pipe (Brave Bull), and Alvan (Kills Seven Horses). Exhumed along with their remains for return to her people were those of Sophia Tetoff, a citizen of the Alaskan Aleut Tribe of Saint Paul Island in the Bering Sea.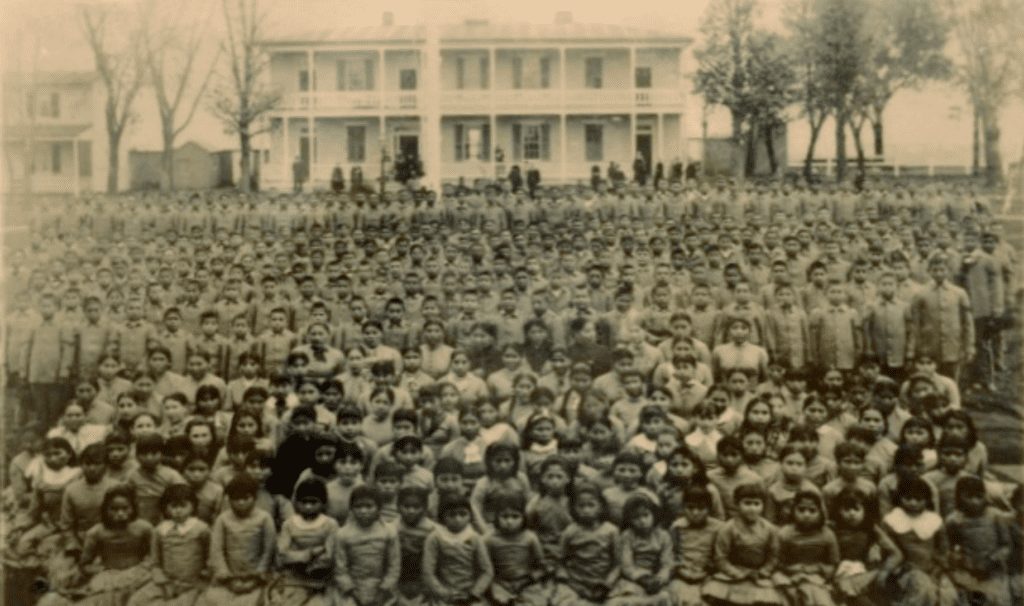 On July 17, relatives held a funeral procession from Mission to the Rosebud Sioux Tribe Veteran's Cemetery to rebury some of the individuals' remains. Other remains went to private burial plots.
The caravan that brought them home received generous support and gestures of solidarity from communities along its route, including Portage, Ind., Maumee, Ohio, Tama and Sioux City, Iowa; and the Santee Sioux and Yankton Sioux reservations. Many well-wishers wore orange attire in remembrance of the boarding-school victims and survivors.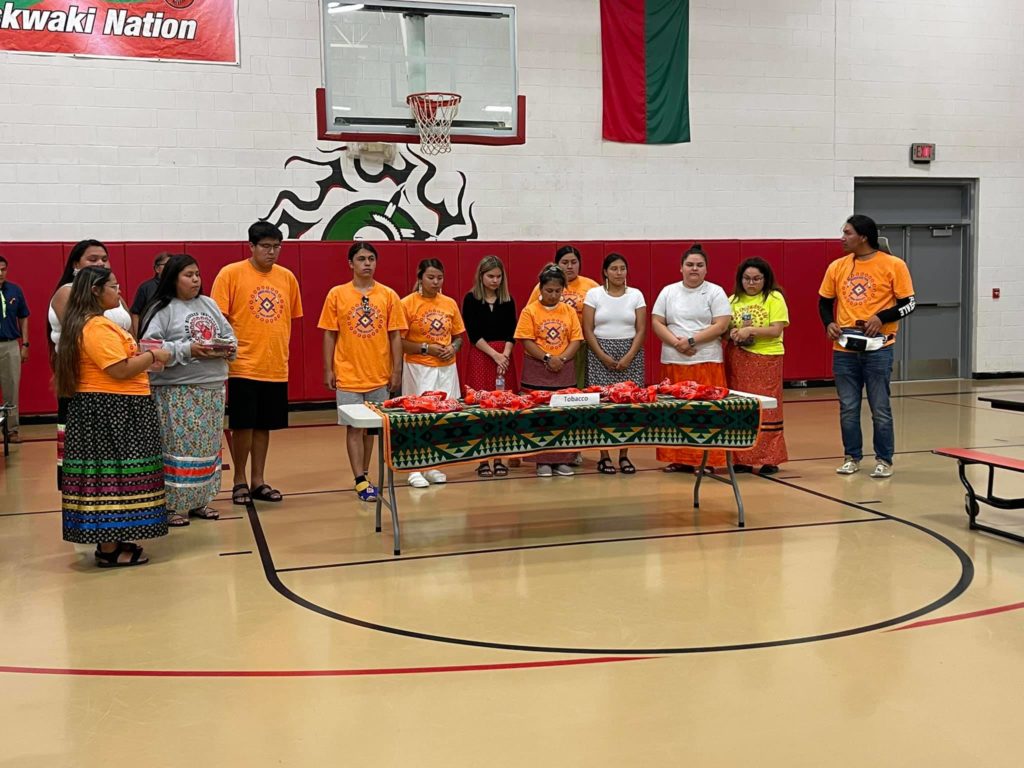 Sicangu society roundly endorsed the effort. Chipping in were tribal government departments and programs, including budget and finance, roads, sand and gravel, solid waste, employment training, and alcohol treatment. Tribal Council representatives donated their bonus money; local grocers pitched in; parents held sales and gave time, participating with their children.
A motorcycle brigade turned out to accompany the caravan, and Sicangu Community Development Corporation's running club, Sicangu Oyate Ki Iyanka, held a 100-mile welcome relay July 16 to culminate the transfer to the homeland. "As our relatives are laid to rest, let today serve as a milestone for each of those who attended residential and boarding schools in the U.S. and Canada. Prayers to all of you," the club said in a social media post.
Sinte Gleska University, the tribal land grant college in Mission, S.D., hosted the homecoming ceremony.
PHOTO COURTESY/ Sicangu Community Development Corp.
Historically boarding schools have a reputation for abuse of Native children and their families in Canada and the United States. Grassroots pressure resulted in the June discovery of 215 on the grounds of an old residential school in Kamloops, British Columbia. Marieval Indian Residential School in Saskatchewan was an additional site with 750 subsequently found unmarked graves.
The United Nations Special Rapporteur on the Rights of Indigenous Peoples is discussing ways to help hold Canada's federal government accountable for its role in the residential school tragedy.
The United States today has over 350 Indian boarding schools, mostly funded by churches or the government through the Bureau of Indian Education, according to the National Native American Boarding School Healing Coalition.
"In sharp contrast to the policies of the past, these schools aim to provide a quality education to students from across Indian country and to empower Indigenous youth to better themselves and their communities as they seek to practice their spirituality, learn their language, and carry their culture forward," Interior Secretary Haaland said in announcing the Federal Indian Boarding School Initiative.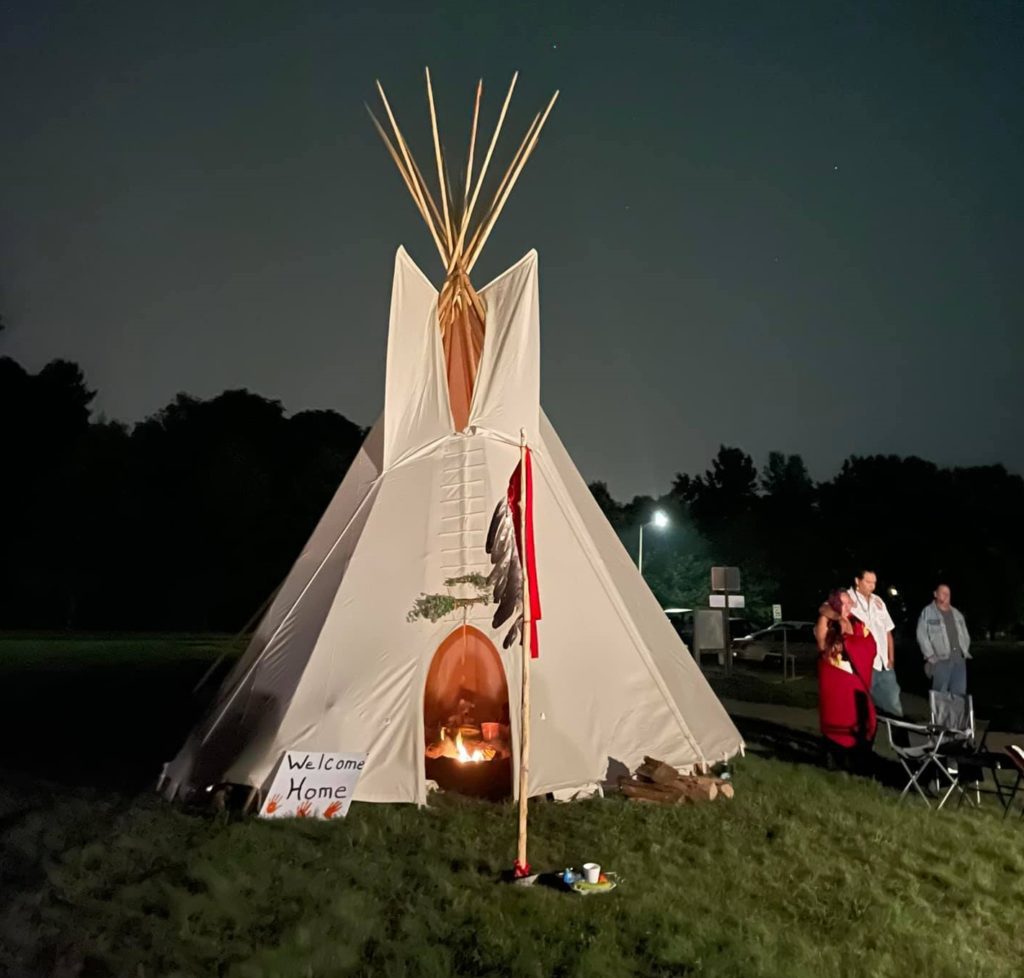 "After this moment, we wanted to call our movement, "Project Firefly" in honor of the children at Carlisle," wrote Malorie. "That evening, after stopping and being welcomed by our Meskwaki relatives, we started back on the road to Sioux City, Iowa. We noticed we were surrounded by fireflies again. Asia Ista Gi Win Black Bull had captured a video of two fireflies following the van that she and several other Sicangu Youth Council members had been traveling in on our way home with the remains of our relatives. You could also see more fireflies in the background. This was another beautiful and spiritual sight for us to see as this was how it started for us, and now it's how this chapter ends. We have more relatives to bring home, so this is not the end of the journey for us. We have more work to do. " (Malorie Arrow, Sicangu Youth)
A different version of this story appeared in Buffalo's Fire.
[simple-author-box]
Carlisle Indinan Industrial School Deb Haaland Rosebud Sioux Indian Reservation Sicangu Lakota Youth Council