"Art to Breathe" is an international festival that was born in the spring of 2020. The festival came about in the context of the repression and death suffered in many of the participating countries, coupled with the crisis of a pandemic that literally took the breath away and paralyzed to the world. It was necessary to not remain silent.
So on Saturday, October 9, the Festival for the Dignity of Peoples: Arts to Breathe 2021 was held, the second of three, highlighting various struggles in Latin America and the Caribbean that are being made visible through art. And now you can enjoy the festival in its entirety here online.
For the second time, a large group of Latin American collectives dedicated to artivism convened themselves to 'dreamsign' a festival whose objective is to be a meeting place between various artistic and cultural expressions, to make visible the various struggles throughout our Abya Yala and the world , share complaints and announcements, and above all strengthen our hopes to breathe.
"We want to share our struggles and animate them from various artistic expressions such as music, dance, performing and visual arts." they state in their press release.
Para leer este artículo en Español, haz click AQUÍ.
Here is a review of the groups participating in this second edition: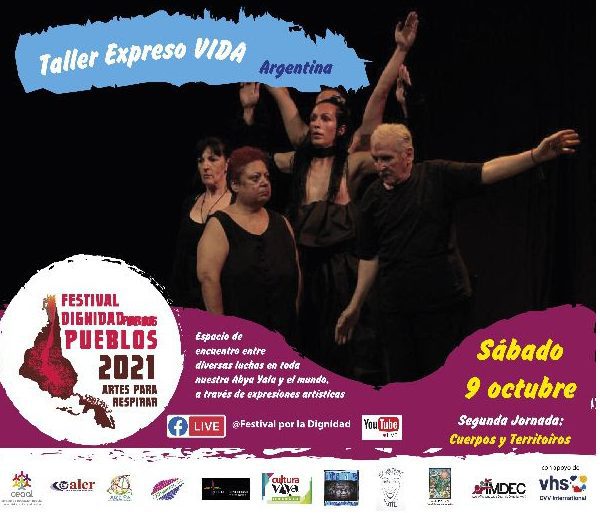 ARGENTINA
The workshop Expreso VIDA (Body Expression and Dance) is a space marked by "movement" as opposed to what most of the spaces in Borda, a psychiatric hospital in Buenos Aires, mark, "rigidity." Rigid bodies full of drugs, rigid relationships where, once and for all, the roles that each person plays in that relationship are fulfilled. Here the bodies move, and through that movement they are transformed. This workshop is one of those that make up the Borda Artists Front (FAB), an autonomous organization that has fought since 1984 for the closure of asylums. They produce art that transcends walls, questions the social imaginary of madness, and proposes demanicomialization: an inclusive practice of people with mental suffering. "We understand demanicomialization as a reform from within, starting with and from our own, an inclusive practice of people with mental suffering," reads the official website of the festival.
BRASIL
In Coral da Aldeia Tekoá Ytu, of the Guaraní Mbyá people, through music, song, they defend their Nhanderekó, the traditional way of life, protecting the Earth and all ancestral knowledge. Their ancestral territory, which is in several states in the south and southeast of Brazil, in addition to Argentina, Paraguay and Bolivia, is being surrounded by cities, without respect for the basic rights that were guaranteed by the Constitution. Music and song, as well as the smoke of the sacred pipe, the Pytingua, are forms of communication with the superior, with the spiritual world. The children come together to sing to the sound of the guitar, the violin and the drum. His songs are prayers for balance and joy. All the Guaraní peoples have their youth and children's choir.
CHILE
Angelika Llankamil is a pioneer of Rock Mapuche fusion, music, composer, mother, Mapuche woman and activist against all violence. As a Mapuche woman, born in the city of Santiago de Chile, she vindicates the ancestral memories of her people through her music. She expresses her strength that screams from her womb, expressing feelings of struggle against all violence towards our women, girls, boys and the elderly, cultivating her identity through respect, dignity, justice and freedom.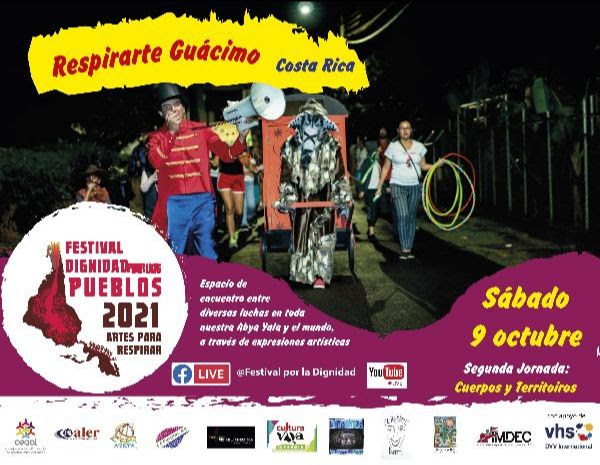 COSTA RICA
Respirarte Guácimo is a community organization in the North Caribbean of Costa Rica, oriented to the recognition of culture as a vital element in the daily lives of the people who inhabit the communities. «We try to promote spaces that have historically been denied to us, young people, women and men from rural areas, who dream and bet on weaving networks that accompany the resistance of living in a region in colonial, patriarchal, capitalist and adult-centered conditions. be transformed, "write the organizers.
COLOMBIA
The feminist political school Travesía por la Paz was born in 2017 and they happily bet on the process of living in peace from community Co-inspiration. They create and share spaces for training, reflection and exchange of knowledge that promote the emotional health of leaders and human rights defenders of various organizations and the ability to transform their own reality and that of the context, based on actions of political advocacy to build the city they want, based on dignity, social justice and respect for the right of women, girls, boys, men and others, to live a life free of violence and oppression. The School thus, inscribed in community feminism, involves artivism not only as a tool, but as a look, a perspective to build the world through various artistic proposals that subvert the hegemonic model of what is considered aesthetic. Theater, dance, singing, urban arts, art therapy, yerbateria enter the scene. Theater, dance, singing, urban arts, art therapy, and herbal medicine are on the scene.
HAITI
Cerf Volant is a group based in the city of Jacmel in Haiti. It is created by AFOJA (Asociación Fondación Joven en Acción), a sociocultural organization that also trains young people. "We are working in the cultural field because culture is a weapon to defend ourselves," they write. "A people without culture is a disjointed people. At AFOJA we perform dance, theater, poetry because with dance, theater and poetry we can transmit our feelings to other people; they are weapons that we use to fight, to defend our rights.
ECUADOR
Taller La Bola is a project that, for 25 years, encompasses the multidisciplinary learning of Ecuadorian pre-Columbian sonority and worldview, through the execution of original archaeological instruments, in order to keep alive the ancestral culture of the country. Considering that the patrimonial sound plays a fundamental role for the historical reconstruction, identity, transmission of memory, culture and ancestral science. This search is intended to develop by promoting cultural policies focused on the protection, use and dissemination of living heritage.
DOMINICAN REPUBLIC
Sarandunga de Bani is from the La Vereda community, Dominican Republic, where in colonial times the maroon blacks who were persecuted fled. Through dance and music, it is part of the celebrations in honor of San Juan Bautista. The Cofradía Cultural Foundation seeks the revaluation and consolidation of the fundamental manifestations of the popular cultures of the Dominican Republic, promoting research, documentation and dissemination of its elements. The Dominican Federation of Art and Culture (Fedoarcu) is an entity linked to the struggles for the Dominican cultural identity from the very territory of the vulnerable communities that treasure the intangible cultural heritage of the Dominican Republic.
URUGUAY
The Clan Choñik Charrúa organization emerged in 2004 as a collective of artists (music, poetry, plastic arts), who, united by their Indigenous family origin, create a space to experience culture and spirituality, claiming and disseminating from a strong political position of defense of rights. Over time, his group defined itself as Clan, because it brings together Charrúa families, beyond being artists, because they came together through spiritual practices and cultural experience. Work on the recovery of instruments, language, and ancestral designs, and through Chonik Banda, to make music with all instruments and native language, experimenting with merging with other ethnic percussions and Rap.
VENEZUELA
Cooperativa 8 de Marzo is a group of peasant women without hierarchical structures or heads, organized since 1983 in a health committee, which later became a cooperative of whole-grain pasta products and whole-grain products to improve health. They also have a family consumption fair where 1,600 people from different communities attend each week.
The co-creators of this festival are the Popular Education Council of Latin America and the Caribbean – Consejo de Educación Popular de América Latina y el Caribe , Cultura Viva Comunitaria , ALER Satelital , Red de la Diversidad – Wayna Tambo, AREPA , Cep Parras, Radio Imagina, El Rejunte Arte , Red PACRA and the Community Development Mexican Institute – Instituto Mexicano de Desarrollo Comunitario (IMDEC).
For more information on this Festival for the Dignity of Peoples, its previous editions, radio programs, etc., we share its website https://ceaal.org/v3/festivalporladignidad/.
artivism artivismo CEAAL Cerf Volant (Haití) Clan Chonik Charrúa Cofradía y Fedoarcu Consejo de Educación Popular de América Latina y el Caribe Cooperativa 8m Coral da Aldeia Tekoá El Bordo Escuela Política Feminista Travesía por la Paz Festival Para La Dignidad de los Pueblos Festivales de resistencia Festivals Instituto Mexicano de Desarrollo Comunitario (IMDEC) Angelika Llankamil Respirarte Guácimo Sarandunga de Bani Taller Expreso VIDA Taller La Bola