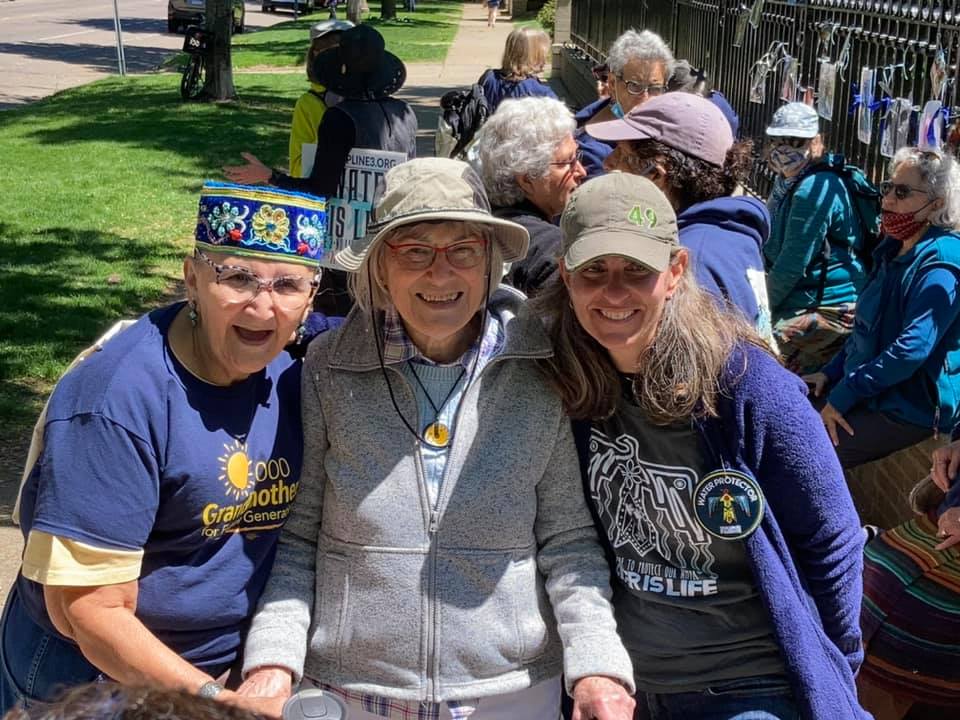 ST. PAUL, Minnesota – At the state Governor's Mansion on Anishinaabe (Ojibway) ancestral land, 1,000 grandmothers rallied "for future generations" May 26th. They timed the event to punctuate a call from organizers worldwide urging allies to attend the Treaty People Gathering for non-violent direct actions against oil pipelines during the first week of June 2021.
"Respect Native Sovereignty: Stop Line 3," supporters of the elders' mobilization chanted to Gov. Tim Walz. The governor has declined pleas from Native nations' officials to stay the construction of the Canadian tar-sands crude-oil pipeline until their lawsuits against it are settled.
Lakota grandmother Madonna Thunder Hawk took the microphone at the rally to remind listeners that tribes in the states on Minnesota's western border — North and South Dakota – are still fighting the Dakota Access Pipeline after grassroots pressure succeeded in convincing President Joe Biden to revoke the permit for Keystone XL Pipeline construction through 1868 Ft. Laramie Treaty territory.
"We're here as elders from South Dakota. We come from our struggle. We know what's going on. This is your time. We're here to help you," Thunder Hawk said.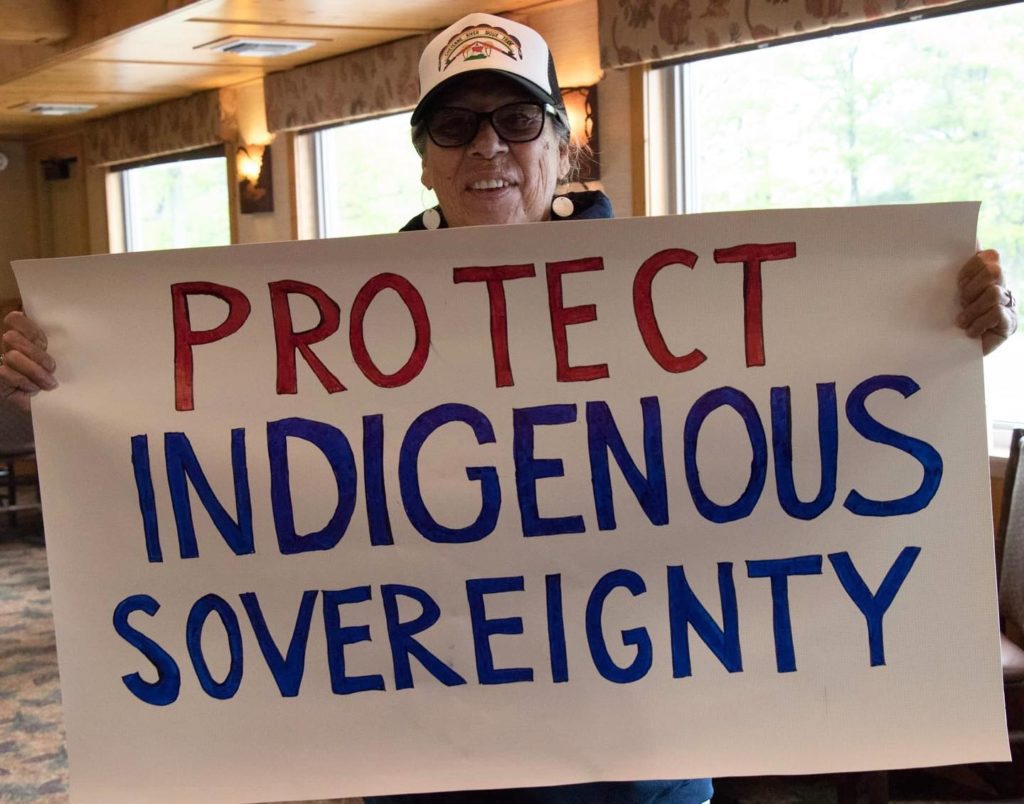 The 2016-2017 Standing Rock encampments attracted supporters from around the world, making the issue into the prime environmental justice flashpoint in the administration of former President Barack Obama. The 1,000 Grandmothers organization, based in California state, is an outgrowth of that.
The Treaty People Gathering — subtitled "Rise, Protect, Stop Line 3" — is on track to again shift the political center of gravity from Washington, D.C. to a major water source subject to treaty guarantees in the Midwest. This time, instead of the Missouri, it's the Mississippi River watershed.
Some 300 organizations brought the June 5-8 week of actions to President Biden's attention with a letter calling on him to direct the U.S. Army Corps of Engineers to " immediately re-evaluate and suspend or revoke" its Clean Water Act permit for Canada's Enbridge Energy Inc. to build the hazardous materials conduit through 200 waterways.
If built, the Line 3 pipeline would unlock CO2 emissions equivalent to 50 coal plants and cost society more than $287 billion in climate impacts in just its first 30 years of operation, the letter contends. The project is set to cut through the 1854 and 1855 treaty territory where Anishinaabe people retain the right to hunt, fish, gather medicines, and harvest wild rice.
Among signatories are prominent Indigenous, environmental, youth, faith, and health organizations, including Giniw Collective, Honor the Earth, Indigenous Environmental Network, Sierra Club, Sunrise Movement, Fridays for Future USA, Hip Hop Caucus, Physicians for Social Responsibility, Jewish Climate Action Network, CatholicNetwork.US and more.
"The decision to mobilize for non-violent action was not made lightly, especially with the occurrence of state violence at Standing Rock in 2016," the letter said. However, they need thousands of people to turn out, according to the Indigenous Environmental Network.
"On June 5-8, we will gather in Northern Minnesota to put our bodies on the line, to stop construction and tell the world that the days of tar-sands pipelines are over. Only a major, nonviolent uprising — including direct action — will propel this issue to the top of the nation's consciousness and force Biden to act. We are rising. Join us," says the invitation.
Winona LaDuke, a Bear Clan member from Round Lake on the White Earth Reservation and executive director of Honor the Earth, invited supporters to "come and stand with the Earth and to come and stand with us and to stand up for someone who's not yet here." She said, "Our ancestors made agreements to take care of this water and land forever together, and now is our time to do that."
Tara Houska, Couchiching First Nation Anishinaabe and founder of Giniw Collective dubbed Line 3 "a climate atrocity and a slap in the face to the multiple Ojibwe nations suing against its approval." She demanded a halt to construction "before it's too late; before our rivers, wetlands, and wild rice watersheds are violated irrevocably."
Dawn Goodwin, a citizen of the Anishinaabe White Earth Mississippi Band and co-founder of R.I.S.E. Coalition, recalled, "Our Elders have told us that over 50 years ago we were told to start moving away from fossil fuels due to the dangers of rising CO2 levels in our atmosphere. Today the youth are calling upon our elected officials to take their future seriously, and to heed the warnings of scientists."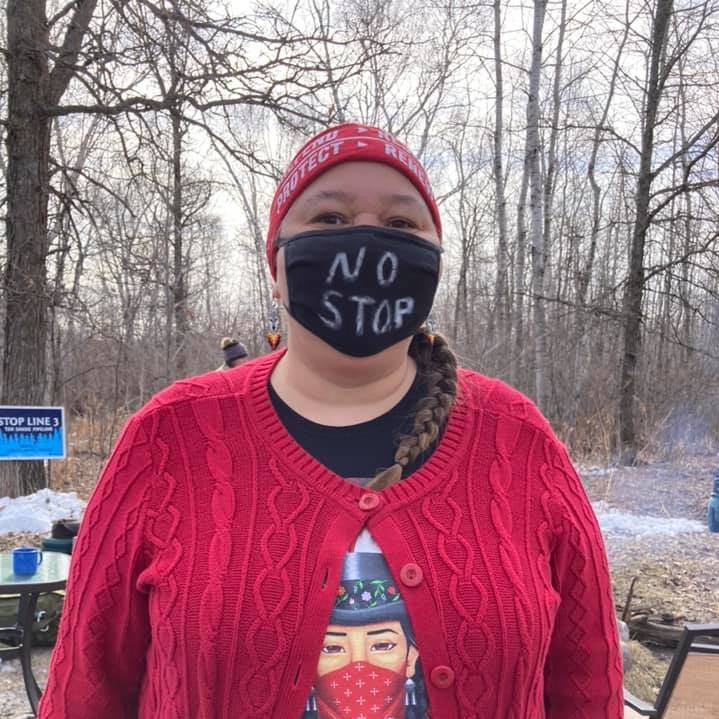 Joye Braun, a Cheyenne River Sioux tribal citizen and the National Pipelines Organizer for Indigenous Environmental Network, submitted: "Line 3 is a climate bomb waiting to go off. "It is yet again another dirty tar-sands project that threatens the sovereignty of tribal communities, wild rice, sacred medicines, and above all, the water."
Braun was the first camper at Standing Rock's spirit camps, where the Lakota phrase "Mni wiconi" — water is life — drew global appeal.
An outreach ad for the Treaty People Gathering notes that pipeline construction brings trauma and tragedy with it. "One out of three Indigenous women are raped, go missing, or end up murdered," it states. "When infrastructure such as KXL and Line 3 are built, there's a 22— percent increase to those statistics that we as Indigenous women are already facing."
The spot notes that tribes signed treaties here in 1854 and 1855, retaining inherent rights to hunt, fish and gather. "Climate change affects our treaty guarantee because that puts our Anishinaabe lifeways at risk." It encourages non-Native allies to "come and check out what it means to be treaty people and to uphold your side of the treaty also. 'We look forward to seeing all of you on the front lines," it says.
The Treaty People Gathering is being staged along the route of the pipeline, where multiple encampments have been built. The exact locations will be determined, based on logistics, according to organizers. They will provide camping facilities, they say.
The Women's Earth and Climate Action Network,WECAN International describes itself as "a solutions-based, multi-faceted organization established to engage women worldwide in policy advocacy, on-the-ground projects, direct action, trainings, and movement building for global climate justice.
WECAN was honored to organize the recent letter with over 300 signatures that was sent to the Biden Administration calling for Presidential action to stop Line 3 and they are uplifting Indigenous women's voices on the frontlines. 
This story was reported with the generous support of The One Foundation.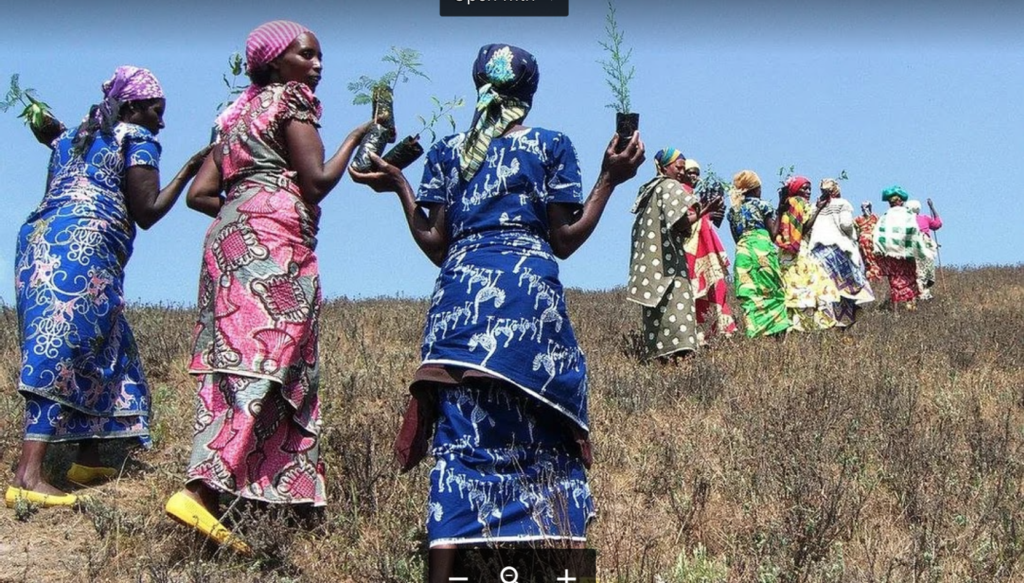 [simple-author-box]
Grandmother rally Lakota Line 3 Pipeline Madonna Thunder Hawk Treaty People Gathering