As I write, Venus is rising in the East on a day that portends so much. According to our traditions here in Mexico and many other places, the spirits of our dead are here among us still. I seize the moment to send up a prayer to all who are listening: Please, share your light with my people.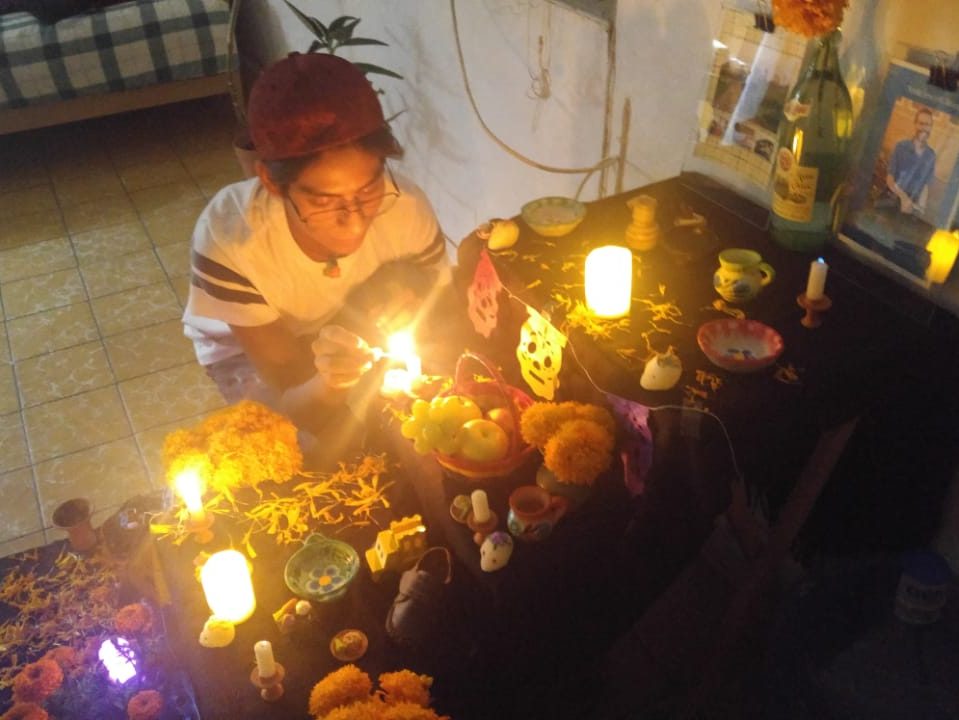 Above my altar, under the string of colorful papel picado skulls that my godson Bernardo (Tzelie by his more beautiful Wixárika name) so carefully arranged and taped there, are the photos of the beautiful and beloved Yuka+ye, Jesús Lara Chivarra, my unforgettable friend from the Wixárika village of San Sebastian Teponahuaxtlan. Yuka+ye was a great warrior for the rights of his people, and a man of peace, who labored tirelessly to awaken and connect the minds and hearts of people across the continent. I have no doubt he is still doing so, and today especially; I imagine him in San Antonio, Texas, where he accompanied me once, now accompanying the elderly and the doubtful, filling them with ánimo and with hope. "Todo es posible (anything is possible) en México," he used to tell me. Today I hear him saying: "Todo es posible en América."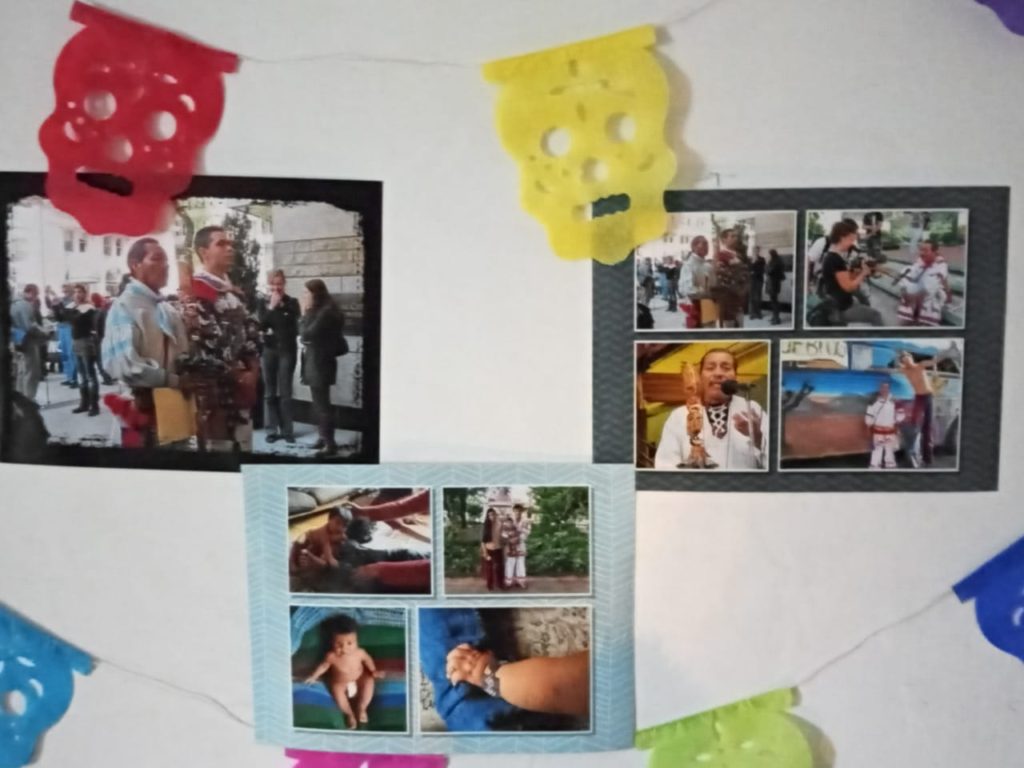 Below Yuka+ye is little Albert, who left us at the tender age of two. Named for Albert Einstein, the bright-eyed boy was the son of my dear friends Artemio and Sandra, who stayed with me while Sandra was being treated for a rare disease, and his spirit lingers still. Life is very hard for little ones in the sierra, and Albert succumbed to pneumonia two summers ago. A tiny shoe he left behind sits on the altar, together with a wooden truck we bought for him. I have no doubt little Albert is among the angels now, guiding and assisting his loved ones with great tenderness and wisdom. I ask his help in this moment to bring peace to my country.
Below Albert is a collage of photos of my beloved father, Gary. Standing with his arm around my shoulder at Buffalo Bayou, Houston, where he and my mother came to visit me, the Houston skyline behind him, his face beaming with pride for his daughter who had arrived at this point of success in her life. Standing with me and my mother in the snow on the day he lifted a ten-foot tower to its feet so that we could have high-speed internet there on our family farm. Holding one of his many grandchildren on his lap, the two of them beaming at each other as if there were no one else in the world but them. Smiling at me from the front seat of my car that he drove from Missouri to Texas for me with 24 hours' notice.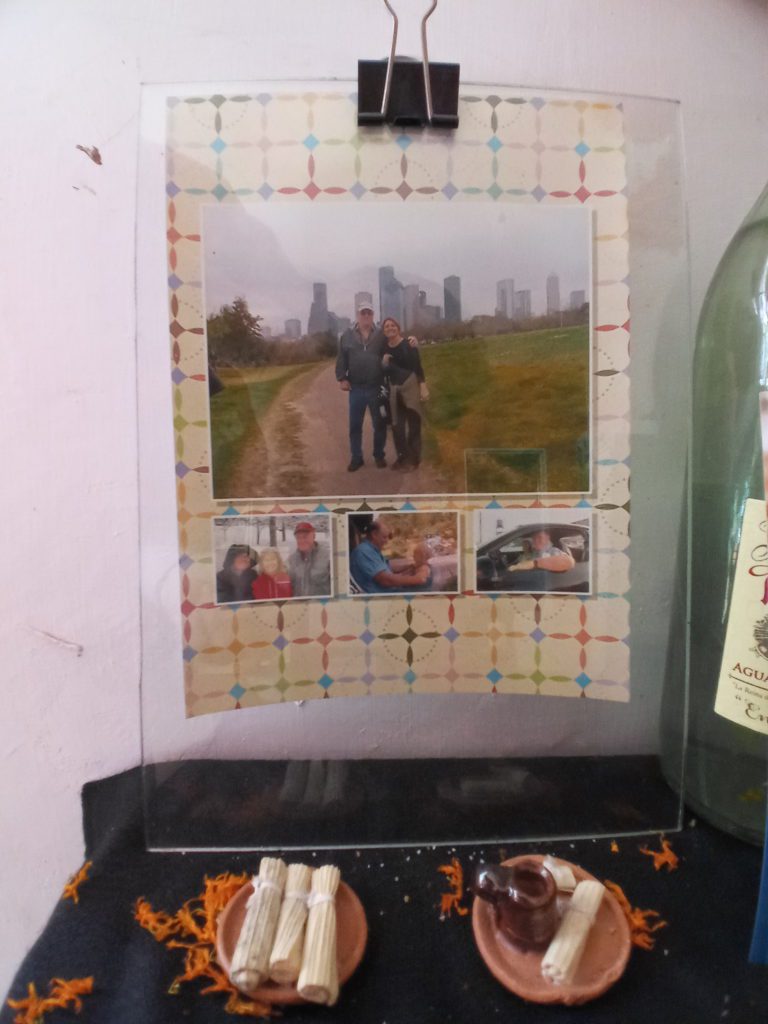 My father was a great problem solver, with a heart filled with love for his family, his neighbors, and his many, many friends, including the ones he hadn't met yet. He was a Republican when he walked these realms, but I am pretty sure he has a broader perspective now. I ask my father's intervention on this day, that he help to solve the problems of racial and political division that threaten to bring down our democracy. He would have been appalled at the attitudes that are being displayed right now by so-called conservatives. His essence is one of peace and wellbeing and abundance, and I invoke that spirit now for the good of ALL of our people.
Next to my father is my brother, Scott. My little brother, who continually amazed us all with his brilliance as a maker, an artisan and an inventor of the highest order; who made us laugh with his great sense of fun and irony; who inspired all those around him with his soulful journey to his maker three years ago. It was a heartbreaking and untimely end but he somehow managed to comfort and uplift us and make his departure his last beautiful creation, one that made us unbelievably proud. Scott, too, was a conservative, but I have no doubt he is on the other side, engineering elegant solutions to the problems that face our nation and our world. I give thanks to the spirit of my brother Scott as we enter this day.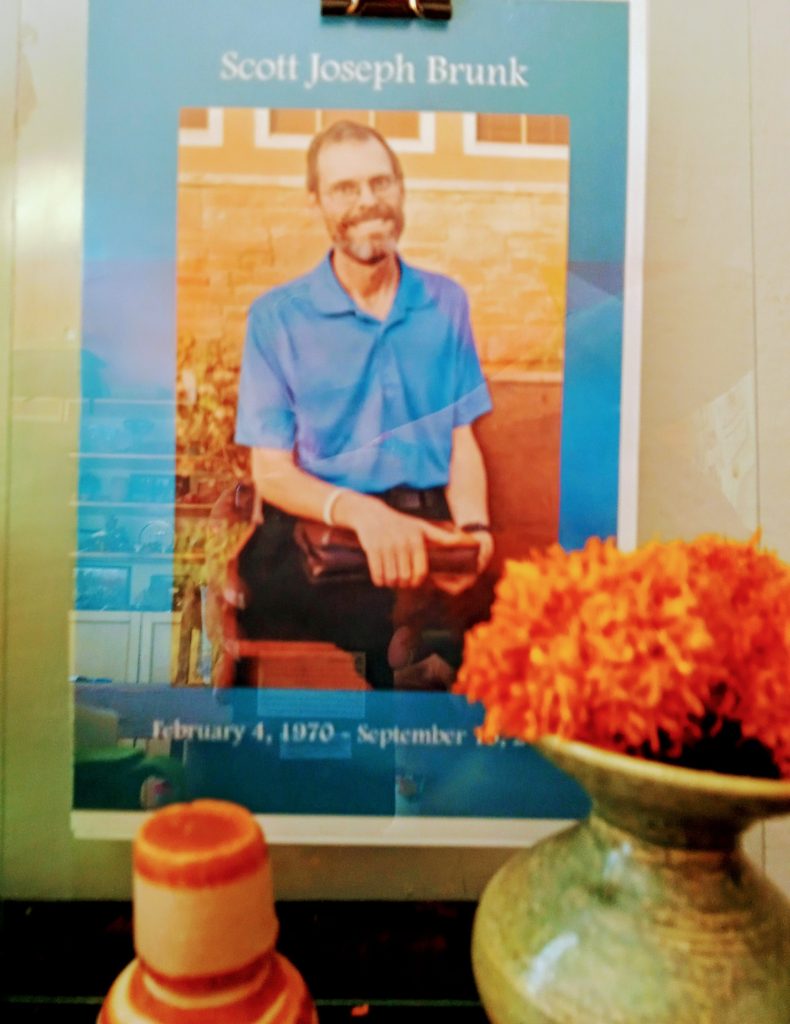 Finally there is the photo of my dear brother-in-law Korey's father: James Ewing. We lost James to Covid this year, and it was a sad loss indeed. James was an innovative leader in the field of education, where he worked to uplift and empower all of the children in his primarily African American school district, facing down the formidable challenges of racism and institutional violence with integrity, determination and creativity. I see the essence of James now, at the forefront of a massive energetic force field, washing over our country like the great Blue Wave we have prayed for. I trust that what will come is what must come, and that it is bringing a time of Peace to reign in our lands.
There it is, my Day of the Dead/Day of the Living Prayer for Peace. May you all go in peace, my beloved readers and patrons, and may we face this day and the days ahead with all that is required of us, our hearts filled with love and the confidence that, indeed, for the sacred good of all that is Living, WE CAN DO THIS.