As many of you already know, today is the first day of Sovereign Sisters, an important event organized by three iconic women leaders of the Standing Rock water protector movement: Sicangu Lakota water protector Cheryl Angel with the support of her two pillars, Diné musician, activist and scholar Lyla June Johnston, along with LaDonna Brave Bull Allard, Lakota grandmother and Standing Rock water protector movement founder. It's an exciting event that you can tune into via Zoom begining today — register here for the Zoom link (Spanish registration here) and other materials.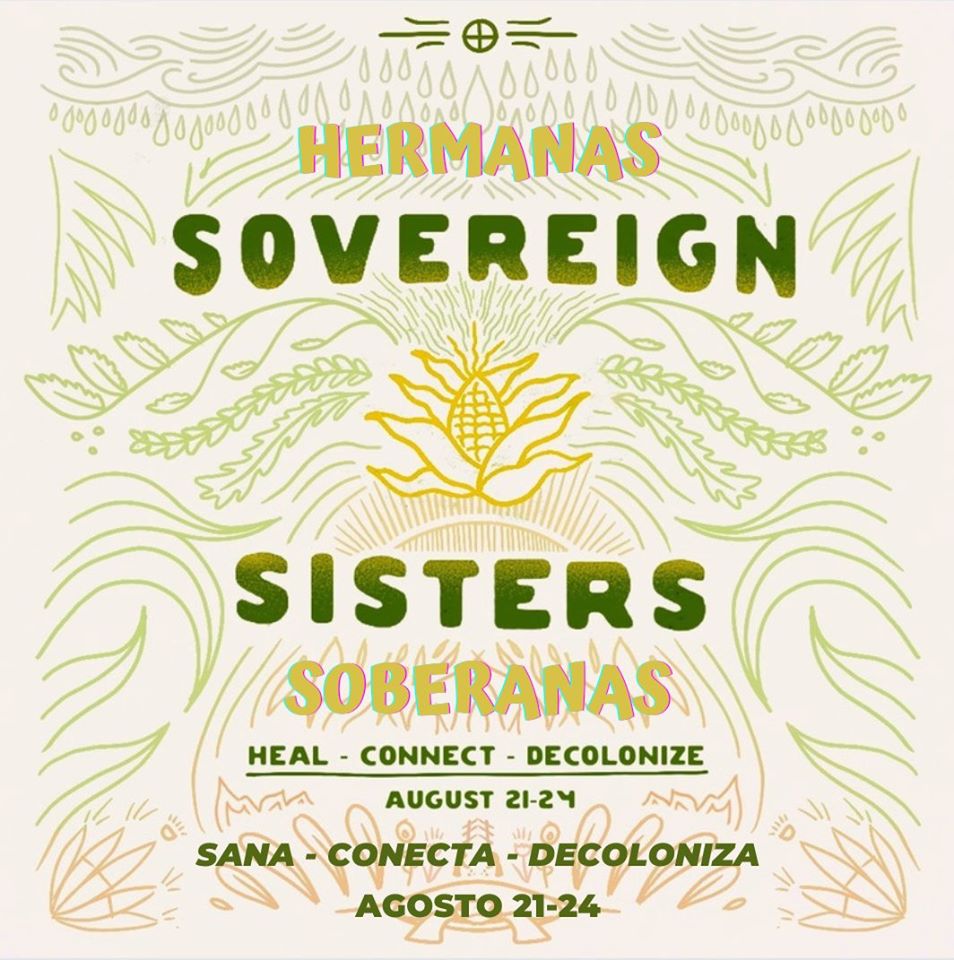 I realize I am late in advising you about this important event and I apologize. It has been another whirlwind of a month as I have been lending my support to the organizing team. It's always a challenge to juggle my roles as journalist and volunteer organizer and my time cup runneth over — but in this case especially, because the response to this event has been overwhelming. The idea was to make it an intimate reunion among those who attended last year's Sovereign Sisters event in the sacred Black Hills of South Dakota, which I wrote about here and here. But after Lyla June's initial post, shared by Cheryl and LaDonna, went viral, registrations began to skyrocket.
I proposed a Spanish language track — a dangerous thing to do because in the self-organizing mode of activism, you propose it, you do it — and so I have added this ball to my juggling act. I have not written about this in The Esperanza Project until now because the event is already close to surpassing capacity. But I would be remiss in not letting my own readers know about it.
So here are the details, and I invite you to register at this link (o aquí si prefieres recibir tus materiales en español) so you'll have the Zoom link and can drop in whenever you want. The main event all four days will be from 12-1:30 Pacific Time (1-2:30 Mountain Time, 2-3:30 Central Time, 3-4:30 Eastern Time, 4-5:30 Argentina time) and there will be self-organized events throughout the afternoon and evening. Registering will also give you access to follow-up mailings and will allow the group to stay in touch with you about subsequent events, of which we anticipate there will be many
Here are the details, from Lyla June's original post:
"We are inviting all women-folk/femme-folk to join some panels and talking circles by sisters, aunties and grandmas of all nations as we discuss the meaning and practice of sovereignty.
We want to especially encourage the participation of Black, Indigenous, Asian, Aboriginal, Maori, First Nations, West Asian/Arab, Pacific Islander and other women/femmes of color. We are trying to make this a safe and aware space for POC. Transgender sisters and femme relatives are embraced and encouraged to join. We will be holding space for Indigenous European knowledge and ancestral recovery.
This pandemic presents a special opportunity for sovereignty, as many of us are rooted to place, planting literal and metaphorical seeds with more focus. This is a good time to both discuss and share practices of how to be sovereign. A good time to break free from the imprisonment and de-skilling served to us by capitalism. Last year we joined in person at Pe'Šla, South Dakota, led by LaDonna Bravebull and Cheryl Angel of the Standing Rock movement. We seek to recreate the strong sisterhood this world needs, that is mutually supportive, kind and healing.
You may join us any of the four days, 1.5 hours each day, as we pray, converse and dream together the world we wish to live in and hand down to future generations. People can linger afterward to continue the conversation as they wish. There will be lots of breakout circles as well as "open-space" self-organized discussions.
While the event is free and open there will be opportunities to donate to Indigenous-led movements if people would like to.August 21-24, Meeting each day @ 12-1:30PM Pacific, 1-2:30PM Mountain, 2-3:30PM Central, 3-4:30PM EasternSign-up here: bit.ly/sovsisters and we will send you information on how to join."
You will also receive information on how to organize your own breakout session, and there will be plenty of opportunities to do so during the event, should you feel so inspired. If this event goes well — and we have plenty of reason to believe that it will — there will be regular Sovereign Sisters events, and if you register, you will be a part of it all.
If you have questions, feel free to write to me at tracy (at) theesperanzaproject.org. Hope to see you there!