Holidays are a time for giving – and increasingly, people are thinking about ways to give back to the non-human inhabitants of our planet. Mindful of the fact that we're generating a million tons of extra garbage in that month-long space between Thanksgiving and Christmas, and that our runaway consumption is causing alarming devastation to the biosphere, we caught up with three individuals who have been asking themselves a serious question for a long time: How can we slow down amid our holiday frenzy to share our yuletide cheer in a way that supports human creativity and true sharing instead of industries that are harming the environment?
Yvonne Jacobs is a master at repurposing and upcycling, and the holidays give her ample material. Before the holidays, she goes to the Home Depot dumpster and loads up on green boughs pruned from Christmas trees and takes them home to create fresh wreaths and a fragrant holiday table arrangement.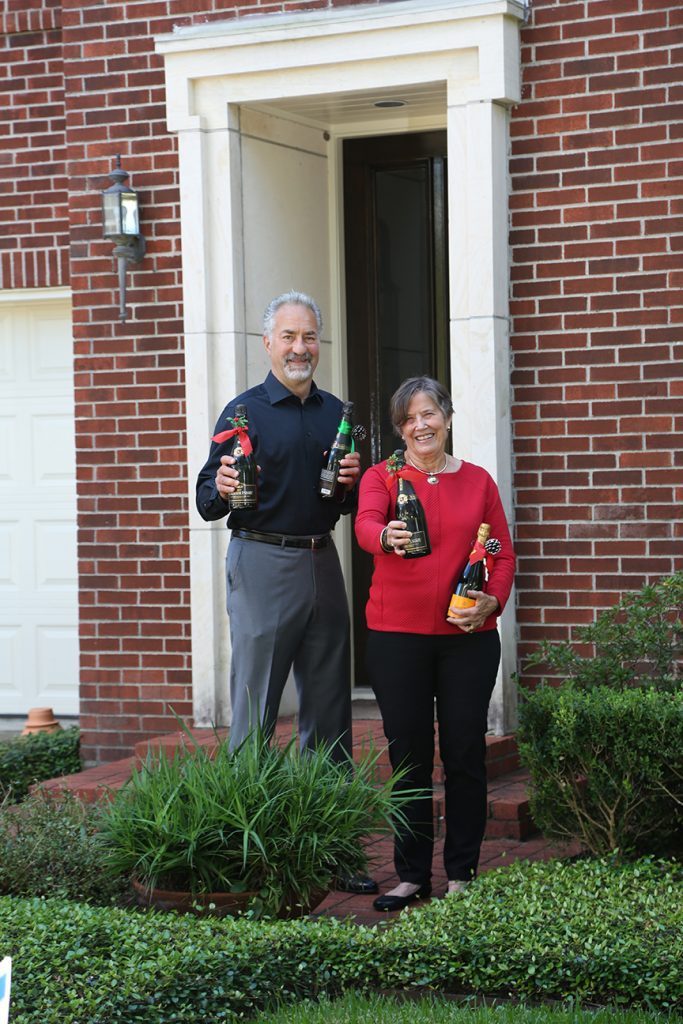 There's no need to purchase anything; she has stocked up in previous years. Without fail, her neighbors toss out wreaths and other decorations every year, and Yvonne goes about the neighborhood, picking up wreath frames, artificial berries, ornaments and ribbons headed for the landfill. She typically finds trees thrown out on the curb, still strung with lights and hung with ornaments, which she collects and gives away, so that the trees can be picked up for recycling.
Yvonne is more aware than most of the enormous impact our waste is having on the planet. As an 17-year member of the West University Solid Waste Reduction and Recycling Board, she's made it her business to find out, and to share that information. Her scavenger hunt is done with a sense of purpose and a double mission: decreasing waste and slowing the advance of climate change.
What she can't use goes to the local Goodwill – or another favorite donor that is always hungry for anything potentially upcyclable, Texas Art Asylum, which caters to local artists and teachers. Melted wax from candles, used ribbons and string and wrapping paper, foam packing material, random shiny things – all of it can be repurposed.
"People just need to think twice: Can someone else use it? Can you give it to a charity so they can sell it for the benefit of the needy? People need to think beyond their immediate need of getting rid of something."
When it comes to giving, Susie Hairston and Charles Soparkar have always tried to teach their daughter, Isabella, that Christmas is more about the time you spend, and the experiences you share, than about the stuff you receive. Instead of a pile of gifts under the tree, there would be a treasure hunt. When she was little, it would be picture clues – a door, a piano, a toilet. When she was bigger, the clues were more complex – crossword puzzles and math problems, for example – and then she'd create treasure hunts for her parents.
"They've become these elaborate, solve the crossword puzzle to find the clue kinds of projects that would take half the day," Susie said. Isabella would make her parents gifts every year – like the little "coupon books" her mother still treasures now that Isabella has flown the nest and gone off to Washington, D.C., where she works as an environmental-policy mediator.
Katy and David Katz have long been passionate about sustainability, so many on their Hanukkah gift list will be getting products made from recycled materials. Concerned about the 8 billion tons of plastics pouring into the world's oceans each year, David has invented a pair of sport socks that are made from recycled bottles, and is trying to raise the money to fund the first full run of socks.
They have also begun to see the season and the process of teaching their 7-year-old son Avi about gift-giving as a powerful opportunity to teach him about gratitude and empathy.
"A couple years ago, if I were to say, 'What do you think Grandma would like for the holidays?' he would say, 'Transformers toys!' So we would have conversations about what he liked, versus what other people liked, and then how to think about what might make that person happy. Now he gets so excited after he's been involved to give to other people. It just means so much more."
A different version of this story appeared in The Buzz Magazines. See more tips on sustainable holiday gift-giving and celebrating in 21 Planet-Friendly Ideas for the Holidays.