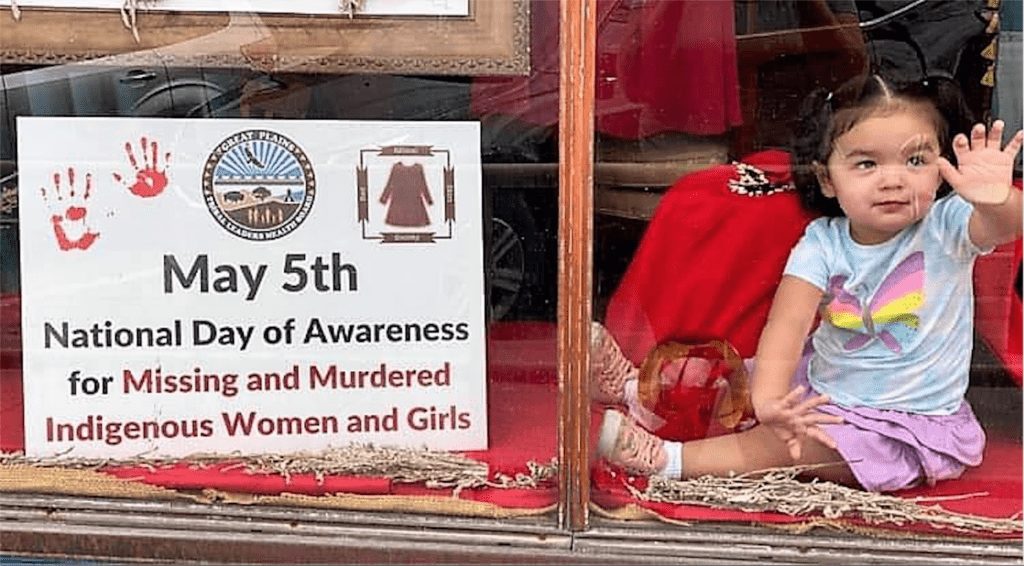 LAME DEER, Montana — With more than 200 organizations across Turtle Island backing May 5 as a National Day of Awareness for Missing Native Women and Girls, the date received widespread attention in 2021.
The national movement to end violence against Native women has organized activities supporting the commemoration since 2017. The five-year campaign, led by the National Indigenous Women's Resource Center in Lame Deer, culminated with proclamations from the U.S. Congress and President Joe Biden this spring.
One day before this year's calendar event, Biden declared it Missing and Murdered Indigenous Persons Awareness Day. In a lengthy proclamation, he said, "My Administration has made a priority of helping to solve the issues surrounding Native Americans who go missing and those who are murdered across the United States — including high rates of Native women and girls, including transgender women and girls."
With that, the chief executive joined the ranks of tribal, state, regional, national, and small independent organization representatives who view the day as a way to pressure for improvement of the justice system to prevent the current crisis from continuing to ruin family and community life.
In Washington, D.C., the Native Youth Alliance held a sunrise ceremony and pipe offering to start a prayer walk from the Martin Luther King Memorial to the U.S. Interior Department Building on the National Mall. The event, sponsored by the 20-year-old non-profit from Ypsilanti, Michigan, was emblematic, as countless other groups held similar observances.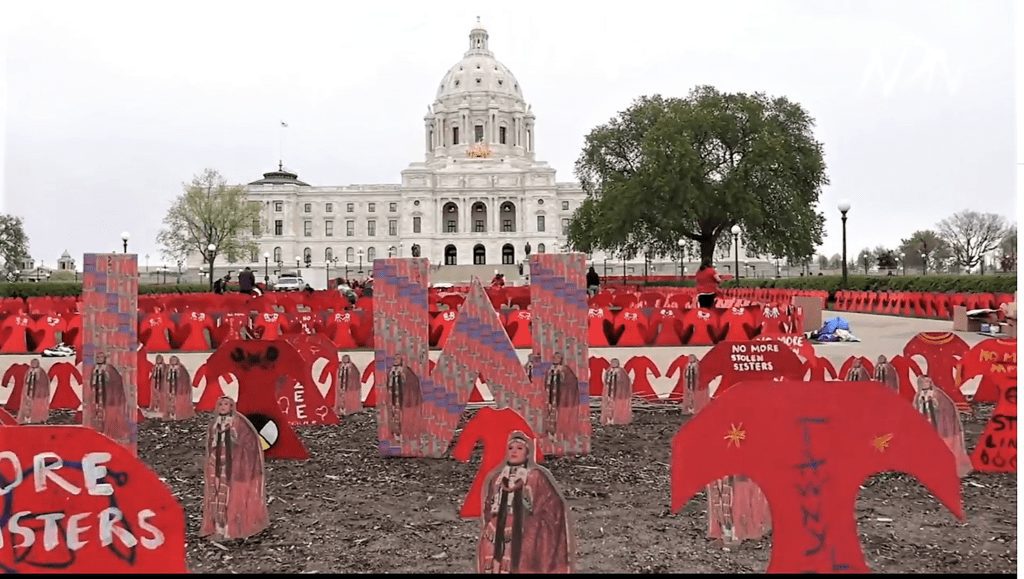 Among many tribal governments adhering to the action, the Klamath Tribes, based in Chiloquin, Oregon, sponsored a candlelight vigil "to honor all our loved ones who made their journey home."
At the state capitol in St. Paul, Minnesota, community members installed more than 1,000 red dresses in shoulder-to-shoulder line-ups creating the shapes of hearts between each. Participants shared remembrances of people, words of support, and healing.
Missing and Murdered Dine' Relatives sponsored an honoring walk from Navajo Nation Council Chambers in Window Rock to Ft. Defiance, in Arizona.
The White Buffalo Calf Women's Society, Brave Heart Society, Native Organizers Alliance and Native Women's Society of the Great Plains held a summit in Mission, South Dakota, coinciding with the Rosebud Sioux Tribe's proclamation of Missing and Murdered Indigenous Women's Day.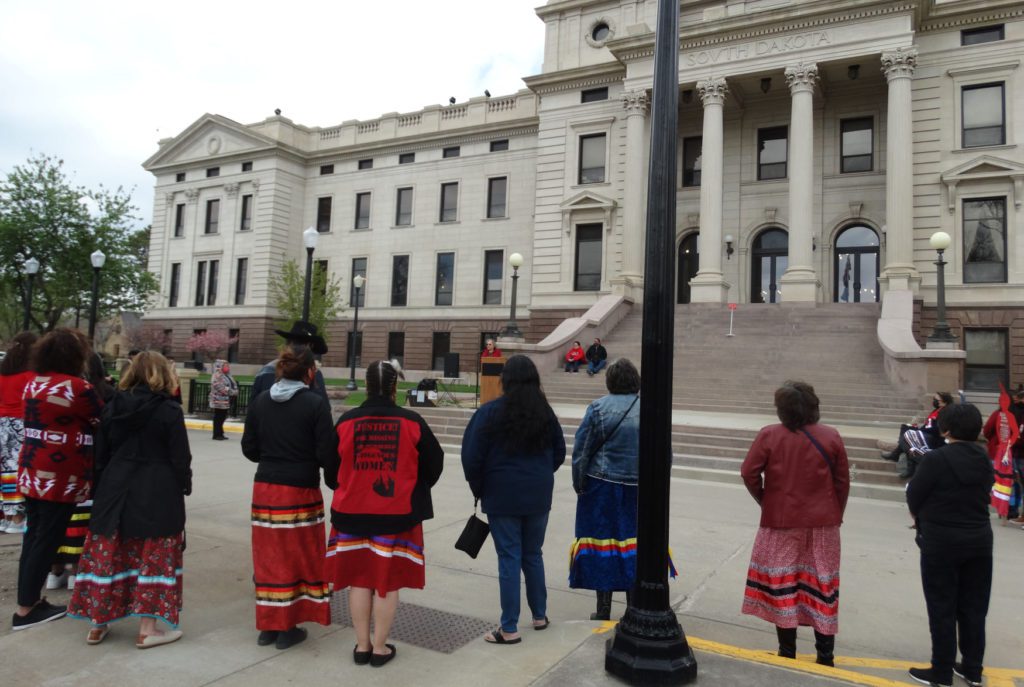 A documentary film, "Say Her Name," premiered to draw attention to the 86 percent of Montana's Missing and Murdered Indigenous People's cases that remain unsolved. "Say Her Name" focuses on murders connected to methamphetamine trade and human trafficking that are rampant in the region.
The film explores incompetence and corruption at the heart of law enforcement's response to organized crime. It is available online, free of charge, by arrangement. Film director Rain served on Biden's Indigenous Policy Committee and recently made recommendations for the President and Vice President Kamala Harris on the MMIW crisis.
In making his proclamation, Biden stated, "We recognize there is a level of mistrust of the United States government in many Native communities, stemming from a long history of broken promises, oppression, and trauma. That is why we are pursuing ways to build trust in our government and the systems designed to provide support to families in need," he said. "We must bridge the gap for families in crisis, provide necessary support services, and support opportunities for healing through holistic community-driven approaches."
Biden noted the administration's commitment to the 2021 reauthorization of the 2013 Violence Against Women Act (VAWA). Among other protections, this bill reaffirms inherent tribal authority to prosecute certain non-Indian offenders — extending protections from domestic and dating violence, stalking, trafficking, child abuse, elder abuse, and assault involving law enforcement or justice personnel in tribal territory.
The American Rescue Plan provided $35 million in grants for tribes to provide temporary housing, assistance, and supportive services to victims of domestic and dating violence, as well as supplemental funding for the StrongHearts Native Helpline, and additional funding for services for sexual assault survivors, he noted.
He referenced Savanna's Act and the Not Invisible Act, legislation focused on combating the issues surrounding missing or murdered Indigenous persons. Pursuant to the 2020 legislation, the Presidential Task Force on Missing and Murdered American Indians and Alaska Natives convenes interdepartmental meetings. The White House Council on Native American Affairs is slated to bring federal agencies to the table with tribal nations to enhance access to safety and justice.
The Department of the Interior recently established the Missing & Murdered Unit (MMU) within the Bureau of Indian Affairs Office of Justice Services to provide leadership and direction for cross-departmental and interagency work involving missing and murdered American Indians and Alaska Natives, he added.
Members of both chambers in the U.S. Congress officially reiterated their support for designation of the National Day of Awareness for Missing and Murdered Indigenous Women and Girls, a resolution first proposed in 2017 by Sen. Steve Daines, R-Montana.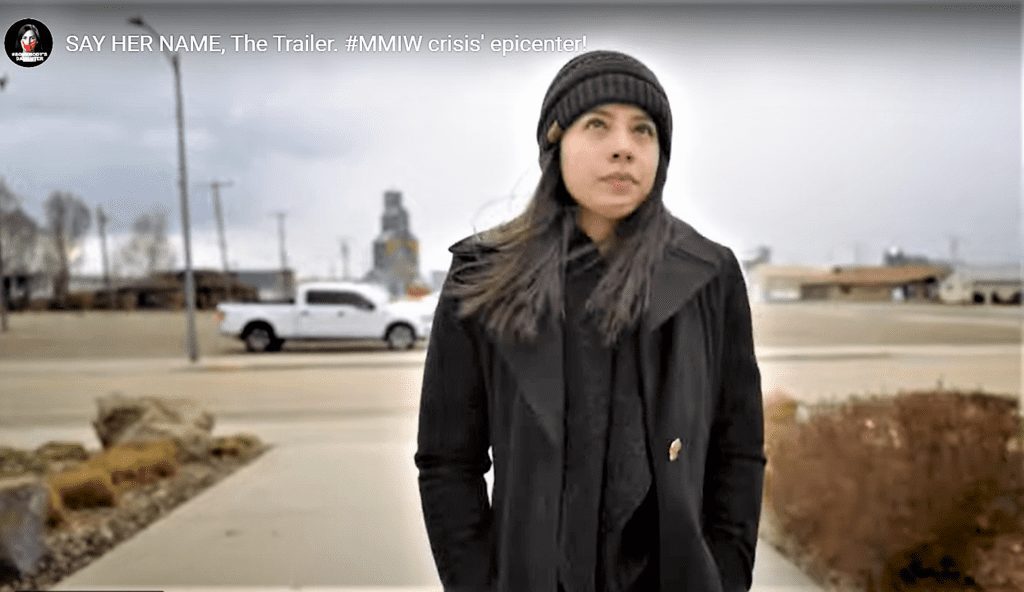 Congressional findings are that:
(1) On some reservations, Indian women are murdered at more than 10 times the national average.
(2) American Indians and Alaska Natives are 2.5 times as likely to experience violent crimes—and at least two times more likely to experience rape or sexual assault crimes—compared to all other races.
(3) More than four in five American Indian and Alaska Native women, or 84.3 percent, have experienced violence in their lifetime.
(4) More than four in five American Indian and Alaska Native men, or 81.6 percent, have experienced violence in their lifetime.
(5) Homicide is the third leading cause of death among American Indian and Alaska Native women between 10 and 24 years of age and the fifth leading cause of death for American Indian and Alaska Native women between 25 and 34 years of age.
(6) Investigation into cases of missing and murdered Indian women is made difficult for tribal law enforcement agencies due to a lack of resources, such as necessary training, equipment, or funding; a lack of interagency cooperation; and a lack of appropriate laws in place.
(7) The complicated jurisdictional scheme that exists in Indian country has a significant negative impact on the ability to provide public safety to Indian communities; has been increasingly exploited by criminals; and requires a high degree of commitment and cooperation among tribal, federal, and state law enforcement officials.
Bleak as the statistics may be, the independent Sovereign Bodies Institute claims the numbers represent grave under-reporting. "A complex maze of jurisdictional policies and institutionalized violence means much of this violence is not only not addressed, but not documented," says the institute founder Annita Lucchesi.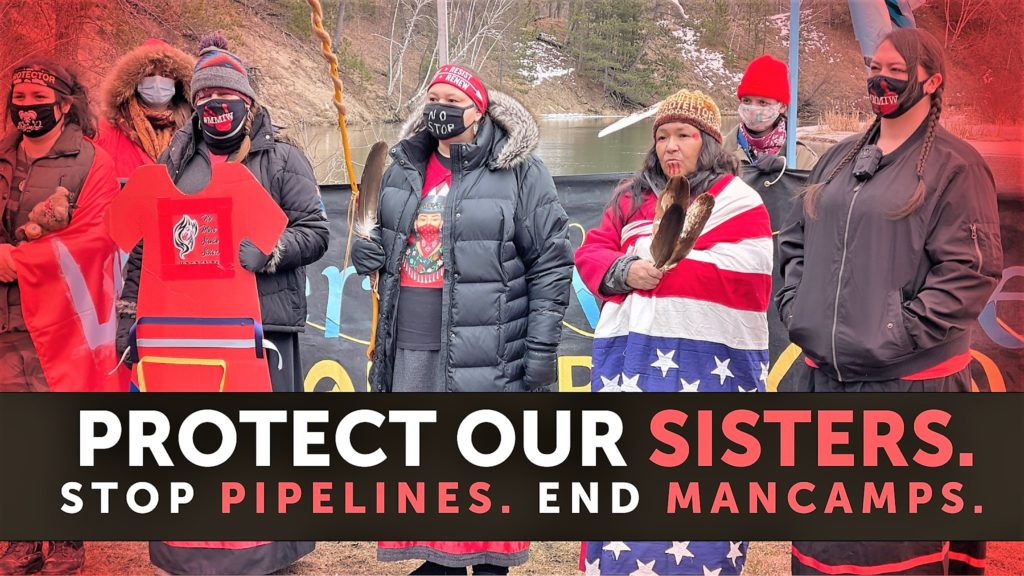 Brave Heart Society Missing and Murdered Indigenous Women MMIW Native Organizers Alliance Native Women's Society of the Great Plains Say Her Name White Buffalo Calf Women's Society