WASHINGTON, D.C. – When U.S. President-elect Joe Biden chose New Mexico Rep. Deb Haaland as his Interior Secretary, the nomination was the first ever of a Native American to the Cabinet post that supervises both indigenous land and sovereignty for the United States government.
It was also a product of the only massive grassroots endorsement that a Cabinet prospect mustered. Now it remains to be seen if Biden's bold action is approved by the U.S. Senate.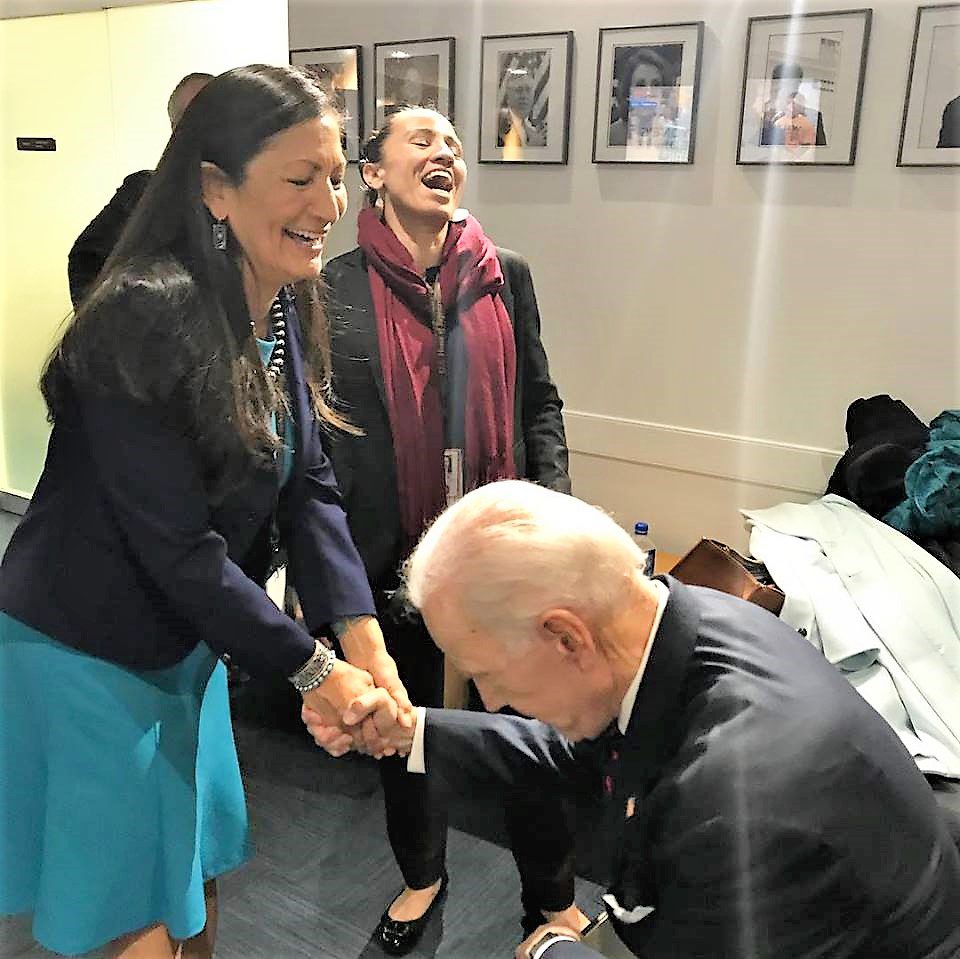 With Haaland slated to direct agencies that have primary jurisdiction on public land and mining, such as the Bureau of Land Management, as well as the Bureau of Indian Affairs, a plethora of interested parties sounded off on the matter — even before Biden and Haaland made official statements.
Tribal leaders and grassroots around the country, along with elected officials, "stood behind her candidacy even when concerns that Democrats might risk their majority in the House if Haaland yielded her seat in Congress appeared to threaten her nomination," The Associated Press said in revealing her designation on Dec. 17.
The National Congress of American Indians immediately issued a statement saying it "congratulates Congresswoman Haaland on her nomination and applauds President-elect Joe Biden for appointing the first Native American woman to serve in a Cabinet-level position." It continued:
"We celebrate with Indian Country on this momentous step forward, and we are confident that Congresswoman Haaland will carry out the federal government's treaty and trust responsibilities to tribal nations in a manner that meets the most pressing priorities in Indian country.
"We look forward to working with the Department of the Interior to support meaningful government-to-government engagement with tribal nations on advancing Indian country's needs."
Founded in 1944, the National Congress of American Indians is the oldest, largest, and most representative American Indian and Alaska Native organization in the United States, it says.
On another part of the Native political spectrum, several participants in the recently formed national grassroots NDN Collective, based in Rapid City, reported.
"Today is more than history making," said Nick Tilsen, president and CEO of NDN Collective. "Haaland's appointment gives us a voice in a department that has long been responsible for our exploitation.
"As Secretary of the Department of the Interior, she will have the power to stand up to the corporations who have been influencing the department for generations and causing the destruction of Indigenous lands," he said in a written statement.
"Today proves that representation matters. Not only is this appointment symbolically important, it represents the future possibilities and seismic change," said Jade Begay, Climate Justice director of NDN Collective.
"She walks into a big job. Under the Trump Administration, environmental laws were significantly weakened over the last four years. Not only do we hope to see Haaland reverse some of these decisions, we know she will champion protecting public lands, addressing the climate crisis, and serving the needs of Indigenous communities — all while ensuring that Native voices are front and center throughout the department," Begay stated.
Calling this an "historic nomination," NDN Action Managing Director Korina Barry said, "Representation means progress, and it is important to see people in these roles that look like us, share our lived experience, and who honor Indigenous self-determination.
"Even more importantly, it is essential that progress also translates into power," she said. "Our movement has been hurt by the Trump Administration and its policies, and we want to ensure our agenda is heard by the new Administration.
"We expect to see Haaland lead on issues that are important to us, such as returning land back to our people, combating the climate crisis, and tackling the epidemic of missing and murdered Indigenous women. We look forward to her bringing a breadth of experience to this appointment by elevating these issues to the forefront of our national discourse," Barry said in NDN Collective's written statement.
Domingo Garcia, national president of The League of United Latin American Citizens, wasted no time in posting that Haaland "represents the best of America."
He continued, "Secretary Haaland promises to honor the sacred love of the Native American nations for our natural resources and the preservation of our lands for all to enjoy and experience, not simply exploit for profit with little or no regard for the damage left behind. I personally know her and strongly urge the Senate to quickly confirm her historic nomination."
LULAC describes itself as the oldest and largest Latino civil rights organization in the United States.
U.S. Rep. Sharice Davids, who was with Haaland in 2018 when the two became the first Native American women ever elected to Congress, had long since issued a message of support for the nomination.
Davids, a member of the Ho-Chunk Nation, said "Representative Deb Haaland has been a warrior for Native peoples for decades and profoundly understands the consequences of federal administration on tribal communities."
Davids told Biden's transition team that "there is no one more highly qualified and prepared to lead the Department of the Interior during a crisis that has disproportionately impacted and harmed Native communities."
She reminded the team that "despite the federal government's unique relationship with and trust responsibility to tribal members, there has never been a Native member of the President's Cabinet."
The Western Values Project rejoined, "President-elect Biden has committed to putting the public back into our public lands, addressing climate change, and restarting our economy by investing in clean energy in order to create hundreds of thousands of new jobs.
"Congresswoman Deb Haaland has the experience to make sure our public lands are part of the solution and knowledge to unravel the special interests' tentacles controlling the department."
Western Values Project director Jayson O'Neill added, "Selecting the first Native American to lead the Interior Department is an historic moment for this country that will make for a more inclusive agency. After four long years of lobbyists and industry running roughshod over our public lands, Americans deserve a dedicated public servant like Haaland who will listen to all voices."
The congresswoman from New Mexico has been one of the strongest voices on the House Natural Resource Committee and is leading congressional efforts to accomplish the goals set forth in the thirty-by-thirty public lands and climate resolution, he pointed out.
Haaland is an enrolled member of the Pueblo of Laguna tribe, co-chairs the Native American Caucus, and has represented New Mexico's 1st congressional district since 2019.
"Haaland would bring a fresh new perspective and voice to a department that has been plagued by scandal and corruption under former mega-lobbyist turned-Secretary David Bernhardt and ousted former Secretary Ryan Zinke," O'Neill said.
Western Values Project describes itself as an Accountable.US project based in Montana, which defends America's public lands through research and public education "to expose special interest influence on policymakers who are charged with making key decisions in order to protect the West's outdoor heritage."
Earthworks, a non-profit lobby "dedicated to protecting communities and the environment from the adverse impacts of mineral and energy development while seeking sustainable solutions," said the nomination signals the forthcoming Administration's "deep commitment to restoring the agency's conservation mission and repairing its public lands injustices."
It forecasted, "With Secretary Haaland, Interior could provide a more just, equitable and fair balance in public land use decisions, especially for mineral activities impacting Indigenous peoples. To help achieve this, we urge Interior to push reforms to our public lands mining rules and follow through on its commitment to end oil and gas leasing."
Rep. Sharice Davis submitted to Biden's team that:
"As Vice Chair of the House Natural Resources Committee, Rep. Haaland has worked across the aisle and with both chambers to achieve real victories for Indian Country today and has demonstrated incredible vision for its future.
"Her legislative achievements touch on everything from the crisis of murdered and missing Indigenous women to the conservation and preservation of public lands to addressing the chronic underfunding and mismanagement of federal resources for Indian Country.
"She maintains a deep understanding of both the realities and challenges that Native communities face across the country as well as the hope and potential they contain with improved federal resources, consultation, and respect for tribal sovereignty.
"As chair of the Subcommittee on National Parks, Forests, and Public Lands, Rep. Haaland has been a champion for our environment and a leader in the fight against climate change. She has fought back against the destructive acts and policies of the Trump Administration and the of Secretary David Bernhardt, passing legislation to protect Chaco Canyon and the Arctic National Wildlife Refuge from oil and gas drilling.
"Rep. Haaland has introduced bills including the 30 by 30 Resolution to Save Nature, the Climate Stewardship Act, and the THRIVE Agenda to deal with the climate and extinction crises and address economic, environmental, and racial injustice that parallel proposals put forward by President-elect Biden. Additionally, she helped craft the boldest climate change platform in history as a member of the DNC Platform Drafting Committee and helped mobilize stakeholders as a co-chair of the Biden Climate Engagement Advisory Council."
Talli Nauman is a longtime Esperanza Project collaborator and columnist, a founder and co-director of Journalism to Raise Environmental Awareness, and Health and Environment Editor for Native Sun News Today. She can be reached at talli.nauman(at)gmail.com.
This story was reported and written with the generous support of the One Foundation.