WASHINGTON, D.C. — Nicole Ducheneaux had it right: As lead counsel on the Cheyenne River Sioux Tribe's case to stop the oil flow of the Dakota Access Pipeline in unceded 1851 Ft. Laramie Treaty territory, she could claim a win when a federal judge recently ordered a shutdown.
At the time, she warned, however, "Don't get it twisted, it's not over. There's a big fight yet left." No sooner said than done. On July 10, a pipeline parent company filed a court motion to avoid emptying the line before the Aug. 5 deadline ordered by U.S. District of Columbia Judge James Boasberg.
Lawyers for pipeline parent company Energy Transfer Partners LP appealed to the District of Columbia U.S. Circuit Court for an emergency stay in the consolidated cases of the Standing Rock, Yankton, Oglala, and Cheyenne River Sioux tribes.
Counsel for the company led by Texas billionaire Kelcy Warren said the shutdown "will produce devastating consequences for the country, state and tribal governments, oil producers, other third parties, and Dakota Access."
Boasberg had found in preparing his July 6 order to empty the pipeline that Dakota Access LLC arguments against shutdown strictly emphasized "its own interests and those of the industry," with no evidence the public would be harmed.
The tribes sued the U.S. Army Corps of Engineers for failure to complete an Environmental Impact Statement, or EIS, before permitting a pipeline crossing of the Missouri River's Oahe Reservoir just upstream from tribal drinking water intakes.
"The seriousness of the Corps' deficiencies outweighs the negative effects of halting the oil flow," Boasberg determined after requiring the Corp to undertake the impact statement, which mandates government-to-government consultation between U.S. and tribal officials.
Now Energy Transfer Partners LP posits, "Absent a stay pending appeal, the order will incurably and irreparably infringe Dakota Access' rights, including losses exceeding $1 billion. A stay is also essential to avoid irreparable injuries to other innocent parties and to the public interest."
It says a shutdown "would inflict $7.5 billion in losses on North Dakota companies, employees, and that state's budget alone through 2021. Thousands would be unemployed, with serious damage to national security and an already struggling national economy."
It claims, "The Dakota Access Pipeline (DAPL) is the safest, most environmentally friendly option for bringing to market around 40 percent of North Dakota's, and 4.5 percent of the nation's crude oil production."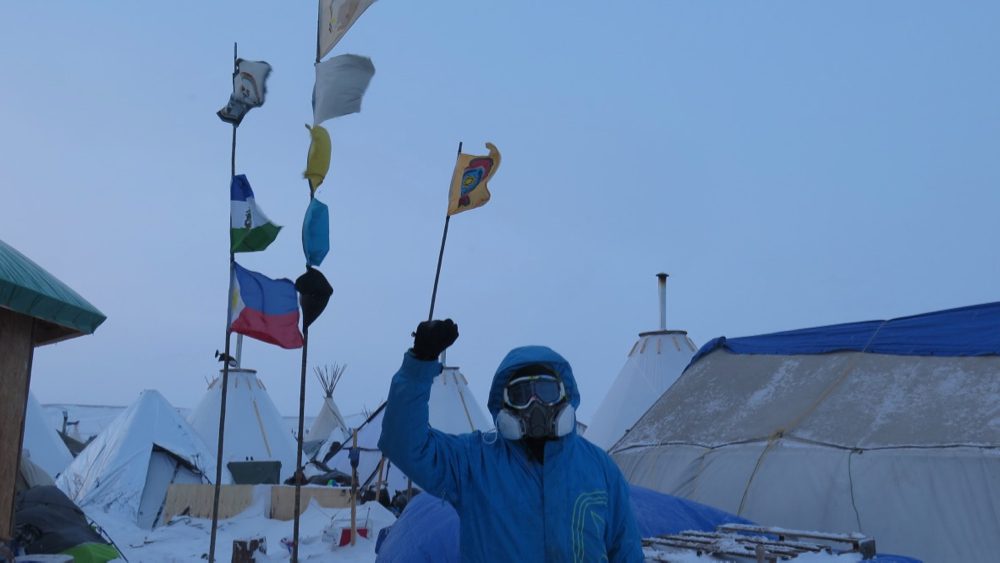 The non-profit Lakota Peoples Law Project, which took part in the 2016-2017 indigenous-led international grassroots mobilization at Standing Rock in support of the tribes' now consolidated lawsuits to halt DAPL construction, saw that the pipeline company was not planning to comply with Boasberg's order and stated:
"We know the judge is correct because no pipeline should be built before a complete environmental study has been conducted," the group wrote. "And no pipeline should ever cross native land without the prior and informed consent of that land's original inhabitants."
The group urged pipeline fighters to sign a letter of support for the order.
According to Energy Transfer Partners LP, which intervened on behalf of the Corps, no environmental impact statement was needed.
"Closing DAPL would increase environmental and health risks by shifting some oil to rail transport, which is statistically more likely to result in spills and related incidents," the motion also holds.
Not only that but, "Congestion and shipping costs for other rail users, including Midwest farmers, would also increase," it says, claiming, "DAPL is "among the safest crude oil pipelines in the country."
The tribes had challenged the Corps' decision to grant the easement for the pipeline to be laid in a shallow trench 90 feet below the reservoir surface, running between federal lands on each side of Oahe Reservoir.
The intervenors noted, "That segment—1.73 miles between two valves—can detect leaks even smaller than 0.75 percent of the flow rate within 45 minutes." The horizontal directional drilling installation method used there means "leaked oil would follow the bore-hole path to land on the sides of the lake, rather than rise 92 feet to the lakebed through low-permeability materials," they said.
Boasberg ordered the Corps to prepare an EIS in part because "the pipeline's effects on the quality of the human environment remained highly controversial," the company recalled.
They said North Dakota's Bakken oil fracking industry, reliant on DAPL to transport their oil, would need to seal thousands of wells and shut down affiliated natural gas production facilities, many of them on the Ft. Berthold Indian Reservation.
"They would lose hundreds of millions of dollars in revenue every month, with millions more in unrecoverable costs to shut in and maintain wells, totaling approximately $5 to $9 billion in losses through 2021," intervenors estimated.
"Many closed oil wells emit significant amounts of methane," a toxic gas, they added.
"Shuttering DAPL would deprive Dakota Access (and a connected pipeline operator) of all revenue from its only material asset at losses of $2.8 to $3.5 million in revenue every day DAPL is idle in 2020, and $1 to $1.4 billion for 2021.
"It would take about three months and cost Dakota Access approximately $24 million to safely purge DAPL of oil and preserve it for future use. Dakota Access would also incur $67.5 million in unrecoverable annual expenses to keep DAPL safe while unoperated," they contended.
"The harm is irreparable. The loss of profits … could never be recaptured," they said in quoting case law.
"Dakota Access seeks a ruling on this motion no later than July 20, 2020, or a prompt administrative stay in the event of a later decision date," they concluded.
This story was first published in Native Sun News Today. Contact Talli Nauman at Talli.nauman(at)gmail.com
Dakota Access Pipeline DAPL Energy Transfer Partners Lakota Peoples Law Project Standing Rock Water Protectors