RAPID CITY – Participants from numerous grassroots groups tackling life-or-death issues of Native homeless and other community members highly vulnerable to the Covid-19 pandemic here rallied for an autonomous "command center" at a Sept. 11 gathering outside the civic center.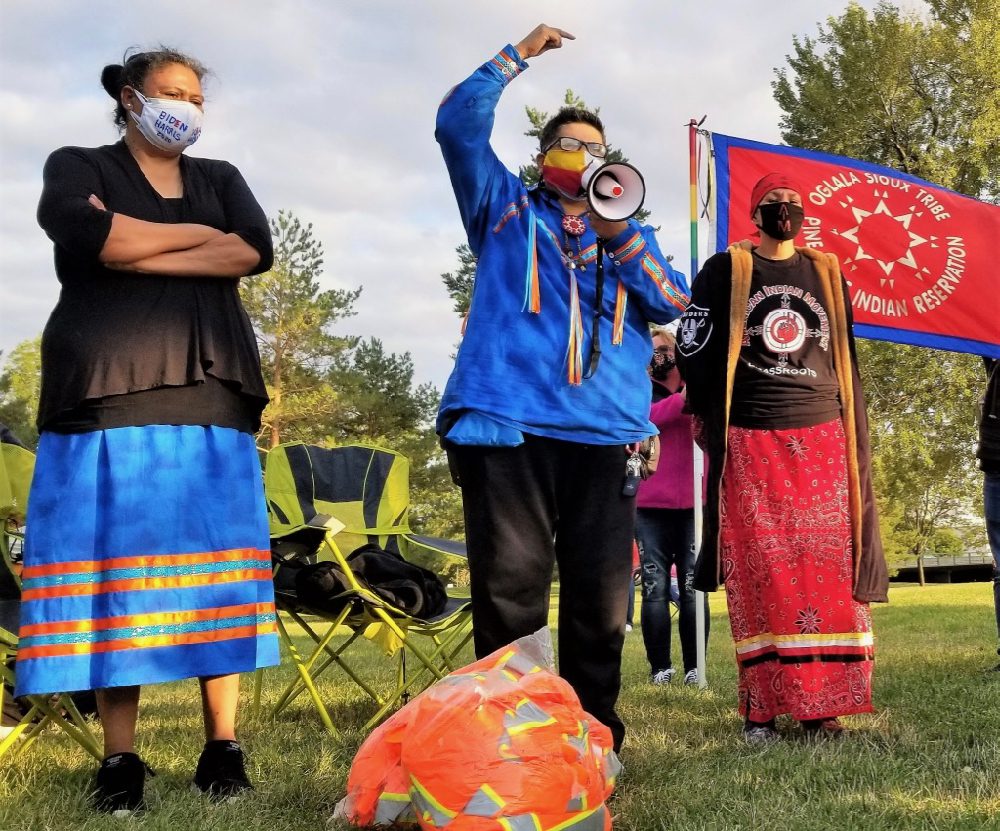 Organizers, speaking with a megaphone, pressured the Rapid City Police Department representative in attendance at the ominiciye (public gathering in Lakota language) to lobby for a meeting with the mayor and city council to collaborate on ending the suffering and deaths along Rapid Creek.
"What has been happening is death to our people and violence to our people," said Oglala Sioux tribal member Monique "Muffie" Mousseaux, speaker for Uniting Resilience.
Participants noted that they have mounted an independent Mni Luzahan Rapid Creek Patrol (mni luzahan is Lakota for "rapid water") to walk the riverbanks at night, interceding to prevent hunger, exposure, violence, abuse, accidents, and fatalities.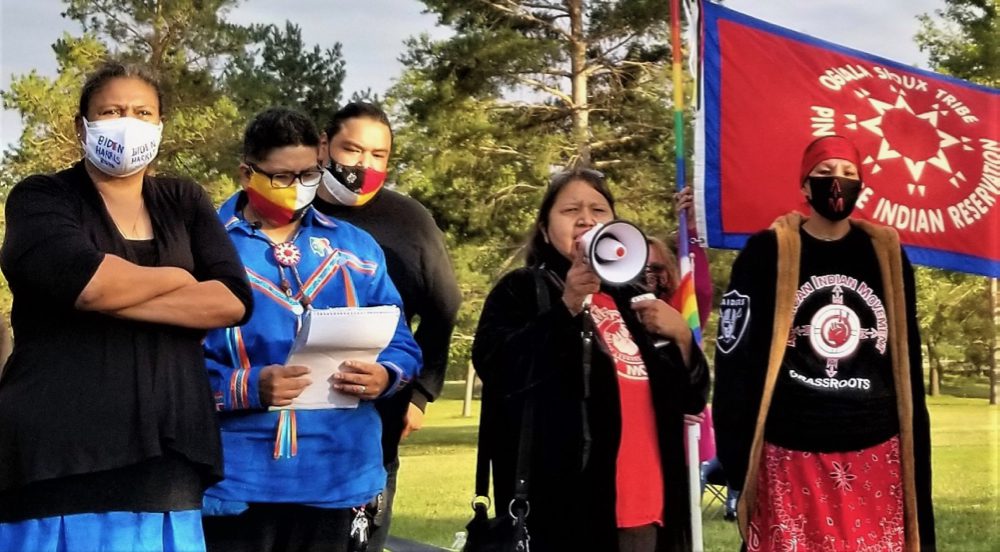 Mouseaux called on the city to "allocate a strip of land so we can have a command center." She also demanded that Native people have greater access to policy making in crime prevention and social services.
"We are asking for a spot to be left alone," she said. Noting that she is a former law enforcement officer, she added, "Natives can take care of each other. We are drug- and alcohol-free."
She alluded to autonomous zones established in the larger cities of Minneapolis and Portland even before 2020s unrest over alleged police brutality and systemic racism that was set off by the murder of George Floyd.
"We don't want any more repression," said Mousseaux. "With George Floyd in Minneapolis, you know it is happening."
Fresh from a successful lobbying effort that convinced the Oglala Sioux Tribe to protect gender identity and sexual orientation in a hate crimes law, Mousseaux and her same-sex marriage partner Felipa De Leon pointed out that the land they want belongs to the tribes, anyway, under the 1868 Ft. Laramie Treaty, as upheld by the U.S. Supreme Court.
"This is Native American land," De Leon said. "We need to find some kind of solution and work together."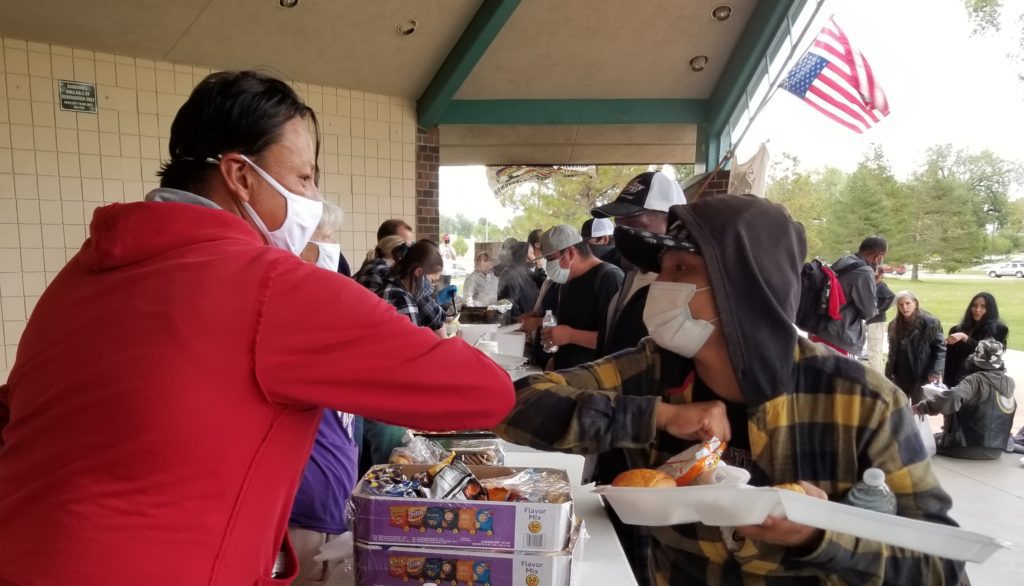 De Leon argued that shelter options at the city's Crisis Care Center and the private Cornerstone Mission are unacceptable because applicants are frisked and charged fees they can't afford. Mousseaux claimed the county of Pennington has $17.5 million available for shelters.
Minneconjou grandmother Jean Roach told police Capt. James Johns the top priority for the moment is the shelter issue. Other participants addressed Johns as well as Police Chief Don Hedrick during the ominiciye.
At its beginning, Johns, in plain street clothes, received tobacco offerings from the hands of participants. He wore a Covid-19 protection mask, like they did, and stood listening with his hands folded in front of him throughout the nearly two-hour event.
Speaker Hermus Bettelyoun Sr., of Martin, remarked, "This is the first time anyone has come down and talked to us." The previous night, law enforcement had required a food line at the same location be dismantled, but Johns agreed to attend the ominiciye.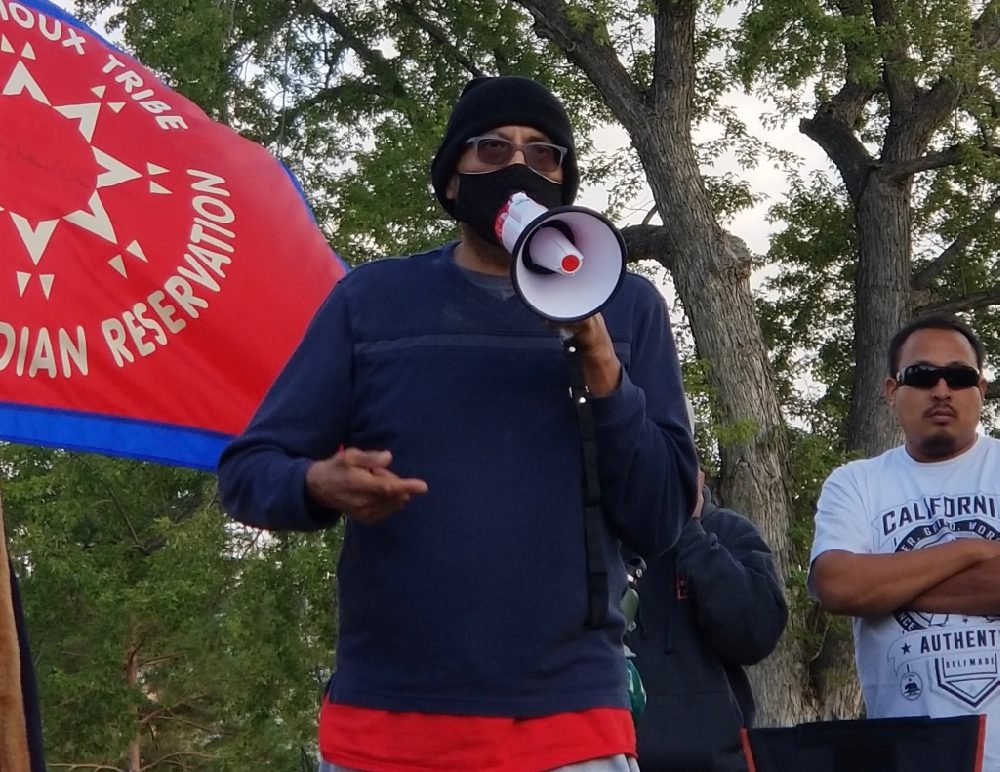 De Leon applauded him for attending and "maybe" asking others to respond. Mousseaux warned that further demands will be raised for public apologies, restitution, and reform of the city's trespassing ordinance. "No Native American should ever be charged with trespassing," she said.
Elders sat in folding chairs to witness the event, which was preceded by a food line. Among the evening's participants were members of the five-year-old Rapid City Community Conversations and its recent volunteer offshoot One Rapid City, which states: "Our mission is to make Rapid City a safe, inclusive, and equitable place for everyone."
Also on hand were participants in the West River Tenants United spinoff OyateKin Chante Wastepi-Feeding our Relatives, as well as Meals for Relatives COVID-19 Rapid City Community Response, HeSapa Voter Initiative, and A.I.M. Grassroots.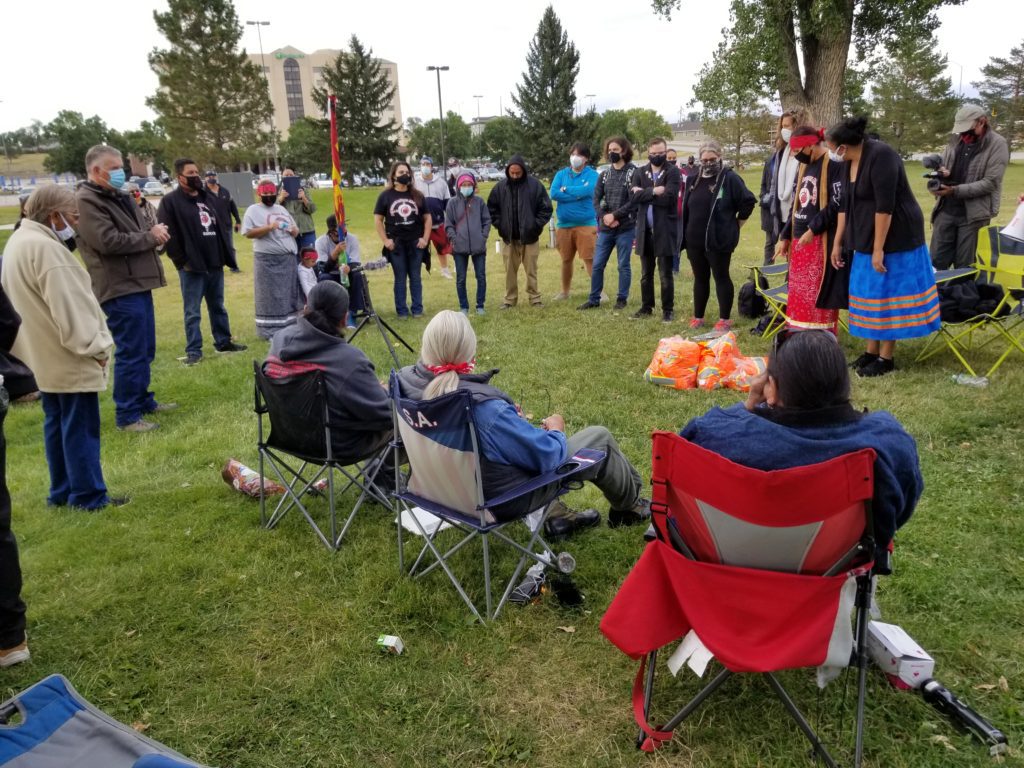 Backing the initiative were Oglala Veterans, Tokala, and Cheyenne River Oceti Fire Keeper Oscar High Elk. Lakota People's Law Project Director Chase Iron Eyes called their cause "a most difficult issue as we have no remedial options for our people on the creek," saying, "They are exiled in their homeland."
On the same day as the ominiciye, representatives of the Rapid City-based NDN Collective, which initiated the #Landback movement, rallied outside court in Minneapolis to raise awareness of racial justice as the pre-trial hearings of the officers involved in killing George Floyd began.
More than three months since Floyd was killed for allegedly using a counterfeit bill, Derek Chauvin, the former officer filmed kneeling on Floyd's neck, and former officers Alexander Kueng, Thomas Lane and Tou Thao received a hearing.
Talli Nauman is a longtime Esperanza Project collaborator and columnist, a founder and co-director of Journalism to Raise Environmental Awareness, and Health and Environment Editor for Native Sun News Today. She can be reached at talli.nauman(at)gmail.com.
A different version of this story ran in Native Sun News Today.