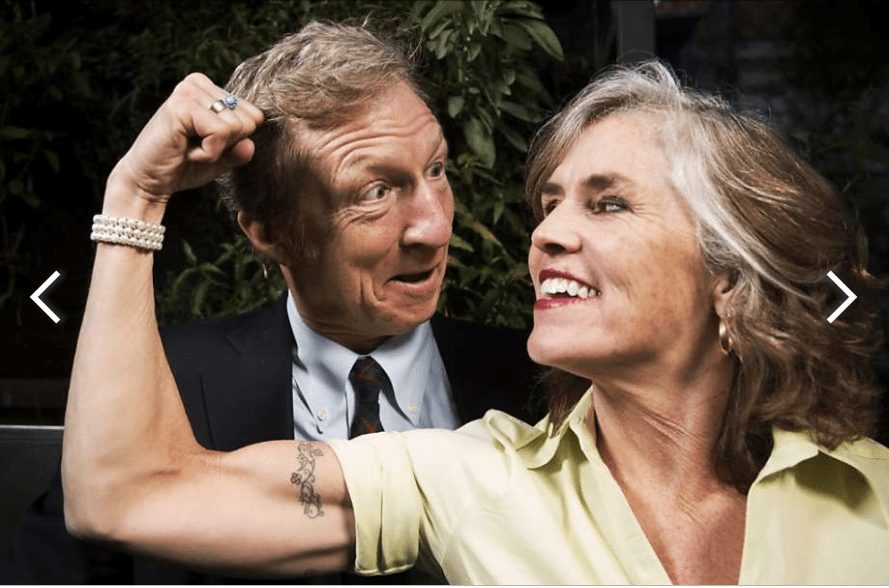 What if more banks were operating ethically, aligning their lending and operations to improve the fiscal vitality of their local communities and environment? Banks can be engines of an equitable economy by financing local endeavors and circulating profits back through communities, and regenerative banker Kat Taylor is determined to prove it.

As a leader in "ethical banking," Kat is fighting to decolonize finance and is proposing a series of reform policies at the state and national levels. She is the co-founder and CEO of Beneficial State Bank, which she began with husband Tom Steyer in 2007 in California with a mission of bringing beneficial banking to low-income communities in an economically and environmentally sustainable manner—and to change the banking system for good.
Hear the full podcast/interview with Money-Wise Women's Crystal Arnold here.
Ethical banking is a movement for systemic change of financial institutions, advocating for credit unions, foundation-owned banks, and public banks. These purpose-driven institutions direct capital resources back into the places that really need it. They work toward the restoration of land, education, and infrastructure instead of bolstering the conventional investment system, which creates a train of economic, social, and environmental degradation.
"Banking belongs to the depositors. For too long it has served only the equity shareholder, which is a derogation of its duty," says Kat. "Banks are the original and most powerful form of crowdfunding, because of the public prerogative we give it."
A regenerative economy circulates profits back into communities, restoring the health of people and planet. Beneficial State Bank values radical transparency, empowering employees and clients with information that gives them greater agency. They model and fund distributive ownership to engage in a more just economy that naturally reduces the concentration and colonization of wealth.
Kat says, "I am in favor of strong reform of all philanthropies and decolonizing wealth across loans, investments, and grants." We recommend reading Decolonizing Wealth: Indigenous Wisdom to Heal Divides and Restore Balance by Edgar Villanueva. He advocates deep systemic change and proposes seven steps to healing the pain created by white supremacy (in and outside of finance) and wealth inequality.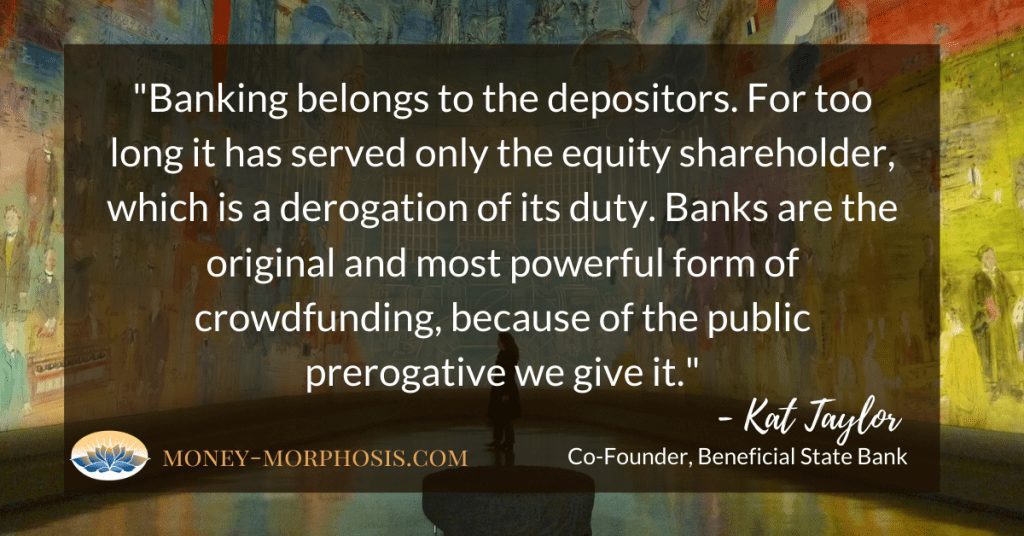 Recently, Kat has become more actively engaged in policy work. She co-sponsored California bill Assembly Bill 1712 (Wicks) to provide accountability and reporting requirements for donor-advised funds. This legislation would mandate transparency through annual reporting requirements on a growing philanthropic tool that even the Government Accountability Office says can be taken advantage of by donors for improper uses.
Kat is also an advocate for an independent California consumer financial protection bureau (CFPB). The current administration eviscerated the federal CFPB, changing its mission and defunding it. She explains the Twin Peaks thesis of regulation, arguing for two distinct bodies, one for the safety and soundness of the banks and another for consumer-protection assessments.
The California Senate recently enacted AB 857, the Public Banking Act. She explains why this is significant, and how a potential federation of accountable public banks would be powerful in disciplining the major banks through fair competition.
We discuss an ongoing study—initiated by the Post Growth Institute—of why credit unions do not offer a full spectrum of business services. We envision another "move your money campaign" for businesses to begin using credit unions, which are cooperatively owned by depositors.
Beneficial State Bank emphasizes loans to changemakers: At least 75% of the bank's loan dollars support a more socially just and environmentally sustainable world. The remainder of its loans cannot work against this mission. In this way, the bank demonstrates how values-based institutions are restoring the immediacy and vibrancy of local economies. By distributing wealth and advocating for social justice through gender and racial equity, they are healing the colonized financial systems.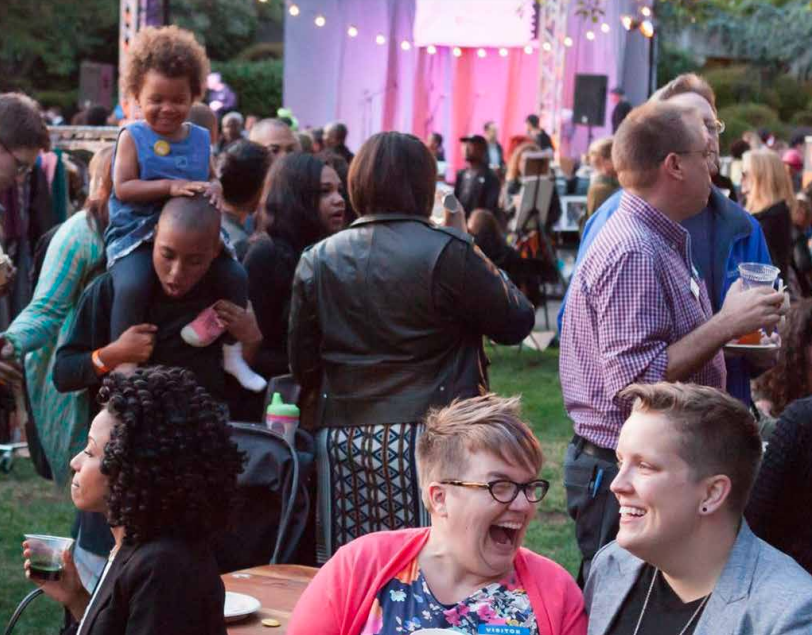 For example:
* Oakland Leaf's after-school programming serving 750 underprivileged students. Their emphasis on the arts, health, leadership, literacy, and STEM programs
* Albina Community Bank, serving Portland's African American community and other underserved residents.
* Oakland Indie Awards, bringing together small business owners, entrepreneurs, artists, activists, musicians, service providers, and community members to celebrate the positive social, economic and political impact of local independent businesses and artists.
* Mission-driven lending practice, in which depositors know their money is helping to build the fully inclusive, environmentally regenerative, and racially and gender-just world we all want to see.
Kat and her husband Tom Steyer (a candidate for the 2020 Democratic presidential nomination) founded TomKat Ranch Educational Foundation, focused on climate stability, healthy food, and biodiversity. She graduated from Harvard College and earned a JD/MBA from Stanford University. Kat is active in a variety of social enterprises and philanthropic ventures on the West Coast of America, focused on deep systems change.
Read their ten-year impact report here.
Crystal Arnold, B.S. International Economics, is an author, inspirational speaker, and group facilitator, founder of Money-Morphosis and the "Money-Wise Women" podcast and Education Director of the Post Growth Institute.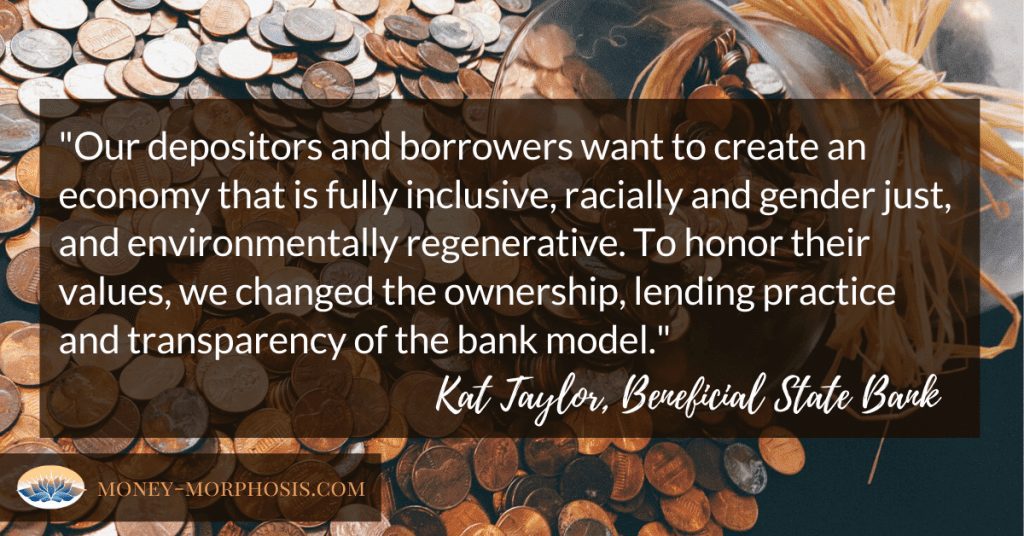 Beneficial Bank ethical banking Kat Taylor regenerative banking Tom Steyer