October 26 must have been a very special day at the level of the conjunction of the planets and the forces of Nature.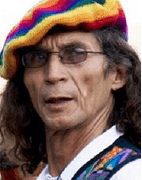 Knocking on the doors of the temple where human laws are made, we had the privilege of being witnesses and actors in setting out a very important proposal that our collective Forum on the Rights of Mother Earth gave birth to and delivered in the Casona Xicoténcatl, headquarters of the press conferences being carried out to present citizens' demands to present to members of the legislature who are preparing the new Constitution of Mexico City.
Presenting to ten deputies from the country's different political parties, who form part of the 100 lawmakers who are reviewing all the proposals and demands, forty eco-artivists representing dozens of environmental civil organizations, artists such as Rubén Albarrán, Enrique Quezada, Andrea and Hector from Aterciopelados, painters, writers, lawyers; we delivered our proposed law, issued by the Forum, and offered our visions of why it is essential that, at this historical moment, the City of Mexico lead the movement for the Rights of Mother Earth in this country and in the rest of the world, and then the ten legislators committed themselves to the audience and the media to defend our proposal in their various committees to support our bill, recognizing the Earth as a living being with its own rights.
And with that, we took a step further on the road, which will be neither short nor easy, so that increasing numbers of people will step up to join the cause as defenders of our common mother.
To celebrate this moment, we moved to a second temple, this time the site of a spiritual, philosophical and cultural movement, the Yoga Center Prabhupada, where, besides sharing organic and healthy food that Krishna's devotees lovingly offered us, we gathered in order that the collective purpose presented in the Legislative Assembly was now offered up to the invisible forces that govern our lives, to all living beings, human and non-human, and the forces of nature and the Cosmos.
Our beloved Bhaktis and their sisters guided us through a Vedic ritual, so that each one of those present could carry a candle to enforce their personal and collective purpose, and then we conclude with a series of chants and mantras to unify our movement by an awakening of consciousness, both our own and that of our brethren from all the different spiritual paths.
And with this, we took a step to consolidate our alliance and do this, not only with the material world, so that that the word comes from Mater, mother, but also with the forces of the universe.
But it did not end there. We next headed to a third temple, this time, an urban temple dedicated to Mother Earth, plants, and animals, home of the Roma Verde Garden, where vegetables, water, cats, earthworms, compost, recycling, organic food, service, cooperation and all non-human beings are honored, who have in the garden a place to be protected and fed, amid an environment that has little attention for those that are not us: city dwellers and chilangos from Mexico City. A place governed by the natural law of the care of the elementals[1].
Here, our brothers Paco Ayala, Piero and the brotherhood of volunteers who every day dedicate the best of themselves to serve the Pachamama, and to educate us and the thousands of visitors who pass through the Roma Verde Garden, in how to change our bad habits and learn a little of sustainability and resilience. How to put into practice our intentions for this legislation for the jurisprudence of the Earth for which are we fighting, and those intentions with the Great Spirit, so that they are not left floating in the ether and lost in the biosphere and the noosphere without being manifested down below, where we have to walk our words and try to be more coherent every day.
And as this October 26th we knocked at the gates of the temples of the laws of human beings, of the spirituality that unites and not divides, and the temple of Nature, it happened that we also touched the temple that everyone has within himself, the temple of
celebration, of healthy enjoyment, of dance,  fiesta, and in the dome of the garden, they prepared a great fiesta for us, as it should be, where we listened to our siblings Hector and Andrea, we conversed and sang to touch our hearts, to sensitize with the art that serves for change, not only to lull us to become a flock that consumes what the masters of Big Business convince us to eat, to believe, to feel, to think, and therefore to do with our lives.
And to close this intense and full day, an unknown DJ with a graying goatee, a bun, a sweet word, and bright eyes called Rubén got us all moving with a selection of cumbias, bachata, cha-cha-chas, twists, rock and mambo to make us travel through the decades and conclude that despite—or thanks to—all the not-so-nice that is happening in the world, we always will have those crazy cells, those radical free agents that continue to do what we have to do to counter, or perhaps complement our light and shadow, and remember that life can also be like our dreams and when we wake, we materialize them.
Enjoy these upcoming days and nights, celebrating our loved ones who are no longer in the body in this dimension, but they are still alive in our memories, our hearts, our photo albums, our stories and our genes, to pass them as a legacy to those who come behind us.
With all my love and thanks to everyone who put a grain of service for this day whatever it was, and…. will forever be!
Translated by Katy D'Oporto
FOR ALL OUR RELATIONS
[1] Here the writer refers to a Renaissance-era term for mythical beings that live among the elements, a concept particularly elaborated upon in the 16th century works of Paracelsus. https://en.wikipedia.org/wiki/Elemental
Alberto Ruz Buenfil Aterciopelados Cafe Tacuba Cafe Tacvba Center Prabhupada Coyote Alberto Mexico City Rights of Mother Earth Rights of Nature Roma Verde Ruben Albarran Vision Council