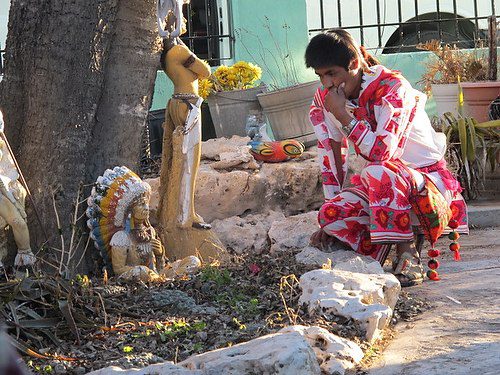 By Tracy L. Barnett
MIRANDO CITY, TEXAS – It was an unforgettable meeting of cultures: Lakota and Navajo, Chippewa and Cree, Coahuiltecan and Chichimecan and more, joining hearts and minds wth their Wixaritari brothers in a hogan in South Texas.
"Never in my life did I imagine that this moment would come," said Efren Bautista Parra, a diminutive yet powerful marakame, or shaman, and the traditional governor of San Andrés Cohamiata, with tears in his eyes. "Just like the joy of this moment, our suffering brings us together in a bond of brotherhood." Around the fire, cradled in the curve of a crescent moon, the language of spirit transcended words to merge all souls into one.
Efren was one of eight Wixarika leaders chosen by their communities in the highlands of Jalisco, Durango and Nayarit to travel from their communities to this town in Mirando City, Texas. They were there to attend the International Convention of the Native American Church, a union of Native American peoples of North America dedicated to preserving the right to traditional use of the sacred peyote plant, or medicine as it is known.
"Never did we imagine that there were others who, like us, use the sacred hikuri as we do in their ceremonies and prayers," he said.
The Native American Church is comprised of various tribal peoples from the United States and Canada, who consider peyote a sacrament and use it in their prayers and ceremonies. Upon learning that a Canadian mining company, First Majestic Silver Corp., has acquired 22 concessions, granted by the Mexican government, to exploit minerals in the sacred land of Wirikuta, the birthplace of the Wixarika's Father Sun and the ecosystem where the sacred plant grows, the Native American Church invited representatives of the Wixarika communities (also known as Huichol) to attend its convention on 11, 12 and 13 of February in Mirando City, Texas.
Some of them had been traveling for days to arrive in Guadalajara, where a race to acquire visas and passports culminated in a 15-hour overnight bus ride from Guadalajara. An hour of lines and paperwork at the border was followed by an hour of travel from Laredo to Mirando City in a rented van through the desert considered a sacred place for members of the Native American Church.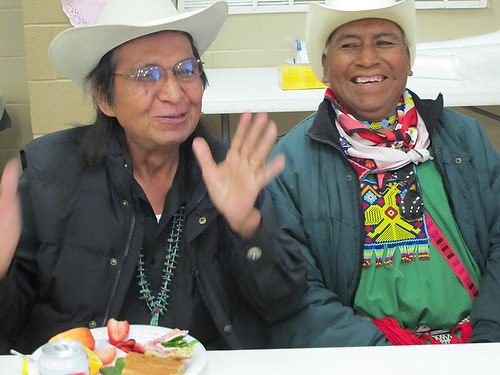 Unfazed by the lack of rest, the delegation arrived energized and eager to meet their northern counterparts. In the Mirando Community Center, festooned with hearts and balloons for the upcoming Valentine's Day celebration, the delegation was welcomed with open arms by the Indian nations of the north, a greeting which was followed by an extensive and sincere dialogue.
"We are the keepers of the sacred land of Wirikuta," said Felipe Serio Chino, secretary of the Wixárika Ceremonial Centers of Jalisco, Durango and Nayarit. "We conduct our pilgrimages there every year, as our ancestors entrusted us to do, so that life can continue to be reborn. It is inconceivable to us that from one moment to the next, a site this sacred can be destroyed. This Canadian company is very powerful, but we hope that perhaps with partnerships like this one we can win in the defense of Wirikuta."
Santos De La Cruz Carrillo, an attorney and an appointed official from Bancos de San Hipólito, Durango, explained the process of the formation of the Wirikuta Defense Front of Tamatsima Wahaa.
"We know they are in violation of our rights. What they have planned is an attack on our culture. We want this to be known not only nationally but internationally," he said.
"We are here to build bridges and join forces with the indigenous peoples of the North. We invite you to work with us and to integrate into the Front in any way you can to help defend what is sacred in life. Our prayers and ceremonies are to renew the candles of life, not just for the Wixárika people, but for the whole world."
Sandor Iron Rope, a Lakota leader from South Dakota and Vice-President of the Native American Church of North America, was the first to answer.
"We understand the process of colonization on both sides of the border,"he said. "We can unite in the defense of our medicine. We are the legitimate guardians of this continent and we must create a struggle to continue spreading awareness among those who do not understand."
Several members of the Native American Church expressed that peyote had changed and even saved their lives, such as Lance Long, a member of the Ho-Chunk people. Long told of how as a baby he was on the verge of death, and medical doctors could do nothing to help. Finally, his parents gave him his first peyote tea. "I am alive today thanks to medicine," he said.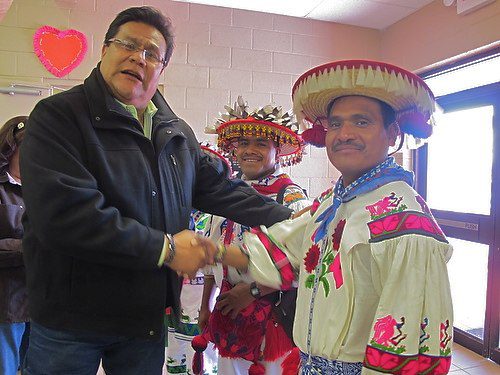 The Coahuiltecan delegation of Texas reiterated its support as an indigenous sister nation bound by the long history of medicinal use of peyote by both indigenous groups. They expressed that the desecration of sacred sites must stop and that the defense of Wirikuta is the same as defending Our Mother Earth.
The two-day dialogue included a ceremony in which several saw visions of the Condor and the Eagle, symbols of North and South. Sandor Iron Rope expressed it as a vision from the beginning of time, in which the Eagle and the Condor flew together as in the beginning of the world.
Agreements were manifested in the Native American Church of North America signing of a letter by the Wixárika delegation, proposing a collaboration with the Church and a pledge of brotherhood and solidarity. The assembly of the Native American Church of North America unanimously voted to join the Wirikuta Defense Front.
José García, spiritual leader of the Coahuiltecan nation, sang during the ceremony in his native language and in a voice that resonated from another dimension. Later he explained that he had actually visited Wirikuta during the ceremony, and he shared the story behind the song.
"Several years ago I was commissioned to talk to the Wixaritari (Huichol) to tell them that our elders dreamed that something bad was happening in Wirikuta," he recalled. "At that time I didn't understand. Tonight I realized what it meant, as I visited this sacred place and spoke with Wirikuta during my song. "
Click on photo to see gallery of photos from the Wixárika delegation to Mirando City.